Are you looking for car trailer parts in India? KDST does car trailer parts too. Car trailer parts whilst not popular in India are sold in myriad countries. KDST is specialist in car trailer parts and we can supply almost any part in any quantity to any country in the world. We have been doing so from the past many years and have many happy car trailer parts customers throughout the world. Here is our exhaustive list of car trailer parts.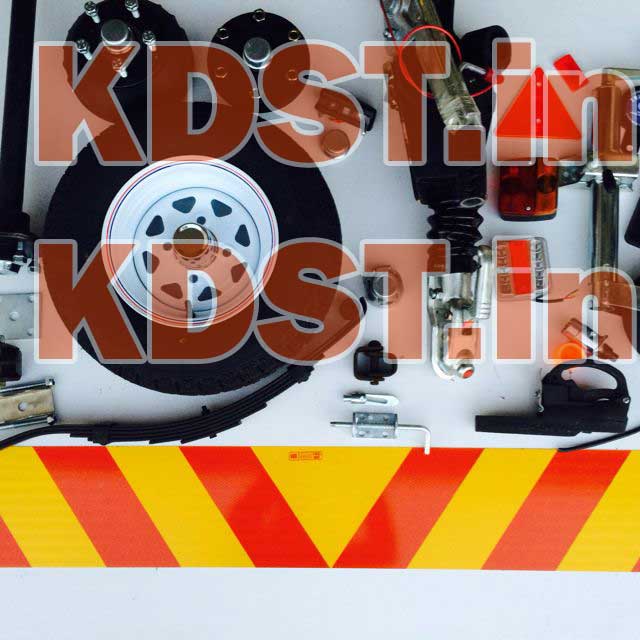 Car trailer hub, coupler, grease cap, bearings, jockey wheel
Our car trailer parts can be used for making a new trailer or for repairing an existing trailer.
All parts sold by KDST are new and manufacture or procured according to OEM specifications. Our main parts list includes Car trailer hub, leaf springs, bearings, oil seals, grease cap a k a hub caps, jockey wheels, couplers and more. Our adr-1, adr-2 and adr-3 hubs are very popular and so are the bearings that are used in car trailers. We understand that there is stiff competition and we have priced them very competitively. Our managers are ready to sit down with you to get the prices you want – trust us, we will love to do business with you.
Hub only (adr-1)
Hub only (adr-2) 5 and 6 hole
Hub only (adr-3) 5 and 6 hole
Bearing 30204
Bearing 30205
Bearing 30206
Bearing 30208
Oil seal 30 x 52 x 7 mm – adr1
Oil seal 38 x 62 x 7 mm – adr2
Oil seal 48 x 80 x 10 mm – adr3
Castle nut – adr1 and adr2
Castle nut – adr3
Split pin adr1, adr2
Split pin adr3
Steel washer adr 1, 2, 3
Grease cap 48mm adr1
Grease cap 52mm adr2
Grease cap 62mm adr3
Jockey assy narrow (50mm) with clamp 48mm
Jockey assy thicker (70mm) with clamp 48mm
Jockey wheel clamp 48mm 3.5mm thickness
Spare wheel for 48mm jockey (50mm thick)
Jockey asssy with clamp 60mm
Jockey wheel clamp 60mm 5mm thickness
Jockey wheel clamp 60mm 4mm thickness
Spare wheel for 60mm jockey (70mm thick)
Jockey assy with clamp 34mm
Spare wheel for jocky 34mm wheel (50mm thick)
Coupler
Anti luce bolt (m12 x 1.75) threaded
Hitch
Hitch
Step box
Brake crank  (with wheel)
Brake crank (without wheel)
(with wheel, comes with pulley)
Brake crank 70.0047 (without wheel)
Hanger set (U clampset of 2 pcs)
(one u clamp with welded bolt and
Other without welding bolt
With nyloc nut)
Fish plate (u-bolt plate) 5 hole (sd-50)
100mm x 100mm x 12.50 mm u-bolt i/d x 16 mm centre hole x 10mm thick (spring plate)
Fish plate (u-bolt plates) 5 hole
(sd-45) 85mm x 90mm x 12.50 mm
U-bolt hole i/d x 16mm centre hole
X 8mm thick (spring plate)
Fish plate (u-bolt plates) 5 hole
(sd-40) 80mm x 85mm x 10 mm hole for u-bolt x 16mm centre hole i/d (spring plate)
U-bolt assy with 2 nyloc nut (8.70 mm
Thick x 42 mm i/d x 122 mm) (u-shape) m8
U-bolt assy with 2 nyloc nut (10.70 mm
Thick x 55 mm i/d x 172 mm t/length
Inside) m10 square
U-bolt assy with 2 nyloc nut (10.70 mm
Thick x 55 mm i/d x 132 mm t/length inside) m10 rnd
Saddle 40mm
Saddle 45mm
Saddle 50mm
13 pro white rims 4/100
(13 x 4j)
14 pro white rims 5/114
(14 x 4.5j)
14 pro white rims 6/140
27 inch 5 blade leaf spring
(width 45mm, thickness 6mm)
27 inch 6 blade leaf spring
27 inch 8 blade leaf spring
27 inch 10 blade leaf spring
36 inch 8 blade leaf spring (70 x 10)
36 inch 10 blade leaf spring (70 x 10)
36 inch 12 blade leaf spring (70 x 12)
36 inch 12 blade leaf spring (70 x 11)
Last leaf of 420 mm
36 x 8 blade (50x8x915) 2000 kg
36 x 10 blade (50x8x915) 2500 kg
7 blade assy (without last blade)
(76 x 16 mm)
Main blade 16mm for above
Second blade 16mm for above
8 blade assy (76 x 14)
9 blade assy (76 x 14)
Main blade (14mm)
Second blade (14mm)
Wheel stud m10 x 12mm spline (11.75) en10.9
M12 x 13.5 spline (~14)
M14
M16
M18