Find the best Fuwa axle parts in India at KDST. Fuwa is gaining a lot of traction in India and KDST has been supplying after market KKTC Fuwa axle trailer parts to thousands of retailers and individuals in India. All of our parts are tested by trailer experts who have decades of experience in this area which has in turn put smiles on our customers. The brand KDST epitomizes quality and dependability. Our after market Fuwa axle parts have been tested in real trailers to avoid any headaches. All of the parts are manufactured as per OEM standards.
After market supplier of Fuwa KKTC Axle parts in India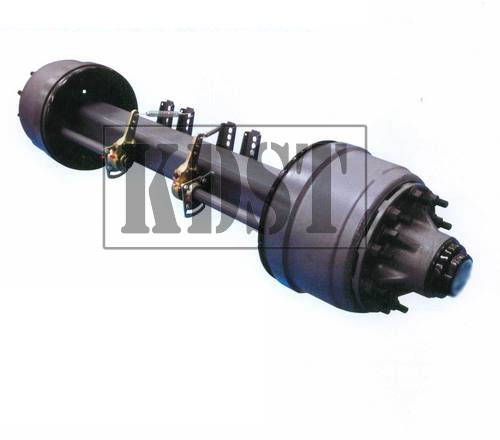 Fuwa KKTC axles are manufactured using a single piece of forging to ensure they are able to sustain in all sorts of harsh conditions in India or from around the world. These axles are fast gaining name as the most powerful name in the world of axles.
KDST makes and supplies hub bolt and nut as well. Fuwa hub bolt are kept in good quantities so that they can supplied to retailers and KKTC trailer users immediately or the very next day. Here is a glimpse of how the KKTC hub bolt looks like. It is extremely high quality and works well.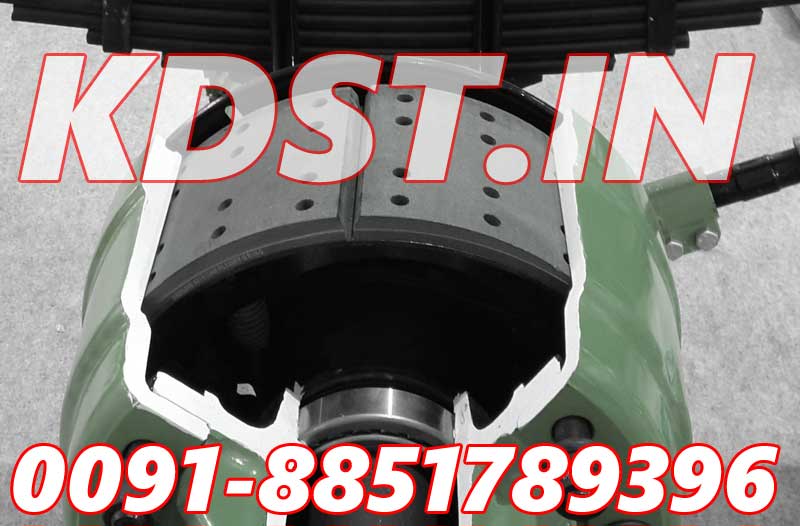 KDST never stops improving on its after market spare parts for Fuwa KKTC axles. So when you purchase a KDST axle component for your trailer you can be confident about it fit and finish. Every single thing that goes off our shelves is packed in separate box. While our axle parts cost less than OE parts, they are developed as per OEM standard.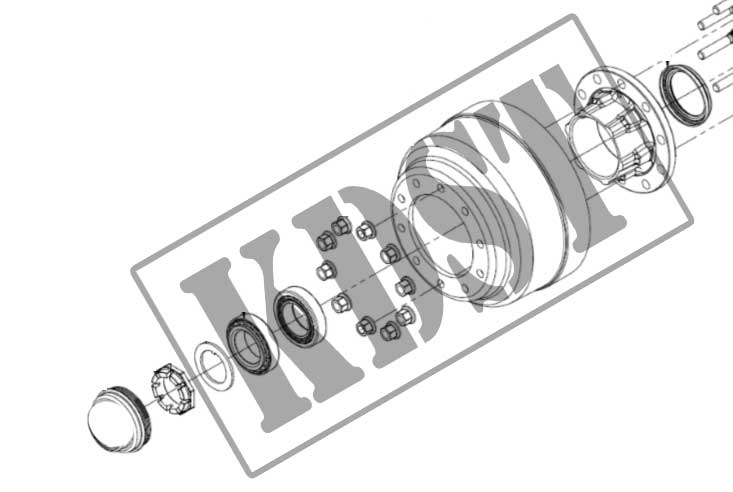 For more information about a particular axle part, contact us and we will get back to you. We would appreciate if you also mention its part number, make and build.
All part numbers given below are for reference purpose only.
k-380 slack adjuster (manual) hub cap (aluminium) 'o' ring (for hub cap) 3012 axle nut (heavy duty) 3011 axle washer – lock washer (3-knucka) 3951 bearing 518445/10 (518445/10) 212049/10 bearing 212049/10 3957(376590x) oil bath seal (f 108mm) 3500a brake shoe assy (f420x180mm) complete 16 hole (4515q) 3501a brake shoe (f 420 x 180mm) 16 hole (4515q) 3503a brake lining (cam side) f 420 x 180mm 16 hole 3502a brake lining (anchor side) f 420 x 180mm 16 hole 16 hole brake lining set -4515 (set f 8 pcs) 3903 tubular rivet 3201 anchor plate (spider) torque plate 3001 anchor bushing 3006 anchor roller (27 x 32) 3002 cam roller (19 x 32mm) 3005 roller retainer 3008 pin for return spring 3004 brake shoe spring (small) / anchor pin spring (small) 3007 brake return spring 0110r cam shaft 37 splines538mm (r) 0110l cam shaft 37 splines 538mm (l) 3306 cam bushing (for spider) (nylon) (pipe type) 3310 cam bushing assy (bracket) (complete) 2 plates + 1 sperical bush with grease nipple & 'o' rings 3310 spherical bush (nsb) (matki bush) 3010 cam shaft washer (41.5x60x1.5m) 3017 cam shaft washer (rectangle) (41.5 x 105 x 1.5m) 3307 cam shaft seal m8 x 30mm hex bolt m8 x 30m (for cam bushing bkt assy)w/nyla nut & washer 3014 slack adjuster spring 3204 r cam shaft bkt (weld on to round axle) 3203 r air chamber bracket 41mm external cam shaft circlip hub (uses 518445/10 inner & outer) brake drum f 480m dust shield (dust over) hub (uses 2142049/10 & 518445/10) (very less) rocker shaft assy 50mm (complete) kfw88-051200/50mm rocker shaft 50mm w/nut 50x90x120 steel rocker shaft 50mm steel bush 50x90x120 bronze rocker shaft bronze 50mm 50x94x30mm rocker shaft guide 50mm (bush set of 2) (50 x 94 x 30mm) – rocker shaft assy 60mm (complete) fw88-0512kh/60mm rocker shaft w/nut 60mm fw88-0510/60mm rocker steel bush60mm 60x90x120 (steel) rocker bush (bronze) 60mm 60x90x120 (bronze) rocker shaft guide bush set of 2 rocker shaft assy 70mm (complete) fw88-0512kh/70mm rocker shaft w/nut 70mm fw88-0510/70mm rocker steel bush (70x100x120) (steel) (70 x 100 x 120) rocker shaft guide bush set of 2 70mm 28mm radius pin w/nut 28mm x 7" 30mm radius pin w/nut 30mm x 7" 30mm radius pin w/nut 30mm x 7" 30mm radius steel bush (big) (30 x 60 x 120mm) 30mm guide set of 2 pcs (for radius pin) 30mm radius bush bronze (30 x 60 x 75mm) 30mm guide bush set fo 2 pg (30 x 52 x 28mm) 28mm pu radius bush (yellow) 30mm pu radius bush (yellow) 36mm rubber radius (black) 28 x 128mm teeter board pin (28 x 128) fw88-0518/128mm 30mm teeter board pin (30mm) fw88-051100 equilizer washer (looks like guide bush for 70mm rocker pin) kfw 88-0606/452mm adj. radius rod (rear) (452mm) kfw88-0605/380mm adj radius rod (front) (380mm) kfw88-0607/380mm fixed radius rod (front) kfw88-0608/452mm fixed radius rod (rear) fw88-050100l radius rod end (lh) fw88-050100r radius rod end (rh) fw88s-040000/60mm rocker 60mm (equilizer) fw88xs-040000/70mm rocker 70mm rocker (60mm) w/bush rocker (70mm) w/bush) kfw88/1310/60mm-0603 q rocker assy (60mm) (equilizer assy) (rocker w/bush + centre hanger + rocker pin assy + guide bush ) kfw88/1310/70mm-0603 q rocker assy (70mm) (equilizer assy) (rocker w/bush + centre hanger + rocker pin assy + guide bush) fw88-020000/203a rocker hanger (equilizer hanger) fw88-010000/203a front hanger only fw88-030000/203a rear hanger only rear hanger assy. kfw88-0602 (front hanger assy figure no. a-1 + pin for front hanger 120mm fw 88-0518/120mm + spacer tube fw88-0515) front hanger only fw 88-0515 spacer tube (fitted with front hanger, rocker & rear hanger) kfw88-050700 pin (fixed position) pin rear to the centre of teeterboard (figure no.7) fw88-0601 tetterboard assy (w/pin) fw88-0505 (figureno5) teeterboard 90 x 16 fw88-0504 (figureno4) (90×16) spring seat (upper) (fish bracket)90×16 fw88-0506 axle seat 90×16 (lower) (figureno6) (90×16) fw88-0509 spring clamp plate 90 x 16mm (u-bolt bkt) (figureno 9) (90×16) j2p 40.6.5 spring pack 8 blade (leaf) (16 x 190m) fw88-0609/437 u-bolt assy (437mm) (m24 x 437m x 2m thread) fw88-050800/437 (figure no5) u- bolt only(m24x437x2mmhtread) n24/2 u-bolt nut (m24 x 2 mm) 1st no main patta 2nd no second patta 3rd no third patta 4th no fourth patta 5th no fifth patta 6th no sixth patta 7th no seventh patta 8th no eighth patta iso hub bolt assy (m22x1.5) (head type) iso moving nut (m22x1.5) (revolving nut) iso hub bolt assy m22x 1.5 (for inboard) both side nut one side iso + one side taper nut) hub nut m22x1.5 (for above) jis hub bolt assy jis nut & cone set dust cover hex bolt m8 x 16 with nyloc nut & lock washer diaphragm m-24 diaphragm m-20 diaphragm m-19 diaphragm m-18 37c 5th wheel repair kit 37c wearing ring 37c lock jaw 37c eye bolt 37c tension spring for locking jaw 37c mount bolts for wearing ring 37c upper rubber cushion 37c lower rubber cushion 37c lock jaw pivot pin 37c locking bar 37c release handle 37c lh lever with bushing 37c pedestal 2" bolt in kind pin 8 holes 2" bolt in kind pin 8 holes weldon landing leg handle king pin block king pin bolt assy. 5th wheel (turn table) spring hook spring nose double tension spring (big) double tension spring (small) socket head bolt operating lever 5th wheel pin 5th wheel clamp tt0531 jost.
fb24xe-0100 axle beam 2 b12-0101 bush anchor pin 4 d12-0101 spring, anchor pin 5 d13-0101 return spring 6 d22-0101 roller retainer 7 d21-0101 roller 8 d11-0101 anchor pin 9 d20-010201 brake shoe assembly 10 c11-0101c-543lh s-camshaft – lh 10 c11-0101c-543rh s-camshaft – rh 10 c11-0101c-613lh s-camshaft – lh 10 c11-0101c-613rh s-camshaft – rh 11 c12-0101 thrust washer 12 c14-0301 seal, camshaft outer 12 kh800161 seal, camshaft outer – (old style) 2 13 c13-0301 camshaft bush (spider) 13 c13-0101 camshaft bush (spider) – (old style) 2 14 c15-0101 washer 15 c16-0401 snap ring 16 c15-0102 washer 17 c16-0101 snap ring 18 c33-0101 mounting plate s-cam tube 19 c30-0102-543 cam tube (543 camshaft) 19 kh3310-1042 cam tube (543 camshaft) – (old style) 2 19 c30-0102-613 cam tube (613 camshaft) 19 kh3310-1021 cam tube (613 camshaft) – (old style) 2 20 c24-0101 o-ring 21 a11-0101 washer 22 a13-0101 cotter pin 23 a12-0101 nut 24 a20-0101 spring, slack adjuster 25 a19-0300 slack adjuster 26 h14-0201 hub cap 27 h15-0201 o-ring 28 h12-0100 bearing assembly outer 29 h34-0301 nut, wheel – (m22x1.5 – 32mm) 20 x 30 h40-0101 nut, stud 20 x 31 h31-6201 hub – 10 x 335 32 h32-2304 drum 33 h33-2301 stud – (m22x1.5 – 125mm) 20 x 33 h33-2302 stud – (m22x1.5 – 152mm) 20 option 34 h12-0200 bearing assembly inner 35 h11-0300 seal, oil 36 h18-0104 dust shield.
1 kf21bx12x1850p30 beam & cam assy 1 kf21bx12x1850u30 beam & cam assy 1 kf21bx13x1850p30 beam & brake assy 1 kf21bx13x1850u30 beam & brake assy brake components 2 c11-0101c-613lh camshaft–lh (613mm)-5/8" 37sp 2 c11-0101c-613rh camshaft–rh (613mm)-5/8" 37sp 3 c30-0102-613 camtube 3 kh3310-1021 camtube – (old style) 4 c12-0101 washer, camshaft spacer 5 c14-0301 seal, camshaft outer 5 kh800161 seal, camshaft outer – (old style) 6 c13-0301 camshaft bush (spider) 6 c13-0101 camshaft bush (spider) – (old style) 7 c33-0101 camshaft, mtg plate 8 c24-0101 o-ring, camtube inner 9 c15-0101 washer, camshaft spacer 9a c15-0102 washer, slack adjuster 10 c16-0401 circlip, camshaft inner 10a c16-0101 circlip, slack adjuster 11 d20-010101 shoe set (2) 12 nss roller 13 nss roller retainer 14 nss return spring 14a nss retaining pin 15 nss anchor spring 16 nss anchor pin 17 nss anchor pin bush 18 a20-0101 return spring, slack adjuster 19 61137370ef positive lock slack adjuster 19 asc23112 auto slack adjuster (5"/6"/7" hole positions) 20 kh3600-0303 hub/drum assy-short stud 20 kh3600-0303z hub/drum assy-long stud 20 kh3600-0103 hub/drum assy-short stud 20 kh3600-0103z hub/drum assy-long stud 20 kh3600/ff hub/drum assy kh3601-0302 hub assy – short stud 21 kh3601-0302z hub assy – long stud 21 kh3601-0101 hub assy – short stud 21 kh3601-0101z hub assy – long stud 21 kh3601/ff hub assy 22 kh3602-0303 drum 22 kh3602-0101 drum 22 kh3602/ff drum wheel end components 23 h37-0101 stud ¾" nc0 23 h33-0301 stud short (m22x94)0 23 h33-0302 stud long (m22x122)0 24 h38-0101 nut ¾" nc0 24 h34-0301 nut m22 32 a/f0 24 h34-0302 nut m22 33 a/f0 o o 24 h34-0901 nut m22 32 a/f – 50mm long0 o o 25 h39-0101 rim clamp0 26 h12-0100 bearing inner 26 h12-0100 bearing outer 27 kh42623 seal 28 h18-0101 dust cover 29 kh800055 spring washer2 30 m8x16x1.75 bolt – dust cover – m82 31 a11-0101 washer bearing 32 a13-0101 cotter pin 33 a12-0101 nut spindle 34 h15-0201 o-ring – hub cap 35 kh800205b hub cap – screw on – black 36 nss bolt – ¾" unf-¼" – gr80 37 nss conelock nut – ¾" unf – gr8 c30-0102-613k cam tube kit (suit cam) kit suits: tp850mm track axle c30-0102-613 camtube assy c12-0101 washer, camshaft spacer c14-0301 seal, camshaft outer c13-0301 camshaft bush (spider) c33-0101 camshaft, mtg plate c24-0101 o-ring, camtube inner c15-0101 washer, camshaft spacer c15-0102 washer, slack adjuster c16-0401 circlip, camshaft inner c16-0101 circlip, slack adjuster b d20-010101k brake shoe kit (1 wheel) kit suits: kf21 axle d20-010101 shoe set (1 wheel) nss roller nss roller retainer nss return spring nss retaining pin nss anchor spring nss anchor pin nss anchor pin bush c abskit-01 abs kit kit suits: tp axle a15-0101 abs sensor lead (400mm) a16-0101 sleeve h41-0201 abs pole ring –00 tooth – ø165id