KDST makes after market suspension parts as well as bushings meant for the Fuwa KKTC trailers. All the parts needed to repair and maintain your trailer including hubs, drums, bearings, U-bolts, bushings, rocker bushes, equilizer, front, rear and center hanger, radius bushes, teeter bracket, couplers, lights, suspension, jacks, winches are sold by us. We sell them in India as well in rest of the world.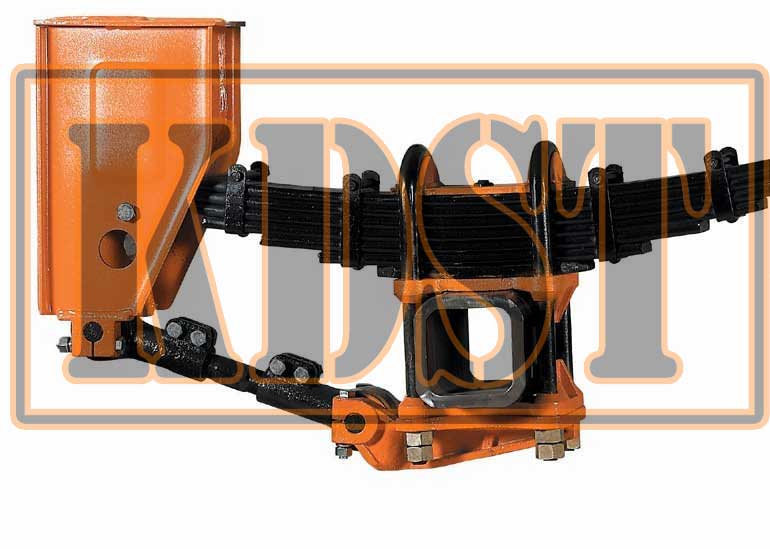 For underslung type suspension for Fuwa we offer, radius rod, screw, axle seat, spring seat, U bolt, complete assembly of u bolt, rocker shaft, equiliser, radius rod bush, spacer tube, fixed radius rod front, nut, rear and front hanger, spring washers, grease nipples, 9 leaf springs. Our overslung list includes every thing mentioned on the top plus teeterboard, m14x85 bolt, m14 nut, m24x2 nut, m14x60 bolt, m42x3 lock nut, m10 grease nipple.
All part numbers are for reference only.
fw88 fw88-0501l radius rod end fw88-0501r radius rod end fw88-0503/220 radius rod screw fw88-0504 spring seat fw88-0505 teeterboard fw88-0506 axle seat fw88-0507 pin – fixed position fw88-0508/421 u-bolt2 fw88-0509 spring clamp plate 10 fw88-0510/70 rocker shaft bush (steel) 11 fw88-0511 equaliser washer 12 fw88-0512kh rocker shaft 13 fw88-0513 sealing washer 14 fw88-0514 radius rod bush 15 fw88-0515 spacer tube 16 – – 17 fw88-0517/380 fixed radius rod – front 18 fw88-0518/120 hanger pin 19 fw88-0503/290 radius rod screw 20 fw88-0517/446 fixed radius rod 21 fw88-0518/128 teeterboard pin fw88-0100/392 front hanger a2 fw88-0200/398 equaliser hanger a3 fw88-0300/228 rear hanger a4 fw88/1310-0400/70 rocker b1 gb/t5780-86 m16x130 bolt b2 gb/t41-86 m16 nut2 b3 gb/t93-876 spring washer2 b4 gb/t5780-86 m14x85 bolt4 b5 gb/t41-86 m14 nut6 b6 gb/t93-874 spring washer6 b7 gb/t5780-86 m14x60 bolt2 b8 gb/t41-1986 m24x2 nut8 b9 gb/t6485-86 m42x3 lock nut b10 gb/t1152-79 m10 grease nipple b11 fw88-0516 grease nipple cap b12 gb/t5780-86 m16x140 bolt c1 jzp40.6.3 spring – leaf – 9x90x13 Trojan Trailer Parts & Components, trojan, trailer, component, duratorque, suspension, hub, brake, braking, coupling, towball, wheel, jockey wheel, flag bag, load leveller, wheel lamp, brake controller, wheel mount, leaf spring, axle, shin protector, submerse-a-light, bearing protector
fw86b underslung fs16-0501l radius rod end fs16-0501r radius rod end fs16-0503/250 radius rod screw fw86-05041 axle seat 6 fw86-05061 spring seat 6 fw86-06091/370 u-bolt assembly 12 12 fw96-05091 spring clamp plate 6 10 fw86-0510/80 rocker shaft bush (steel) 10 fs16-0510/80n rocker shaft bush (vesconite) 11 fw86-0511 equaliser washer 12 fw86-0512kh rocker shaft 12 fw86-012khr rocker shaft (hard chromed) 14 fw86-0514 radius rod bush (rubber/steel id 36mm) 14 fw86-0514f hd radius rod bush (steel/rubber/steel id 36mm) (12) (12) 15 fw88-0515 spacer tube 12 12 16 17 fs16-0517/380 fixed radius rod front 17 fw86-0517/380 fixed radius rod front 18 fs16-0518/185 pin 19 fs16-0503/415 radius rod bolt 20 fs16-0517/530 fixed radius rod 20 fw86-0517/530 fixed radius rod 21 fs16-0521 nut 12 12 22 fs16-0518/215 pin 23 fs16-0518/155 fw86-0100i/250 front hanger a2 fw86-0200i/250 equaliser hanger a3 fw86-0300/401 rear hanger a4 fw86/1310-0400/80 rocker a4 fw86/1310-0400/80t rocker b1 gb/t5780-86 m16x140 bolt 12 b1 gb/t5780-1986 m16x140 bolt 12 b2 gb/t41-86 m16 nut 12 b2 gb/t41-1986 m16 nut 12 b3 gb/t93-87 16 spring washer 12 b3 gb/t93-1987 16 spring washer 12 b5 gb/t41-86 m14 nut 12 b5 gb/t41-1986 m14 nut 12 b6 gb/t93-87 14 spring washer 12 b6 gb/t93-1987 14 spring washer 12 b7 gb/t5780-86 m14x60 bolt 12 b7 gb/t5780-1986 m14x60 bolt 12 b8 gb/t41-1986 m24x2 nut 48 48 b9 gb/t6485-86 m42x3 lock nut b9 gb/t6485-1986 m42x3 lock nut b10 gb/t1152-79 m10 grease nipple b10 gb/t1152-1979 m10 grease nipple b11 fw88-0516 grease nipple cap c1 jzp40.6.6 spring – leaf – 9x90x16 overslung fs16-0501l radius rod end fs16-0501r radius rod end fs16-0503/250 radius rod screw fw88-0504 spring seat 6 fw86-0505 teeterboard 6 fw88-0506 axle seat 6 fw88-0507 pin – fixed position 6 fw88-0508/453 u-bolt 12 12 fw88-0509 spring clamp plate 6 10 fw86-0510/80 rocker shaft bush (steel) 10 fs16-0510/80n rocker shaft bush (vesconite) 11 fw86-0511 equaliser washer 12 fw86-0512kh rocker shaft 12 fw86-012khr rocker shaft (hard chromed) 14 fw86-0514 radius rod bush (rubber/steel id 36mm) 14 fw86-0514f hd radius rod bush (steel/rubber/steel id 36mm) (12) (12) 15 fw88-0515 spacer tube 12 12 17 fs16-0517/385 fixed radius rod front 18 fw86-0518 pin teeterboard 12 12 19 fs16-0503/325 radius rod bolt 20 fs16-0517/455 fixed radius rod fw86-0100/395 front hanger a2 fw86-0200/401 equaliser hanger a3 fw86-0300/231 rear hanger a4 fw86/1310-0400/80 rocker b1 gb/t5780-86 m16x140 bolt 12 b1 gb/t5780-1986 m16x140 bolt 12 b2 gb/t41-86 m16 nut 12 b2 gb/t41-1986 m16 nut 12 b3 gb/t93-87 16 spring washer 12 b3 gb/t93-1987 16 spring washer 12 b4 gb/t5780-86 m14x85 bolt 24 24 b4 gb/t5780-86 m14x85 bolt 24 24 b5 gb/t41-86 m14 nut 12 b5 gb/t41-1986 m14 nut 12 b6 gb/t93-87 14 spring washer 12 b6 gb/t93-1987 14 spring washer 12 b7 gb/t5780-86 m14x60 bolt 12 b7 gb/t5780-1986 m14x60 bolt 12 b8 gb/t41-1986 m24x2 nut 48 48 b9 gb/t6485-86 m42x3 lock nut b9 gb/t6485-1986 m42x3 lock nut b10 gb/t1152-79 m10 grease nipple b10 gb/t1152-1979 m10 grease nipple b11 fw88-0516 grease nipple cap c1 jzp40.6.6 spring – leaf – 9x90x16