AMW Motors spare parts in India: AMW truck parts catelog – AMW parts exporter
KDST is #1 AMW truck parts supplier in India and exporter for rest of the world. We supply after market AMW Motors spare parts that are made according to OEM specifications. Our engineers have created an excellent model to ensure that the AMW truck spare parts are available at all times. Just give us a call and we will hook you up. KDST India is wholesale supplier of AMW Truck Spare Parts and some of the items we deal in includes King Pin Bush, Bogie Check Nut, Side Wear Pad and Balance Rod Bolt.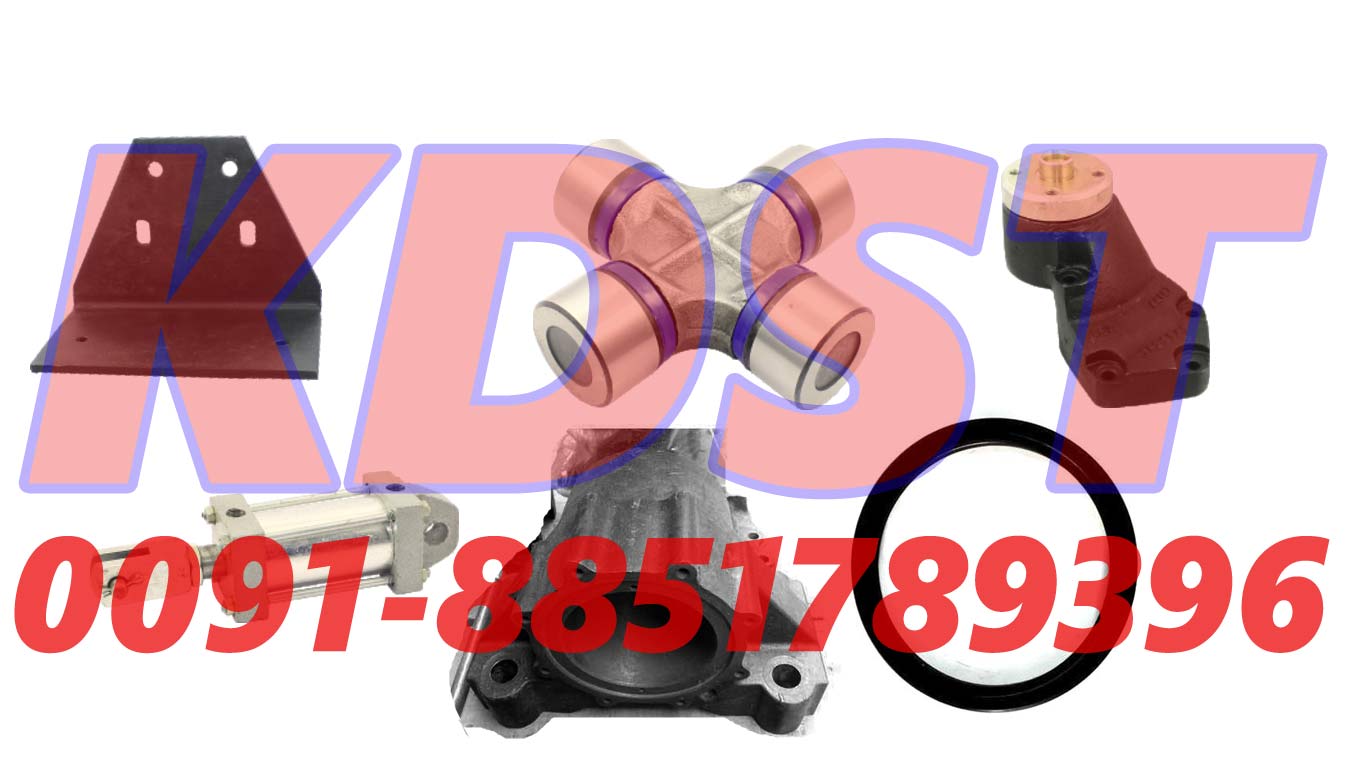 Our entire list includes front cross member, bogie lock, bogie oil seal, pressure plate assembly, starting pump, clutch booster, main leaf rear, main leaf front, u bolt rear, u bolt front, hex bolt, door trim, cabin bracket, cabin bracket, rain hood, p.T.O seal, water pump assembly, coolant tank, side indicator, head light, steering rod, torque rod bush, r.C. Lever assembly, outside door handle, door hinges, bonnet hinges, door latch, glass channel, window regulator assembly, engine bonnet lock, assembly lock clamp bonnet engine and grill lock. Following AMW truck parts catelog will help you find the right part for your AMW truck. Please note that these OEM part numbers are for reference purpose only and we are after-market AMW truck parts supplier.
In some cases, we have found that AMW has been using Fuwa and York trailers in their trucks and that makes sense because those two trailers have enjoyed immense success in India.
10011287: Hub Nut Spanner
10011288: Deep Socket For M24 U-Bolt
10022686: Amber Marker 24V Bulb
1010-01-0000: Assy. Spare Wheel Carrier
1023-01-0000: Sub Assy Of Clutch Servo Gaurd
1031-02-0000: S/A Of Eaton 6S Sd Gear Box
1049-01-0000: Assembly Of Frame_3118Tp
1053-01-0000: Assy. Of Frame_Bs Iii 2518Hl-6X4
1056-02-0000: S/A Nylon Pipe 12Mm Od
1056-03-0000: S/A Nylon Pipe 15Mm Od
1056-04-0000: S/A Nylon Pipe 12Mm Od
1056-05-0000: S/A Nylon Pipe 12Mm Od
1056-06-0000: S/A Nylon Pipe 12Mm Od
1056-07-0000: S/A Nylon Pipe 12Mm Od
1056-08-0000: S/A Nylon Pipe 12Mm Od
1056-09-0000: S/A Nylon Pipe 12Mm Od
1056-10-0000: S/A Nylon Pipe 12Mm Od
1056-11-0000: S/A Nylon Pipe 12Mm Od
1056-12-0000: S/A Nylon Pipe 12Mm Od
1056-13-0000: S/A Nylon Pipe 12Mm Od
1056-14-0000: S/A Nylon Pipe 12Mm Od
1056-15-0000: S/A Nylon Pipe 12Mm Od
1056-16-0000: S/A Nylon Pipe 12Mm Od
1056-17-0000: S/A Nylon Pipe 12Mm Od
1056-18-0000: S/A Nylon Pipe 12Mm Od
1056-19-0000: S/A Nylon Pipe 15Mm Od
1056-20-0000: S/A Nylon Pipe 8Mm Od
1056-21-0000: S/A Nylon Pipe 8Mm Od
1056-22-0000: S/A Nylon Pipe 8Mm Od
1056-23-0000: S/A Nylon Pipe 8Mm Od
1056-24-0000: S/A Nylon Pipe 8Mm Od
1056-25-0000: S/A Nylon Pipe 8Mm Od
1078-01-0000: S/Aof Exhaust Pipe-180 Hp B-Mech
1078-02-0000: S/A Of Exhaust Pipe Before Silencer
1078-03-0000: Sa Of Exhaust Pipe
1078-05-0000: S/A Of Exhaust Pipe
10HMLS0034: Hande Axle Check Nut Tool
1109-01-0000: S/A Tc Outlet – Fabricted
1109-03-0000: S/A Of Exhaust Pipe Before Si_2523Tp Bs3
1109-04-0000: S/A Pipe After Tc Outlet-4Inch
1109-05-0000: S/A Of Exhaust Pipe
111-00-0104: M22Xm22 Adaptor
111-00-0107: M22 X M20 Adaptor
111-00-0108: M22Xm18 Adaptor
111-00-0143: Adaptor On Fuel Tank(Suction)
111-00-0144: Adaptor On Water Separator(Inlet & Outle
111-00-0145: Adaptor On Fuel Tank(Return)
111-00-0171: Adaptor -M14 X M14
111-01-0086: Hyva-Adaptor1″Bsp(M)X1″Bsp(M)[32232113]
111-01-0088: Hyva-Adptrx1/2″Bsp(M)X7/16″Unf[3218082]
111-01-0089: Hyva-Adap1X1/4″Bsp(M)7/16″Unf[32180720]
111-10-0001: M26 X M30 Adaptor
111-10-0002: M22 X M26 X 1.5 Adaptor
111-10-0006: M22 X M22 X 1.5 Adaptor
111-10-0007: M22 X M22 X 1.5 Adaptor
111-10-0008: M22 X M18 X 1.5 Adaptor
111-10-0012: M18 X M20 Adaptor
111-10-0013: M16 X M20 Adaptor
111-10-0014: M18 X M18 X 1.5 Adaptor Long
:
:
:
:
111-10-0016: M16 X M18 Adaptor
111-10-0017: M16 X M18 X 1.5 Adaptor
111-10-0018: M14 X M18 X 1.5 Adaptor
111-10-0019: M14X M12 X 1.5 Adaptor
111-10-0020: Adaptor M12 X M12 – Air Pipping
111-10-0021: M16Xm12 Adaptor Type 1
111-10-0022: M22 X M22 X 1.5 Adaptor
111-10-0034: Adaptor – M16 X M16 X 1.5
111-10-0041: M14 X M14 X 1.5 Adaptor
111-10-0042: M16X M22 X 1.5 Adaptor
111-10-0043: 1/4″ Npt X M14 X 1.5 Adaptor
111-10-0044: M16 X M14 X 1.5 Adaptor
111-10-0046: M12 X M14 X 1.5 Adaptor
111-10-0048: M14 X M14 X 1.5 Adaptor
111-10-0049: Adaptor
111-10-0050: 3/8″ Bsp X M14 X 1.5 Adaptor
111-10-0060: Spl.Adaptor-On Clutch Housing
111-10-0061: Adaptor-1/8″""" Bsp"
111-10-0063: Clutch Oil Inlet Adaptor
111-10-0065: Adaptor-1/8″" Bsp-Gear Box"
111-10-0066: M18Xm18X1.5 Adaptor-Both Side Conical
111-10-0068: 15X1″" Npt Insuction Adaptor"
111-10-0069: M20X15X3/4″" Unf-16 Delivery Adaptor"
111-10-0079: Adaptor 1/2 X 3/4 Male-Female
111-10-0092: Adaptor-M16 X M14
111-10-0093: Adaptor-M22 X M14
111-10-0102: Adaptot-1/8″" Bsp-Gear Box"
111-10-0108: Adaptor M22 X M18 X 1.5
111-10-0128: Adaptor M26 X M26
111-10-0166: M26 X M26 X 1.5 Adaptor
111-40-0100: Discharge Port
111-40-0101: Suction Port
1110-00-0000: Assembly Of Frame_Bsiii 2523 Tp
1113-01-0000: S/A Of Shackle Front Spring
1113-05-0000: Front Spring Assembly80Mm_Soni Auto
1118-01-0000: Assy Of Frame_2518 Tp Bsiii Split
1118-02-0000: Assy Of Frame_2518Tp (80Mm Spring Bkt)
113-10-0002: Mtg Angle
113-10-0012: Mtg Angle-15 Lts Air Reservoir
114-09-0009: Gear Shift Arm Assembly (316-01-0122)
114-10-0015: Drop Arm # Zf
114-19-0008: Gear Shift Arm Assembly – Lh-Faw
114-19-0010: Supporting Arm Assy – Lh
114-19-0011: Supporting Arm Assy-Rh
114-19-0013: Rotating Arm
114-20-0034: Zf Drop Arm 3118 Swb
114-20-0036: Drop Arm-Zf-2516 Cowl
114-21-0003: Drop Arm_Rane
114-21-0031: Zf Drop Arm-3118
114-22-0032: Drop Arm- Hubei Forni
115-00-0012: Ball Joint For 3118Pt Stg.Cylinder
115-00-0022: Ball Joint Lh -Tie Rod
115-00-0023: Ball Joint Rh -Tie Rod
115-00-0031: Ball Joint M8
115-00-0032: Assy Ball Joint M18 Qhtl
115-00-0036: Moog Ball Joint 56 Degree
115-00-0037: Drag Link End Ball Joint Assy
115-00-0047: Connecting Link End Assm
115-01-0018: Ball Joint 10 Degree
115-01-0043: Power Cyl Ball Joint Assy
115-09-0017: Hs Ball Joint-Gear Linkage-Faw
115-10-0002: Ball Joint – Rh (55 Deg)
:
:
:
:
115-10-0008: Ball Joint M6 X 1
1155-00-0000: Assembly Of Frame_Bsiii 4923Tr Cbh
116-00-0003: Banjo Body
116-00-0004: M18 Banjo Body – Pstg
116-20-0001: M14 Banjo Body
1163-01-0000: S/A Of Metallic Pipe – 15Mm Od
1163-02-0000: S/A Of Metal Pipe – 15Mm Od,Teflon Hose
1163-03-0000: S/A Of Metal Pipe – 15Mm Od, 3Rd X-Mbr
1163-04-0000: S/A Of Metal Pipe – 15Mm Od, Center Brg
1163-46-0000: S/A Of Nylon Pipe 8Mm Od
1163-49-0000: S/A Of Nylon Pipe 8Mm Od
1163-53-0000: S/A Of Nylon Pipe 8Mm Od
1163-63-0000: S/A Of Nylon Pipe 8Mm Od
1163-64-0000: S/A Of Nylon Pipe 8Mm Od
1163-65-0000: S/A Of Nylon Pipe 8Mm Od
1163-66-0000: S/  /A Of Nylon Pipe 8Mm Od
1163-69-0000: S/A Of Nylon Pipe 12 Mm Od
1163-70-0000: S/A Of Nylon Pipe 12 Mm Od
1163-71-0000: S/A Of Nylon Pipe 12 Mm Od
1163-72-0000: S/A Of Nylon Pipe 15  Mm Od
1163-73-0000: S/A Of Nylon Pipe 15 Mm Od
1163-74-0000: S/A Of Nylon Pipe 15 Mm Od
1163-75-0000: S/A Of Nylon Pipe 15 Mm Od
1163-76-0000: S/A Of Nylon Pipe 15 Mm Od
1163-77-0000: S/A Of Nylon Pipe 12 Mm Od
1163-79-0000: S/A Of Nylon Pipe 8Mm Od
1163-80-0000: S/A Of Nylon Pipe 12 Mm Od
1163-81-0000: S/A Of Nylon Pipe 12 Mm Od
1163-82-0000: S/A Of Nylon Pipe 12 Mm Od
1163-83-0000: S/A Of Nylon Pipe 12 Mm Od
1163-84-0000: S/A Of Nylon Pipe 12 Mm Od
1163-85-0000: S/A Of Nylon Pipe 6Mm Od
1163-86-0000: S/A Of Nylon Pipe 6Mm Od
117-10-0001: M14 Banjo Bolt
117-10-0002: M18 Banjo Bolt
117-10-0004: Banjo Bolt M12 X 1.5
117-10-0005: Banjo Bolt M18X1.5 For Kanda Motors
117-10-0006: Banjo Bolt Suction – M18 X 1.5
1171-01-0000: S/A Of Exhaust Pipe After Ex. Brake Assy
1173-01-0000: S/A Of Fuel Suction Line_Tank Side_400Lt
1173-02-0000: S/A Of Fuel Suction Line_Fip Side_400Ltr
1173-03-0000: S/A Of Fuel Return Line_Tank Side_400Ltr
1173-04-0000: S/A Of Fuel Return Line_Fip Side_400Ltr
119-00-0005: Battery Inter Connector
119-02-0000: S/A Ofcl Bundy  6 Od X 2000 L X M12 Nf
120-04-0000: S/A Fulcrum Brkt – Gs
120-19-0001: Instrument Panel Support Tublar
120-19-0014: Transverse Beam Assy
120-20-0019: Beam Front Axle -Finish-2516 Hl
121-00-0009: Needle Bearing-Dia 18
121-00-0010: Le Bearing-Dia 28
121-00-0014: Bearing 33210
121-00-0023: Bearing – 32217
121-00-0024: Cup Cone Assembly Bearing-Wheel Inner
121-00-0079: Needle Bearing 4012
121-00-0080: Needle Bearing 6012
121-00-0081: Pto Bearing-33207
121-00-0089: Single Row Taper Roller Bearing (Hub Out
121-00-0090: Single Row Taper Roller Bearing (Hub Inn
121-00-0098: Clutch Release Bearing ( To Eliminate Th
121-00-0103: Single Row Taper Roller Bearing
121-01-0005: Release Brg Assy(Ref.121-01-0033)
:
:
:
:
121-01-0006: Clutch Release Bearing (430 Dia. Clutch)
121-01-0033: Crb For Zf Gear Box
121-01-0035: Release Bearing For Eaton -Texspin
121-01-0046: Clutch Release Bearing – 37Mm
121-01-0085: Elease Bearing Assembly For Eaton
121-09-0028: Ball Bearing -Steering Shaft
121-09-0029: Needle Bearing
121-09-0030: Steering Shaft Upper Bearing Assy
121-10-0093: Taper Roller Bearing Hub Inner
121-10-0094: Taper Roller Bearing Hub Outer
121-20-0078: Bearing 32209.
1212-01-0000: Eaton 6209 X Gear Box With Out Spacer
122-00-0026: Poly V-Belt 8Pk 1080
122-61-0006: Av13 X 1175 Fenner , Cogged V-Belt"
122-61-0027: Cogged V Belt-180 Hpb-Mech
1233-01-0000: Assy Of Frame_3118Tp-Swb
124-01-0013: Hyva-Valve Mounting Block[10109009]
124-09-0015: Movable Glass Packing Block-Faw
124-09-0016: Water Proof – Door Window
124-09-0021: Soft Plastic Board Front Lh
124-09-0025: Buffer Block
124-10-0001: Connector Block
124-10-0002: Bearing Holder -1
124-10-0003: Bearing Nut
124-10-0004: Relay Block
124-10-0005: Dust Cover
124-10-0006: Special Washer-Is 2016-M82 X 7
124-10-0007: Relay Lever -1
124-10-0008: Bearing Holder-2
124-10-0044: Connector Block
124-69-0012: Warning Block Door Window Glass-Faw
124-69-0024: Stop Block Door_Faw
126-00-0036: M8X1.25X10 Flanged Set Screw P10.9
126-00-0046: Centre Bolt
126-00-0049: Clamp Bolt 8.8 Grade M10X1.5X105Mm
126-01-0026: Bolt
126-10-0010: M10X1.5X130Mm Bolt-Compressor Mounting
126-11-0006: Adjusting Cross
126-20-0020: Pin Bolt
1265-01-0000: S/A 2516 Cowl R1 With Wheel End Axle
127-00-0635: Smtg Bkt -Fip End
127-00-1334: Supd Cut Mounting Bracket
127-00-1352: Lock Bkt, Cabin Hyd. Latch-Dh
127-00-1413: L-Bkt For Steering Suction Pipe
127-00-1417: Exhaust Pipe Supt Bkt_3118Hl
127-00-1419: L – Bracket Near In Relay Lever
127-00-1486: Relay Valve Mounting – 3118Hl
127-00-1588: Cab Pump Mtg Bkt
127-00-1717: Assy Radiator Top Stay Mtg Brkt-Lh
127-00-1718: Radiator Top Stay Mtg Brkt-Rh
127-00-1776: Cowl Struc.Sprt Bkt-Rh Assy (Deleted)
127-00-1787: Bumper Mtg. Brkt Assy -Lh
127-00-1788: Bumper Mtg. Brkt Assy -Rh
127-00-1798: Cowl Struc.Sprt Bkt-Lh Assy
127-00-1860: Battery Cut-Off Switch Mounting Bracket
127-00-1981: Bracket For Diagnostic Conn-Isbe Eng.
127-00-1985: Shox Absorber Mtg Brkt Lower
127-00-2093: Bump Stop Bracket Top-Lh
127-00-2191: Shock Absorber Top Mtg Brkt
127-00-2321: Bkt Rear Guard Plate Lh
127-00-2322: Bkt Rear Guard Plate Rh
127-00-2403: S/A Of Relay Bkt On Frame
:
:
:
:
127-00-2639: Brakt Plate Spring
127-01-1303: Bkt Speaker Mtg Lh
127-01-1310: Bkt Speaker Mtg Rh
127-01-1515: Cover Of Bracket, Cabin Wire Harness Con
127-01-1586: Kit Semi Float  Hyd Struc
127-09-0815: Cabin Strut Brkt
127-09-0868: Bracket (Tray)-Faw
127-09-0992: Bracket Of Tape Player
127-09-0993: Bottom Bracket,W H Connection"
127-09-0994: Top Bracket,W H Connection"
127-09-0996: Bracket Assy, Limiting"
127-09-0997: Accl Pedal Metallic Bkt
127-10-0024: Eng.Mtg.Brkt- On Fly Wheel Hsg.
127-10-0027: Rear Supt. Brkt On Frame – Lh
127-10-0028: Rear Supt. Brkt On Frame – Rh
127-10-0033: Eng.Mtg.Brkt – Front – L.H. On Engine
127-10-0034: Eng.Mtg.Brkt – Front – R.H. On Engine
127-10-0035: Eng.Mtg.Brkt – L.H. On Fsm
127-10-0036: Eng.Mtg.Brkt – R.H.On Fsm
127-10-0049: Silencer Support
127-10-0063: Mtg Bkt Cab End
127-10-0071: Wider Bumper Bkt. Lh
127-10-0072: Wider Bumper Bkt. Rh
127-10-0085: L Bracket – M14 X M14 X M14
127-10-0087: Mtg Bracket – Relay Valve
127-10-0089: Mtg Bracket – Pr Protection Valve
127-10-0095: Support Brkt – Tc Outlet
127-10-0104: L Bracket
127-10-0117: Narrow Bumper Bkt.  Lh
127-10-0118: Narrow Bumper Bkt.  Rh
127-10-0144: Mtg Bracket – Shox Top
127-10-0146: Mtg Bkt – Aeon Spring – Lh
127-10-0154: Bumper Mounting Bracket-Lh
127-10-0155: Bumper Mounting Bracket-Rh
127-10-0156: Bracket-Buffer Mtg-Lh
127-10-0159: Mtg Bkt – Aeon Spring – Rh
127-10-0160: Bracket-Buffer Mtg-Rh
127-10-0161: Twist Bracket
127-10-0162: L Brkt – 15 Mm Dia Pipe (Compressor Out)
127-10-0163: L Brkt – 15 Mm Dia Pipe ( Compressor Out
127-10-0175: Mtg Brkt –  Accl Cable
127-10-0177: L Bracket – M18 X M18 X M18
127-10-0178: E8-5L Bracket – M18 X M18 X M18
127-10-0201: Cab Mtg Bracket-Lh
127-10-0202: Steering Cum Cab Mtg Bracket – Rh
127-10-0205: Bracket – Silencer Mtg.
127-10-0221: Mtg Bracket – Dc Valve
127-10-0229: Mounting Brkt
127-10-0231: L Bracket – Silencer Mtg
127-10-0232: Twist Brkt – Return Spring
127-10-0237: L – Bracket
127-10-0239: L Bracket
127-10-0241: Mtg Bracket – Rv – Rear
127-10-0242: Mtg Bracket – Qrv – Front
127-10-0243: Mtg Bracket – Magnetic Valve
127-10-0244: Bump Stop Bracket – Bs
127-10-0247: L Brkt – 15 Mm Dia Pipe ( Compressor Out
127-10-0249: Bracket – Silencer Supt-4X2Tr
127-10-0255: 360 Tilt Cylinder Mtg Brkt
127-10-0256: Cab Tilting Hinge Brkt
127-10-0258: L Bracket
127-10-0259: Bracket
:
:
:
:
127-10-0262: L Bracket
127-10-0263: Rad Mtg Bracket On Fsm
127-10-0265: L Bracket – M18 X M22 X M18
127-10-0266: L Bracket – M22 X M14 X M22
127-10-0267: L Bracket – M22 X M22 X M22
127-10-0268: Mtg Bracket – Air Dryer – Ddu
127-10-0270: L Bracket – M14 X M14 X M14
127-10-0273: Mtg Brkt – Reservoir
127-10-0275: Mtg Bracket – Trailer Control Valve
127-10-0279: Support Brkt Tail Pipe(127-10-2455)
127-10-0280: Mtg Brkt – Trailer Hose
127-10-0287: Cab Tilting Pump Mtg Brkt
127-10-0308: Mtg Brkt – Beeper
127-10-0311: Mtg Bracket-Qrv Front
127-10-0320: Bkt-Air Cleaner Mtg
127-10-0321: Bkt-Stack Pipe Supt-Tr
127-10-0322: Bkt-Stack Pipe Supt-Tp
127-10-0325: B Twist Bracket – Air Intake
127-10-0332: Stay Rod Brkt-Stack Pipe-Tr
127-10-0333: Mtg Bracket-Supd-Lh(Ref.127-10-0433)
127-10-0342: Brkt-Cross Stay Tractor
127-10-0344: Brkt Stay -Stack Pipe-Tp
127-10-0362: Bracket
127-10-0366: Twist Bracket- Cac Outlet Pipe
127-10-0370: Mtg-Bkt-Supd-Rear-Lh
127-10-0371: L – Bracket
127-10-0372: Brkt Mtg – Lh Frt Mudguard(127-10-1345)
127-10-0373: Brkt Mtg -Rh Frt Mudguard
127-10-0374: Brkt Mtg – Lh Frt Mudguard
127-10-0375: Brkt Mtg -Rh Frt Mudguard
127-10-0383: Bkt – Stack Pipe Support -180Hp
127-10-0384: Supd-Intermediate-Brkt-Lh
127-10-0385: Mtg Bkt – Air Cleaner- 180 Hp
127-10-0387: Supd-Intermediate-Brkt-Rh
127-10-0389: Bracket- Rear Most X Mbr -Lh & Rh
127-10-0392: Stay Brkt – Straight – 180 Hp
127-10-0393: Cab Mtg Brkt-Lh_4930
127-10-0394: Cab Mtg Brkt-Rh_4930
127-10-0395: Mounting Bkt – Precleaner – 235Hp
127-10-0403: Engin Mtg Brkt – Rear_4930
127-10-0404: Engine Mtg Brkt – Rear – Fr – Lh_4930
127-10-0405: Engine Mtg Brkt – Rear – Fr – Rh_4930
127-10-0406: Hood Support Bracket Assly.
127-10-0407: Bracket Hood -2
127-10-0408: Mounting Bracket 1
127-10-0409: Mounting Bracket
127-10-0411: Mtg Brkt  – Reservoir
127-10-0414: Twist Bracket
127-10-0419: Engine Mtg Brkt -Front – Fr
127-10-0428: Radiator Stay Brkt_Top_Lh
127-10-0430: Brkt-Rad Stay Top-Rh
127-10-0431: Stay Bracket Lh
127-10-0432: Hydraulic Actuator Mtg. Brkt
127-10-0433: Mtg-Bkt-Supd-Front-Lh
127-10-0435: Helper Spring Bracket
127-10-0444: Relay Brkt On Frame
127-10-0456: Cab Mtg Bracket With Splined Bush-Lh
127-10-0457: Steering Cum Cab Mtg Bracket With Spline
127-10-0463: Lsv Mtg Bracket
127-10-0466: Tow Hook Narrow Bumper
127-10-0467: Tow Hook Wider Bumper
127-10-0475: L Bracket
:
:
:
:
127-10-0476: L Bracket
127-10-0477: L Bracket
127-10-0478: L Bracket
127-10-0479: L Bracket
127-10-0480: L Bracket
127-10-0484: Ballata Plate Mtg Bracket – 180Hp
127-10-0485: Ballata Plate Mtg Bracket 1 – 180Hp
127-10-0492: Stack Pipe Supt – 4018Tr
127-10-0494: Dat Mtg Bracket – 4X2 Tr
127-10-0498: Seven Pin Socket Mtg Brkt
127-10-0499: Palm Coupling Mtg Brkt
127-10-0500: L – Bracket
127-10-0502: L Brkt-15Mm Dia Pipe (Compressor Outlet)
127-10-0503: Mtg Brkt – Seven Pin Socket
127-10-0504: Trailer Hose Mtg Brkt – 4X2 Tr
127-10-0507: L-Brkt- Gear Shift Outer Lever
127-10-0512: L Bracket – Cab Lift Hyd Lock
127-10-0522: Brkt-Control Rod Position
127-10-0523: Brkt – Rear Mud Guard Mtg – Lh
127-10-0524: Brkt – Rear Mud Guard Mtg – Rh
127-10-0525: Mtg-Brkt-Exhaust Pipe Fly Wheel Hsg
127-10-0526: Support Bkrt- Exhaust Pipe Fly Wheel Hsg
127-10-0527: Mtg Brkt Coupling
127-10-0536: Dat-Mtg Bracket-Std Roof Cabin
127-10-0537: Dat-Mtg-Brkt-High Roof Cabin
127-10-0542: Twist Brkt For H – Roof Plastic Dat Pipe
127-10-0543: Twist Brkt.For Std Roof-Plastic Dat Pipe
127-10-0551: Supt-Brkt
127-10-0554: Mtg Brkt Supd Front Rh
127-10-0580: Cross Stay For Tractor – For Plastic Dat
127-10-0581: Cross Stay For Tractor-Plastic Dat Tank
127-10-0587: Relocation Brake Chamber Bracket-Rh
127-10-0588: Relocation Brake Chamber Brkt-Lh
127-10-0589: Fuel Tank Mtg Bkt
127-10-0591: Mtg Brkt-Cvmc-Z-Sectionlastic Dat Tank
127-10-0594: Mounting Bracket Condenser – Fan
127-10-0602: Brkt-Silencer Support-Front Rh
127-10-0609: Mtg Bkt Tail Pipe Support
127-10-0612: Sup Bkt Tail
127-10-0613: Clamp Brkt – Tailpipe
127-10-0616: Brkt-Helper Spring -Lh(127-10-0435)
127-10-0617: Brkt.Helper Spring -Rh(127-10-0435)
127-10-0625: Fuel Tnk Hatsec Brkt(Use Tl Stk Lasts)(O
127-10-0632: Mtg. Brkt – Accl. Cable
127-10-0633: Stop Cable Mtg Bracket-Cabin End
127-10-0634: Brkt Cable Return Spring
127-10-0635: Brkt-Stop Cable Mtg – Rp End
127-10-0636: L Bracket – Heat Shield_4930
127-10-0638: Mtg Brkt Ratchet Slack Adjuster
127-10-0640: L Brkt (Automatic Slack Adj Mtg Rear R)
127-10-0641: Utomatic Slack Adj Mtg Rear L)
127-10-0644: Radiator Mtg Brkt On Radiator-Lh
127-10-0649: Slack Adjuster Stopper Brkt
127-10-0652: L-Bracket
127-10-0660: Exhaust Pipe Support-Fly Wheel Housing
127-10-0661: Exhaust Pipe Mtg Brkt Fly Wheel Housing
127-10-0662: Silencer Support Brkt-Front Rh
127-10-0663: Silencer Mtg Brkt-Front Rh
127-10-0664: Silencer Support Brkt-Rear Rh
127-10-0665: Silencer Mtg Brkt-Rear Rh
127-10-0666: Support Brkt Tail Pipe
127-10-0667: Mtg Brkt Tail Pipe
:
:
:
:
127-10-0668: Spring Clutch Pedal -Mtg Bracket
127-10-0670: Radiator Stay Mtg Brkt Top -Lh
127-10-0671: Radiator Stay Mtg Brkt Top- Rh
127-10-0672: Radiator Stay Mtg Brkt Bottom-Lh
127-10-0673: Radiator Stay Mtg Brkt Bottom-Rh
127-10-0675: L-Bracket-Shock Abs Top
127-10-0676: Hock Absorber Top Bracket-Uprated
127-10-0684: Dat Mtg Brkt Assy-4018Tr
127-10-0696: Slack Adjuster Stopper Brkt
127-10-0709: Cross Stay Rod-4018Tr
127-10-0713: Mtg Brkt -Upper Steel Mudguard Rh
127-10-0721: Twist Bkt Cac Inlet Tpm
127-10-0728: Mtg Brkt Frt-Rear Mudgaurd-Lh
127-10-0729: Mtg Brkt Frt-Rear Mudgaurd-Rh-4018
127-10-0730: Air Cleaner Mtg Bracket
127-10-0734: Tail Lamp Brkt – Lh(127-10-0998)
127-10-0735: Tail Lamp Brkt – Rh(127-10-0998)
127-10-0740: Mtg Bkt Clutch Booster
127-10-0749: Dat Mtg Bkt Assy Tp
127-10-0750: Brkt Cross Stay 2523 Suspended Cab
127-10-0751: Brakt Stay Rod-2523 Tp
127-10-0753: Base Bracket – Supt Lh Muguard – Rf
127-10-0754: Base Bracket – Supt Rh Muguard – Rf
127-10-0756: Front Mudguard Mtg. Bkt – Rh
127-10-0757: Front Mudguard Mtg. Bkt – Lh
127-10-0768: Stay Rod-4923Tr
127-10-0787: Mtg Brkt-Modulator Valve-Front Lh
127-10-0796: Mtg Brkt-Air Dyrer
127-10-0798: Mtg Brkt-Modulator Valve-Rear Lh
127-10-0799: Mtg Brkt-Modulator Valve-Rear Rh
127-10-0800: Mtg Brkt – Modulator Valve-Rear Lh
127-10-0801: Mtg Brkt – Modulator Valve-Rear Rh
127-10-0802: Mtg Brkt-Inversion Relay Valve
127-10-0805: Brkt – System Protection Valve
127-10-0806: Mtg Brkt Air Dryer
127-10-0807: Mtg Brkt-Relay Valve-Front
127-10-0809: Mtg. Brkt-Ecu
127-10-0810: Mtg Brkt-Modulator Valve-Front Rh
127-10-0818: Mounting Brkt Bumper Lh
127-10-0819: Mounting Brkt Bumper Rh
127-10-0829: Mtg Brkt-System Protection Valve
127-10-0830: Mtg Brkt Oil Separator
127-10-0834: Mtg Brkt-Purge Tank
127-10-0835: L – Bracket
127-10-0836: L – Bracket
127-10-0841: Mtg Plate-Ecu
127-10-0844: Mtg Brkt-Oil Separator
127-10-0846: Eng Mtg Brkt – Relay Valve – Front
127-10-0895: Mtg Bkt-Clutch Booster-For Eaton 6S
127-10-0899: Rear Mtg. Brkt.
127-10-0900: Front Mtg Brkt
127-10-0902: Rvm Brkt Upper Holder
127-10-0914: L-Brkt Cab Hyd-Hose Clamping
127-10-0952: Radiator Stay Mtg Brkt Bottom-Lh
127-10-0953: Radiator Stay Mtg Brkt Bottom-Rh
127-10-0960: Support Bracket Condensor – Rh
127-10-0967: Supt Bkt Lh – Condenser
127-10-0969: Rr Mtg Brkt Rad Guard
127-10-0972: Exhaust Pipe Supt Bkt On Frame
127-10-0974: Silencer Support Bkt
127-10-0984: Radiator Mtg Brkt On Fsm
127-10-0985: Radiator Guard Mtg Bkt On Fsm
:
:
:
:
127-10-0991: Mtg Bracket
127-10-0998: Tail Lamp Brkt
127-10-0999: Steering Cum Cab Mtg Brkt- Zf
127-10-1000: Fuel Tank Mounting Bracket Middle
127-10-1001: Air Cleaner Mounting Bracket-Chasis Mtd
127-10-1017: Exh. Pipe Mtg Brkt-Flywheel Hsg
127-10-1018: Mtg Brkt-Tail Pipe
127-10-1019: Silencer Mtg Brkt – Front Rh
127-10-1020: Silencer Mtg Brkt – Rear Rh
127-10-1029: Stack Pipe Support Bracket
127-10-1030: Mtg Brkt-Air Cleaner-2518 Cp
127-10-1039: Sincer Support Brkt -Front Rh
127-10-1041: Silencer Support Brkt -Rear Rh
127-10-1042: Exh .Pipe Support Brkt-Flywheel Hsg
127-10-1043: Support Brkt-Tail Pipe
127-10-1050: Silencer Mtg Bkt-Front Rh
127-10-1052: Silencer Mtg Bkt-Rear Rh
127-10-1053: Mtg Bkt Tail Pipe
127-10-1063: L Brkt For Ac Hose
127-10-1091: Tail Lamp Mtg Brkt
127-10-1102: Bracket-Gate Selection
127-10-1104: Mtg Brkt- Oil Separator
127-10-1105: Mtg Brkt Air Dryer
127-10-1107: Bumpstop Brkt Axle Top R1 Rh(127-10-1499
127-10-1108: Bump Stop Brkt – Axle Top R2 Lh
127-10-1109: Bump Stop Brkt – Axle Top R2 Rh
127-10-1110: Bump Stop Brkt-Axle Top R1Lh(127-10-1498
127-10-1111: Rupd Bracket- Lh For 180 Hp Tm & Hl
127-10-1112: Rupd Bracket – Rh
127-10-1113: Mtg Brkt-Noise Shield – Front On Fsm
127-10-1208: Steering Column Mounting Bracket
127-10-1242: Mounting Bracket-Supd
127-10-1243: Mtg Brkt- 7 Pin Socket & Palm Coupling
127-10-1285: Rad Guard Brkt On Fsm
127-10-1286: Twist Brkt – Return Spring
127-10-1291: Mtg Brkt-Relay Valve Front
127-10-1311: Vane Pump Mtg Brkt Assembely
127-10-1313: Mounting Brkt – Lh Supd
127-10-1314: Mounting Brkt – Rh Supd
127-10-1330: Rupd Bkt-Lh-Cp
127-10-1331: Rupd Bkt-Rh-Cp
127-10-1345: Bkt _Front Mudguard_Lh
127-10-1346: Bkt_Front Mudguard_Rh
127-10-1348: Mtg Brkt-Cabin Tilting Hyd. Pump
127-10-1354: Clutch Pedal Spring Mtg Brkt Top
127-10-1355: Clutch Pedal Spring Mtg Brkt Bottom
127-10-1376: Bump Stop Brkt  Axle  R1 Lh(127-10-1497)
127-10-1377: Bump Stop Brkt Bottom R1 Rh(127-10-1498)
127-10-1378: Bump Stop Brkt-Axle Bottom  R2 Lh
127-10-1379: Bump Stop Brkt Bottom R2 Rh(127-10-1500)
127-10-1382: Bracket Sheet Upper Torque Rod
127-10-1384: Exhaust Pipe Supt Mtg Bkt
127-10-1391: Holding Brkt Bend Pipe
127-10-1393: Mtg Brkt Cac Inlet
127-10-1394: Mtg Brkt Cac Outlet Pipe
127-10-1398: Mtg Bracket-Ac Compressor-B-Mech
127-10-1401: Supprot Brkt-Tc Out Let Pipe
127-10-1422: Holding Brkt- Manifold Tc Outlet
127-10-1424: Mounting Brkt – Silencer
127-10-1425: Support Brkt – Silencer
127-10-1426: Mounting Brkt- Tail Pipe
127-10-1427: Support Brkt – Tail Pipe
:
:
:
:
127-10-1442: Fupd Bracket -Lh
127-10-1443: Fupd Bracket-Rh
127-10-1447: Bracket Top Mounting Clutch Pedal Return
127-10-1453: L-Bracket
127-10-1454: Engine Mtg Rear Rh On Fsm
127-10-1455: Engine Mtg Rear Lh On Fsm
127-10-1456: Engine Mtg Rear On Engine
127-10-1463: Pre-Cleaner Mtg Bkt On Cabin
127-10-1464: Engine Cum Vane Pump Mtg Brkt
127-10-1467: Bracket Top Mounting Clutch Pedal Spring
127-10-1468: Backet Bottom Mounting Clutch Pedal Spr
127-10-1473: Automatic Slack Adjuster Stopper Bracket
127-10-1478: Bracket Mounting Assy – 1
127-10-1490: Aeon Spring Mtg. Brkt Lh Side
127-10-1491: Aeon Spring Mtg. Brkt Rh Side
127-10-1494: S/A Of Shock Absorber Mtg. Brkt Bottom
127-10-1497: Bump Stop Brkt-Axle Bottom R2 Lh
127-10-1498: Bump Stop Brkt-Axle Top R2 Lh
127-10-1499: Bump Stop Brkt-Axle Top R2 Rh
127-10-1500: Bump Stop Brkt-Axle Bottom R2 Rh
127-10-1501: Second Cross Member Mounting Brkt
127-10-1502: Second Cross Member Supporting Brkt
127-10-1512: Support Brkt Top Condenser
127-10-1513: Support Brkt Bottom Condenser
127-10-1518: Supt Bkt Air Clener Outlet Pipe
127-10-1526: L Brkt For Fuel Strainer Mounting
127-10-1527: Support Brkt For Air Compressor Inlet Pi
127-10-1529: Air Cleaner Mtg Brkt – 180 Hp
127-10-1532: Silencer Support Brkt -Frame Side
127-10-1533: Silencer Support Brkt
127-10-1537: Brkt For Sa Of Tc Outlet Pipe After Cast
127-10-1538: Bracket For Sa Of Tc Outlet Pipe After
127-10-1539: Tail Pipe Mounting Brkt
127-10-1540: Radiator Mounting Bracket On Fsm-2516Hl
127-10-1543: Brkt. Cross Stay
127-10-1552: S/A Of Bracket On Frame Lh_Em
127-10-1553: S/A Of Bracket On Frame Rh_Em
127-10-1555: Cab Mtd Air Cleaner Mtg Bkt_3118Hl
127-10-1556: Mouuting Bracket Before Silencer
127-10-1557: Shock Absorber Mtg Bkt Top
127-10-1558: Shock Absorber Mtg Bkt
127-10-1560: Supt Bkt Air Clener Outlet Pipe
127-10-1561: Holding Brkt-Bend Pipe For Bsiii 4018Tr
127-10-1563: C Brkt For Vent Hose Routing
127-10-1564: Clamp Brkt – Tailpipe – Bsiii 180Hp
127-10-1565: Supt Bkt – Tail Pipe – Bsiii 180Hp
127-10-1566: Relay Lever Brkt On Frame
127-10-1567: Exhaust Pipe Mtg. Brkt. On Fsm (3118Hl)
127-10-1568: Silencer Support Brkt (3118Hl)
127-10-1569: Tail Pipe Support Brkt (3118Hl)
127-10-1570: Steering Cum Cabin Mounting Bracket
127-10-1587: Mounting Bracket – Compressor
127-10-1602: Mtg – Bkt Silencer On Fsm
127-10-1604: Support Brkt_Exhaust Pipe
127-10-1613: Cac Outlet Pipe Supt Bracket-Bsiii2523Tp
127-10-1631: Brkt-Clutch Booster
127-10-1632: Mounting Brkt -Tc Manifold
127-10-1635: Mtg Bkt Adaptor On Rear Axle
127-10-1642: Radiator Mtg Bkt_Bs Iii & Bs Ii
127-10-1646: Mtg Bkt Straight Pipe On Fh
127-10-1649: Mtg Bkt Bend Pipe On Fh
127-10-1652: Helper Spring Rear Bkt
:
:
:
:
127-10-1658: Mounting Brkt Tail Pipe_Bsiii 2518Cp
127-10-1667: Silencer Mtg Support Bkt Bsiii 215Hp
127-10-1680: Mtg – Bkt Silencer On Fsm Rear
127-10-1685: Assy Bkt Gear Shift Tower Mtg.
127-10-1694: Sa Bkt Master Cyl Mtg
127-10-1698: Assy Clutch Lever Mtg. Bkt
127-10-1700: Rupd Bracket-Rh
127-10-1702: Tail Pipe Support Bkt Bsiii 215Hp
127-10-1704: Rad Bottom Mtg. Brkt-Rh (Ref 127-10-2328
127-10-1705: Rad Bottom Mtg Brkt Lh (Ref 127-10-2329)
127-10-1707: Rupd Bracket-Lh
127-10-1719: Rear Cowl And Damper Mtg Brkt Assy Rh
127-10-1720: Rear Cowl And Damper Mtg Brkt Assy Lh
127-10-1721: Front Cowl Mtg Bkt Assy Lh
127-10-1722: Front Cowl Mtg Bkt Assy Rh
127-10-1724: Assy Brkt Cac Piping Clamp
127-10-1731: Clutch Pedal Assy
127-10-1766: Tc In Pipe Mtg Bkt Assy
127-10-1769: Plate Cac Pipe Mtg
127-10-1770: Aeon Spring Mtg Bkt Assy
127-10-1781: L-Bracket
127-10-1823: Second Cross Member Mtg Bkt
127-10-1824: Second Cross Member Supt Bkt
127-10-1829: Silemtgbrkt_Frt2516Hlcwl Ref127-10-1680
127-10-1830: Support Brkt For Exhaust Pipe_2516Hl Cow
127-10-1832: S/A Of Relay Bkt On Frame
127-10-1889: Slotted L Extension Clip
127-10-1896: L-Brkt-Hyd Cylinder Routing-3118Hl
127-10-1897: -Brkt-Hyd Cylinder Routing-3118Hl
127-10-1959: Slack Adjuster Stopper Brkt
127-10-1962: L Bracket
127-10-1978: Fupd Tube Tapered
127-10-1984: Top Mtg Brkt-On Rad-Rh Isbe
127-10-1992: Bkt Assy-Eng Mtg Front Lh On Fsm
127-10-1993: Bkt Assy-Eng Mtg Front Rh On Fsm
127-10-1995: Bkt Assy Eng Mtg Front Lh On Eng.
127-10-1996: Bkt Assy Eng Mtg Front Rh On Eng.
127-10-1997: Bkt Assy Eng Mtg Rear Lh On Eng.
127-10-1999: Bkt Assy Eng Mtg Rear Rh On Eng
127-10-2001: Bkt Assy-Eng Mtg Rear On Fsm
127-10-2003: Top Mtg Brkt-On Rad-Lh Isbe 230Hp
127-10-2004: Assy Bumper Mtg Bkt Lh
127-10-2005: Assy Bumper Mtg Bkt Rh
127-10-2008: Brkt-Radiator Bottom Mtg – On Fsm Isbe
127-10-2019: Brkt Air Intake Straight Pipe -Isbe
127-10-2022: Support Bkt Tc Outlet Pipe Isbe
127-10-2023: Support Bkt Exhaust Pipe Isbe
127-10-2024: Brkt Bend Pipe Air Intake-Isbe
127-10-2025: Assy Semi Suspended Cab Mtg Bkt Lh
127-10-2026: Assy Semi Suspended Cab Cum Stg Mtg Bkt
127-10-2028: Brkt Cac Inlet Pipe-Isbe
127-10-2034: Water Sperator Bracket Isbe
127-10-2044: S/A Bkt On Gb Mtg
127-10-2048: Slack Adjuster Stopper Brkt – Lh
127-10-2063: L Bracket For Battery Carrier
127-10-2068: Silencer Support Brkt._3118Tp Cowl
127-10-2069: Mtg Brkt_Extension Pipe_3118Tp Cowl
127-10-2082: Assy Mudguard Bkt  Frt Lh
127-10-2083: Assy Mudguard Bkt Frt Rh
127-10-2096: Assy_Bkt_Mtg_Rear_Cowl_And_Damper_Lh
127-10-2097: Assy_Bkt_Mtg_Rear_Cowl_And_Damper_Rh – 1
127-10-2102: Supt Bkt For Exhaust Pipe
:
:
:
:
127-10-2107: L-Brkt Dat Isbe
127-10-2116: Bracket Sevenpin Socket Assembly
127-10-2139: Brkt Support Silencer
127-10-2140: Mtg Brkt Silencer
127-10-2189: Support Bkt Exhaust Pipe
127-10-2227: Clutch Booster Brkt
127-10-2249: V – Silencer Top Mtg Bkt
127-10-2255: Lh Dat Tank 4018Tr3300Wb
127-10-2260: Tail Pipe Support Brkt
127-10-2286: L Bracket Heat Shield Vertical Silencer-
127-10-2328: Radiator Stay Mtg Bkt On Fsm_Rh
127-10-2329: Radiator Stay Mtg Bkt On Fsm_Lh
127-10-2336: L Brkt For Harness Clamping
127-10-2337: Accelerator Pedal Stopper
127-10-2338: Fuse Mtg Brkt
127-10-2339: Accl Pedal Mtg Bkt
127-10-2356: Vertical Silencer  Mtg  Brkt
127-10-2388: Brkt Battery Cable Mtg
127-10-2400: Assy Bkt Rigid Cab Rr Mtg
127-10-2414: Tail Pipe Support Bkt
127-10-2415: Support Bkt_Silencer
127-10-2417: Silencer Mtg Bkt
127-10-2446: V-Silencer Top Mtg Brkt
127-10-2462: Engine Mtg Bkt Rear On Engine For Cowl
127-10-2472: Cab Rear Ballata Brkt
127-10-2536: Brkt Dat Mtg
127-10-2542: Main Supt Brkt Vertical Silencer
127-10-2553: Starter Motor Guard Mtg Bkt
127-10-2570: Support Bkt Tail Pipe On Fsm
127-10-2572: Helper Spring Bkt-Rear
127-10-2580: Assy Mounting Base Bracket
127-10-2590: Support Brkt For Silencer 3300Wb
127-10-2606: Assy Rear Mudguard Mtg Bkt-Front-Lh
127-10-2607: Assy Rear Mudguard & Tail Lamp Mtg Bkt R
127-10-2608: Assy Rear Mudguard Mtg Bkt-Front-Rh
127-10-2609: Assy Rear Mudguard & Tail Lamp Mtg Bkt R
127-10-2614: Exhaust Support Bkt On Fsm
127-10-2627: Supt Bkt On Tail Pipe
127-10-2661: Mudguard – Ais Mtg Bkt Assy – Rh
127-10-2673: Ais Bend Pipe Brkt For Rh
127-10-2719: Supt Brkt Silencer
127-10-2729: Support Bkt For Silencer On Fsm Support
127-10-2749: Bracket_Trailer Hose And Seven Pin Socke
127-10-2766: Sa_ Bkt_Rear_Most_X_Member
127-10-2902: Assy Support Brkt For Exh Pipe
127-11-0324: Ounting Bracket – Air Compressor
127-11-0327: Mounting Bracket
127-11-0329: Supt Bkt Lh – Condenser
127-11-0330: Supt Bkt Rh – Condenser
127-11-0969: Rear Mtg Bkt-Radiator Guard
127-11-1573: Bracket Lh – Sba Relocation
127-11-1574: Bracket Rh – Sba Relocation
127-11-1611: Upper Berth Mtg Bkt Lh
127-11-1612: Upper Berth Mtg Bkt Rh
127-19-0811: Accelerator Rod Assy Brkt-Faw1108020-Q44
127-19-0812: Brkt,Safety Hook-Faw"
127-19-0813: Safety Hook-Faw
127-19-0814: Brkt, Handle Assy"
127-19-0816: Rear Brkt Assy Cabin-Faw
127-19-0817: Lock Bolt Assy-Faw
127-19-0825: Brkt , Handle Shaft Assy"
127-19-0826: Lower Brkt Assy Cabin Supporting
:
:
:
:
127-19-0827: Positioning Brkt Assy Swing Arm-Faw
127-19-0828: Rock Bolt Fixture Brkt-Faw
127-19-0832: Brkt Cluster Condenser-Faw
127-19-0833: Steering Column Pipe Lower Bracket
127-19-0838: Tilting Steering Brkt Column – Rh
127-19-0842: Locking Coil Assy-Faw
127-19-0843: Rear View Mirror Mtg Brkt – Rh-Faw
127-19-0852: Gear Shift Handle Bracket
127-19-0853: Steering Column Brkt
127-19-0857: Brkt Rh – Clutch Pedal-Faw
127-19-0858: Bracket,Clutch Pedal-Faw"
127-19-0859: Fixture Brkt A Assy Left Wind Tube-Faw
127-19-0861: Fixture Brkt Assycentral Wind Trans Tube
127-19-0862: Fixture Brkt,Right  Wind Transition Tub
127-19-0863: Fixture Brkt A Assy Right Wind Tube-Faw
127-19-0864: Brkt Of Water Tank Washer-Faw
127-19-0866: Bracket – Seat Rear Suspension
127-19-0867: Brkt  – Cabin Rear Suspension
127-19-0869: Upper Brkt ,Left Rear Mudguard-Faw"
127-19-0870: Fixing Baracket Panel Lh
127-19-0871: Bracket Supporting Lh – Beam
127-19-0872: Bracket – Blower Support
127-19-0874: Bracket Supporting Rh
127-19-0875: Bracket – Right Lower Support
127-19-0876: Lower Brkt
127-19-0877: Bracket Supporting Rh – Beam
127-19-0881: Left Door Hinge Bracket
127-19-0882: Right Door Hinge Bracket
127-19-0885: Brkt Welding Assy Pipe Line-Faw
127-19-0886: Accl. Control Brkt Assy[Spr+Rod]
127-19-0891: Brkt – Door Window
127-19-0893: Linear – Bracket
127-19-0894: Lower Tray Lh Rear View Mirror
127-19-0912: Fixture Brkt A Assy Central Wind Tube-Fa
127-19-0913: Steering Column Brkt & Hinge Assy
127-19-0934: Lock Bolt Braket Assy
127-19-0935: Upper Bracket, Cabin Tilt Cylinder"
127-19-0936: Upper Bracket
127-19-0959: Hyt. Rear Bracket – Cabin
127-19-0995: Connection Bracket,Instrmtframe"
127-19-1009: Bkt Rear Window Curtain Guide Rail
127-19-1258: Blower Mtg Bkt
127-19-1261: Side Rear Upper Bkt Lh
127-19-1262: Side Rear Upper Bkt Rh
127-19-1263: Side Handle Bkt Rh
127-19-1264: Side Handle Bkt Lh
127-19-1265: Door Hinge Mtg Bkt Assy Lh(127-19-0881)
127-19-1266: Door Hinge Mtg Bkt Rh(Ref- 127-19-0882)
127-19-1267: Radiator Cover Bkt Lh
127-19-1268: Radiator Cover Bkt Rh
127-20-1734: Bracket Hand Brake Mtg
127-20-1906: Bkt Center Panel Lock
127-20-2015: Reinf Bkt Cab Rear Struc
127-20-2100: Shock Absorber Mtg Bkt Lh
127-20-2101: Shock Absorber Mtg Bkt Rh
127-20-2148: Bkt Seat Mtg
127-21-1608: Speaker Mtg Bkt Lh
127-21-1609: Speaker Mtg Bkt Rh
127-21-1610: Center Bkt Roof Trim
127-30-0236: Radius Rod Mtg Brkt Top
127-30-0421: Rear Spring Bracket
127-30-0460: Radius Rod Brkt Rf
:
:
:
:
127-30-0461: Rear Mtg Brkt – Lh
127-30-0462: Rear Mtg Brkt – Rh
127-30-0468: Bogie End Spring Seat
127-30-0607: Combined Spring Bkt Lh
127-30-0608: Combined Spring Bkt  Rh
127-30-0760: Rad Rod Mtg Brkt  Bottom Rh Rr
127-30-0761: Rad Rod Mtg Brkt  Bottom Lh Rr
127-30-0762: Rad Rod Mtg Brkt  Bottom Rf
127-30-0763: Bogie Spring End Seat
127-30-0773: Rear Fwd.Radius Rod Brkt Top
127-30-0774: Top Brkt Rear Rear Axle
127-30-0849: Bracket Seat Upper Torque Rod
127-30-1461: Front Spring Holding Brkt
127-30-1466: Bracket Seat – Upper Torque Rod
127-30-1614: Front Spring Rear Brkt (Ref-127-31-0087)
127-30-1621: Bracket-Front-Bell Crank
127-30-1622: Bracket-Middle-Bell Crank
127-30-1623: Bracket-Rear-Bell Crank
127-30-1659: Front Spring Bracket-80Mm Leaf Spring
127-30-2035: Combined Spring Mtg Brkt Lh
127-30-2036: Combined Spring Mtg Brkt Rh
127-30-2046: Mtg Bkt Steering Gb
127-30-2050: Mounting Bracket-Idler Arm
127-30-2051: Mounting Bracket-Hydraulic Cylinder
127-30-2070: Bracket-Steering Gb Mounting
127-31-0087: Front Spring Bracket
127-60-1949: Bkt Stopper Retainer Stay Rod
129-00-0001: O Mount Rubber
129-00-0014: Bump Stop Rubber
129-00-0015: Bump Stopper
129-10-0010: Bump Stop Bracket
1294-01-0000: S/A Of Suction Pipe – Banjo Type
1294-02-0000: S /A Of Suction Pipe – I
1294-03-0000: S /A Of Suction Pipe – Ii
1294-04-0000: S/A Of Return Pipe – Banjo Type
1294-05-0000: S/A Of Return Pipe – I
1294-06-0000: S/A Of Return Pipe – Ii
1297-07-0000: Asm Of Spring
130-00-0001: Head Lamp Bulb-H1-24Vx70W (Halogen)
130-00-0002: Bulb-24 V-21W
130-00-0003: Bulb-24 V-10W
130-00-0004: Bulb-24 V -5 W
130-00-0005: Bulb-24V 70W H3 Foglamp
130-01-0010: Roof Lamp Bulb(Ref-130-01-0026)
130-01-0026: Bulb
130-09-0009: Light Bulb
1301-01-0000: Front Axle-Non Abs-Meritor-80Mm Sw, 820M
131-19-0003: Wider Bumper – Tractor(Rfr Color Code)
131-19-0003-OR: Wider Bumper With Fog Lamp-Post Off Red
131-19-0003-SG: Wider Bumper With Fog Lamp-Silver Grey
131-19-0003-WM: Wider Bumper With Fog Lamp- Wine Maroon
131-19-0004-CW: Front Narrow Bumper – Clear White
131-19-0004-GY: Front Narrow Bumper – Golden Yellow
131-19-0004-P: Front Bumper Narrow – Primer
131-19-0004-SG: Front Bumper Narrow
131-19-0014: Front Bumper Wider With Out Fog Lamp
131-19-0014-P: Front Bumper Wider With Out Fog Lamp-Ced
132-00-0125: Sealing Bush
132-00-0126: Locating Bush_Rl3526Ba538
132-00-0165: Bush
132-00-0167: Asm Bush Frt Mtg Cab
132-01-0079: Seat Bush – Faw
:
:
:
:
132-09-0046: Connecting Bushes
132-09-0051: Hinge Joint Cusion – Cabin-Faw
132-09-0057: Lock Button-Faw
132-09-0064: Bush-Faw
132-09-0065: Bush-Faw
132-09-0066: Bush-Faw
132-09-0175: Rubber Bush_Cabin Rr Suspension Rail_Faw
132-10-0131: Bush -Shackle Pin (68Mm)
132-19-0042: Bush
132-19-0043: Locking Bush
132-19-0052: Bush – Foot Duct Left Side
132-20-0080: Bonded Bush-Radius Rod
132-40-0019: Bush Shakle Pin-90Mm
132-50-0132: Short Bush-Bellcrank
132-50-0133: Long Bush-Bellcrank
132-70-0073: Nylon Bush – Seat
132-70-0146: Bush Hinge Mtg
132-79-0038: Bush-Faw
132-79-0048: Bush-Faw
132-79-0050: Bush Torsion Bar
132-79-0055: Seal Nuts (Two Sides)Faw
1323-02-0000: Sub Assy. Of Front Spring(80 Mm-Jai)
1323-03-0000: Sub Assy. Of Front Spring(80 Mm-Moflex)
1324-02-0000: Sub Assy. Of Parabolic Mm-(Moflex)
1324-03-0000: Sub Asm Of 4 Th Leaf Parabolic Spring
133-00-0003: Battery Cable-Possitive With Boot
133-00-0004: Battery Cable-Negative With Boot
133-00-0007: Earth Strap
133-00-0034: 3118 Pt Battery Positive Cable
133-00-0035: 3118 Pt Battery Negative Cable With Boot
133-00-0074: Battery Positive Cable With Boot
133-00-0075: Battery Negative Cable With Boot
133-00-0076: Battery Positiva Cable With Boot
133-00-0077: Battery Negative Cable With Boot
133-00-0082: Accelarator Control Cable
133-00-0087: Battery Cable_Positive_With Boot
133-00-0088: Battery Cable_Negative_With Boot
133-00-0092: Battery Cable-Possitive With Boot
133-00-0093: Battery Cable-Negative With Boot
133-00-0110: Battery Cable Positive From Cut-Off To S
133-00-0111: Battery Cable Negative From Cut-Off To S
133-00-0135: Battery Cable -Negative
133-00-0136: Battery Cable -Positive
133-70-0024: Mechanical Stop Cable
1334-01-0000: S/A Of Fuel Suction Line_Tank Side_250Lt
1334-02-0000: S/A Of Fuel Return Line_Tank Side_250Ltr
1338-01-0000: S/A Idler Arm
136-00-0007: Oil Slinger – Hub 2518 Non Abs
136-00-0009: Pressure Cap 0.9 Bar
136-10-0035: Oil Slinger-Abs-4018/4923/3518
136-10-0043: Radiator Pr. Cap 0.5 Bar Banco
136-70-0033: Return Line Filter Plastic Cap
136-70-0037: Floor Cap
136-71-0036: Screw Cap
136-79-0011: Plastic – Caps
137-05-0000: Fuel Tank Assembly
138-10-0018: Battery Separator
138-10-0026: Frame Extn. Chnl Lh
138-10-0027: Frame Extn. Chnl Rh
138-10-0030: Support Channel-Cross Stay
138-10-0034: Frame Ext Xhannel – Lh Sht
138-10-0035: Frame Extension Channel Rh
:
:
:
:
138-10-0041: Battery Lock
138-10-0053: Frame Extension Channel-Lh
138-10-0054: Frame Extension Channel-Rh
138-10-0058: Frame Extension Channel-Lh
138-10-0059: Frame Extension Channel-Rh
138-10-0060: C Channel-240Ltr Fuel Tank Mounting
138-10-0061: C Channel-400Ltr Fuel Tank Mounting
138-10-0249: Assembly C Channel Top
138-10-0251: Assy Of C Channel Bottom -Lh
138-10-0253: Assy C-Channel Bottom Rh
138-19-0043: Cabin Rr Susp Hyd.Tilt (Ref 127-01-1586)
1380-01-0000: Frame Assy 3116 Hl Cowl
1380-02-0000: Center Bearing Cross Member-Assy
139-00-0040: External Circlip C9
139-00-0043: Circlip
139-01-0038: Circlip
139-09-0004: Circlip
1391-01-0000: S/A Exhaust Extension Pipe_3118Tp Cowl
140-00-0005: Single Pipe Clamp
140-00-0128: O-Clamp _95 Dia_3118Hl
140-00-0143: O-Clamp-92 Dia
140-00-0184: Clamp Main Big
140-00-0185: Clamp Main Small
140-00-0186: Clamp Helper
140-01-0136: Pipe Clamp Bracket Assy, High Press Pipe
140-09-0052: Single Pipe Clamp
140-09-0054: Clamp Heating Water Pipe-Faw
140-09-0067: Single Pipe Clamp-Fix Cabin Wire Harness
140-09-0076: Rear Fixture Clamp Heat Inslan
140-10-0002: U Clamp – M8 X 235
140-10-0003: U Clamp – M8 X 160
140-10-0005: O Clamp 4″ Dia
140-10-0006: Clamp Brkt -Tailpipe
140-10-0007: Omega Clamp – 4″" Dia"
140-10-0009: Clamp – 3.5 """
140-10-0010: Clamp Brkt -Tailpipe
140-10-0022: Clamp Plate-Swc
140-10-0027: Dat Tank Holding Brkt
140-10-0028: Strip For Dat Mtg.Brakt
140-10-0046: O Clamp Cac 78Dia
140-10-0047: Omega Clamp
140-10-0049: U-Clamp-30 Lts Air Tank Mtg
140-10-0088: Clamp Dat Tank Engine Tech
140-10-0123: Clamp Supd-Hl
140-10-0129: U-Clamp For Air Tank Mounting
140-10-0131: Omega Clamp 3″ Dia
140-10-0135: Bracket Asy
140-10-0137: Clamp For Air Clener Outlet Pipe
140-10-0139: Clamp-81.2Mm -Tail Pipe
140-10-0140: O-Clamp Tc Inlet Bend Pipe
140-10-0142: C-Clamp Air Cleaner Outlet Pipe
140-10-0148: C-Clamp 4″ Tc Outlet 235Bsiii
140-10-0150: Omega Clamp 3″ Half
140-10-0152: O-Clamp 89.4 Dia
140-10-0154: Double Clamp D18Xd15
140-10-0155: L Clamp
140-10-0164: Silencer O Clamp_257Mm Dia
140-10-0170: Clamp Silencer Isbe 230Hp
140-10-0172: Clamp Assy
140-19-0051: Clamp Frame Assy – Door Glass-Faw
140-19-0055: Outer Sealer Left Door Window-Amw
140-19-0071: Clamp-Faw
:
:
:
:
140-20-0050: Bottom Clamp For 4018 Tr
140-79-0056: Double Barrel Clamp-Faw
140-79-0061: Plastic Clamp-Faw
140-79-0062: Clamp Of Wire Harness-Faw
140-79-0068: Plastic Wire Clamp-Faw
140-79-0069: Plastic Wire Clamp-Faw
140-79-0070: Plastic Wire Clamp-Faw
1406-01-0000: Sa Of Exhaust Pipe_3116Hl Cowl
1406-02-0000: Sa Of Tc Outlet Pipe_3116Hl Cowl
1406-03-0000: Assy Tc Outlet Pipe
1409-01-0000: Nylon Pipe 12Mm Od Ddu-22 To Front 15Lt
1409-02-0000: Nylon Pipe 12Mm Od Pipe Front Tank 15 Lt
1409-03-0000: Nylon Pipe 12Mm Od Pipe Front Tank 15 Lt
1409-04-0000: Nylon Pipe 12Mm Od Pipe Front Tank 25 Lt
1409-05-0000: S/A Of Nylon Pipe-8 Mm Od
1409-06-0000: Nylon Pipe 12Mm Od Front Relay To Tee Co
1409-07-0000: Nylon Pipe 12Mm Od Front Relay To Tee Co
1409-08-0000: Nylon Pipe 12Mm Od Tee Connector O/P Lh
1409-09-0000: Nylon Pipe 12Mm Od Tee Connector O/P Rh
1409-10-0000: Nylon Pipe 12Mm Od Ddu-21 To Rear Air Ta
1409-11-0000: Nylon Pipe 12Mm Od Rear Tank 25 Ltr To 1
1409-12-0000: Nylon Pipe 15Mm Od Rear 15 Ltr Tank Lh S
1409-13-0000: Nylon Pipe 12Mm Od 25 Ltr Rear Tank Lh S
1409-14-0000: S/A Of Nylon Pipe-8 Mm Od
1409-15-0000: Nylon Pipe 12Mm Od Rear Relay Outlet To
1409-16-0000: Nylon Pipe 12Mm Od Rear Relay Outlet To
1409-17-0000: Nylon Pipe 12Mm Od Ddu-23 To Hbv-11
1409-18-0000: Nylon Pipe 12Mm Od Hbv-12 To Qrv Inlet
1409-19-0000: Nylon Pipe 12Mm Od Qrv Delivery To Elbow
1409-20-0000: Nylon Pipe 12Mm Od Ddu-24 To 5-Way Conne
1409-21-0000: Nylon Pipe 8Mm Od 5-Way Connector On Pur
1409-22-0000: Nylon Pipe 8Mm Od 5-Way Connector On Pur
1409-23-0000: Nylon Pipe 8Mm Od 5-Way Connector On Pur
1409-24-0000: Nylon Pipe 8Mm Od Magnetic Switch To Exh
141-00-0004: T-Bolt Type Hose Clamp (157.2)
141-00-0005: T Bolt Clamp
141-00-0006: T-Bolt Type Hose Clamp (114.3)
141-00-0007: T Bolt For 140 Id Hose
141-00-0008: T-Bolt Type Hose Clamp
141-00-0009: T-Bolt Type Hose Clamp(152-160)
141-00-0011: T-Bolt Type Hose Clamp (119.1)
141-00-0012: T-Bolt Type Hose Clamp (138.1)
141-00-0013: T-Bolt Type Hose Clamp (131.8)
141-00-0016: T-Bolt Clamp 89 Dia
1413-01-0000: Assy Of Frame_3123Cp
1429-01-0000: S/A Of Supply Line Tank Side_2518Tp Cowl
1429-02-0000: S /A Of Return Line Tank Side_2518Tp Co
1429-03-0000: S/A Of Fuel Supply Line Fip End_2518Cowl
1429-04-0000: S/A Of Return Line Fip End 2518Tp Cowl
1436-01-0000: Sa Of Exhaust Pipe _2518_Hll Cowl
144-10-0028: Collar,Fin.-4930 Tr
144-10-0029: Collar-Clutch-4930 Tr
144-19-0015: Hose Collar
145-19-0003: Steering Column Pipe And Bracket Assy
147-07-0000: S/A Bottom Rear Noise Shield
147-09-0004: Cotter Pin,Throttle Control-Faw"
147-09-0005: Cotter Pin-Faw
147-09-0006: Cotter Pin-Faw
147-09-0007: Cotter Pin-Faw
147-10-0020: Cotter Pin
147-10-0021: Cotter Pin-Bell Crank
147-19-0012: Cotter Pin
:
:
:
:
147-49-0013: Cotter Pin-Faw
147-49-0015: Cotter Pin
147-79-0014: Cotter Pin-Faw
148-01-0002: Palm Coupling ( Control Line )
148-01-0003: Palm Coupling ( Supply Line )
148-01-0005: Palm Coupling Supply Line_Trailer End
148-01-0006: Palm Coupling Control Line_Trailer End
148-09-0008: Exhaust Brake Coupling
149-00-0181: Cover-Left Speaker
149-00-0197: Starter Motor Guard
149-01-0048: Hyva-Air Valve Cover[10400062]
149-01-0136: Front Roof Trim Cover
149-01-0137: Rear Roof Trim Cover
149-01-0145: Handle Cover
149-01-0149: Blank Cover Assy
149-02-0000: S/A Exhaust Pipe – Turbo Outlet
149-09-0000: S/A Of Exhaust Pipe – 3.5″" Dia"
149-09-0026: Gear Shift Cover-Faw
149-09-0034: Plug Ii-Faw
149-09-0036: Helix Protect Sheath-Faw
149-09-0052: Outlet Cover
149-09-0054: Water Holes Cover
149-09-0057: Left Stick Assy Cover-Faw
149-09-0070: Lank Cover Subsidiary Instrumental Pane
149-09-0073: Cover Head Box
149-09-0074: Cover Assembly Speaker Lh
149-09-0075: Cover Assembly Speaker Rh
149-09-0077: Cover Assembly Safety Belt Rh
149-09-0078: Air Outlet Cover Assy
149-09-0079: Cover, Door Closing W S"
149-09-0186: Sector Shaft Cover Assy
149-09-0187: Side Assy Cover
149-10-0175: Assy Bellow Cover Gsl
149-11-0000: S/A Of Exhaust Pipe – 4″" Dia"
149-19-0005: Wheel-Cover
149-19-0076: Cover Assembly Safety Belt Lh
149-20-0147: Hub Cover
149-60-0160: Clutch Pedal Cover
149-60-0163: Bellow Cover Stg Column Upr
149-60-0164: Boot Cover Stg Column
149-60-0165: Cover C-Pedal
149-60-0166: Cover A-Pedal
149-69-0037: Dust Proof Rubber Cover
149-70-0004: Battery Cover
149-70-0146: Cover Top Assy.
149-70-0155: Ais Cover
149-70-0177: Cover Top Plastic (Ref 149-70-0146)
149-70-0202: Head Lamp Dome Lh
149-70-0203: Head Lamp Dome Rh
149-71-0138: Roof Head Cover Rh
149-71-0151: Speaker Cover Lh
149-71-0152: Speaker Cover Rh
149-79-0027: Shift Cover-Faw
149-79-0028: Ring Header For Plastic Cover Assy
149-79-0029: Lower Protection Cover, Stg Column-Faw"
149-79-0030: Sheath Steering Column-Rh-Faw
149-79-0031: Sheath,Steering Column-Lh-Faw"
149-79-0032: Glove Box Lh-Faw
149-79-0033: Cover-Dual Pipe Clamp-Faw
149-79-0038: Cover , Glove Box-Faw"
149-79-0039: Cover ,Electronic Device Box-Faw"
149-79-0049: Cover Left Handle-Faw
:
:
:
:
149-79-0050: Cover Right Handle-Faw
149-79-0051: Dust Cover
14CUBB1002: 14Cub Boxbody-Eaton Tip Kit
14TB1000: Tail Board Assy Box Body 14
150-00-0000: Assy Of Tool Kit
150-00-0063: Ub Assy Of Boggie Cross Member 3118
150-00-0066: Centre Bearing Cross Menber2
150-00-0102: Center Bearing Cross Member Assy
150-00-0120: Centre Bearing Cross Member – 2 Assy
150-00-0142: Assy Third Cross Member
150-10-0007: Rear-Most-Cross-Member
150-10-0014: Rear Most Cross Member
150-10-0015: Rsfb Cross Member
150-10-0016: Rear Spring Front Cross Member
150-10-0017: Crossmember – Guide Ramp
150-10-0019: Bogie Cross Member(Ref.385-05/03-0000)
150-10-0022: Rear Most Cross Member
150-10-0029: Front X-Member
150-10-0041: Centre Bearing Cross Member
150-10-0073: Rear Most Cross Member
150-10-0074: Rear Most Cross Member
150-10-0075: Cross Member – Rsfb
150-10-0076: Rear Spring Front Cross Member
150-10-0081: Center Bearing Cross Member
150-10-0089: Center Bearing Cross Member Assy
150-10-0090: Rear Spring Front Cross Member Assy
150-10-0091: S/A Rear Spring Cross Member
150-10-0092: Rear Spring Rear Cross Member Assy
150-10-0098: Third Cross Member
150-10-0099: Second Cross Member
150-10-0101: S/A Of Tie-X Cross Member
150-10-0111: Rear Spring Front Cross Member Assy
150-10-0112: Rear Spring Rear Cross Member Assy
150-10-0113: Center Bearing Cm
150-10-0115: Center Bearing Cross Member Assy
150-10-0118: Third Cross Member Assy
150-10-0125: Rear Spring Cross Member Assy
150-10-0129: Front Cross Member Assy
150-10-0131: Tie Cross Member Assy
150-10-0159: Center Bearing Cross Member 1
150-10-0160: Fourth Cross Member_3118Tp
150-10-0161: Assy Cross Member 2
150-10-0166: 2Nd X Member Split Type(Ref 150-20-0039)
150-10-0187: Assy Front Cross Member
150-10-0220: Assy Of Rear Most Cross Member
150-10-0227: Assy Of Third Cross Member
150-20-0039: Second Cross Member (Ref 150-10-0166)
152-00-0003: Clutch Master Cylinder Bi
152-00-0005: 300Mm Stroke Hydraulic Cylinder
152-00-0013: Master Cylinder Kit Bi (Minor)
152-00-0025: Hydraulic Cylinder Assy-Dh
152-00-0056: Stage Dia 129-1440-Hc
152-00-0057: Stage 129-1420-Hc-A/S [72604441H]
152-09-0009: Cabin Tilting Cylinder & Cable Assy-Faw
152-20-0024: Stage 110-1420-Hc( Fe129-3-3640-Hc Cyl)
153-00-0002: Damper Vibration-3118Pt
153-20-0006: Damper Assy-1
153-20-0007: Damper Assy-2
155-10-0001: Distance Piece
155-10-0013: Distance Piece-2516
155-20-0008: Bottom Washer
155-30-0004: Distance Piece-2518
:
:
:
:
156-00-0004: Dowel- Axle Shaft
156-00-0012: Dowel
156-11-0001: Dowel
156-31-0002: Dowel -Pad
158-01-0002: Rear Axle Tube Assy (Ms14 Non Abs)
158-01-0003: Companion Flange & Deflector Assy 1600
159-00-0016: Elbow Hose
159-10-0007: Elbow-Mc- Outlet Line
159-19-0009: Elbow Joint-Faw
159-40-0008: Intake Manifold Elbow
162-20-0012: Spherical Bearing Eye D 50.8 [1770019]
163-00-0006: Ac Condenser Fan (Ref 163-01-0006)
163-00-0019: Fan Assembly-24V
163-01-0004: Fan-Condenser -24V /110W
163-01-0006: Ac Condenser Fan
163-01-0011: Clutch,Fan – 180Hp" (Ref 408-01-0077)
163-71-0001: Fan Engine 180 Hp 22″"
163-71-0009: Fan Assembly 24″
164-00-0040: Lower Radiator Mtg. Ferrule- Bsiii
164-01-0022: Ferrule – 39Mm
164-10-0004: Ferrule
164-10-0012: Ferrule-Cv Mc Bracket
164-10-0015: Ferrule
164-10-0018: Ferrule – 16Mm
164-10-0025: Ferrule
1646-02-0000: S/A Of Pipe Before Vertical Silencer-1
1646-05-0000: S/A Of Pipe Before Vertical Silencer-5
165-00-0024: Fuel Filter – Bsiii 180Hp
165-00-0025: Oil Filter (Stratopore) Bsii 180 Hp
165-00-0031: Spinon Fuel Water Separator
165-01-0003: Air Cleaner Element – Primary-235Hp
165-01-0013: Hyvareturn Line Filter Assy(1F05-11-0034
165-09-0030: Filter End Cover Assy
1664-01-0000: Eaton 9306Sd Gear Box W/O Spacer
167-00-0029: Companion Flange Serrated-R2
167-00-0042: Forward Output Companion Flange-Serrated
167-00-0043: Forward Input Companion Flange-Serrated
167-00-0044: Crossserratedflng-Xs180(Ref.279-00-0142)
167-10-0031: Input Companion Flange (4930Tr)
167-20-0038: Coupling Flange-Serrated – Et 9S
168-70-0005: Rain Flap Lh-Frnt Mud Guard
168-70-0006: Rain Flap Rh-Frnt Mud Guard
168-70-0008: Rainflap Lh – Rear Mudguard
168-70-0009: Ranflap Rh – Rear Mudguard
168-70-0010: Rain Flap Upper Mudguard
168-70-0027: Rain Flap
169-10-0002: Oil Flinger Non Abs
16CUBB1001-S: 16Cub Boxbody W/O Hyd Kit
170-00-0269: Assy External Flitch Mannual Cab
170-10-0007: Internal Flitch Front Lh 6X4 Tr
170-10-0043: L-Flitch – Fifth Wheel Coupler – Lh
170-10-0044: Flitch – Fifth Wheel Coupler – Rh
170-10-0101: L-Flitch – Fifth Wheel Coupler – Lh
170-10-0102: L- Flitch – Fifth Wheel Coupler -Rh
170-10-0119: L – Flitch Lh Side
170-10-0120: L- Flitch Rh Side
170-10-0164: Reinforcement Plate Rh Top
170-10-0165: Reinforcement Plate Rh Bottom
170-10-0166: Reinforcement Plate Lh Top
170-10-0283: Assy L Flitch Lh
170-10-0284: Assy L Flitch Rh
170-11-0167: Reinforcement Plate Lh Bottom
:
:
:
:
174-10-0176: Radiator Frame Banco
175-09-0002: Name Plate Fuse Box-Faw
175-09-0011: Elec Controller Box With Controller Assy
176-00-0003: Gasket
176-00-0059: Gasket,Oring
176-01-0000: S/A Of Expansion Joint – 3.5" Dia
176-01-0064: Gasket-Right Lower Holder
176-02-0000: S/A Tc Outlet Pipe- Exhaust
176-03-0000: S/A.Expansion Joint – 3.5″ Dia
176-04-0000: S/A Of Expansion Joint
176-09-0009: Gascket Pad
176-09-0010: Gasket Pad
176-09-0072: Protecting Hood Gasket_Bogie
176-69-0006: Insulating Gasket For Horn Switch
176-69-0011: Gacket,Lower Tray"
176-79-0008: Gaskets Plastic
177-01-0000: S/A Of Expansion Joint 4″" Dia"
177-02-0000: S/A Of Exhaust Pipe-4″""(149-11-0000)
177-09-0002: Ensor Fuel Gauge
178-20-0022: Gear-Integral Spur&Bevel,Fin-4930 Tr
178-20-0024: Rear Axle Gear Set_Ms14-1497 6.83 Ratio
180-00-0023: Grommet
180-01-0004: Grommet M6
180-01-0005: Thread Taper Grommet
180-60-0001: Grommet-Eng Stop Cable
180-60-0002: Adaptor Ac For Tp
180-60-0014: Grommet Leg Room Rh
180-60-0015: Grommet Top Plate Rh
180-60-0016: Grommet For Add On Odometer
180-60-0017: Rubber Cover
180-60-0020: Rubber Grommet-Faw Cab
181-09-0024: Inside Prot Guard Cabin Rear Side5602010
181-10-0001: Supd-Frame
181-10-0002: Supd-Frame
181-10-0009: Guard Radiator Bottom
181-10-0032: Supd Frame – Rh Side(2518 Cp)
181-10-0033: Supd Frame – Lh Side(2518 Cp)
181-10-0034: Supd Frame- Hl
181-10-0051: Supd Frame-3118-Hl
181-10-0055: Supd Frame-2516 Hl
181-10-0057: Supd Frame 2516 Hl Cowl
181-10-0064: Supd Frame_3116 Hl Cab
181-10-0065: Supd Frame
181-79-0013: Rear Board Left First Board
181-79-0014: Rear Board Right First Board
181-79-0017: Lower Guard Panel – Lh-Faw
181-79-0018: Lower Guard Panel Assy Rh-Faw
181-79-0019: Lower Guard Panel Ii Assy Rh
181-79-0020: Lower Guard Panel –  Rh(181-79-0018)
181-79-0021: Side Guard Panel Rh, Dash Board-Faw"
181-79-0022: Lower Guard Plate1St Foot Step-Lh-Faw
181-79-0023: Lower Guard Plate1St Foot Step-Rh-Faw
181-79-0025: Rear Protecting Plate-Lh-Faw
181-79-0026: Rear Protecting Plate-Rh-Faw
181-79-0027: Front Guard Plate Right Door
181-89-0015-P: Fender Lh Ced
181-89-0015-WM: Fender Lh Wine Maroon
181-89-0016: Fender Rh, Cabin"
181-89-0016-GY: Fender Rh Golden Yellow
181-89-0016-P: Fender Rh Ced
181-89-0016-WM: Fender Rh Wine Maroon
183-00-0063: Handle-Vice Driver
:
:
:
:
183-00-0064: Assy Roof Handle- Grey
183-01-0008: Right Arm Rest
183-01-0009: Bonnet Handle Lhs-Faw
183-01-0010: Door Outer Handle-Faw
183-09-0017: Roof Handle Assy-Faw
183-09-0022: Handle – Lh To Board Vechile
183-09-0023: Handle – Rh To Board Vechile
183-09-0030: G-Shift Handle &Name Plate Assy
183-09-0031: Inner Cabin Assembly Handle
183-09-0032: Unlock Handle Assy
183-10-0001: Handle-Cabin
183-19-0013: Operating Handle Assy
183-19-0020: Ower Part Of Handle ( 5103015 Q90)
183-19-0024: Handle
183-40-0057: W/Shiled Access Handle
183-79-0011: Inner Handle –  Lh
183-79-0012: Inner Handle  – Rh
183-79-0015: Pull Handle Assy Left Door
183-79-0016: Pull Handle Assy Right Door
183-79-0018: Hndle Dashboard-Lh-Faw
183-79-0019: Handle Dashboard-Rh-Faw
183-79-0021: Handle – Instrumental Panel
183-79-0025: Kit Handle Assy (Handle+Washer+Screw)
184-10-0013: End Gusset Rsfb X Member-Lh(184-10-0059)
184-10-0014: End Gusset – Rsfb X Member- Rh
184-10-0017: End-Gusset-Lh—Bottom
184-10-0020: End-Gusset-Lh—Top
184-10-0021: End-Gusset-Rh—Bottom
184-10-0022: End-Gusset-Rh—Top
184-10-0023: End Gusset Lh – Top
184-10-0024: End-Gusset-Rh—Top
184-10-0025: End Gusset Lh – Bottom
184-10-0026: End-Gusset-Rh—Bottom
184-10-0059: End Gusset Lh – Rsfb
184-10-0060: End Gusset Lh – Bottom
184-10-0061: End Gusset Lh – Top
184-10-0062: End Gusset Rh – Bottom
184-10-0063: End Gusset Lh – Top
184-10-0064: End Gusset Rh – Top
184-10-0065: End Gusset Lh – Bottom
184-10-0066: End Gusset Rh – Bottom
184-10-0083: Hande  End-Gusset- Lh Bottom
184-10-0084: Hande End Gusset – Rh Bottom
184-10-0183: Brkt_1-Spare Wheel Carrier
184-10-0184: Brkt_2- Spare Wheel Carrier
184-10-0229: End Gusset Lh Rsfb X Member(4018)
184-10-0230: End Gusset Rh Rsfb X Member(4018)
184-10-0231: Sa_End_Gusset_Rsfb_X_Member_Lh
184-10-0232: Sa_End_Gusset_Rsfb_X_Member_Rh
184-20-0182: Supt Gusset Cowl Mtg Bkt
185-00-0009: Sadle With Bump Stopper Mtg
185-30-0002: Saddle_90Mm Wide Spring
185-30-0003: Saddle – 80 Mm Wide Spring
185-30-0005: Front Spring Saddle_Parabolic
185-30-0006: Saddle For Rear Leaf Spring
185-30-0007: Saddle-80Mm Leaf Spring
1854-01-0000: S/A Of Exhaust Pipe
187-09-0003: Stick Holder
187-09-0004: Clip Holders – Electronic Boxcover
187-09-0007: Clip Holder
187-09-0008: Bracket Upper Turning Shaft-Faw
187-09-0009: Sealer Window – Movable Corner Window
:
:
:
:
187-09-0014: Rvm Brkt Lower Holder
187-09-0018: Head Rest Assy.
187-09-0019: Smoke Shell Holder
187-10-0002: New Steering Cylinder Holder(3118)
187-19-0010: Left Upper Shaft – Movable Corner Window
187-19-0023: Ip Beam Mtg Bkt Lh
187-19-0024: Ip Beam Mtg Bkt Rh
187-79-0006: Lamp Holder
188-00-0002: Electric Horn – 24V
188-79-0006: Horn Bottom Assy-Faw
189-60-0009: Reducer Silicon Hose-76D1X102D2 X 140L
189-70-0002: Straight – Silicon Hose – 76 Id X 140
189-70-0004: Multy Hump Silicon Hose – 76 Id X 140
189-70-0005: Straight – Silicon Hose – 76 Id X 90
189-70-0010: Straight Hose-76 Id X 140
189-70-0014: Multi Hump Silicon Hse-Blue 76Idx137-Cld
189-70-0015: St Hos Cac Otlt -Fr All Mdls76Idx140 Blu
189-70-0016: Cac-Reducer Outlet Hose
189-70-0019: Hose Cac Outlet -1 – Isbe
190-00-0015: Rr Fwd Axle Casing(Stiffner Ring) For Tp
190-00-0016: Rr Axle Case _Stiff Ring Less Relocat-Tp
190-09-0018: Strg G/B Hsg Assy-Hubei Forni
190-09-0019: Valve Hsg Assy -Hubei Forni
191-30-0002: Wheel Hub-2518
191-30-0004: Wheel Hub
193-00-0002: Vaccum Indicator
193-00-0006: Oil Level Indicator 3″" "
193-01-0000: S/A Of Shackle -Front Spring
193-01-0003: Vaccum Indicator
194-09-0001: Insert – Button
194-09-0002: Insert – Button
194-60-0003: Rubber Insert
195-00-0014: Instrument Cluster Rar 6.17 With 8 Pulse
195-00-0016: Instrument Cluster 3518Tr & 4018Tr Cowl
195-00-0017: Instrument Cluster
195-00-0019: Instrument Cluster-Cowl
195-00-0020: Instrument Cluster 3116Hl Cowl Rar 6.83
195-00-0023: Rpm Meter(Erpm)
195-00-0025: Temperature Guage (Etg)
195-00-0036: Instrument Cluster 4018Tr 6S Rar 6.83
195-79-0008: Dashboard (Bare)
196-10-0002: Jaw End
196-10-0006: Jaw End
197-00-0002: Hybrid Uj_Zf 180Hp
197-01-0001: U / J Assy With Pinch Bolt & Nut
197-02-0024: U / J Assy 3/4″ X 48 Serrns With Pinch B
197-09-0003: Universal Joint Sliding York
197-09-0005: Uj X -Strng & Prpler Shft
197-19-0006: Sliding Bush & Uni Joint Assy-Faw
197-19-0007: Left Joint & Dust Proof Cover Ball Joint
197-19-0008: Cable Tie 200Mm
199-00-0015: Key Budgetary Lock
199-01-0000: Pstg Pipe Ii From Vane Pump_Supp_Rane6*4
199-02-0000: Pstg Pipe Iii On Stg Gb _Supp_Rane 6*4
199-06-0000: Pstg-Hose Assy Suction M30X1.5Ln Pln End
199-10-0014: Key,Woodruff"
199-10-0016: Turning Tube Key
1A11-00-0003: 12 Cum Rock Body W/O Hydraulic System
1A32-00-0000: 8.5 Cu.M. Box Body On 1618 Tp
1A72-00-0000: 20 Cum Boxbody On 3118Tp Swb(9S)
1B01-01-0000: Sub Frame Assy Rock Body 12/14/16
1B01-07-1000: Tail Lamp Brkt Assy For Tipper
:
:
:
:
1B192-04-0000: Tail Board Assy Box Body 12
1B46-11-1000: Twist Lock Assembly-Kvac
1B72-01-0000: Sub Frame Assy 3118 Tp Swb
1C01-01-0200: Rear Hinge Bush Bb/Rb/Hd/Swb
1C01-01-0250: Sf-Rear Hinge Brkt Assy-Outer Rh
1C01-01-0300: Sf-Rear Hinge Brkt Assy-Inner Rh
1C01-01-0350: Sf-Rear Hinge Brkt Assy-Outer Lh
1C01-01-0400: Sf-Rear Hinge Brkt Assy-Inner Lh
1C01-01-0600: Sf-Cradle Assy
1C01-01-0750: Stay Rope With Springs  – 1750L
1C02-01-0250: Sub Frame Rear Hinge Bkt Assy -Outer-Rh
1C02-01-0251: Sub Frame Rear Hinge Brkt Assy-Inner-Rh
1C02-01-0252: Sub Frame Rear Hinge Brkt Assy-Outer-Lh
1C02-01-0253: Sub Frame Rear Hinge Brkt Assy -Inner-Lh
1C05-08-0003: 2 Demountable King Pin Assy [Sb786821/
1C05-08-3000: Suspension Kit – Trailer
1C05-08-3002: Equalizer Bush+Pin Assy
1C05-08-3010: Set Of Torque Arm Pin,Nut & Washer"
1D00-00-0002: Relief Spring(31080011)
1D00-00-0003: Hose [Pump To Valve](33300096)
1D00-00-0004: Retn. Line Filter Body M/C
1D00-00-0005: Circlip Ge 50 Do [1770560]
1D00-00-0006: Grease Nipple  M10X1 Type- 2
1D00-00-0007: Hose,3/4″Idx1900R2,5733300101
1D00-00-0008: Liftring Type 129 [71812129]
1D00-00-0009: Snap Ring For Piston Type 091
1D00-00-0010: Locking Plate Type 149 [71820149]
1D00-00-0011: Bottom Plate Type 149 [71821149]
1D00-00-0012: Bottom Plate Piston Type 091
1D00-00-0013: O' Ring Piston Top 091 [71870115]
1D00-00-0014: O' Ring Piston Bottom 091
1D00-00-0015: Sph. Bearing Ge50Uk2Rs Xid [71875450]
1D00-00-0016: Complete Packset Type 129-3
1D00-00-0017: Base 149-1479-4/4Sae-190 A/S [72505440]
1D00-00-0018: Driven Shaft Spf 30 82 [2269356]
1D00-00-0019: Drive Shaft Spf30 82 [2269358]
1D00-00-0020: Thrust Plt Fp30 Pump [2269359]
1D00-00-0022: Shaft Seal Bau24X40X7 [2404823]
1D00-00-0023: Shaft Seal Ba24X40X7 [2404825]
1D00-00-0024: Air Breather Cover
1D00-00-0025: Air Breather Filter Housing
1D00-00-0026: Air Breather Cork Seal(1F05-11-0094)
1D00-00-0027: Breather Csk Philip Head Screw
1D00-00-0028: Air Breather Sleeve/ Strainer
1D00-00-0029: Non Return Valve
1D00-00-0030: Pressure Cartridge 170B(1F05-11-0180)
1D00-00-0031: Seal Kit For Pt Valve
1D00-00-0032: Hyfix Hook
1D00-00-0033: Hyfix Mtg Eye (Machined)
1D00-00-0034: Pin – 3 (H14897016)
1D00-00-0035: Power Block [Rubber Pad]
1D00-00-0036: Compression Plate (H14897039)
1D00-00-0037: Pin – 1 (H14897040)
1D00-00-0039: Hyfix Secure(Spring Dowel)Pin
1D00-00-0041: Piston Eye
1D00-00-0042: Piston S 091-1498-Hc A/S
1D00-00-0043: 1/8″ Bsp M Elb*M6-Hyva(57Gc702856)
1D00-00-0044: Fe149-4-4525-009A-K1484-Hd5-Hc 71594201
1D00-00-0045: Ot Assy 149(74L + Metal Strap 57100D7000
1D00-00-0046: Hex . Head Screw M8X22 – 8.8 (5730850080
1D00-00-0047: Rubber Strip For Tank Bottom 5736010015
1D00-00-0048: Rubber For Ot Strap 930L 57100D7015
:
:
:
:
1D00-00-0049: Grub Screw M8X6-8.8 (5730850540)
1D00-00-0050: Adaptor 1″ Bsp X 1*5/16″ 12Un(5732300112
1D00-00-0051: Elbow 1*7/8″12Unx1*3/4 Nipple 5732300111
1D00-00-0052: Hex Nut M8 -4.6 Din934 (5730950007)
1D00-00-0053: Metal Strip 2 Straight 5710100032
1D00-00-0054: Hose Routing Clamp 38Mm Id 5734460003
1D02-00-0002-DB: Pto Kit-David Brown For Eaton 9S
1D05-01-0001: Fe191 Hyva Tipping Kit For Tip Trailer
1D32-00-0000: 45Cc Unidirectional Pump,Clock Wise
1F01-01-0001: Sf-Rear Hinge Shaft
1F01-01-0002: Sf-Rear Hinge Shaft Locking Snap Ring
1F01-01-0013: U – Bolt M16 For Stay Rope  (En8)
1F01-01-0024: Sub Frame Rear Hinge Brkt Plate
1F01-01-0025: Sf-Rear Hinge Brkt Bush – Outer
1F01-01-0028: Sf-Rear Hinge Brkt Bush – Inner
1F01-06-0015: Rain Flap-2500 X 160 Mm
1F01-11-0004: Layshaft Kit For 9S-1110 Zf Gb [287 Mm]
1F01-11-0015: Lp90 Elbow 1″-Lp28+Parts[14799020]
1F01-11-0016: Lp90 Elbow 1 1/2″-Lp28+Parts[14799050]
1F01-11-0017: Adaptor 3/4″Bsp Mxm30X2[5732200514]
1F01-11-0018: Adaptor1*1/4″Bspmxm30X2[5732200714]
1F01-11-0019: Dowty Seal3/4″[5731050006]
1F01-11-0021: Hose Routing Clamp 58Mm Id[5734460001]
1F01-11-0022: Strip For Hose Binding Big[571M300033]
1F01-11-0023: Nyloc Nut M8[5730950182]
1F01-11-0024: Fe-129-3-03640-001A-K1529-Hd5[71554201]
1F01-28-0023: Rain Flap With Logo-Rh (530X800)
1F02-01-0009: Rear Hinge Stopper Support Plate
1F02-01-0011: Subframe Rear Hinge Stopper Plate
1F02-01-0020: Sub Frame Rear Hinge Brkt Stiffener – B
1F02-01-0021: Sub Frame Rear Hinge Brkt Stiffener-Smal
1F02-11-0006: Pt Valve O' Ring
1F05-08-1001: Front Hanger[900207 / Wp]
1F05-08-1002: Rear Hanger[900208 / Wp]
1F05-08-1005: Equilizer Hanger[930003]
1F05-08-1006: Equalizer  – 1300Mm (1)[900209 Wp]
1F05-08-1007: Equalizer Shaft[930015]
1F05-08-1008: M30 X 3.5 Nylon Lock Nut[Ln 30/350]
1F05-08-1009: Equalizer Washer[930203]
1F05-08-1010: Equalizer Bush[930009]
1F05-08-1015: 10 Leaf Spring[770710]
1F05-08-1016: M24 X 2.0 U-Bolt (2)[773011]
1F05-08-1017: M24 X 2.0 Nut[503288]
1F05-08-1020: Lip Seal 5Mm[930071/01]
1F05-08-1021: M8 X 1.0 Eqr Shaft Grease Nipple[930048]
1F05-08-1022: M8 X 1.0 Equalizer Shaft Plug[930048/01]
1F05-08-1023: M12 X 1.75 Nylon Locknut[Ln12/175]
1F05-08-1081: Front Hanger-Yte90
1F05-08-1082: Rear Hanger-Yte90
1F05-08-1085: 10 Leaf Spring-Yte90
1F05-08-1086: Equalizer  – 1300Mm (1)-Yte90
1F05-08-1087: M24 X 2.0 U-Bolt (2)-Round Axle-Yte90
1F05-08-1089: Spring Seat-Yte90
1F05-08-1101: Hub[790101/01]
1F05-08-1102: Drum[786115]
1F05-08-1103: Bearing (Outer)[786116]
1F05-08-1104: Bearing(Inner-Y5021, Outer-Y8021)
1F05-08-1105: Hub Seal[786114]
1F05-08-1106: Wheel Stud Rh[786111]
1F05-08-1109: Wheel Nut Rh[502917]
1F05-08-1110: Spindle Nut[502461]
1F05-08-1111: Spindle Lock Washer[501123]
:
:
:
:
1F05-08-1112: Tab Lock Washer[790044]
1F05-08-1113: Spindle Outer Lock Nut[502462]
1F05-08-1114: Hub Cap Gasket / O-Rng[790224]
1F05-08-1115: Hub Cap(York/Yte)[786215]
1F05-08-1116: Bolt,Hub Cap[Fb08/125/025]"
1F05-08-1118: Circlip, Anchor Pin[758525]
1F05-08-1119: Washer, Anchor Pin[501996]
1F05-08-1120: Anchor Pin[501995]
1F05-08-1121: Bush, Anchor Pin[501787]
1F05-08-1122: Circlip, Cam Shaft[500374]
1F05-08-1123: Spacer Washer , Cam Shaft[500358]
1F05-08-1124: O Ring, Cam Shaft[500375]
1F05-08-1125: Bush, Cam Shaft[786123]
1F05-08-1126: Cam Shaft[500686]
1F05-08-1127: Spherical Bearing , Cam Shaft[500362]
1F05-08-1128: Housing , Spherical Bearing[500363]
1F05-08-1129: Star Washer , Spherical Bearing[Ew10]
1F05-08-1130: Bolt, Spherical Bearing[Hb10/150/020]
1F05-08-1131: Star Washer , Spherical Bearing[Ew12]
1F05-08-1132: Bolt, Spherical Bearing[Hb10/150/020]
1F05-08-1133: Camshaft Lh[50472301L/Ht]
1F05-08-1134: Camshaft Rh[504723/01R/Ht]
1F05-08-1135: Cam Roller[500356/01]
1F05-08-1136: Rollar Retainer, Wire[500373]
1F05-08-1137: Pin , Return Spring[500372]
1F05-08-1138: Return Spring[786289]
1F05-08-1139: Brake Shoe[502906/01(P)]
1F05-08-1140: Lining Rivet[502245]
1F05-08-1141: Anchor Lining[786282/02/Af237]
1F05-08-1142: Cam Lining[786281/02/Af237]
1F05-08-1143: Lined Shoe Assy[Sb502064/02/Af237]
1F05-08-1144: Grease Nipple Extension[507327/01]
1F05-08-1145: Grease Nipple[738016/02]
1F05-08-1148: Dust Cover Plug[500848]
1F05-08-1150: Hub-Y8021R
1F05-08-1151: Drum-Y8021R
1F05-08-1152: Bearing (Inner For Y8021)
1F05-08-1153: Hub Seal-Y8021R
1F05-08-1154: Wheel Stud Rh-Y8021R
1F05-08-1155: Wheel Nut Rh-Y8021R
1F05-08-1156: Spindle Thrust Washer-Y8021R
1F05-08-1157: Spindle Nut-Y8021R
1F05-08-1158: Spindle Nut Split Pin-Y8021R
1F05-08-1159: Hub Cap Gasket / O-Rng-Y8021R
1F05-08-1160: Hub Cap(York/Yte)-Y8021R
1F05-08-1165: Cam Lining-Y8021R
1F05-08-1166: Lined Shoe Assy-Y8021R
1F05-08-2001: Front Hanger [900201]
1F05-08-2005: Equilizer Hanger 1360[900202]
1F05-08-2006: Equalizer  – 1360Mm (1)[900206]
1F05-08-2008: Equalizer Shaft [900018]
1F05-08-2009: M24 X 3.0 Nylock Nut
1F05-08-2010: Equilizer Washer[901009]
1F05-08-2011: Equalizer Bush [901020]
1F05-08-2012: Fixed Torque Arm (395Mm)[901100/395]
1F05-08-2013: Adj. Torque Arm Screw (260Mm)[900033/01]
1F05-08-2014: Adjustable Torque Arm End Rh[900024R]
1F05-08-2015: Adjustable Torque Arm End Lh[900024L]
1F05-08-2017: Fixed Trq Arm-1300Mm(525Mm)[901100/525]
1F05-08-2018: Adj. Torque Arm Screw(350Mm)[900033/02]
1F05-08-2019: Torque Arm Pin
1F05-08-2020: Torque Arm Washer
:
:
:
:
1F05-08-2021: Torque Arm Bush-Rubber[770701]
1F05-08-2021P: Torque Arm Bush-Poly [770701P]
1F05-08-2023: 8 Leaf Spring[770706]
1F05-08-2024: M22 X 2 Mm U-Bolt (2)[773015]
1F05-08-2028: Spring Seat-50Mm
1F05-08-3001: Torque Arm Poly Bush [Mpu6300]
1F05-08-3002: Torque Arm Pin
1F05-08-3003: Torque Amr Nut [Nln7]
1F05-08-3004: Torque Arm Washer [Wa66]
1F05-08-3005: Equalizer Poly Bush
1F05-08-3007: Equalizer Washer [Wa03]
1F05-08-3008: Equalizer Nut [Dc035]
1F05-08-3015: 10 Leaf Spring Assy [Manson Pro-10]
1F05-08-3016: 24X2.0 U-Bolt[Mansons]
1F05-08-3017: Front Hanger-Manson [Dc001]
1F05-08-3018: Rear Hanger-Manson [Dc002]
1F05-08-3019: Center Hanger-Manson[Dc003]
1F05-08-3020: Rigid Torque Arm-Manson[Dc004]
1F05-08-3021: Rigid Torque Arm-Manson[Dc005]
1F05-08-3022: Spring Top Plate-Manson[Dc006]
1F05-08-3024: Center Rod-Manson[Dc008S]
1F05-08-3025: Center Rod-Manson[Dc009S]
1F05-08-3026: Torque Arm End Right-Manson[Dc008Rh]
1F05-08-3027: Torque Arm End Left-Manson[Dc008Lh]
1F05-08-3029: Equiliser With(Mpu 5384)-Manson[Dc021]
1F05-08-3032: Equiliser Shaft-Manson[Trs4322]
1F05-08-3033: Equiliser Bolt & Nut-Manson[Dc033]
1F05-10-0001: Palm Coupling Service Line[100800620]
1F05-10-0002: Palm Coupling Emergency Line[100800630]
1F05-10-0003: Non Return Valve[100302060]
1F05-10-0004: R6 Relay Valve[100302970]
1F05-10-0025: Ferrule,Insert , M18Ferrle Nut- Kit"
1F05-10-0026: Re6 Relay Emergency Valve (100302930)
1F05-11-0004: Nyloc Nut M16X1.5 Finepitch
1F05-11-0005: M16 Hardened Washer 32/17*5(5731030068
1F05-11-0012: Air Control Valve (N)-10090961094
1F05-11-0013: Acv Mtg Bkt Amw
1F05-11-0015: Hex. Screw M6X14 Gr-8.8
1F05-11-0016: Plain Washer M6
1F05-11-0022: Air Supply Adaptor For Amw
1F05-11-0023: Copper Washre 1/8″
1F05-11-0024: Connector 1/8 Bspx4X6 Pipe [5732510001]
1F05-11-0025: Gromet Rubber Id 25 Mm
1F05-11-0026: Nylon Cable Tie-4X254Mm
1F05-11-0028: Oil Level Indicator 1*1/4″"Bsp"
1F05-11-0029: Ball Valve 1_1/2″"Bsp Lp"
1F05-11-0030: Copper Washer 38X44X2 Mm
1F05-11-0032: Hex. Head Screw M8 X 30 -8.8[5730850064]
1F05-11-0033: M8 Spring Washer Sq. Section
1F05-11-0034: Rlf Assy
1F05-11-0042: E Mtg Block
1F05-11-0046: Dowty Seal 1/2″""
1F05-11-0051: Adaptor 1″"Bsp M X 1*3/16 Unf"
1F05-11-0055: Dowty Seal 1″""
1F05-11-0056: Dowty Seal 1*1/4″""
1F05-11-0058-BI: Hyva Gear Pump 82L-Bi-4H[5736815004]
1F05-11-0059: Pto For Zf 9S7S/9S109/9S110
1F05-11-0060: Layshaft Kit For 9S 75
1F05-11-0064: Hose Routing Clamp 30 Mm Id
1F05-11-0065: Metal Strip For Binding Bent
1F05-11-0066: Hex. Head Screw M8X25 – 4,6
1F05-11-0074: Hyfix Clamp
:
:
:
:
1F05-11-0075: Hyfix Locking Plt Kit [5780000002]
1F05-11-0076: Sticker Small "Hyva"
1F05-11-0077: Sticker "Safe Tipping"
1F05-11-0078: Elbow Con.,M12X1.25 6X4 Pu[5732530007]
1F05-11-0083: Hose Clip For 1 3/4″Suction[14796600]
1F05-11-0087: Chassis Bkt 110/129/149 B Bush 01506036
1F05-11-0088: Hex.Head Bolt M16X1.5X55-10.9 5730890180
1F05-11-0089: Ot Assy 46.5L + Metal Strap 57100C500
1F05-11-0090: Rlf Extension Pipe 265L
1F05-11-0091: Breather Extension 76Ht 5739980160
1F05-11-0092: Hex.Head Screw M5X20-8.8  5730830045
1F05-11-0093: M5 Spring Washer Sq.Section 5731030021
1F05-11-0095: Rubber Strip For Tank Bottom 57100C5007
1F05-11-0096: Rubber For Ot Strap 930L 57100C5006
1F05-11-0097: Tipping Valve Mtg Block Amw 5715109009
1F05-11-0099: Hose 3/4″X2050 R2 1″Bsp Fs60  5733300204
1F05-11-0100: Seamless Tube Assy Kit 60L  5780000088
1F05-11-0103: Chassis Bkt Fe/Fc110
1F05-11-0104: Chassis Bkt 110/129/149 Ib
1F05-11-0105: Chassis Bkt 149/169/191 Igus B
1F05-11-0106: Lifting Bkt Rh 091-110 Igus B
1F05-11-0107: Lifting Bkt Lh 091-110 Igus B
1F05-11-0108: Lifting Bkt Rh 149/169/191 Ib
1F05-11-0109: Lifting Bkt Lh 149/169/191 Ib
1F05-11-0110: Mtg Kit Jt-Valve On Sae Inlet
1F05-11-0111: Tip Valve Jt-1150-170 On Tank
1F05-11-0112: Lp Adaptor 1″-Lp28+Parts
1F05-11-0113: Fc-110-3-03205-000A-K0343-Hc
1F05-11-0114: Fc-149-3-04270-000A-K0343-Hc
1F05-11-0116: Fe169-4-4820-001A-K1524-Hd5-Hc
1F05-11-0117: Metal Strap Oiltank Fe-169
1F05-11-0118: Oil Tank 110Ltr
1F05-11-0119: Gasket-Habd Hole
1F05-11-0120: Bush Ot Mtg
1F05-11-0122: Rubber Pad Ot Mtg
1F05-11-0124: T Assy 36/51
1F05-11-0125: Hex. Head Screw M8X16-8.8
1F05-11-0126: Hex. Head Screw M10X30-8.8
1F05-11-0127: Hex. Head Screw M10X40-8.8
1F05-11-0129: Hex Head Bolt M12X90-8.8
1F05-11-0130: Hex. Bolt M12X1.25X50-10.9
1F05-11-0131: Hex. Head Bolt M16X1.5X60X10.9
1F05-11-0132: Plain Nut M12
1F05-11-0133: Nyloc Nut M10
1F05-11-0135: Nyloc Nut M12X1.25 Din985 Gr10
1F05-11-0137: M12 Hardened Washer 24/13*5
1F05-11-0138: M12 Hardened Washer 13/25/3
1F05-11-0140: Dummy Plug 1/2″ Bsp-Pt Valve
1F05-11-0141: Adaptor 3/4″ Bsp Mx1*3/16″Unf
1F05-11-0142: Adaptor 1″Bsp Mx1 7/16″
1F05-11-0143: Adaptor 1*1/4″Bsp Mx1*3/16″
1F05-11-0146: Adaptor 1*1/4″Bsp M X1″Bsp M
1F05-11-0147: Elbow 1″Bsp Mx1″Bsp Fs
1F05-11-0148: Elbow 1″Bsp X 1*3/16″Unf Ors
1F05-11-0150: Hose 1″I.Dx1500 R1 1*7/16″Unf
1F05-11-0151: Hose 1″I.D X 1000 R1 1 7/16″Unf
1F05-11-0152: Hose 3/4″I.Dx1350 R2 1 3/16″
1F05-11-0153: Hose1″Idx2000 250Bar 1″Bsp Fs
1F05-11-0154: Hose1″Idx4000 250Bar 1″Bsp Fs
1F05-11-0155: Hose 1″I.D X 600Sae
1F05-11-0156: Hose 3/4″X1800 R2 1″Bsp Fs60
1F05-11-0157: Hose 3/4″X1650 R2 1*3/16″ Unf
:
:
:
:
1F05-11-0158: Hose 3/4″ 1800L Bsp-Unf
1F05-11-0159: Rubber Pad For Fc Cyl
1F05-11-0161: Quick Release Coupling L0-1201
1F05-11-0162: Breather Extension 76Ht
1F05-11-0163: Rlf Extension Pipe 170L
1F05-11-0164: Seamless Tube Assy Kit 75L
1F05-11-0165: 110 Oil Tank Strp Mtg.Kit Trlr
1F05-11-0166: Rlf Ass Hd
1F05-11-0167: Cyl Mtg Pin
1F05-11-0168: Cyl Bush 70X50X35
1F05-11-0169: Cyl Bush 70X50X35 Drilled
1F05-11-0170: Tank Support For Strap Mtg
1F05-11-0171: Rubber For Metal Strap
1F05-11-0172: Ot Mtg Bse Plt
1F05-11-0233: Base 149-1399-4/4 Sae-190
1F05-11-0239: Stage 129-1360
1F46-01-0037-01: Lashing Brkt (Bop)
1F72-07-0013: Tie Rod Tube (15Nb X1070L) _Bop
1F72-07-0014: Rh Stud_M16X2 (Tube Tie Rod Assy)-Bop
1F72-07-0015: Lh Stud_M16X2 (Tube Tie Rod Assy)-Bop
1F85-11-0087: Banjo Bolt 1″ Bsp X 1″Bsp
1SF1000: Subframe Box Body 14/16/20
1SF1405: Grease Nipple M10X1Mm
1SF1506: S.F. Rear Hinge Pin
1SF1507: S.F. Rear Hinge Pin Locking  Bolt M10X25
1SF1800: S. F. Cradle Assy
1SF1810-01: S.F Cradle Support Angle [Bop]
1SF1811-01: S.F Cradle Support Plate-2 [Bop]
200-00-0001: Left Combination Rear Lamp
200-00-0002: Right Combination Rear Lamp
200-00-0049: Amber Lamp Assy-Abs
200-00-0057: Tail Lamp Assy Neolite
200-00-0078: Rear Marker Assembly
200-00-0079: Side Indicator Lamp
200-00-0117: Head Lamp Assy Lh
200-00-0118: Head Lamp Assy Rh
200-00-0119: Front Blinker Assy Lh
200-00-0120: Front Blinker Assy Rh
200-00-0137: Tail Lamp Lh Neolite
200-00-0138: Tail Lamp Rh Neolite
200-01-0051: Fender Lamp-Faw
200-09-0007: Head Light Lhs-Faw
200-09-0008: Head Lamp,Rh"
200-09-0009: Side Indicator -Lhs
200-09-0010: Side Indicator-Rhs
200-09-0011: Side Marker Lamp
200-09-0012: Front Marker Lamp Fit On Sunshade
200-09-0013: Roof Lamp Rear
200-09-0052: Fog Lamp – Lh Wider
200-09-0053: Fog Lamp -Rh Wider
200-09-0055: Reading Lamp – Sleeping Berth
200-09-0059: Right Bunk Reading Light-Faw
200-09-0063: Left Bunk Reading Light
200-09-0064: Fog Lamp -Lh Narrow Bumper
200-09-0065: Fog Lamp – Rh Narrow Bumper
200-09-0068: Rr Dress Board Assy Room Lamp
201-00-0064: Lever, Hyd Cable Assy-Dh
201-00-0092: Release Lever With Eye Bolt
201-10-0017: Lever Gear Handle Assy
201-10-0026: Lever-Gear And Gate Selection
201-10-0077: S/A Serrated Lever Toggled
201-10-0082: S/A Serrated Lever Rear
:
:
:
:
201-10-0084: Sa Gear Shift Tower Without Knob
201-10-0086: Lever For Pull Arrangement
201-10-0087: Turning Tube Assy
201-10-0089: Clutch Lever Assy
201-19-0030: Fore & After Adjusting Lever –  Rh
201-19-0031: Fore & After Adjusting Lever –  Lh
201-20-0069: Relay Lever 1_As Forged
201-20-0070: Relay Lever 2_As Forged
201-20-0071: Pitman Arm
201-20-0072: Relay Lever 1
201-20-0073: Relay Lever 2
201-30-0028: Clutch Withdrawal Internal Lever
201-30-0032: Cltch Wthdrawal Inner Lever-For Eaton6S
201-30-0058: Lever,Inner,Clutch Withdrawal"
201-30-0059: Lever,Inner,Clutch Withdrawal"
201-30-0074: Lever Inner ,Clutch Withdrawl
201-30-0099: Inner Lever
202-00-0005: Liner-Under Brkt
202-00-0010: Brake Liner Kit – 10 Hole (4 Pad)
202-00-0011: Brake Liner Kit – 6 Hole (4 Pad)
202-00-0012: Brake Liner – 16 Holes Kit (8 Pad)
202-09-0001: Inside Protection Board Assy Cabin Left
202-09-0002: Inside Protection Board,Cab Right Side"
202-09-0003: Front Inside Guard Of Roof-Faw
203-00-0009: Tie Rod Assembly
203-02-0026: Drag Link Assembly 2516Hl Cowl -Rane
203-10-0003: Drag Link Assy
203-20-0015: First Drag Link – 3118Hl
203-20-0017: Connecting Link – 3118Hl
203-20-0018: Fourth Link – 3118Hl
203-20-0019: Second Drag Link_With Bend_3118Hl
203-20-0020: Draglink Assembly
203-20-0021: Drag Link Assembly – 2516 Hl Cowl
203-20-0025: Longer Drag Link Assy-31T
203-20-0027: First Drag Link Assy 31T
203-21-0024: Drag Link Assembly -Qh Talbors
204-00-0001: Louvers
204-10-0000: Steering Wheel And Drive Assembly
206-00-0001: 90 Series Wpf Male Terminal
207-30-0004: Manifold-Tc Outlet 180Hp(1109-01-0000)
208-00-0009: Odometer
208-00-0010: Odometer (Stepper Motor)
208-79-0005: Instrument Cluster Assy
209-00-0024: Avm Engine – Rear
209-01-0001: Metacone
209-01-0012: Anti Vibration Mounting Big
209-01-0013: Anti Vibration Mounting Small
209-01-0017: Anti Vibration M Small
209-09-0013: Anti Vibrating Small
209-31-0004: Wear Pad Bogie Suspenson
209-31-0011: Wear Pad-Top-Bogie End Seat
209-61-0002: Engine Mtg Pad Front
210-10-0001: Grease Nipple M[10 X 1Mm]
210-10-0006: 90 Degree -Grease Nipple-M10 X 1.0-With
210-10-0007: M16 X 1.5-Grease Nipple-90 Degree
210-10-0008: Grease Nipple – M16 X 1.5 -Straight
210-10-0016: Shift Lever For 9S75-(Ref.409-00-0771
211-00-0010: O Ring (Skf) Cr Or 97X3 N70
211-00-0026: Sealing Ring M14
211-00-0028: Sealing Ring M22
211-10-0003: O -Ring -Id 11Mm
211-10-0004: O -Ring -Id 7Mm
:
:
:
:
212-00-0016: Oil Seal (Skf) Cr 75X95X12 Hms4 R
212-10-0010: Oil Seal Assy – Inner
212-10-0011: Oil Seal Assy – Outer
212-20-0008: Oil Seal Ring Outer
212-20-0009: Oil Seal Ring Inner
212-60-0034: Seal Kit For Cylinder Dctb183-5
212-60-0035: Seal Kit – 3Dhmp Valve [H01963510H]
212-60-0036: Seal Kit ( Blue Pump -82L-Hydrocar-36815
212-61-0053: Oil Seal Front Hub(Alt.P.No.437-01-0056)
212-70-0037: Shaft Seal 42X55X6 [2391675]
212-70-0038: Packset For Stage Dia 110
212-70-0039: Packset For Stage Dia 129
212-70-0040: Packset For Stage Dia 149
214-00-0046: Asm Cab Rear Balata Pack
214-01-0000: S/A Of Mtg Bracket Shox – Bottom
214-60-0011: Rubber Packing For Strap
214-60-0012: Rubber Packing For Bracket
214-60-0029: Subber Strap-Dat
214-60-0033: Rubber Strap
214-60-0040: Air Tank Seating Rubber Strap
215-00-0156-CW: Door Panel Assy Lh-Clear White
215-00-0156-OR: Door Panel Assy Lh-Post Office Red
215-00-0156-P: Door Panel Assy Lh- Ced/Primered
215-00-0156-SG: Door Panel Assy Lh-Silver Grey
215-00-0156-SO: Door Panel Assy Lh-Sunrise Orange
215-00-0156-WM: Door Panel Assy Lh-Wine Maroon
215-00-0157-CW: Door Pnel Asy Rh-White(Ref.215-00-0157-P
215-00-0157-GY: Door Panel Assy Rh-Golden Yellow
215-00-0157-P: Door Panel Assy Rh- Ced/Primered
215-00-0157-SG: Door Panel Assy Rh-Silver Grey
215-00-0157-SO: Door Panel Assy Rh-Sunrise Orange
215-00-0157-WM: Door Panel Assy Rh-Wine Maroon
215-01-0004: Tops Up The Lid (Button)
215-01-0145: Rear Panel Liner Trim Assy
215-01-0150: Door Panel Assy Lh
215-01-0151: Door Panel Assy Rh
215-01-0161: Mid Roof Assy
215-09-0013: Sun Visor Panel Roof Air Deflctor
215-09-0013-P: Sunshade Ced
215-09-0031: Floor Mat Nva Mid
215-09-0032: Instrument Panel Beam Assy
215-09-0226: Asm A-Pillar Otr / Inr Lh
215-09-0227: Asm A-Pillar Otr / Inr Rh
215-10-0181-P: Asm Panel Front Top Primer
215-10-0182: Assy Flap Front
215-10-0184-P: Asm Panel Corner Lh- Primer
215-10-0185-P: Asm Panel Corner Rh-Primer
215-19-0005-P: Front Panel – Primer
215-19-0006: Lh Door Triming
215-19-0007: Right Door – Trim-Faw
215-19-0008: Ventilation Grill (Abs)
215-19-0009: Lower Griller Of Radiator-Faw
215-19-0014: Rear Panel
215-19-0121: Floor Assy
215-19-0122: Small Door Lh
215-19-0123: Small Door Rh
215-19-0124: Front Structure Assy
215-19-0126: Corner Panel Assy Lh(215-19-0126-P)
215-19-0126-CW: Corner Panel Lh Clear White
215-19-0126-GY: Corner Panel Lh Golden Yellow
215-19-0126-P: Corner Panel Assylh-Primered
215-19-0127: Corner Panel Assy Rh (Rfr Color Code)
:
:
:
:
215-19-0127-CW: Corner Panel Rh Clear White
215-19-0127-GY: Corner Panel Rh Golden Yellow
215-19-0127-OR: Corner Panel Rh Post Office Red
215-19-0127-P: Corner Panel Assy Rh-Primered
215-19-0128: Side Panel Inner Assy Low Roof Lh
215-19-0129: Side Panel Inner Assy Low Roof Rh
215-19-0132: Inner Board Upper Lh
215-19-0133: Inner Board Upper Rh
215-19-0136: Side Panel Outer Assy Lh
215-19-0137: Side Panel Outer Assy Rh
215-19-0138: Rear Panel Assy Low Roof
215-19-0140: Low  (Std) Roof Assy
215-19-0143: Roof Lamp Panel Low Roof
215-19-0155: Lower Panel Front W/Shield
215-20-0172: Flap Front Upper
215-20-0186: Panel Floor Mid Lh
215-20-0187: Panel Floor Mid Rh
215-20-0188: Panel Wheel Arch
215-20-0188-P: Panel Wheel Arch-Primer
215-20-0220: Left Guard Panel-Door Upper Beam
215-20-0221: Right Guard Panel-Door Upper Beam
215-20-0230: Panel Air Cleaner House
216-00-0015: Accelerator Pedal Assy
216-00-0022: Accelerator Pedal Electronic Wallmounte
216-19-0002: Clutch Pedal Assy-Faw
216-79-0001: Accelerator Pedal-Faw
219-00-0154: Clevis Pin With Head-Dh
219-00-0155: Split Pin Iso 1234-1.6X18-St
219-01-0064: Hyva-Cylinder Mtg Pin[10100009]
219-01-0065: Hyva-Split Pin 10Dia X 75L[31020041]
219-01-0134: Position Limiter Of Door With Pin Shaft
219-01-0135: Shock Absorber Pin
219-09-0063: Guide Rail Pin
219-09-0066: Pins
219-10-0009: Jaw End Pin
219-10-0012: Fulcrum-Pin
219-10-0013: Split Pin – 5 Dia X 65 Long
219-10-0016: Shackle Pin
219-10-0025: Hinge Pin – Fuel Tank Strap
219-10-0027: Fulcrum Pin Needle Bewing
219-10-0028: Hinge Pin Front Brake Chamber
219-10-0029: Split Pin – Front Axle
219-10-0058: Side Board – Tail Board Hinge Pin
219-10-0129: Split Pin 3.6Mm Dia, 41Mm Long
219-10-0138: Split Pin
219-10-0148: Pin -Shackle
219-10-0156: Pin-Bell Crank
219-10-0157: Pin-Spring
219-10-0158: Pin-Tie Rod_2516 Rs
219-10-0161: Pin-Shackle To Bell Crank
219-10-0163: Pin Accelarator Linkage
219-10-0164: Pin Turning Tube
219-10-0180: Pin Idler Arm
219-10-0204: Turning Tube Pin
219-19-0039: Flat Pin
219-19-0040: Cotter Pin-Faw
219-19-0041: Cotter Pin For Safety Hook-Faw
219-19-0046: Locking Shaft Pin
219-19-0047: Safety Pin-Faw
219-19-0049: Pin,Accelarator Pedal-Faw"
219-19-0051: Flat Head Pin-Faw
219-19-0054: Shaft Clutch Pedal-Faw
:
:
:
:
219-19-0056: Flat Head Pin Shaft
219-19-0057: Pin Shaft
219-19-0067: Pin Throttle Control-Faw
219-19-0070: Lower Pin-Faw
219-19-0075: Flat Head Pin-Faw
219-19-0076: Flat Head Pin-Faw
219-20-0139: Rear Hinge Shaft Dia 60X152
219-20-0140: Tail Door Hinge Pin
219-20-0141: Cylinder Mounting Pin
219-30-0136: Fork Pin
219-79-0050: Spring Pin-Faw
220-00-0240: Stack Pipe – Air Intake System
220-00-0548: Ylon Pipe-8 Mm Od
220-00-0590: Precleaner, Metal
220-00-0591: Pipe & Brkt Asy
220-00-0592: Powder Coated Pipe
220-00-0593: .Ipe & Brkt Asy
220-00-0594: Powder Coated Pipe Assembly
220-00-0613: Pipe Assembly Pressure Pump Side – Zf
220-00-0614: Pipe Assembly Pressure Gb Side – Zf
220-00-0615: Pipe Assembly Return Reservior Side – Zf
220-00-0616: Pipe Assembly Return Connecting – Zf
220-00-0617: Pipe Assembly Return Gb Side – Zf
220-00-0627: Pipe Assembly Suction Reservior Side
220-00-0628: Pipe Assembly Pressure Gear Box Side
220-00-0629: Pipe Assembly Pressure Connecting
220-00-0630: Pipe Assembly Return Gearbox Side
220-00-0631: Pipe Assembly Return Reservoir Side
220-00-0634: Pipe Assembly Suction – Connecting
220-00-0650: Pipe Assy Pressure Hydraulic Cylinder Fr
220-00-0651: Pipe Assy Pressure Hydraulic Cylinder Re
220-00-0652: Pipe Assy Pressure Hydraulic Cylinder Re
220-00-0666: Ddu Inlet Pipe 1
220-00-0667: Ddu Inlet Pipe 2
220-00-0668: Ddu Inlet Pipe 3
220-00-0669: Ddu Inlet Pipe 4
220-00-0759: S/A Metal Pipe :15Mm Od
220-00-0760: S/A Metal Pipe:15Mm Od
220-00-0763: Pipe Assembly Pressure -Pump Side Isbe
220-00-0764: Pipe Assembly Return -Reservoir Side Isb
220-00-0765: Pstg Hose Assy – Suction – Isbe
220-00-0766: S-A Of Metal Pipe – 22 Mm Od, Intake Pip
220-00-0768: S-A Of Metal Pipe – 18 Mm Od, Adaptor To
220-00-0772: S/A Of Metal Pipe 15 Mm Od
220-00-0780: S-A Of Metal Pipe – 18 Mm Od, Compressor
220-00-0781: Pipe Ddu Inlet 1
220-00-0784: Pipe Ddu Inlet 3
220-00-0791: Pipe Ddu Inlet 4
220-00-0808: Pipe Assy Pr.Hydraulic Cyl Front -31T
220-00-0809: Pipe Assly Pr.Hydraulic Cyl Rear-31T
220-00-0810: Pipe Assly Hydraulic Cyl Rear-31T
220-00-0813: Metal Pipe 15Mm Od
220-00-0814: Metal Pipe 15Mm Od
220-00-0815: S/A Of Metallic Pipe Od 15Mm
220-00-0816: Pipe Assy Pr. Hyd Cyl Front Bottom Port
220-00-0959: S/A Metal Pipe 18 Mm Od Teflon On Hose A
220-00-0960: S/A Metal Pipe 18 Mm Od Adap Nr Cbx Mbr
220-00-0961: -A Of Metal Pipe – 18 Mm Od, Adaptor To
220-00-0962: S/A Of Metal Pipe – 18 Mm Od, Air Dryer
220-00-1148: S/A Of Metal Pipe – 18 Mm Od
220-00-1151: Shim Pipe 11 Dia X13X81
220-00-1157: Clutch Bundy Tube Od 1/4″ X 1513 Mm
:
:
:
:
220-00-1158: Clutch Bundy Tube Od 1/4″ X 560 Mm
220-00-1214: Clutch Bundy Tube Od 1/4″ X 2012 Mm
220-00-1257: Metal Pipe -15Mm Od
220-00-1258: Metal Pipe -15Mm Od
220-00-1274: Metal Pipe – 18 Mm Od
220-00-1309: Metal Pipe 15Mm Od
220-00-1310: Metal Pipe 15Mm Od
220-00-1311: Metal Pipe 15Mm Od Teflon Hose To Adapto
220-00-1312: Metal Pipe 15Mm Od Adaptor To Adaptor Ne
220-00-1313: Metal Pipe 15Mm Od Adaptor Near Ddu To
220-00-1331: Metal Pipe 15 Mm Od
220-00-1332: Metal Pipe 15 Mm Od
220-09-0337: Low Pressure Metal Pipe Assy-Faw
220-09-0338: High Pressure Metal Pipe Assy-Faw
220-09-0341: Water Inlet Pipe
220-09-0342: Water Outlet Pipe
220-09-0352: Iind Hyd Hose-Pump To Latch For Faw
220-09-0353: Ist Hyd Hose-Pump To Latch For Faw
220-09-0356: Low Pressure Metal Pipe Assy
220-10-0008: Tail Pipe – 4″" Dia"
220-10-0016: Pipe-Rad.Outlet-Steel 2.25″"Odx16Bg"
220-10-0017: Pipe-Rad.Outlet-Steel 2.25″" Od X 16 Bg
220-10-0024: Pipe-Rad.Outlet-Steel 2.25″" Od X 16 Bg
220-10-0027: Outlet Pipe Assembly 2
220-10-0030: Tail Pipe – 3.5″" Od X2 Mm Thick – Stee
220-10-0049: Outlet Straight Pipe 127 0D
220-10-0060: Cac Inlet Pipe – 3″" 0D X 16 Bgthick"
220-10-0063: Cac Inlet Pipe – 3″" 0D X 16 Bgthick"
220-10-0067: Tail Pipe 4″" Dia – 4023″
220-10-0068: Tail  Pipe – 3.5″" Dia"
220-10-0230: Bend Pipe – Air Intake System
220-10-0231: Cac Outlet Pipe – 3″" Od X 16 Bg Thick"
220-10-0232: Elbow -Air Intake
220-10-0243: Tailpipe Silencer 102Odx2Mm Thk
220-10-0251: Pipe-Rad.Outlet-Steel 2.25″" Od X 16 Bg
220-10-0252: Cac Outlet Pipe – 3″" Od X 16 Bg Thick"
220-10-0253: Pipe – 28.5 Od X 16 Bg X 2400 -Steel-Mak
220-10-0258: Steelpipe Radiator Outlet 57Odx1.6Mm Thk
220-10-0259: Bend Pipe
220-10-0267: Outlet Straight Pipe – 4018Tr
220-10-0271: Pipe28.5Odx16Bgx2475Stl-Dat(R220-10-0421
220-10-0272: Pipe For Imported Plastic Dat Tank – Tr
220-10-0279: Tail Pipe-4″""
220-10-0318: Pipe – 28.5 Od X2853-4023
220-10-0325: Inlet Pipe-Radiator
220-10-0362: C Mettalic Hose M18 X M18
220-10-0365: Tail Pipe – 3.5″""
220-10-0367: Tail Pipe – 4″" Dia"
220-10-0368: Bend Pipe-Rad.Outlet-Steel 2.25″" Od"
220-10-0369: Bend Pipe – Rad.Inlet Steel 1.75″"Od"
220-10-0370: Pipe – 28.5 Od X 16 Bg -Steel
220-10-0372: Metallic Pipe -Dat To Radiator
220-10-0421: Pipe-28.5 Odx16Bgx2420-Steel-Make-Up
220-10-0422: Pipie – 28.5 Odx16 Bgx2575-Steel
220-10-0423: Pipe – 28.5 Od X 16 Bg X 2365-Steel
220-10-0424: Pipe – 28.5 Od X 16 Bg X 2903 -Steel
220-10-0425: Pipe-28.5 Odx16Bgx2340-Steel
220-10-0431: Exhaust Extension Pipe 1
220-10-0432: Exhaust Extension Pipe 2
220-10-0436: Dat Pipe-28.5 Dia 16Bg
220-10-0448: Cac-Outlet Pipe (Ref.220-10-0511)
220-10-0449: Cac Inlet Pipe 180 B-Mech
:
:
:
:
220-10-0451: Bend Pipe-Tc Inlet – Bsiii
220-10-0502: Bend Pipe Radiator Inlet
220-10-0511: Cac – Outlet Pipe
220-10-0540: Pipe Asy, Powder Coated – Bsiii
220-10-0541: Tail Pipe-81.2Mm
220-10-0542: Silencer Pipe-81.2Mm
220-10-0543: S/A Of Tc Outlet Pipe- After Casting
220-10-0547: Pipe, Powder Coated – Bsiii
220-10-0558: Dat To Radiator Piping
220-10-0561: Pipe-28.5 Odx16Bgx2863-Steel-Make-Up Lin
220-10-0565: Tail  Pipe – 4″ Od For Biii 2523 Tp
220-10-0602: Tail Pipe_ Cowl
220-10-0604: Cac Inlet Pipe
220-10-0605: Cac Outlet Pipe
220-10-0607: Bend Pipe Radiator Outlet
220-10-0608: Dat Pipe
220-10-0648: S/A Metal Pipe 15 Mm Od
220-10-0649: S-A Of Metal Pipe – 18 Mm Od, Ddu To Ada
220-10-0654: S-A Of Metal Pipe – 18 Mm Od, Adaptor To
220-10-0680: Pipe Radiator Inlet – Isbe 230Hp
220-10-0681: Pipe Radiator Outlet Isbe 230Hp
220-10-0682: Pipe Cac Inlet Isbe 230Hp
220-10-0683: Pipe Cac Outlet Isbe 230 Hp
220-10-0804: Tail Pipe_180Hp Cowl
220-10-0855: Pipe Dat Isbe 2523Tp
220-10-1043: Dat Pipe For Lh Side Dat Tank
220-10-1218: Tail Pipe
220-10-1219: Tail Pipe
220-10-1241: Dat Pipe
220-10-1267: Exhaust Pipe For 4018 Tr
220-10-1308: Exhaust Pipe For New Muffler 2.0Mm Thk E
220-10-1344: Assy Exhuast Pipe Before Silencer For Ne
220-40-0011: Alluminium U Bend Pipe
220-70-0433: Pipe-Plastic
220-70-1226: Fuel Pipe Striner To Engine Feed Pump
220-70-1228: Fuel Pipe Ft To Strainer
220-70-1230: Fuel Pipe Ft To Erp
220-70-1231: Assy Suction Pipe From  Fuel Tank To Str
220-70-1232: Assy Return Pipe Engine To Fuel Tank
220-70-1264: Fuel Pipe – Fuel Tank To Engine
220-70-1266: Fuel Pipe-Fuel Tank To Strainer 3300Wb 2
220-70-1317: Return Pipe From Eng To Fuel Tank
220-70-1318: Suction Pipe From Ft To Fs
220-70-1326: Suction Pipe (Ft To Fs)
220-70-1327: Return Pipe (Engine To Fuel Tank
222-09-0005: Strg G/B Piston Assy -Hubei Forni
222-10-0004: Piston 078 X 1601 (Fe120-3640)
223-10-0001: Handle Pivol
224-00-0031: Rear Pad Shim
224-00-0057: Ballata Packing Plate -Hood
224-00-0058: Ballata Plate Assy – 1
224-00-0059: Ballata Plate Assy
224-00-0316: Seal – Bottom Plate 149
224-00-0325: Cover Plate-With Primer Coated
224-00-0436: Caster Plate Rh
224-00-0437: Caster Plate Lh
224-00-0445: Spacer Plate For 80Mm Spring
224-00-0502: Bottom Plate
224-00-0503: Support
224-00-0508: Caster Plate Lh
224-00-0509: Caster Plate Rh
224-00-0565: Stopper Plate
:
:
:
:
224-01-0000: S/A Of Baffle Plate-180Hp (For Banco Rad
224-09-0148: Thrustplate
224-10-0036: Back Plate
224-10-0039: Tapper Packing
224-10-0040: Ballata Plate Assembly
224-10-0043: Packing Plate(224-10-0311)
224-10-0044: Packing-Plate
224-10-0048: Plate
224-10-0050: Mtg Plate – Dc Valve
224-10-0052: Rebound Plate For Casting Brkts
224-10-0056: Ballata Plate Assembly -235Hp Precleaner
224-10-0062: Support Plate
224-10-0066: Plate Cover -Cummins Engine
224-10-0073: Plate Washer Gear Shifting
224-10-0075: Spacer For U-Bolt Nut
224-10-0082: Support Plate
224-10-0208: Plate-Coolant Buzzer Mtg
224-10-0215: Packing Plate Shim (2Mm)
224-10-0218: Mtg Plate-Noise Shield & Earth Strap
224-10-0235: Support Plate Dat Mtg Engine Tech
224-10-0289: Caster Plate-Forging(224-20-0353)
224-10-0311: Packing Plate_26T Suspn
224-10-0314: Spacer Plate-Faw (Ref 224-10-0355)
224-10-0335: Caster Plate Assy Lh Side
224-10-0340: Spacer Plate- Engine Mtg Front
224-10-0355: Spacer Plate (Ref 224-10-0314)
224-10-0552: Spacer Plate (S/A Third Cross Member) )
224-10-0607: Packing_Plate_Rsfb_Spring_Frontbkt
224-19-0139: Clip Plate-Faw
224-19-0140: Guard Plate,Main Hook-Faw"
224-19-0141: Frt Protecting Plate Lh
224-19-0142: Left – Guard Shield
224-19-0147: Press Panel-Faw
224-19-0158: Supporting Plate Left Rear Mudguard
224-19-0282: Connecting Plate Lh
224-19-0283: Connecting Plate Rh
224-19-0284: Side Connecting Plate Lh
224-19-0285: Side Connecting Plate Rh
224-20-0353: Caster Plate_Forging
224-20-0364: Caster Plate_Forging_80Mm Spring
224-20-0409: Plate A-Pedal
224-20-0413: Plate Stg Boot Cover
224-30-0367: Caster Plate-Casting,80Mm Leaf Spring
224-40-0053: Plat-Dip Beam
224-40-0060: Plat-Dip Beam
224-60-0431: Plate C-Pedal
225-00-0002: M16 X 1.5 Dummy Plug
225-00-0011: Dummy Plug-3/4″" Unf-16″
225-00-0048: M22 X 1.5 Plug
225-10-0004: Dummy M14X1.5
225-60-0050: Rubber Plug Od 27.5Mm Dia
225-79-0012: Wind Duct For Drivers Left Foot-Faw
226-00-0002: Unloader Plunger Assym 311510
228-00-0019: Poly V-Belt Pulley – Pump ( 3118 Hl )
228-00-0021: Poly-V Belt Pulley-Engine-Casting
228-00-0022: Poly V Belt Pulley – Vane Pump – Casting
228-02-0000: S/A Of Levr -Gear Ngagemnt (Relay On Fsm
228-03-0000: S/A Of Lever – Gate Selction (Relay On F
228-05-0000: S/A Fulcrum Bracket – Gs
228-30-0001: Drive Pulley – Ac
228-30-0024: Driver Pulley – Ac Compressor
231-00-0062: Slider 110
231-00-0063: Slider 129
231-00-0064: Slider 091 [71807091]
231-00-0065: Liftring 110
231-00-0072: S/A Clutch Bundy Pipe
231-01-0000: S/A Bundy Pipe -From Master Clinder To E
231-02-0000: S/A Bundy Pipe-From Elbow To Clutch Hose
231-09-0025: Supporting Ring, Spring"
231-09-0082: Ring
231-10-0068: Oil Seal Ring Inner
231-10-0069: Oil Seal Ring Outer
231-19-0010: Ring Header
231-19-0016: Taper Clip Ring-Faw
231-69-0009: Seal Ring-Faw
231-69-0011: Seal Ring Outlet Pipe-Faw
231-69-0012: O-Shape Rubber Sealer-Faw
231-69-0020: Rubber Seal Ring-Faw
231-69-0021: Rubber Seal Ring-Faw
232-00-0009: Pop Rivet  – Steel
232-00-0011: Snap Head Rivet 10X22 Is 2155-Ms
232-09-0004: Rivet
234-01-0004: Arm-Tie Rod Fin- Lh- Fa,M &Fa,B"
236-01-0019: Hyva-Tank Mtg Rubber Pad[10100024]
236-09-0012: Lock Cushion Assy-Faw
236-09-0014: Inner Cushion Assy
236-09-0015: Outer Cushion Assy
236-60-0037: Bump Stop Rubber Pad R2
236-60-0038: Bump Stop Rubber Pad R1
236-60-0051: Rubber
236-61-0001: Rubber Bush-Silencer Mtg Bkt. D35*20*25L
236-61-0033: Rubber Bush
236-69-0013: Rubber Cushion-Faw
236-69-0018: Rubber Cushion Side Window Glass
236-69-0020: Rubber Cushion A Handle-Lh-Faw
236-69-0021: Rubber Cushion A Handle-Rh-Faw
236-69-0022: Rubber Cushion B Handle-Lh-Faw
236-69-0023: Rubber Cushion B Handle-Rh-Faw
236-69-0024: Pedal Sleeve Clutch-Faw
236-69-0025: Cushion-Faw
237-00-0014: Sealing Ring Assy-35 Id
237-00-0015: Sealing Ring Assy-42 Id
237-60-0009: Seal Kit For Fp30 82L Pump [2269363]
237-60-0024: Seal Assy
238-01-0002: Sub Assy Of Baffle Plate – 235 Hp
238-10-0001: Air Tank Seating
238-10-0010: Seat – Air Tank
238-10-0017: Seat For Air Tank For 2518
238-10-0022: Seat For 25 & 15 Lt. Air-Tank
238-60-0007: Rubber Seat-Battery
238-60-0008: Rubber Clamp Strap
238-60-0014: Circullar Rubber Seat-Mtg Battery
238-61-0009: Rubber Packing For Bracket
240-30-0010: Shackle-Front Spring
241-00-0014: Shaft-2Nd Pump(3118)
241-09-0029: Hosg Assy, Lower Turning Shaft"
241-09-0076: Sector Shaft Cover Assy-Hubei Forni
241-09-0077: Input Shaft (Incl Worm & Valve)
241-09-0078: Sector Shaft With Side Cover Assy
241-09-0079: Worm Shaft And Piston Assy
241-10-0065: S/A Control Shaft Front
241-10-0067: S/A Control Shaft Rear
241-10-0070: Shaft-Input-Inter Diff Assy-4930 Tr
241-19-0017: Pin Shaft-Faw
241-19-0019: Propeller Shaft – Steering
241-19-0020: Steering Shaft Assy
241-19-0021: Plastic Spacer
241-19-0022: Frt Supporting Shaft (Ref 410-01-0005)
241-19-0028: Turning Shaft Assy, Rh, Upper"
241-20-0068: Axle Shaft Long-4930 Tr
241-20-0069: Axle Shaft Short-4930 Tr
242-55-0000: S/A Of Metal Pipe – 15 Mm Od
242-56-0000: S/A Of Metal Pipe – 15 Mm Od
242-57-0000: S/A Of Metal Pipe – 15 Mm Od
242-58-0000: S/A Of Metal Pipe – 15 Mm Od
242-59-0000: S/A Of Metal Pipe – 15 Mm Od
242-68-0000: S/A Of Metal Pipe – 15 Mm Od
243-00-0013: Heat Shield_Pto Pipe_Bs-Iii Tp
243-10-0005: Heat Shield Sheet
244-00-0032: Vane Pump Pulley Shim_3118Hl
244-00-0033: Shim For Vane Pump_3118Hl
244-00-0034: Shim For Vane Pump Pulley (0.3Mm)
244-00-0035: Shim For Vane Pump (0.3Mm)
244-00-0048: Shim Plate
244-00-0049: Shim Plate
244-10-0002: Shim-Wear Pad Spring Side
244-10-0003: Shim-Wear Pad Spring Side 2 Mm
244-10-0006: Shim – 56 Od, 40 Id
244-10-0007: Shim – 45 Od -27 Id
244-10-0026: Shim _ Tubuler X Member
244-10-0027: Shim- Rsfb Crossmember
244-10-0037: Shim_Manual Cabin
244-10-0041: Shim Meritor Brake Assy – 0.125 Mm
244-10-0042: Shim Meritor Brake Assy – 0.500 Mm
244-10-0043: Shim Meritor Brake Assy – 1.0 Mm-Hande
244-10-0045: Shim -Idler Arm 0.2 Thk
244-10-0069: Shim- Rsfb Crossmember-7Mm
245-00-0015: Shroud For Bsiii 180Hp (610 Mm Dia.)Ttr
245-00-0017: Radiator Cowl-Bsiii Bco 180 Hp
245-01-0007: Radiator Cowl- Phase Ii
245-10-0003: Idiator Cowl 180Hp (Ttr)
245-10-0004: Radiator Cowl Rfr245-01-0007/245-10-0003
245-70-0022: Shroud Banco
245-80-0008: Radiator Cowl-26″" Fan"
246-00-0010: Corrugated Protection Sleeve 20 Mm Id
246-00-0011: Orrugated Protection Sleeve -25 Mm Id
246-00-0012: Sleeve Outer Button-Faw
246-00-0041: Water/Dust Proof Seal
246-00-0046: Corrugated Protection Sleeve-15.2 Mm Id-
246-09-0022: Position Sleeve
246-09-0025: Sleeve
246-09-0026: Sleeve
246-09-0027: Seal Sleeve
246-60-0030: Rubber Sleeve
246-69-0020: Rubber Wrap-Faw
246-69-0021: Nut(Seal Sleeve-Faw)
248-09-0007: Selt Belt Cover-Side Inner Panel
248-19-0003: Smoke Plug
248-19-0005: Lighter Base,Ash Tray-Faw"
249-00-0149: Special Washer (Id 28,Od 43 Thk 3)
249-00-0215: Spacer
249-01-0076: Hyva-Cylinder Eye Spacer[10400010]
249-09-0074: Spacer Plate-Faw
249-09-0077: Sealer
249-10-0012: Spacer
249-10-0014: Spacer
:
:
:
:
249-10-0016: Spacer
249-10-0018: Spacer
249-10-0024: Spacer – Rear Suspension
249-10-0027: Spacer
249-10-0028: Spacer Dia 18
249-10-0034: Spcer Helper Spring Brkt.
249-10-0041: Spacer-Shaft Key
249-10-0048: Spacer-5.744
249-10-0049: Spacer-5.794
249-10-0050: Spacer-5.844
249-10-0051: Acer-5.894
249-10-0052: Spacer-5.944
249-10-0066: Spacer 12Mm
249-10-0078: Spacer For Scl Parking Brake Valve
249-10-0080: Engine Mtg Brkt Spacer Front On Fsm 3118
249-10-0083: Spacer For Coil Spring
249-10-0095: Spacer-Ac Compressor
249-10-0136: Spacer Clutch Booster
249-10-0142: Washer On Gb Lever
249-10-0143: Washer Clutch Lever
249-10-0150: Spacer Brake Assy-Hande R2
249-10-0209: Spacer For Battery Carrier
249-10-0210: Spacer For Ddu
249-19-0073: Spacer
249-20-0093: Cylinder Eye Spacer
249-20-0144: Spacer-4930 Tr
249-20-0156: Spacer
249-40-0030: Fan Spacer
249-79-0072: Plastic Spacer-A-Faw
250-01-0002: Screw Spindle
251-00-0003: Front Spring Assy
251-00-0004: Bogie Leaf Spring Assembly(100X20
251-00-0007: Front Spring Assy. 3118Hl(1600Mm)
251-00-0013: Rear Spring Assembly With Helper Spring
251-00-0016: Front Spring For Mining Application
251-00-0032: Leaf Spring_Front_9+5
251-00-0033: Leaf Spring_Front_10 Leaf
251-00-0034: Front Spring Assy With Bush 1600Mm
251-00-0051: Front Spring_11Leafs
251-00-0052: Rear Spring_(11+4)Leaf
251-00-0064: Parabolic Spring For 80Mm
251-00-0066: Spring Leaf-1 80Mm Spring(363 00 0093)
251-00-0067: Spring Leaf-2 For 80Mm Spring(363 00 009
251-00-0068: Spring Leaf-3 For 80Mm Spring(363 00 009
251-00-0069: Spring Leaf-4 For 80Mm Spring(363 00 009
251-00-0070: Spring Leaf-5 For 80Mm Spring(363 00 009
251-00-0071: Spring Leaf-6 For 80Mm Spring(363 00 009
251-00-0072: Spring Leaf-7 For 80Mm Spring(363 00 009
251-00-0073: Spring Leaf-8 For 80Mm Spring(363 00 009
251-00-0074: Spring Leaf-9 For 80Mm Spring(363 00 009
251-00-0084: Spring Leaf-1 For 80Mm Spring(363 00 009
251-00-0085: Spring Leaf-2 For 80Mm Spring(363 00 009
251-00-0086: Spring Leaf-3 For 80Mm Spring(363 00 009
251-00-0090: Main Leaf 80X14X1965-Front Spring 80Mm
251-00-0091: Second Leaf 80X14X1965-Front Spring 80Mm
251-00-0092: Third Leaf80X16X1650-Front Spring 80Mm
251-00-0093: Fourt Leaf 80X16X1460-Front Spring 80Mm
251-00-0094: Fifth Leaf80X16X1300-Front Spring80Mm
251-00-0095: Sixth Leaf80X16X1180-Front Spring 80Mm
251-00-0096: Seventh Leaf80X16X1040-Front Spring-80Mm
251-00-0097: Eighth Leaf80X16X940-Front Spring-80Mm
251-00-0098: Ninth Leaf80X14X820-Front Spring-80Mm
:
:
:
:
251-00-0099: Tenth Leaf80X13X710-Front Spring-80Mm
251-00-0100: Eleventh Leaf80X12X630-Front Spring-80Mm
251-00-0101: Twelth Leaf80X12X520-Front Spring-80Mm
251-00-0102: Thirteenth Leaf80X12X420-Front Spring-80
251-00-0103: Fourteenth Leaf80X12X390-Front Spring-80
251-00-0107: Front Spring Assy.
251-00-0109: Second Front Axle Spring Assy.
251-00-0110: Spring Leaf-1For 251 00 0051
251-00-0111: Spring Leaf-2 For 251 00 0051
251-00-0112: Spring Leaf-3 For 251 00 0051
251-00-0113: Spring Leaf-4 For 251 00 0051
251-00-0114: Spring Leaf-5 For 251 00 0051
251-00-0115: Spring Leaf-6 For 251 00 0051
251-00-0116: Spring Leaf-7 For 251 00 0051
251-00-0117: Spring Leaf-8 For 251 00 0051
251-00-0118: Spring Leaf-9 For 251 00 0051
251-00-0119: Spring Leaf-10 For 251 00 0051
251-00-0120: Spring Leaf-11 For 251 00 0051
251-00-0121: Leaf 1 (80X15X1952)
251-00-0122: Leaf 2 (80X15X1927)
251-00-0123: Leaf 3 (80X15X1620)
251-00-0124: Leaf5 (80X16X1420)
251-00-0125: Leaf 6 (80X16X1280)
251-00-0126: Leaf 7 (80X16X1130)
251-00-0127: Leaf 8 (80X16X980)
251-00-0128: Leaf 9 (80X16X820)
251-00-0129: Leaf 10 (80X16X660)
251-00-0130: Leaf 11 (80X16X500)
251-00-0131: Leaf 12 (80X16X350)
251-00-0132: Helper 1 (80X15X1205)
251-00-0133: Helper 2 (80X15X1205)
251-00-0134: Helper 4 (80X15X800)
251-00-0135: Helper 5 (80X15X600)
251-00-0136: Spacer Plate (80X20X350)
251-00-0142: Sixth Leaf
251-00-0143: Seventh Leaf
251-00-0144: Eigth Leaf
251-00-0145: Ninth Leaf
251-00-0146: Tenth Leaf
251-00-0147: Eleventh Leaf
251-00-0148: Twelth Leaf
251-00-0149: Thirteenth Leaf
251-00-0150: First Leaf
251-00-0151: Second Leafd
251-00-0152: Third Leaf
251-00-0153: Fourth Leaf
251-00-0154: Fifth Leaf
251-00-0155: Sixth Leaf
251-00-0156: Seventh Leaf
251-00-0157: Eigth Leaf
251-00-0158: Ninth Leaf
251-00-0159: Tenth Leaf
251-00-0160: Eleventh Leaf
251-00-0161: Twelth Leaf
251-00-0176: 1618Tp Rear Spring (12+5)
251-00-0177: Leaf 4 (80X15X1620)
251-00-0178: Helper 3 (80X15X1205)
251-10-0035: Main Leaf-Parabolic Spring
251-10-0036: Second Leaf-Parabolic Spring
251-10-0037: Third Leaf-Parabolic Spring
251-10-0038: Main Leaf-Bell Crank Spring
251-10-0039: Second Leaf-Bell Crank Spring
:
:
:
:
251-10-0040: Third Leaf-Bell Crank Spring
251-10-0042: Fourht Leaf-Bell Crank Spring
251-10-0043: Fifth Leaf-Bell Crank Spring
251-10-0044: Sixth Leaf-Bell Crank Spring
251-10-0045: Seventh Leaf-Bell Crank Spring
251-10-0046: Eighth Leaf-Bell Crank Spring
251-10-0047: Ninth Leaf-Bell Crank Spring
251-10-0048: Tenth Leaf-Bell Crank Spring
251-10-0049: Eleventh Leaf-Bell Crank Spring
251-10-0050: Twelveth Leaf-Bell Crank Spring
251-20-0031: Leaf Spring_Front_80Mm Width
253-00-0122: Stifner Plate
253-10-0010: Stiffner- Rain Flap
253-10-0011: Stiffner-Rainflap
253-10-0013: Stiffner-O-Clamp
253-10-0015: Stiffner Plate Upper Mudguard
254-10-0013: Clutch Lever Stopper
255-10-0003: Fuel Strainer (Ref 408-01-0131)
255-70-0002: Separator, Fuel Water
256-09-0014: Right Removing Frost Strap-Faw
256-09-0015: Middle Removing Frost Strap
256-09-0016: Left Removing Frost Strap
256-09-0018: Seal Nail Assy
256-10-0012: Strap Fuel Tank
256-19-0017: Support Strip Left Rear Lower Plastic Mu
256-60-0013: Rubber Strap  Mudguard
256-60-0020: Rubber Strap-Dat Engine Tech
258-01-0030: Hyva-Metal Strip For Binding[1010033]
258-01-0058: Clamp Fornt Assy. Seal Rubber Strip Lh
258-01-0059: Clamp Fornt Assy. Seal Rubber Strip Rh
258-01-0062: Movable Glass W/Strip Rh
258-09-0023: Guiding Rail Lh Front Side Cabin
258-09-0024: Guiding Rail Rh Front Side Cabin
258-09-0031: Topping Strip
258-09-0033: Coil- Assistant Stick
258-09-0035: Seal Film I-Faw
258-09-0039: Rubber Seal Ring-Faw
258-09-0040: Seal Strip Rh, Fixd Corn Wind"
258-09-0041: Seal Strip Of Bracket, Rh C W"
258-09-0042: Outer Seal Strip Assy, Rh D W"
258-09-0043: Seal Assy A Rh, Front Panel"
258-09-0044: Seal Film A-Faw
258-09-0045: Frame Assy -Sunroof Glass Window
258-09-0061: Outer Sealer On Door – Rhs
258-10-0001: Kit Thermal Shield Group-285 00 0235
258-19-0012: Seal Strip Of Brkt Left Corner Window
258-19-0021: Inner Supporting Strip Right Mudguard
258-19-0022: Outer Supporting Strip,Right Mudguard"
258-19-0026: Middle Frame Assy Left Door Window(61030
258-19-0027: Middle Frame Assy Right Door Window(6103
258-49-0020: Guiding Rail Of Central Curtain
258-61-0057: Rubber Strip Upper Footstep Plate
258-69-0009: Seal Strip – Door Glass-Faw
258-69-0010: Seal Rubber Strip Lh, Movable Corner Wi
258-69-0011: Seal Rubber Strip Lh, Fixed Corner Wind
258-69-0013: Outer Sealer On Door – Lhs
258-69-0014: Weather Strip, Front Windshield Glassfa
258-69-0016: Seal – Rear Window Glasses
258-69-0018: Seal Rubber Strip-Faw
258-69-0019: Inside Seal Strip Assy, Door Window-Faw
258-69-0025: Slide Way Door Window Glass-Faw
258-69-0028: Rubber Seal – Lamp Holder
:
:
:
:
259-00-0009: Stud M20 X M20 X 1.5_3118Hl
259-00-0025: Stud
259-10-0010: Stud
259-10-0011: Stud-Cabin Fulcrum
259-11-0003: Tensioner Stud
259-11-0027: Tensioner Stud
259-20-0006: M18 X 1.5 Stud
259-20-0007: Stud-M18 X 1.5-P 10.9-Len 65Mm
259-20-0024: Stud (Tie Rod)
260-10-0029: Assy Of Corrugated Plate
262-00-0152: Support, Fan
262-09-0073: Support Rh – Lower Griller Of Radiator
262-10-0006: Support Footstep-Rh
262-10-0007: Footsteplh2
262-10-0008: Support Footstep Rh
262-10-0009: Support Foot Step Lh Rh
262-10-0010: Support -Four-Lh-Foot Step
262-10-0011: Supt Lh Rh Opp Footstep
262-10-0012: Footsteplh1
262-10-0029: Supt.Fuel Tank Brkt. Rear
262-10-0066: Support Member-Lh(B1Axb0605D01)
262-10-0067: Member Support -Rh(B1Axb0606D01
262-10-0166: Plummer Block Support – Hande Rh
262-10-0168: Plummer Block Support – Hande-Lh
262-19-0069: Support Piller ,Steering Column
262-19-0074: Support
262-19-0077: Profile Supporting Piece (Washer)-Faw
263-00-0024: Exhaust Brake Switch
263-00-0025: Blink Code Switch
263-00-0067: Temperature Safety Switch
263-00-0070: Low Lube Oil Pressure Switch-263-00-0115
263-00-0071: Low Pressure Indicator Switch
263-00-0074: Combination Switch – Cowl
263-00-0076: Battery Cut-Off Switch- Mvd Make
263-00-0090: Exhaust Brake Switch
263-00-0115: Low Lube Oil Pressure Switch
263-01-0001: Stop Light Switch – 24V
263-01-0002: Lp Indicator Switch With Boot – 5.4 Bar
263-01-0012: Diff Lock Switch
263-01-0014: Inter Axle Differential Sw -Ajk 15-Faw
263-01-0026: Combination Switch-Faw
263-01-0029: Sensor Hydraulic Lock
263-09-0015: Cabin Complete Lock Set-With 2 Keys
263-09-0033: Horn Switch
263-09-0034: Function Switch-Faw
263-09-0049: Door Closing W S Assy
264-00-0004: Deaeration Tank – Cap
264-09-0031: Washer Tank Assy
264-10-0030: Hydraulic Oil Tank (65 L)
264-70-0021: Deareation Tank Engine Tech
264-70-0035: Dat Tank Cowl Banco
264-71-0029: Deareation Tank-Plastic W/O Cap
267-00-0019: M14Xm18Xm14 Tee Piece
267-00-0030: M22Xm22Xm18 Tee Piece
267-00-0033: 3 Way For Stop Light Switch
267-00-0044: Tee_Piece – M16 X M12 X M18
267-10-0010: M22 X M14 X M18 Tee Piece
267-10-0011: M22 X M22 X M22 Tee Piece
267-10-0012: M14 X M14 X M14 Tee Piece
267-10-0015: M18 X M14 X M18 Tee Piece
267-10-0017: M18Xm22Xm18Tee Piece
267-10-0021: M14Xm22Xm14 Tee Piece
:
:
:
:
267-10-0024: M12Xm14Xm12 Tee Piece
267-10-0025: M18Xm12Xm14 Tee Piece
267-10-0026: 22Xm18Xm22 Tee Piece
267-10-0034: Tee Piece-Low Pressure Switch
267-20-0004: M18Xm12Xm18 Tee Piece
267-20-0005: M18 X M18L X M18 Tee Piece
267-20-0032: 3 Way – For Stop Light Switch Mtg
268-00-0244: Hex. Head Spanner For Differential
268-00-0245: Hex. Head Spanner For Differential Lock
268-00-0246: Shaft Head Nut Spanner
268-00-0247: Bearing Extractor For Hub Inner Bearing
268-00-0248: Brg. Extractor For Diff. & Pinion Gear
268-00-0284: Universal Extractor
268-00-0285: Main Shaft Rear Bearing Cone Installer
268-00-0286: Extractor Bridge & Threaded Spindle
268-00-0287: Input Shaft Bearing Cone Installer
268-00-0288: Input Shaft Bearing Cone Extractor
268-00-0289: Countershaft Rear Bearing Cone Extractor
268-00-0290: Countershaft Rear Bearing Cone Installer
268-00-0291: Extractor Reverse Idler Shaft
268-00-0292: Extractor Reverse Idler Shaft
268-00-0293: Main Shaft Front Bearing Cup Installer
268-00-0294: Main Shaft Rear Bearing Cup Installer
268-00-0295: Fbc Seal Installer
268-00-0296: Countershaft Front Bearing Cone Extracto
268-00-0297: Seal Installer
268-00-0298: Main Shaft Rear Bearing Cone Extractor
268-00-0299: Main Shaft Front Bearing Cone Extractor
268-00-0300: Shaft Rear Cover Extractor
268-00-0301: Support Fbc Bearing Cup Extractor
268-00-0302: Main Shaft Rear Cover Seal Installer
268-00-0303: Universal Dolley
268-00-0304: Extractor
268-00-0305: Lay Shaft Brg Remover Adptor
268-00-0306: Replacer Main
268-00-0307: Replacer Adapter
268-00-0308: Ms Rear Seal Adapter
268-00-0309: Driver Handle
268-00-0310: Handle Extension
268-00-0311: Ls /Fr/Rr Bearing Cone
268-00-0312: O/S Oil Seal Installer
268-00-0313: Sel/Ctrl Seal Bush
268-00-0314: Ls Brg Cup Installer Adptor
268-00-0315: Input Shaft Seal Installer
268-00-0316: Selector Shaft Bush Installer
268-00-0317: Selector Shaft Plug Installer
268-00-0318: Adaptor 1
268-00-0319: Sun Gear Retainer
268-00-0320: Slide Hammer
268-00-0321: Bearing Remover
268-00-0322: Adapter-11
268-00-0323: Gear Shaft Assy Lift
268-00-0324: R/R Main Shaft Brg Instlr
268-00-0325: Extractor Set
268-00-0346: Threaded Spindle
268-00-0347: Sleeve Dia (125 Mm)
268-00-0348: Fixture For Radius Rod Bush
268-00-0424: Trunion Shaft Nut Tool
268-00-0429: Tool Kit For Zf 9S1110
268-00-0570: Sensor Breakout Cable
268-00-0571: Insite Software Cd
268-00-0572: Inline 5 Kit
:
:
:
:
268-00-0573: Isbe 2-Pin &
268-00-0574: Isbe Backbone Adaptor
268-00-0575: Isbe Gender Changer Adaptor
268-00-0598: Replacer,Crankshaft Seal
268-00-0599: Replacer,Crankshaft Seal
268-00-0600: Installer,Valve Stem Seal
268-00-0601: Compressor,Valve Spring
268-00-0602: Remover,Valve Insert
268-00-0603: Remover,Fuel Connector
268-00-0604: Wrench,Eci Inj Nut Torque
268-00-0605: Puller,Inj.Universal
268-00-0611: Valve Extension
268-01-0099: Bearing Puller
268-01-0102: Drift Selector S
268-01-0105: Two Legged Pulle
268-01-0108: Bearing Puller
268-01-0112: Fixture
268-01-0114: Shim Remover
268-01-0115: Bearing Gripping
268-01-0117: Drift
268-01-0119: Aligner
268-01-0120: Drift
268-01-0123: Drift
268-01-0125: Grip Gears On Ma
268-01-0128: Adaptor
268-01-0131: Drift
268-01-0133: Drift Pin
268-01-0134: Lifting Hook
268-01-0135: Basic Tool
268-01-0136: Bearing Gripping
268-01-0137: Drift
268-01-0138: Adaptor
268-11-0515: Engine Barring Gear-'B' Series Engine
268-11-0520: Main Brg Rollout Tool-'B' Series Engine
268-11-0532: Cam Bushing Driver-'B' Series Engine
268-11-0534: Oil Seal Instaltool-'B' Series Engine
268-11-0539: Tappet Removal Tool Kit-'B' Series Engin
268-11-0543: Pressure Gauge(0-1103Kpa)(0-160 Psi)Engi
268-11-0546: Camshaft Bushing Tool
268-11-0547: Lubri Oil Cooler Press Test Kit-Engine
268-11-0549: Camshaft Gear Instal/Rem.Tool-'B' Engine
268-11-0553: Valve Spring Compressor
268-20-0019: 6 X 17 Bi – Hex Ring Spanner
268-30-0341: Stud 24X303601
269-00-0019: Tube, Cleaning"
269-00-0065: 2516/3116 R2 Cwl & Cab Witwheel End Axle
269-00-0075: Fupd Assy-Lh
269-00-0076: Fupd Assy-Rh
269-01-0000: S/A Of Rear Forward Axle
269-01-0026: Hyva-Air Tube Od 6Mm X Id4Mm[32561001]
269-08-0000: S/A Of Rear Forward Axle (In House Assem
269-09-0029: Hyd Tube Assy_Pump To Cyl_For Faw
269-10-0009: Cross Tube – Rupd
269-10-0039: Tubular Assy – Rupd
269-10-0061: Cross Tube – Fupd
269-10-0067: S/A Bearing Tube Front
269-10-0070: S/A Bearing Tube Rear
269-10-0073: Tubular Assy-Rupd
270-60-0025: 11.00 X 20 X 18Pr Mining Tyre
272-00-0031: System Protection Valve-Less Adaptors
272-00-0032: Inversion Relay Valve-Less Adaptors
272-00-0058: Ejector Valve
:
:
:
:
272-00-0063: Dual Brake Valve
272-01-0001: Pressure Protection Valve – 5 Bar
272-01-0002: Quad System Prot
272-01-0003: Magnetic Valve – 24V – M Terminal
272-01-0004: Automatic Load Sensing Valve
272-01-0005: Relay Valve
272-01-0006: Quick Release Valve
272-01-0007: Double Check Valve
272-01-0010: Exhaust Brake Assy
272-01-0011: Trailer Control Valve
272-01-0012: Non Return Valve
272-01-0025: Hyva-Valve Pt-1220-170[H14767317]
272-01-0027: Hand Control Valve
272-01-0030: Drain Valve
272-01-0062: Wabco Tvs Hand Brake Valve
272-09-0024: Brake Valve With Pipe Connector
272-91-0059: Hand Brake Valve-Ruili
272-91-0060: Dual Brake Valve-Ruili
272-91-0704: Repair Kits For Dual Brake Valve
275-01-0012: Hyva-Single Wheel Pto[H0100400171]
275-11-0013: Wheel Rim – 7.5 X 20 China
275-11-0017: Wheel For Truck (B7.5-20)
275-11-0031: Wheel Rim-7.5 X 20 – 160 Mm Offset
275-12-0004: Wheel Rim (Ref.275-11-0017)
277-00-0008: U-Bolt For 4018
277-00-0009: U-Bolt Bogie Suspension
277-00-0017: U-Bolt_Front Spring_80Mm
277-00-0018: Bolt_Front
277-00-0019: U-Bolt_Rear
277-00-0021: Bolt For 80Mm Spring
277-00-0022: U Bolt
277-00-0023: U-Bolt Front
277-00-0024: U Bolt Front
277-00-0035: U- Bolt 70Mm Conventional Spring
277-10-0005: U-Bolt Faw Axle
277-10-0014: U-Bolt Of 70Mm Parabolic Leaf Spring
277-20-0002: U – Bolt M20 X 1.5 X 210
277-20-0004: U-Bolt-90Mm Spring (14 Leaf )-M Frt Axle
277-20-0005: U-Bolt-Faw Axle
277-20-0006: U-Bolt For Faw Axel
277-20-0015: U Bolt For Bell Crank Spring
278-00-0004: M12 X1 Check Nut
278-00-0227: Nut
278-00-0238: Tightening Nut-Cipl
278-00-0260: Clamp Bolt Nut 8.0 Grade M10X1.5X605Mm
278-01-0056: Hyva – M6 Nyloc Nut[30950180]
278-01-0057: Hyva-M12 Coarse Nyloc Nut[30950186]
278-01-0203: M06 X 1.0 – Flange Hex Nut – P 8.0
278-01-0204: Hex Nut M4X0.8
278-01-0205: Hex Nut-Is 1364-M 10 X 1.5-8.0-Is 1367/1
278-01-0209: Flange Nut M5X0.8
278-09-0050: Dressing Nut Assy-Side Window-Faw
278-09-0058: Plastic Nut-Faw
278-09-0087: Seal Mats (Two Sides)
278-09-0089: Hex Nut
278-09-0090: Nut
278-09-0092: Nut
278-09-0093: Nut
278-09-0094: Nut
278-09-0095: Thin Hex Nut
278-09-0096: Flange Nut
278-09-0097: Tapping Screw-Faw
:
:
:
:
278-09-0100: Nut
278-09-0215: M5 X 1.0 – Flange Hex Nut – P 8.0
278-09-0261: Antena Nut
278-10-0001: M18 X 1.5 Lock Nut
278-10-0003: M22 X 1.5 Lock Nut
278-10-0006: M14 X 1.5 Lock Nut
278-10-0007: M16 X 1.5 Lock Nut
278-10-0010: Nut – 1/8′ Bsp
278-10-0046: Nut Outer Wheel Bearing Adjusting
278-10-0049: Nut Lock (Rear Axle)
278-10-0254: M26 X 1.5 Lock Nut
278-10-0255: M12 X 1.5 Lock Nut
278-19-0051: Nut, Leaf Spring-Faw"
278-19-0065: Welding Square Nut
278-19-0067: U Nut
278-19-0068: U Nut Wide Thread Screw-Faw
278-19-0102: Hex Flange Nut M8X1.25
278-20-0002: M22 X 2.5 Wheel Nut (Ref 278-20-0253)
278-20-0045: Nut Inner Wheel Bearing Adjusting
278-20-0047: Coller Nut-Bogie Suspension
278-20-0253: M22X2.5-6H Wheel Nut
278-41-0229: Button_5702083-50
278-79-0052: Set  Screw-Faw
278-79-0054: Plastic Embed Nut – White-Faw
279-00-0049: Prop Shaft Assy For Eaton 9S Gb
279-00-0073: Middle Shaft-3118Hl
279-00-0103: Drive Shaft_Xs 150 Serrated Flange
279-00-0106: Drive Shaft-2523 Tp  Zf 9S1110-8 O'Clock
279-00-0107: Drive Shaft_Xs 180 Serrated Flange
279-00-0134: Coupling Shaft
279-00-0138: Prop Shaft-4923Tr-1800 Series Axle Flang
279-00-0141: Flange Yoke (Dia 150)
279-00-0142: Flange Yoke (Dia 180)
279-00-0143: Drive Shaft_Msl
279-00-0145: Drive Shaft
279-00-0154: Flange Yoke_Inter Axle Shaft
279-00-0155: Uj Kit_Inter Axle Shaft
279-00-0156: Slip Yoke Assy_Inter Axle Shaft
279-00-0157: Tube Shaft Assy_Inter Axle Shaft
279-00-0158: Tube Yoke_Inter Axle Shaft
279-00-0159: Companion Flange
279-00-0165: Middle Shaft-2516Hll_Cowl_E6S
279-00-0167: Prop Shaft
279-00-0168: Coupling Shaft_1618 Tp
279-00-0169: Drive Shaft_1618 Tp
279-00-0170: Prop Shaft_E9S_Setco_4018_Tr
279-00-0175: Interaxle Shaft-Msona
279-00-0176: Prop Shaft_2518Tp_Eaton 9S_Msona
279-00-0177: Prop Shaft_3118 Hl_8X4
279-00-0178: Middle Shaft_3118Hl_8X4_Eaton 9S
279-00-0195: Flange Yoke_ Rsb Interaxle Shaft
279-00-0196: Long Fork Sub Assby
279-00-0197: Short Fork Tube & Rear Housing Assby
279-00-0202: Flange Yoke
279-00-0203: Slip Yoke Assembly
279-00-0204: Uj Kit
279-00-0206: Center Bearing Assembly For Coupling Sha
279-00-0207: Companion Flange For Coupling Shaft
279-00-0208: Nut For Coupling Shaft
279-00-0221: Propeller Shaft For 2523 With Isbe
279-00-0226: Tube Yoke
279-00-0227: Mid Ship Shaft
:
:
:
:
279-00-0228: Slip Spline Seal
279-00-0229: Mid Ship Nut
279-00-0230: Centre Bearing Rubber
279-00-0231: Centre Bearing Bracket
279-00-0232: Tube Yoke-2516 Hl
279-00-0234: Shaft-2516 Hl
279-00-0243: Propeller Shaft
279-00-0245: Propelelr Shaft For 3518 Tr
279-00-0253: Flange Yoke
279-00-0254: Uj Kit_Int. Ax Shaft_Sona
279-00-0265: Shaft Tube
279-00-0266: Flange Yoke
279-00-0267: Uj Kit_Drive Shaft_Sona
279-00-0349: Coupling Shaft
279-00-0373: Msl Drive Shaft
279-00-0380: Coupling Shaft 3116Hl Cowl Ws
279-00-0399: Drive Shaft
279-00-0407: Drive Shaft
279-00-0414: Yoke Assy
279-00-0415: Yoke & Teeth Assy
279-00-0423: Coupling Shaft
279-00-0426: Drive Shaft
279-01-0001: Drive Shaft – 1800 Series-Tipper
279-01-0005: Drive Shaft – 1800 Series-4923
279-01-0006: Inter Axle Shaft – Din 165 Flange
279-01-0014: Drive Shaft – 4X2 – 235Hp-4018
279-01-0024: Drive Prop. Shaft,860-970 Mm (Fl.-T-180
279-01-0025: Interaxleprop.Shaft,581-706Mm-Fl. Din16
279-01-0045: Propeller Shaft For Hub Reduction Axle
279-01-0053: Uj Kit Bolt
279-01-0054: Flange Yoke-Int Axle Shaft
279-01-0055: Tube,Yoke-Int Axle Shaft"
279-01-0056: Shaft,Spline-Int Axle Shaft"
279-01-0057: Spider,Assy-Int.Axle Shaft"
279-01-0058: Washer,Spring-Int.Axle Shaft
279-01-0059: Nipple-Int Axle Shaft
279-01-0061: Tube,Sleeve-Int Axle Shaft"
279-01-0062: Sleeve,Spine-Int Axle Shaft"
279-01-0063: Plate-Int Axle Shaft
279-01-0065: Washer, Dust-Int Axle Shaft"
279-01-0066: Balance,Weight-Int Axle Shaft"
279-01-0067: Slip Yoke Assembly
279-01-0077: Tube Shaft Ds
279-01-0102: Coupling Shaft_Xs-150 Flange_E6
279-01-0105: Inter-Axle Shaft-Sil
279-01-0135: Drive Shaft_Xs-180 Flange
279-01-0136: Drive Shaft_Xs-180 Flange Eaton Gb
279-01-0139: Flange Fork(F57)
279-01-0140: Universal Joint Assembly (F57)
279-02-0191: Interaxle Shaft-Rsb
279-09-0034: Hub Reduction Axle Inter  Axle Shaft
279-10-0122: Coupling Shaft (Center Bearing-1)
279-10-0147: Drive Shaft-3118 Hl With Et6S (Ps769)
279-10-0148: Coupling Shaft (Center Bearing-1)
279-11-0027: Drive Shaft
279-11-0084: Cupling Shaft For 2518 Hl 6X2 5000 Wb
279-20-0127: Drive Shaft With Cross Serrated Flanges
279-20-0128: Drive Shaft With Cross Serrated Flanges
280-01-0004: Drying & Distribution Unit
281-00-0015: Automatic Slack Adjuster (Mei-Sasa-1340)
281-00-0021: Slack Adjuster – Lh (Self Setting Type)
281-00-0022: Slack Adjuster – Rh (Self Setting Type)
:
:
:
:
281-00-0025: Minor Repair Kit
281-00-0027: Major Repair Kit
281-00-0031: Worm Wheel
281-00-0032: Worm
281-00-0034: Worm Gear
281-00-0035: Cover Plate Assembly
281-00-0037: Worm Gear
281-00-0041: Worm Gear
281-00-0058: Automatic Slack Adjuster Inclined Offset
281-01-0001: Slack Adjuster – 160R
281-01-0017: Manual Slack Adjuster-160Mmxsae 10 Splin
281-01-0018: Manual Slack Adjuster-140Mm X Sae 10 Spl
281-02-0005: Automatic Slack Adj. Front -Mei-Sasa-262
281-02-0006: Automatic Slack Adj. Rear Mei-Sasa-342
281-30-0009: Slack Adj – (Madras Eng.) Hande R2 Lh
281-30-0010: Slack Adj – (Madras Eng.) Hande R2 Rh
282-00-0008: T24 Brake Chamber Lh
282-00-0010: Type 24 – Brake Chamber-Lh
282-00-0011: Type 24 Brake Chamber – Rh
282-00-0012: Brake Chamber (Type 20)Lh
282-00-0013: Brake Chamber (Type 20)Rh
282-01-0001: Brake Chamber Type 20 Lh
282-01-0002: Brake Chamber Type 20 Rh
283-00-0003: Type -24 Spring Brake Actuator -270Mm
283-00-0004: Spring Brake Acturator (Type 24/75)
283-01-0001: Spring Brake Actuator ( Type 24 / 24 )
283-60-0012: Diaphragm_M843330
284-00-0024: Filter Assembly_41200006
284-01-0001: Air Reservoir – 15 Litres
284-01-0002: Air Reservoir – 25 Litres
284-01-0003: Auxiliary Tank – Reservoir – 5 Lit
284-01-0005: Reservoir – Nipple Type_Rane
284-02-0028: Assy Oil Resrervoir-Hubei Forni
284-09-0011: Coolent Reservior & Brkt Assy-Faw
284-10-0016: Oil Reservoir #  Zf
284-21-0009: Air Tank – 30 L
284-79-0012: Ater Reservoir
284-79-0013: Brake & Clutch Oil Reservior-Faw
285-00-0019: Kit – End Fittings 12 Mm Od Nylon Pipe
285-00-0038: Rad Kit(Rad+Cac+Cowl) Ttr Bsii 180 Hp
285-00-0041: Kit – Fuel Pipe
285-00-0042: Kit – Delivery Line_Rane 6*4
285-00-0053: Kit – End Fittings 15 Mm Od Nylon Pipe
285-00-0054: Kit – End Fittings 8 Mm Od Nylon Pipe
285-00-0058: Kit – Compressor Pipe Inlet & Outlet
285-00-0059: Kit – 10.00 X 20 – 16 Pr Rib Tyre With T
285-00-0060: Kit – 10.00 X 20 -16 Pr Lug Tyre Apollo
285-00-0082: Kit-Noise Supression Engine Compartment-
285-00-0091: Kit – Nylon Pipe Sub Assemblies-Tr
285-00-0148: Kit Radiator, Cac And Cowl
285-00-0160: Kit – Return Line_Rane 6*4
285-00-0169: Kit – Nylon Pipe 4X2 Tr Non Abs4018/4023
285-00-0175: Kit – Drive Shaft – 6X2 Hl – 180Hp
285-00-0179: Nylon Air Piping Kit-2518 Hl
285-00-0190: Kit – Nylon Air Pipe Tp
285-00-0191: Kit- Frame Side Member & Flitch Drilled
285-00-0192: T- Frame Side Member & Flitch Drilled
285-00-0195: Kit-Fsm & Flitch Lhs – 6*2 Hl2518
285-00-0204: Kit Fuel Pipe
285-00-0207: Kit Fuel Pipe (4018)
285-00-0209: Kit-Fsm & Flitch Lhs – 6*4 Tp2523
285-00-0210: Kit-Fsm & Flitch Rhs – 6*4 Tp2523
:
:
:
:
285-00-0213: Kit-Rear View Mirror – Sandhar
285-00-0237: Kit – Compressor Pipe Inlet & Outlet
285-00-0298: Kit – Decal(Cb0001082)
285-00-0332: Kit-Nylon Pipe Sub Assemblies
285-00-0341: Kit-Nylon Pipe 4X2 Tr Abs (4018/4023)
285-00-0394: Kit – 10X20 – 16 Pr Rib Tyre-Tube-Flap
285-00-0396: Kit – 11.00 X 20 -16 Pr Lug Tyre
285-00-0397: Kit – 11.00 X 20 – 16 Pr Rib Tyre
285-00-0398: Clampkit Big(Includingsleeve,Rivet &Bolt
285-00-0399: Clamp Kit Small(Including Sleeve, Rivet
285-00-0401: Servo Cyl Repair Kit [For 326-00-0003]
285-00-0405: Kit-Nylon Pipe Sub Assembly
285-00-0426: Kit- Eaton 9Speed Gb Pto
285-00-0449: Kit-Return-Line-Primary
285-00-0453: Kit-Delivery-Line-Hydraulic-Cylinder
285-00-0454: Kit-Return–Line-Hydraulic-Cylinder
285-00-0457: Kit-Nylon Pipe Subassembly
285-00-0483: Air Dryer Minor Kit
285-00-0484: Ddu Major Kit 3/96
285-00-0495: Brake Chamber Repair Kit Type 20Msp8/59
285-00-0525: Clutch Cover Assy And Clutch Disc 1.75″
285-00-0540: Kit – Air Piping
285-00-0544: Kit – Frp Noise Shield
285-00-0549: Kit Air Intake-2518Tp
285-00-0564: Kit-Master Cylinder Bi (Major)
285-00-0565: Kit – 180Hp Air Intake System For 2518Cp
285-00-0567: Propeller Shaft Kit Sos 20411
285-00-0573: Crwn Whl Pnon5.83Rar(A2-C0122)(Ms13-1495
285-00-0579: Kit-Air Intake-4018Tr
285-00-0580: Kit-Air Intake-2518Tp
285-00-0583: Kit Std Cabin Hyd (C/W) W Narrow Bumper
285-00-0594: Kit -Temperatur Buzzer-Ritro Fit
285-00-0595: Kit -Clutch Pedal Spring-Ritro Fit
285-00-0597: Kit-Engine Tech Dat-Tipper-Ritro Fit
285-00-0606: Kit-Modified Front Suspention-Ritro Fit
285-00-0608: Kit Std Cabin Mnl (C/W) W Narrow Bumper
285-00-0616: Kit-Engine 6B 180 Hp (Bsiii) Cummins
285-00-0617: Kit- Fsm & Flitch Drilled-Lh
285-00-0618: Kit- Fsm & Flitch Drilled-Rh
285-00-0621: Kit- Fsm & Flitch Drilled-Rhs
285-00-0622: Kit – Fsm & Flit Drilled – Lh
285-00-0623: Kit – Fsm & Flit Drilled – Rh
285-00-0624: Kit – Fsm & Flitch Drilled- Lh
285-00-0625: Kit- Fsm & Flitch Drilled- Rh
285-00-0628: Kit-Crank Shaft Seal
285-00-0634: Kit Fuel Pipe For 250 Litres Tank_3118Hl
285-00-0654: Kit-Cummins Isbe 270Hp Engine – Sae2 Fh
285-00-0656: Metallic Pipe Kit_Air Piping
285-00-0657: Kit Nylon Pipe-Air Piping 3118
285-00-0659: Kit-Propeller Shaft For 2518Cp
285-00-0662: Kit Hydraulic Pipe For Vane Pump Steerin
285-00-0666: Kit Engn Coolng Sys(Rad+Cac+Shr Bs-3 Ttr
285-00-0669: Oil Seperator Kit-Msp 3/112
285-00-0675: Seal Kit For Gear Pump 82L-R-4H
285-00-0676: Radiator Kit Assy For 270Hp
285-00-0677: Kit – Propellar Shaft
285-00-0679: Kit – Indigenous Bump Stop Brkt
285-00-0687: Cylinder Assy. – Service Kit (Minor).
285-00-0691: Kit C/W Sr Cab Nb Ml Spd
285-00-0692: Kit C/W Sr Cab Nb Hyd Tilt Spd
285-00-0694: Kit C/W Mr Nb Ml Cab Spd
285-00-0697: Kit Propeller Shaft
:
:
:
:
285-00-0701: Fsm 2516Hle 5250 Wb -Lh
285-00-0702: Fsm 2516Hle 5250 Wb -Rh
285-00-0707: Kit Auxillary Parts Spd-2518Tp & Tm-Zf9S
285-00-0708: Kit Auxillary Parts Spd-2518Tp & Tm-Eato
285-00-0709: Kit Auxillary Parts Spd-2518Hl-Zf9S75
285-00-0710: Kit Auxillary Parts Spd-2523Hl-Eaton Fs6
285-00-0711: Kit Auxillary Parts Spd-2523Cp-Eaton Fs6
285-00-0712: Kit Auxiliary Parts Spd-2518Tm-Eaton 6S
285-00-0713: Kit Auxillary Parts Spd-2523Tp-Zf9S75
285-00-0715: Kit Auxillary Parts Spd-4923Tr-Zf1110-9S
285-00-0716: Kit Auxillary Parts Spd-4923Tr-Zf9S75
285-00-0717: Kit Auxillary Parts Spd-4023Tr-Zf9S75
285-00-0718: Kit Auxillary Parts Spd-4018Tr-Zf9S75
285-00-0719: Kit Auxillary Parts Spd-4018Tr-Zf1110-9S
285-00-0720: Kit Auxillary Parts Spd-4018Tr-Eaton Fs6
285-00-0721: Kit Auxillary Parts Spd-2518Tm-Zf9S75
285-00-0722: Kit Auxillary Parts Spd-2518 Tm-Eaton-Fs
285-00-0724: Kit- 155 Hp (Bsiii) Engine-45 Amps
285-00-0725: Kit-Cummins 6B 155 Hp (Bsiii) Engine-75
285-00-0727: Kit-Nylon Pipe
285-00-0728: Kit Auxillary Parts Spd-2518 Tp-Eaton-6S
285-00-0733: Kit-Gear Linkage Ball Joint – Minor Kit
285-00-0739: Front Wheel Bolt Kit – Meritor
285-00-0740: Rear Wheel Bolt Kit – Meritor
285-00-0741: Rear Wheel Bolt Kit – Hande
285-00-0742: Kit Front Hub Oil Seal & Gasket- M Axle
285-00-0743: Kit Rear Hub Oil Seals & Gasket – M Axle
285-00-0744: Tie Rod Kit – Faw
285-00-0745: Front Brake Liner Kit – Faw
285-00-0747: Front Brake Liner Kit – Meritor
285-00-0749: Zf – Comp,Pressure And Ball Kit
285-00-0750: Bogie Oil Seal Minor Kit
285-00-0752: Kit- Fsm & Flitch Lhs – Tp2518 Bsiii
285-00-0753: Kit- Fsm & Flitch Rhs Tp2518 Bsiii
285-00-0755: Kit- Air Intake System 155 Hp& 4018 Bs-3
285-00-0760: Kit-Ps For 3118Hl With Eaton 6S, Setco,
285-00-0763: Kit Ps For 3118Hl With Eaton 9S,Setco An
285-00-0765: Kit – Meritor Tool Kit
285-00-0769: Kit- Fsm & Flitch Drilled – Lhs
285-00-0770: Kit- Fsm & Flitch Drilled – Rhs
285-00-0771: Kit- Frme Side Mmbr & Flitch Drilled-Lhs
285-00-0772: Kit- Frme Side Mmbr & Flitch Drilled-Rhs
285-00-0783: Kit- Propeller Shaft
285-00-0784: Kit- Fsm Lh & Flitch Drilled-
285-00-0785: Kit- Fsm Rh & Flitch Drilled-
285-00-0790: Kit-Air Intake System 4018Tr Bsiii
285-00-0794: Kit-Nylon Pipe Assy-Tipper
285-00-0799: Kit Non Float & Manual Tilt
285-00-0805: Kit- Frame Side Member-Lhs
285-00-0806: Kit- Frame Side Member-Rhs
285-00-0814: Kit_Modified Clutch Release Eaton 6S
285-00-0815: Kit For Modified Clutch Release Eaton 9S
285-00-0820: Kit-Cummins B5.9 215Hp (Bsiii) Engine
285-00-0823: Kit-Nylon Air Piping-Eaton 6S
285-00-0825: Kit Auxillary Parts Spd-3118Hl-Eaton Fs6
285-00-0830: Kit Bell Crank Lever With Shackle
285-00-0835: Kit & Layout, Air Intake – 235 Hp Bsiii
285-00-0854: Kit Auxillary Parts Spd-2518Hl-Eaton Fs6
285-00-0858: 155Hp Bsiii Engine(Cowl)
285-00-0866: Assy Of Frame-2518Tp [Bsii] -Spwh
285-00-0867: Assembly  Of Frame-2518Tm-Spwh
285-00-0868: Assembly  Of Frame-2518Hl 6X2Spwh
:
:
:
:
285-00-0869: Assembly  Of Frame-2518Hl 6X4Spwh
285-00-0870: Assembly Of Frame-3118Hlspwh
285-00-0871: Assembly Of Frame-4018Trspwh
285-00-0872: Assembly  Of Frame-4923Trspwh
285-00-0873: Assembly Of  Frame-2523Tpspwh
285-00-0874: Assembly Frame-2518Cpspwh
285-00-0878: Kit-Frame Side Member & Flitch Drilledl
285-00-0879: Kit-Frame Side Member & Flitch Drilled R
285-00-0880: Kit Auxillary Parts Spd-2523Tp-Zf1110-9S
285-00-0886: Kit-Propeller Shaft-Setco 380-2516 Hl
285-00-0887: Kit- Prop Shaft_2518Hl_5400Wb_Setco_Eato
285-00-0888: Kit Prop Shaft_1618Tp
285-00-0936: Kit Nylon Air Piping_Eaton 9S
285-00-0950: Frame Drilling 2516 Hl Cowl 5020 Wb Rh
285-00-0951: Frame Drilling 2516 Hl Cowl 5020 Wb Lh
285-00-0952: Air Intake System For 155Hp Cowl
285-00-0953: Kit-Fsm & Flitch Lhs – 6*4 Tp2523 Bsiii
285-00-0954: Kit-Fsm & Flitch Rhs – 6*4 Tp2523 Bsiii
285-00-0955: Kit-Propeller Shaft-5020 Wb
285-00-0964: Kit Fsm – Bsiii 4923Tr Cbh – Lhs
285-00-0965: Kit Fsm – Bsiii 4923Tr Cbh – Rhs
285-00-0966: Kit Nylon Nylon Piping Bsiii 4923Tr
285-00-0967: Kit-Prop Shaft_3118Tp_8X4
285-00-0988: Cross Assembly
285-00-0989: Kit-Ac Pipe Holding Bracket
285-00-0990: Wiper Motor
285-00-0991: Latch Assy. – Service Kit (Minor)Dh
285-00-0992: Latch Assy. – Service Kit (Major)-Dh
285-00-0993: Pump Assy. – Service Kit (Minor)-Dh
285-00-0994: Pump Assy. – Service Kit (Major)-Dh
285-00-0995: Frame Drilling_Lh_Bsiii 2523Tp
285-00-0996: Cylinder Assy. – Service Kit (Major)-Dh
285-00-0998: Iad Kit R1495 (Ref – Sdl0000054)
285-00-1018: Relese Lever Kit_Setco
285-00-1019: Disc Facing Kit
285-00-1023: Kit Mirror Assy
285-00-1024: Kit Propeller Shaft
285-00-1045: Kit Engine Isbe 230Hp With Zero Fan Offs
285-00-1059: Kit Nylon Pipe
285-00-1060: Kit Air Intake – Isbe Engine
285-00-1062: Kit Nylon Air Piping – 3118Tp_Swb
285-00-1114: Major Repair Kit -302 02 0021_Assy Steer
285-00-1115: Minor Repair Kit -302 02 0021_Assy Steer
285-00-1116: Major Service Kit-303 02 0058 A_Assy Ste
285-00-1117: Minor Service Kit-303 02 0058 A_Assy Ste
285-00-1118: Major Service Kit-284 02 0028_Assy Oil R
285-00-1119: Major Kit-302 02 0022_Pstg_Hube 31T
285-00-1120: Minor Kit-302 02 0022_Pstg_Hube 31T
285-00-1144: Kit Cowl Air Intake Sys_Without Pre Cle
285-00-1189: Kit Cooling Package 155Hp Cowl Banco
285-00-1199: Kit C/W Mr Cab Nb Hyd Tilt Solid Spd
285-00-1200: Kit Auxlry Parts Spd 3118Tp- Eaton-9S
285-00-1201: Kit Auxillary Parts Spd-2516Hl-Eaton Fs6
285-00-1228: Bunch – Nylon Pipe
285-00-1229: Kit Prop Shaft
285-00-1239: Kit B Mech 180Hp Engine
285-00-1244: Kit Mirror Assy
285-00-1246: Rear View Mirror Kit_Manas
285-00-1250: Nylon Pipe Bunch
285-00-1274: Nylon Pipe Bunch
285-00-1278: Conv. Kit_Man To Hyd Tilt_Dh
285-00-1279: Conv. Kit_Man To Hyd Tilt_Faw
:
:
:
:
285-00-1288: Kit Of Radius Assy Bush
285-00-1296: Kit Propeller Shaft
285-00-1321: Kit- Frame Reinforcement On Rh Side
285-00-1326: Kit Bogie Suspension
285-00-1334: Bunch Nylon Pipe
285-00-1355: Kit_Mudguard With Spray Suppression Devi
285-00-1357: Kit_Mudguard With Spray Suppression Devi
285-00-1361: Kit Ais -Rh Side
285-00-1372: Kit Nylon Pipe
285-00-1379: Nylon Pipe Bunch 4018Tr Cowl
285-00-1390: Kit Nylon Pipe
285-01-0037: Kit-Safety Belt
285-01-0096: Rad Kit (Rad+Cac+Cowl) -Ttr235Hp Bs2&3
285-01-0116: Kit – Air Intake System 235 Hp
285-01-0117: Kit – Rear Suspension – 21T Dfm
285-01-0118: Kit – Air Intake System 235 Hp – For Tra
285-01-0123: Kit – Air Intake System 180 Hp- Tp
285-01-0132: Kit – Engine – 235 Hp
285-01-0133: Kit – Engine – 180 Hp
285-01-0138: Kit-Warning Triangle-Red- Less Stand
285-01-0162: Kit-235Hp Air Intake System-Comprises:
285-01-0163: Kit-180Hp Air Intake System – Tr
285-01-0171: Kit-7 Pin Soc & Trailer Cable With Plug
285-01-0185: Eaton Transmission, 6-Speed"
285-01-0251: Kit Air Intake System 300 Hp
285-01-0274: Rear View Mirror Kit_Sandhar
285-01-0317: Major Kit Spring Brake Actuator
285-01-0318: Kit Quadruple Sys
285-01-0319: Repair Kit Ddu Minor Msp 3/90
285-01-0321: Kit Relay Valve-
285-01-0322: Kit Trailer Cont
285-01-0323: Kit Palm Couplin
285-01-0324: Kit Slack Adjust
285-01-0325: U.J – Kit
285-01-0326: Kit Automatic Load Sensing Valve–Msp3/8
285-01-0327: Kit Brake Chember Type 20/24–Msp8/60
285-01-0328: Repair Kit-Pressure Protection Valve
285-01-0356: Wheel Mounting Fasteners Kit
285-01-0357: Brake Mounting Fasteners Kit
285-01-0358: Spacer Kit (Wheel End)
285-01-0359: Wheel Brg Adj.Fasteners Kit
285-01-0362: Camshaft Repair Kit
285-01-0363: Minor Service Kit
285-01-0365: Dust Shield Mounting Fasteners Kit
285-01-0366: Rear Bracket Mounting Fasteners Kit
285-01-0367: Camshaft Washer Kit
285-01-0369: Diff Spider Kit
285-01-0371: Carrier Mounting Fasteners Kit
285-01-0372: Pinion Cage Mounting Fasteners Kit
285-01-0373: Diff Case Mounting Fastener Kit
285-01-0374: Thrust Screw & Jam Nut Kit
285-01-0375: Rear Hard Ware Kit
285-01-0376: Shim Kit – (Service Kit C1820)
285-01-0377: S Kit- C1821 Spacer Kit
285-01-0378: Snap Ring Kit- Thrushaft
285-01-0381: Spacer Kit (S Kit-C703)
285-01-0391: Kit—521-Spacer-Kit
285-01-0392: S—Kit-C1812-Shim-Kit
285-01-0393: Input Shaft Kit (S Kit-C1804)
285-01-0433: Shim Kit ( Kit-1827)
285-01-0434: Axle Shaft Mounting Fasteners Kit
285-01-0435: Oil Slinger Kit
:
:
:
:
285-01-0436: Drum To Hub Mounting Fasteners Kit
285-01-0455: Seal Kit
285-01-0460: Carrier & Cap Mounting
285-01-0461: Diff Case Mounting Fasteners
285-01-0474: Center Support Bearing Assy
285-01-0475: Air Dryer Repair Kit Major
285-01-0506: Diff Spider Kit
285-01-0507: Pinion Cage Mounting Fasteners Kit
285-01-0508: Diff Cases Mounting Fasteners Kit
285-01-0509: Thrust Screw & Jam Nut Kit
285-01-0510: Input Shaft Kit
285-01-0511: Carrier & Cap Mounting Fasteners Kit
285-01-0512: Thrust Washer Kit
285-01-0513: Carrier Mounting Fasteners Kit
285-01-0514: Shim Kit
285-01-0516: Gear Hardware Kit
285-01-0517: Abs  Kit
285-01-0646: Kit-Synchro_1/2Or3/4 – Et 9S
285-02-0070: Kit-Warning Triangle-Red- Complete
285-02-0121: Kit-Warning Triangle-White- Less Stand
285-09-0482: Gear Shift Assy With Bracket & Bushes
285-10-0208: Kit – Rear Brake Chamber Guard Assy
285-10-0423: Kit – 400 Ltr Fuel Tank Mounting Bracket
285-10-0782: Kit Cooling Package Of Bsiii 180Hp (Bco)
285-10-0884: Kit-Propeller Shaft_2518Hl_5000Wb_E9S
285-10-0885: Kit Propeller Shaft
285-10-0893: Kit-Fsm & Flitch Drilling – Lhs
285-10-0894: Kit-Fsm & Flitch Drilling – Rhs
285-10-1021: Kit Fsm & Flitch Drilling Lh
285-10-1022: Kit Fsm & Flitch Drilling Rh
285-10-1094: Painted Drilled Kit Lh 3116 Hl Cowl
285-10-1095: Painted Drilled Kit Rh 3116 Hl Cowl
285-11-0006: Kit – Rear Suspension – 26T Dfm
285-11-0096: Bogie Suspension W/O Leaf Spring
285-11-0203: Kit-Fueltank Brkt+Split Pin  Strap
285-40-0635: Kit-Air Compressor Piston Ring.
285-40-0636: Kit-Air Comp. Clyd Head.
285-40-0637: Kit- Air Compressor Head Gasket.
285-60-1230: Kit-10X20-16Pr-Radial Steerable Tyre
285-70-1134: Kit – Fuel Pipe Water Separator To Engin
285-70-1135: Kit Fuel Pipe -Fuel Tank To Water Separa
285-70-1136: Kit-Fuel Pie Return Line
285-70-1137: Kit – Fuel Pipe Fuel Tank To Water Separ
285-70-1138: Kit – Fuel Pipe Return Line
285-91-0703: Repair Kit For Hand Brake Valve-Ruili
285-91-0704: Repair Kit For Dual Brake Valve-Ruili
287-00-0017: Shock Absorber_1618Tp
287-01-0001: Shock Absorber
287-01-0012: Limiter A Shock Absorber
287-01-0013: Limiter B Shock Absorber
287-01-0014: Shock Absorber Assy.
287-10-0016: Shock Absorber-Front
288-07-0000: S/A Without Wheel End 6X2 Hl R2 Axle
289-60-0002: L Hose – Rad Outlet – 60 Id X 90 X 100
289-60-0004: Straight Hose 60 Id X 110 L
289-60-0006: L Hose -Rad.Inlet- 45 Id X 130 X 100
289-60-0007: Vent Hose – Rad.To Dat – 9.5 Id X 2150
289-60-0008: Vent Hose – Eng.To Dat – 9.5 Id X 1500
289-60-0017: St.Hose  –  Dat Line 28.5 Idx130 L
289-60-0018: L-Hose-120Mml X 120Mml-28.6 Id
289-60-0021: Vent Hose – Eng.To Dat – 9.5 Id X 1750
289-60-0022: St.Hose – 29Id X 100 – Dat Line
:
:
:
:
289-60-0024: Reducer Hose D1=35 ,D2=28.5 Of 130Mm"
289-60-0027: Vent Hose – Rad.To Dat –  9.5 Id  X 1945
289-60-0028: Dat Vent Hose Dat-Rad-9.5Id X 1980Mm
289-60-0031: Reducer – L Hose
289-60-0036: Vent Hose -9.5 Id -1850 Length
289-60-0044: L Hose -Rad.Inlet- 45 Id X 130 X 80
289-60-0045: Dat Taper Hose 1400 Long Engine Tech
289-60-0046: Dat Taper Hose 1900 Long Engine Tech
289-60-0047: Reducer Z Hose Engine Tech
289-60-0048: Dat Tapper Hose-To Radiator
289-60-0049: Dat Tapper Hose-To Engine-1350Mm Length
289-60-0050: Dat Tapper Hose-To Rad-1750 Mm Length
289-60-0051: Dat Tapper Hose-To Radiator-1945 Mm Leng
289-60-0052: Dat Tapper Hose-To Engine-1500 Mm Length
289-60-0056: L-Hose_Radiator Outlet_3118Hl
289-60-0063: Hose-Radiator-Inlet1-Isbe
289-60-0064: Reducer Hose Radiator Inlet 2 – Isbe
289-60-0065: Hose Engine Inlet 2 – Isbe
289-60-0066: Hose Engine Inlet 1- Isbe
289-60-0067: Hose Dat Isbe
290-00-0046: Hydraulic Cylinder Cable
290-00-0050: Hydraulic Hose 1 From Pstgb To Reservoir
290-00-0053: Hyd Hose 2 Nr Vane Pump
290-00-0064: Vane Pump To Pstg_Rh Side
290-00-0065: Vane Pump To Pstg Ext_Rh Side
290-00-0070: Hydraulic Hose From Reservoir To Vane Pu
290-00-0076: Hose Assembly Pressure Pump Side – Zf
290-00-0077: Hose Assembly Suction Pump Side
290-00-0081: Hose Assembly Pressure -Hyd Cyl Gb Side
290-00-0085: Hose Assy Pressure-Hyd Cyl Gb Side Botto
290-60-0011: Clutch Hose – M12 X 1 Mm
290-60-0013: Pstg Pipe I From Vane Pump_Supp_Rane_6*4
290-60-0022: Hose-G.I. Braided
290-60-0023: Rubber Hose 9Mm-Id
290-60-0025: Rubber Inserts
290-60-0043: Hose-G.I Braided
290-60-0056: Hose 3/4″" Idx 1500 R2 , 1 3/16″" Unf F
290-60-0058: Hose Id 3/4″" X 1500Mm L , 1 3/16″" Fs9
290-60-0059: Hose 3/4″" X 2400Mm , Sae100R2 , 1 3/16
290-60-0060: Hose Id 3/4″" X 2400Mm L , 1″" Bsp Fs 9
290-60-0061: Hose 1/2″" X 1900Mm , Sae100R2 , 1 3/16
290-60-0066: Hose – G.I Braided With Eaton
290-60-0069: Clutch Hose M12X1-M14X1.5
290-60-0071: Clutch Hose
290-60-0080: Clutch Hose M12Xm14 X 1.5
290-60-0084: Clutch Hsoe Reservoir To Cmc
291-00-0037: Reducer Hump Hose
291-60-0002: Straight Hose 100 Id X 100 Len
291-60-0005: St Hose 142 Id X 100Mm Long
291-60-0013: Air Inlet Hose – Od-28 Mm / Id-18 Mm X 1
291-60-0019: Straight Hose 127 Id X 100 Len
291-60-0022: Brake Hose
291-60-0023: Reducer Elbow Hose
291-60-0024: Hump Hose
291-60-0026: Reducer Elbow Hose
291-60-0027: Hump Hose
291-60-0029: Straight Hose – 152 Id X 100 Len
291-60-0055: Spring Hose_Brake_3118Hl
291-60-0062: Brake Hose M22Xm22 With Elbow
291-70-0020: Trailer Hose – Yellow
291-70-0021: Trailer Hose – Red
291-70-0028: Teflon Hose M22 X 1.5 Male
:
:
:
:
291-70-0058: Teflon Hose 350Mm
291-70-0063: Teflon Hose M26 X M26
291-79-0040: Pipe Manual Operated Valve Outlet-Faw
291-79-0041: Air Pipe Assy-Outlet-Lower Chamb-Br Val
291-79-0042: Pipe Manual Operated Valve Inlet-Faw
291-79-0043: Airpipe,Air Outlet-Upper  Chamber Brake
291-79-0044: Airinletpipeupperchambrbrake-410-01-0071
291-79-0045: Air Pipe,Air Inlet- Lower Chamber Brake
292-00-0020: Setco Clutch Disc Assy. Dia 395 Ceramic
292-01-0006: Clutch Disc 1.75″" – 380 Valeo -Ceramic
292-01-0010: Clutch Disc-1.5″"Splines Valeo"
292-01-0012: Clutch Disc Assy-380 Valeo-8 Pad-Ceramic
292-02-0005: Clutch Disc 1.5″" – Ceramic Setco"
292-02-0006: Clutch Disc-Setco 1.75"'-Ceramic"
292-10-0004: Clutch Plate Dia. 430
293-00-0018: Collector Ring_Setco
293-00-0019: Cast Cover
293-00-0020: Pressure Plate With Needle Roller Bearin
293-00-0022: Setco Dia. 395 Clutch Cover Assy
293-01-0012: 380-Dia Clutch Cover
293-01-0024: Clutch Cover Assy. Diaphragm Type(Dia.38
293-10-0003: Clutch Cover-300Hp
293-11-0001: Clutch Cover Assy – 380 Dia Valeo – Hcl
294-10-0002: Return Spring
294-10-0004: Return Spring Stop Cable
294-60-0001: Aeon Spring
295-10-0003: Adaptor Plate Mudguard -Rh
296-00-0022: S/A Of Guard Radiator Bottom
296-00-0036: Radiator Banco
296-01-0020: Radiator 180Hp-Bsii (Ttr)
296-01-0025: Radiator – Bsiii Ttr 180 Hp
296-10-0026: Radiator-Bsiii Bco 180 Hp
296-40-0003: Radiator-235Hp
297-00-0019: Intercooler Asm_Banco Radiator
297-01-0003: Charge Air Cooler – 235Hp
297-40-0005: Charge Air Cooler-180Hp (Ttr)
297-40-0008: Charge Air Cooler-Bsiii Ttr 180 Hp
297-40-0010: Charge Air Cooler-Bsiii Bco 180 Hp
298-00-0014: Flywheel(Ns)
298-00-0017: Flywheel Assembly
298-10-0011: Flywheel -Fw90175-Cummins
298-10-0013: Flywheel (Ref 298-31-0015)
298-10-0020: S/A Of Flywheel Setco 380
298-31-0015: Flywheel For Setco Clutch_5258729
2B13-01-0001: Sub Frame Assy Box Body 16/18/24 3118
2B13-09-0001: 2Nd Axle Front Mud Guard Assy Lh
2B13-10-0001: 2Nd Axle Front Mud Guard Assy Rh
2B23-02-0001: Stabilizer Assy
2C05-08-5003IM: Kpab212 Bolt In King Pin-Fuwa(Im)
2C13-11-1000: Fe-149-4-4525 Hyd Kit W/O Pump & Pto
2D05-09-0015: Side Indicator Lamp Assy Without Bulb
2D12-00-0017: Top Marker Lamp 338 24V Rh 150Mm
2D12-00-0018: Top Marker Lamp 338 24V Lh 2000Mm
2D13-11-0001: Smpto-Db-Eaton-Pa406Eb1L22A08
2D13-11-0004: Gear Pump, 87Cc/Rev, Uni Directional, Po
2F01-11-0009BI: Seal Kit Skrh30-82 Db
2F01-11-0010BI: Wear Plate Kit Wkrh30-82 Db
2F01-11-0058-BI: Gear Pump 82 Bi-Directional (Db)
2F01-11-0059: Coaxial Pto For Zf 9S1110 (Db)
2F01-11-0061: Mtg Kit For Pto With Lay(Pb139A 23C)(Db)
2F05-08-5011IM: Spring Clamp Plate (Fw88-0509)
2F05-08-5012IM: Spring Seat (Fw88-0504)
:
:
:
:
2F05-08-5013IM: Axle Seat (Fw88-0506)
2F05-08-5014IM: Pin Fixed Position (Fw88-0507)
2F05-08-5015IM: Spring 9 Leaf (Jzp40.6.6)
2F05-08-5016IM: Teeterboard (Fw86-0505)
2F05-08-5017IM: Pin(Fw86-0518)
2F05-08-5018IM: Ft. Hanger(Fw86-0100/202A/302B)
2F05-08-5019IM: Ft. Eqlz. Hanger(Fw86-0200/302B/Q)
2F05-08-5020IM: Rocker (Fw86/1310-0400/75)
2F05-08-5021IM: Rocker Shaft (Fw86-0512)
2F05-08-5023IM: Equalizer Washer (Fw86-0511)
2F05-08-5024IM: Lock Nut M42X3(Gb/T6485-86 M42X3)
2F05-08-5025IM: Tube For Rr. Hanger (Fw8-0515)
2F05-08-5026IM: Rear Equ. Hanger(Fw86-0200/202B/302B-H)
2F05-08-5027IM: Rr. Hanger (Fw86-0300/202B/302B)
2F05-08-5028IM: Adj. Radius Rodassy-Ft.(Fw86-0605/385)
2F05-08-5029IM: Adj.Radius Rodscrew Ft.(Fs16-0503/250)
2F05-08-5030IM: Adj. Radius Rod End Lh (Fs16-0501L)
2F05-08-5031IM: Adj. Radius Rod End Rh(Fs16-0501R)
2F05-08-5032IM: Adj. Radius Rod Bush(Fw86-0514)
2F05-08-5033IM: Fixed Radius Rod Assy Rr(Fw86-0608/460)
2F05-08-5034IM: Adj.Radius Rod Screw Rr.(Fs16-0503/300)
2F05-08-5035IM: Fixed Radius Rod Ft.(Fs16-0517-385)
2F05-08-5036IM: Fixed Radius Rod Rr.(Fs16-0517/460)
2F05-08-5037IM: U" Bolt (Fw88-0508/453)
2F05-08-5103IM: Anchor Pin Bushing (B12-0101)
2F05-08-5104IM: Cam Shaft (C11-0101)
2F05-08-5105IM: Cam Shaft Bushing (C13-0301)
2F05-08-5106IM: Oil Seal (C14-0301)
2F05-08-5107IM: Cam Shaft Washer (C15-0101)
2F05-08-5108IM: Cam Shaft Ring (C16-0401)
2F05-08-5109IM: Cam Bearing Bolt (C26-0101)
2F05-08-5110IM: Cam Bearing Assembly(C20-0101)
2F05-08-5111IM: Cam Shaft Washer (C15-0104)
2F05-08-5112IM: Cam Shaft Ring (C16-0101)
2F05-08-5114IM: Grease Cup (C17-0101)
2F05-08-5115IM: Brake Roller (D21-0101)
2F05-08-5116IM: Roller Retainer (D22-0101)
2F05-08-5117IM: Return Spring (D13-0101)
2F05-08-5118IM: Fixed Spring (D12-0101)
2F05-08-5119IM: Brake Shoe Anchor Pin (D11-0101)
2F05-08-5120IM: Brake Shoe & Lining Assy (D20-01010
2F05-08-5121IM: Spring Anchore Pin (D23-0101)
2F05-08-5122IM: Tubular Rivet (D24-0101)
2F05-08-5123IM: Brake Shoe (D26-010101)
2F05-08-5124IM: Axle Washer (A11-0101)
2F05-08-5125IM: Spindle Nut (A12-0101)
2F05-08-5126IM: Cotter Pin (A13-0101)
2F05-08-5127IM: Slack Adjuster (A19-0300)
2F05-08-5128IM: Slack Adj. Return Spring (A20-0101)
2F05-08-5129IM: Hub Cap (H14-0201)
2F05-08-5130IM: Hub Cap Washer (H15-0201)
2F05-08-5131IM: Taper Bearing (H12-0100)
2F05-08-5132IM: Hub Nut – M22X1.5-32 (H34-0301)
2F05-08-5133IM: Axle Hub (H31-2301)
2F05-08-5134IM: Axle Drum – 16.7X7″ (H23-2303)
2F05-08-5135IM: Hub Bolt-M22X1.5X125 (H33-2301)
2F05-08-5136IM: Lock Nut -M22X1.5 (H40-0101)
2F05-08-5137IM: Hub Oil Seal (H11-0200)
2F05-08-5138IM: Dust Shield – 16.5X7″ (H18-0103)
2F05-08-5139IM: Dust Shield Washer (H20-0101)
2F05-08-5140IM: Brake Lining (D25-0101)
2F13-08-0006: Attachment Plate – 5_3118
:
:
:
:
2F13-08-0008-01: Attchmntplate R.H.1B(100X248.5X8)3118Bop
2F13-11-0018: Kit Seal 406 Series 08 Output (Sk047B)Db
2F13-11-0019: Kit Bearing 406 Series 08 Output (Bk047B
2F13-11-0100: Seal Kit-Pow Series Pump (Sk077)Db
2F13-11-0101: Seal Kit-Pow Series Pump (Sk077A)Db
2F19-01-0001: Rear Hinge Shaft – Box Body Old Design
2F19-01-0002: Sf Rear Hinge Bush Outer – Box Body Old
2F23-07-0007: Tail Board Hinge Pin(Side Board)
300-10-0009: S/A Of Pstg Return Line – Gb End – Zf
300-10-0010: S/A Of Pstg Delivery Line – Banjo –  Gb
300-10-0011: S/A Of Pstg Return Line – Reservoir End
300-10-0012: S/A Of Pstg Delivery Line – Metallic – Z
300-10-0013: S/A Of Pstg Return Line – Metallic – Zf
301-10-0001: Wheel Chock
302-00-0019: Steering Gear – Thp 90
302-01-0003: Power Stg Box – Hfb 64 – Rane 6*4
302-01-0020: Power Steering Gear Box-3118 Zf
302-02-0021: Assy Steering Gear Box -Hubei Forni
302-02-0022: Assy Steering Gear Box 31T-Hubei Forni
302-10-0014: Power Stg Gear Box Zf – 100 Bar
303-00-0026: Vanepump24Lpmsinglepump(Ref.303-00-0063)
303-00-0030: Power Stg Pump Assy _Isbe 270Hp
303-00-0063: Vane Pump Rane 18 Lpm
303-01-0001: Vane Pump – Avp 30 With Drive Coupling
303-01-0002: Zf – Vane Pump
303-01-0003: Power Steering Pump Type Ybz 16C5-190/14
303-01-0009: Hyva-Gear Pump 82L[36815002]
303-02-0058: Assy Steering Pump-Hubei Forni(Sorl)
303-09-0007: Electric Pump For Windshield
303-09-0008: Cabin Lift Pump And Bracket-Faw
303-20-0028: Cabin Tilting Hyd. Pump-Dh(303-20-0060)
303-20-0060: Hyd Pump Assy
304-10-0008: Battery Carrier
304-10-0011: Battery Carrier
304-10-0022: Battery Carrier
305-10-0018: S/A Link Rod Rh
305-10-0020: Link Rod Lh
305-10-0022: Connecting Rod Stay Rod
308-10-0008: Asm Of Wheel-Carrier_Ngt
309-00-0002: V-Band Clamp- 78.5 Dia
309-00-0003: V-Band Clamp-114 Dia-Expn.Joint(Drg-Jpr-
309-00-0006: V-Band Clamp -Turbo Charger
310-00-0001: Reverse Beeper
310-00-0006: Fuse 10 Amp
310-00-0007: Fuse 15 Amp
310-00-0009: Solenoid Switch 4St – 24V
310-00-0030: Coil Electrical-Engine Shutt Off
310-00-0031: Low Pressure Indicator Alarm
310-00-0035: Fuse 5 Amp
310-00-0036: Fuse 30Amp
310-00-0043: Exhaust Brake Sw Ajk -10
310-00-0044: No Symbol Sw Ajk
310-00-0045: Blank Cover Ajk- 06
310-00-0046: Hour Meter
310-00-0047: Matching Wire Connector Dj7031-3.5-20
310-00-0048: Water Temp Sensor 3X45N-D
310-00-0049: Fog Lamp Sw Front Ajk -09
310-00-0050: Fog Lamp Sw Rear Ajk-11
310-00-0051: Inter Axle Diff Sw Ajk-15
310-00-0075: Lcd Hourmeter – Honeywell
310-00-0201: Cabin Harness – Abs
310-00-0202: Abs 24V Relay
:
:
:
:
310-00-0229: 1 Way Male Socket With 6.3 Female Lucar
310-00-0241: Ac Relay/Display Unit-Faw
310-00-0303: Ac Wiring Harness
310-00-0310: High Temperature Buzzer Harness
310-00-0316: Cable Assy Reverse Switch
310-00-0317: Cable Assy Neutral Switch
310-00-0369: Bulb 24V 2W (For Cluster)
310-00-0376: Freq.Converter- If-Et6S/Zf9S1110
310-00-0377: Freq Converter-If-Et9S
310-00-0385: Req. Converter-If-Zf9S75
310-00-0400: Frequency Convertor -0.324 Ratio
310-00-0442: Engine Warning Indicator
310-00-0443: Ngine Stop Indicator
310-00-0451: Instrument Cluster
310-00-0480: Midival Fuse 60A
310-00-0481: Midival Fuse 70A
310-00-0482: Midival Fuse 40A
310-00-0483: Midival Fuse 50A
310-00-0501: Espeedometer(1.795)(179.5371 Freq@60Km)
310-00-0506: Cot Tube 32 Mm Dia
310-01-0034: Relay – 24V/20A
310-01-0042: Seven Pin Socket
310-01-0160: Frequency Converter-Zf9S75 Gb
310-01-0309: High Temperature Coolant Buzzer
310-01-0365: Odometer
310-01-0366: Pressure Meter
310-01-0367: Rotate Speed Meter
310-01-0368: Bulb 1.4W
310-01-0396: Rear Lamp Harness
310-01-0477: 7 Pin Plug
310-09-0036: Speaker
310-09-0052: Blank Cover Assy, Window Lcs"
310-09-0053: Tape Player & Radio Assy
310-09-0236: Speaker Assy-Faw
310-09-0239: Quartz Clock Assy
310-09-0242: Door Warning Switch
310-09-0244: Ashtray Socket Pin
310-09-0248: Cabin Wire Harness Assy-Faw
310-09-0251: 24V Light Bulb Position Lamp
310-09-0252: 24V ,21W Light Bulb Fog Lamp"
310-09-0259: Light Bulb
310-09-0260: Fuse 20 A (Fuse Box)
310-09-0263: Relay Windshield Wiper
310-09-0264: Relay For Foglamp,Loudspeaker"
310-09-0265: Refrigerent Fluid Position Controller
310-09-0267: Brake Light Controller
310-09-0268: Vehicle Regulating Controller
310-09-0269: Water Intrm Cntrl
310-09-0270: Preheating Controller
310-09-0272: Cabin Lamp – Electrical Wire Line
310-09-0273: Flash Lamp Chip (Ref 200-09-0011)
310-09-0274: Side Board Ii
310-09-0275: Side Board Iii
310-09-0276: Side Board Iv
310-09-0277: Side Board V
310-09-0278: Bottom Board
310-09-0279: Honk Shifting Switch
310-09-0280: Dangerous Warning Switch
310-09-0281: Differential Lock Ajk-14
310-09-0283: Wire Connector-Rh Corner Lamp-Faw
310-09-0284: Peg Wire(Wire Connector) Faw
310-09-0301: Fusebox With Relay Assy
:
:
:
:
310-09-0302: Speaker
310-09-0306: Rear Width Indiactor W H Assy
310-09-0307: Antenna Assembly
310-09-0311: Cabin Lamp Assy
310-09-0315: Exhaust Brake Sensor – Cabin
310-09-0390: Radio Assy With Usb Player
310-10-0042: Wire Connector – Matching 7-Pin Socket
310-19-0003: Elastic Hinge
310-70-0313: Frequency Converter Assembly Eaton 9S Gb
310-70-0314: Frequency Converter Assembly Eaton 6Sgb
311-00-0009: Frame Harness
311-00-0010: Frame Harness
311-00-0012: Head Lamp Harness
311-00-0015: Interconnector Harness
311-00-0016: Extension Harness
311-00-0019: Harness Low Pressure Warning Buzer
311-00-0022: Frame Harness_Hl2518 Bsii
311-00-0027: Engine Harness
311-00-0028: Engine Harness
311-00-0030: Frame Harness 6X4 Tipper
311-00-0031: Elec Conn-Engine Harness  Dj7032Y-7.8-20
311-00-0032: Elec Conn- Int Conn Harness Dj7165Y-3-20
311-00-0033: Elec Conn – Int Conn White Dj7164Y-3-20
311-00-0034: Elec Conn-Inter Conn Harn G Dj7164Y-3-20
311-00-0037: Earthing Conn Cable S.M.-Ve To Cabin -Ve
311-00-0045: Engine Harness_300 Hp
311-00-0049: Frame Harness -2523Tp 6X4
311-00-0054: Abs Frame Harness
311-00-0055: Frame Harness- Abs
311-00-0060: Frame Harness-Tipper
311-00-0061: 105-Cable Assy Crawler Switch
311-00-0062: Cable Assy Neutral Switch
311-00-0063: Cable Assy Reverse Switch
311-00-0064: Cable Assy Speedo Sensor
311-00-0065: Frame Harness
311-00-0066: Frame Harness-Semi Suspended
311-00-0067: Frame Harness
311-00-0081: Tipper Rear Side Indicator Harness
311-00-0090: E Hareness 3118Hl – 5660Wb
311-00-0093: Frame Harness
311-00-0095: Oem Wiring Harness-Isbe
311-00-0096: Cabin Wiring Harness-Isbe
311-00-0097: Kit-Frame Harness
311-00-0101: Engine Harness
311-00-0102: Engine Harness
311-00-0104: Engine Wiring Harness
311-00-0105: Frame Harness – 2516 Hl
311-00-0106: Head Lamp Harness – 2516 Hl
311-00-0107: Er Connector Harness – 2516 Hl
311-00-0115: High Temperature Buzzer Harness
311-00-0116: Lpw Buzzer Harness – 2516 Hl
311-00-0117: Extension Harness – 2516 Hl
311-00-0125: Cowl Harness
311-00-0126: Engine Harness(Bsiii Cowl)
311-00-0127: Frame Harness
311-00-0129: Engine Wiring Harness Non Ac
311-00-0130: Interconnector Harness_Odometer
311-00-0132: Frame Harness – Tipper
311-00-0135: Frame Harness 1618Tp Wb 4040
311-00-0142: Frame Harness-3118 Tp 5535Wb
311-00-0144: Interconnector Harness
311-00-0151: Interconnector Wiring Harness
:
:
:
:
311-00-0152: Frame Harness 2518 Tp Cowl
311-00-0153: Speedo Senser Cable Assy
311-00-0154: Frame Harness -1618Tp Cowl
311-00-0162: Frame Harness
311-00-0164: Ig Tail Ac Wiring Harness
311-00-0165: Ac Wiring Harness Engine
311-00-0228: Tractor Side Cble Hrnes(7 Pin)4923 Tr
311-00-0229: Coiled Cable & Plug Assy-24V Abs-4923 Tr
311-00-0246: Frame Harness 4018Tr 3300Wb
311-00-0255: Cowl Harness
311-00-0256: Frame Harness
311-00-0270: Engine Harness For 8M14 Starter Motor
311-00-0271: Cowl Harness 1618 Tp Cowl
311-01-0020: Wiring Harness- Ac
311-09-0053: Roof Lamp Wire Harness Assy-Faw
311-09-0056: Ac Wire Harness Assy-Faw
311-09-0301: Fuse Box With Relay Assy
312-00-0003: Hose Clamp – Sae Type 36 – Rad Inlet Hos
312-00-0004: Hose Clamp – Sae Type 40 – Rad Outlet Ho
312-00-0007: Hose Clip – Sae Type – F12
312-00-0010: Hose Clip – Sae Type – F10
312-00-0015: Hose-Clip Sae Type 10
312-02-0000: Elbow Adaptor-1/8Th-Bsp
312-10-0011: Hose Clip -Sae Type 20
313-00-0132: Accelerator Cable Clip
313-00-0145: Concave Snap
313-00-0146: Concave Clip Sheet
313-01-0130: Clip
313-09-0060: Clip
313-09-0061: Clip-Faw
313-09-0067: Tie Clip_Faw [3724115-Q8E]
313-09-0078: Concave Clip Sheet
313-09-0079: Base Sheet, Concave Sheet"
313-09-0149: Clip
313-09-0150: Clip
313-10-0006: D12 X H9 Single Clip
313-10-0012: D18 X H9 Single Clip
313-10-0013: 6D X H9 Single Clip
313-10-0014: D10 X H9 Single Clip
313-10-0018: 6D X H13 Single Clip
313-10-0020: D15 X D15 Double Clip
313-10-0021: D10 X D15-Double Clip
313-10-0022: D10 X D10 -Double Clip
313-10-0023: Clip-15 Mm Dia Pipe
313-10-0024: Clip – 28 Dia Pipe
313-10-0046: D18 X D15 – Double Clip
313-10-0083: E – Ring (Part Of Hose Supply)
313-10-0131: Clip Of 50Dia For Strainer Mtg.
313-19-0055: Clip-Fixing Outer Sealer
313-19-0057: Dual Pipe Clamp-Faw
313-19-0062: Clip-Faw
313-19-0074: Metal Button
313-40-0017: Clip – Wiring Harness
313-60-0136: Clip Stay Rod Retainer
313-70-0003: Cable -Tie
313-70-0015: Cable Tie 200Mm
313-70-0016: Cable -Tie
313-70-0139: Button Type Cable Tie
313-70-0140: Cable Tie And Fir Tree-T50Rft7
313-70-0142: Cable Tie(T50M)
313-79-0056: Clip Button-Faw
314-00-0028: Exhaust Silencer – 155 Hp (2516 Hle)
:
:
:
:
314-01-0002: Silencer – 235 Hp
314-01-0003: Silencer (180 Hp)
314-10-0023: Silencer – Bs Iii 180Hp (B Mech)
314-10-0024: Exhaust Silencer Isbe 270Hp
314-10-0030: Exhaust Silencer For 215 Hp Engine
314-10-0031: Silencer_180Hp_880Mm Length
314-10-0043: Muffler In & Out On Same Side (180 Hp)
315-00-0029: M16 Plain Washer – 35 Dia Od
315-00-0175: Washer, Plain
315-00-0178: Pitman Arm Washer – 3118
315-00-0203: Special Washer M14
315-00-0205: Special Washer M22
315-01-0072: Hyva-M8 Star Washer-Internal[31030062]
315-01-0074: Hyva-M12 Plain Washer[31030005]
315-01-0164: Spring Washer M4
315-01-0165: Spring Washer M10
315-01-0166: Plain Washer M5
315-01-0168: Star Washer M5
315-01-0169: Plain Washer M6
315-01-0188: Lock Washer
315-01-0189: Flat Washer
315-09-0058: Lock Washer
315-09-0059: Washer
315-09-0060: Lock Washer-Faw
315-09-0061: Lock Washer-Faw
315-09-0063: Lock Washer- Lower Shaft-Faw
315-09-0065: External Tooth Washer-Faw
315-09-0095: Lock Washer
315-09-0105: Flat Washer
315-10-0001: Mtg Washer
315-10-0026: M10-Alluminium Washer
315-10-0028: Spherical Washer – M22
315-10-0034: M18 Copper Washer
315-10-0055: Washer Wheel Bearing Nut Locking
315-10-0190: Plate Washer
315-19-0057: Thick Adjustment Washer-Faw
315-19-0062: Lock Washer For Shaft-Faw
315-19-0079: Washer-Faw
315-19-0082: Washer-(Gasket) Faw
315-19-0094: Washer
315-19-0098: Crew
315-19-0102: Washer
315-19-0103: Washer, Door Closing W S"
315-19-0104: Washer
315-19-0106: Big Washer
315-20-0033: Spring Washer M12
315-20-0052: Lock Washer External Tooth
315-20-0056: 7/16″"-Single Coil Washer-10.9 Grade"
315-20-0114: Washer Heat Shield
315-20-0196: Washer-Thrust-4930 Tr
315-20-0197: Washer-Thrust-4930 Tr
315-40-0005: Alum Washer 14 Dia
315-40-0006: Alum Washer 16 Dia
315-40-0008: Alum Washer 22 Dia
315-40-0009: Alum Washer 12 Dia
315-40-0218: Alum Washer 26 Dia  Is2016
315-50-0010: M12 Copper Washer
315-50-0011: M14 Copper Washer
315-60-0012: M26 Dowty Washer
315-60-0013: M18 Dowty Washer
315-60-0014: M16 Dowty Washer
316-00-0157: Gate Selection Rod_Lh
:
:
:
:
316-00-0164: Stay Rod
316-00-0180: Gate Selection Rod -Lh
316-00-0181: Link Rod-Cabin To Relay -Rh
316-00-0182: Link Rod Gb End-Rh
316-00-0197: Radius Rod Assy Frame Front Top
316-00-0198: Radius Rod Assy Frame Rear Top
316-00-0199: Radius Rod Assy Frame Front Bottom
316-00-0200: Radius Rod Assy Frame Rear Bottom
316-00-0208: Radius Rod Asm Frame Front Bottom
316-00-0209: Radius Rod Asm Frame Rear  Bottom
316-00-0210: Radius Rod Asm Frame Front Top
316-00-0211: Radius Rod Asm Frame Rear Top
316-00-0223: Reaction Rod For Single Rod Gsl
316-00-0233: Radius Rod Without Bush
316-01-0122: Ront Gear Shift Arm Assy
316-10-0009: Reaction Rod-China Gb
316-10-0014: Reaction Rod – On Gear Box
316-10-0017: Linkage Rod From Cabin To Relay-Lh
316-10-0018: Linkage Rod From Cabin To Relay -Rh
316-10-0021: Link Rod – Relay To Gb – Rh
316-10-0022: Link Rod – Relay To Gb – Lh
316-10-0028: Linkage Rod From Relay To Gear Box -Rh
316-10-0029: Linkage Rod From Relay To Gear Box -Lh
316-10-0031: Stay Rod-Radiator
316-10-0032: Silencer Supt Rod
316-10-0033: Control Rod – Load Sensing Valve
316-10-0035: Rod Hydrolic Cab Tilt
316-10-0050: Link Rod – Cabin To Relay – Lh
316-10-0058: Gear Shift Link Rod-Lh
316-10-0059: Gear Shift Link Rod-Rh
316-10-0083: Gear Shift Link Rod-Lh
316-10-0098: Gear Shift Link Rod Cab End-Rh
316-10-0099: Gear Shift Link Rod-Lh
316-10-0100: Gear Shift Link Rod Gb End-Rh
316-10-0101: Reaction Rod-On Gear Box.
316-10-0104: Gear Shift Link Rod-4930
316-10-0107: Gate Selection Rod-Lh
316-10-0108: Reaction Rod –  On Gear Box
316-10-0126: Link Rod Gb End-Rh
316-10-0129: Gear Shift Link Rod – Rh
316-10-0130: Gear Shift Link Rod – Lh
316-10-0131: Gear Shift Link Rod-Lh
316-10-0132: Gear Shift Link Rod-Rh
316-10-0133: Gear Shifting Link Rod Rh
316-10-0138: Gear Shifting Rod Cabin To Relay End
316-10-0147: Reaction Rod
316-10-0148: Link Rod Gb End-Lh
316-10-0154: Link Rod-Cabin To Relay-Rh
316-10-0155: Link Rod-Relay To Gb-Rh
316-10-0158: Link Rod-Cabin To Relay-Rh
316-10-0159: Push Rod For Accelarator Pedal
316-10-0162: S/A Of Connecting Rod Radiator  Stay Cow
316-10-0207: Gear Shift Link Rod-Lh
316-10-0242: Stay Rod_1
316-10-0244: Stay Rod_2
316-10-0245: Stay Rod_Air Intake
316-10-0251: Link Rod Gb End Rh
316-11-0054: Pipe Lh_Sandhar
316-11-0055: Pipe Rh_Sandhar
316-19-0061: Upper Supporting Rod Assy
316-19-0062: Lower Supporting Rod Assy
316-19-0067: Pull Rod-Faw
:
:
:
:
316-19-0069: First Gear Shaft Pull Rod-Faw
316-19-0070: First Gear Select Pull Rod-Faw
316-19-0071: Sealer Front Outer Panel Rh-Faw
316-19-0072: Cabin Hood Stay Rod-Faw
316-19-0073: Torsion Bar Lh – Cabin Tilting
316-19-0074: Torsion Bar Rh – Cabin Tilting
316-19-0075: Support Rod – Rh
316-19-0080: Sealer Front Outer Panel Lh
316-19-0081: Ler Front Outer Panel Center
316-19-0105: Accelerator Control Rod
316-20-0254: Stay Rod For Rh Ais Mtg Bkt Rec Section
317-01-0020: Connection,Air Intake
317-10-0604: Nut Wing
317-30-0379: Upper Seat Torque Rod Brkt-Unpainted
318-60-0008: 11.00 X 20 X18 Pr Mining Tube
319-60-0008: 11.00 X 20 X18 Pr Mining Flap
321-00-0008: 2″ Fifth Wheel Coupler_28T
321-11-0001: Fifth Wheel Coupler- 2″""
321-11-0002: 5Th Whel Cplr Mrk1-3.5″(Ref.429-01-0000
322-10-0001: Elbow – M18 X M22
322-10-0003: Elbow
322-10-0006: Elbow Assy-M14 Nn X M14 Male
322-10-0008: Elbow M22Xm22
322-10-0010: M26 X M30 Elbow For Vane Pump
322-10-0011: M18Xm22 Elbow Power Cylinder
322-10-0028: Elbow M22 X M26 X 1.5
322-10-0029: M12 X M12 Elbow – Adaptor
323-10-0005: Guide Ramp Lh
323-10-0006: Guide Ramp Rh
323-10-0007: Guide Ramp Lh
323-10-0008: Guide Ramp Rh
323-10-0025: Assy Guide Ramp
323-11-0007: Guide Ram Lh – Ial
323-11-0008: Guide Ram Rh – Ial
324-00-0016: Assy Wiper Blade
324-00-0017: Assy Wiper Arm_Lh
324-00-0018: Assy Wiper Arm Rh(Ref-Cm0012451)
324-00-0019: Assy Wiper Linkages
324-01-0013: Wiper Motor
324-01-0015: Kit Wiper Nozzle (Nozzle + Nut + Washer)
324-09-0005: Relay Wiper – Fuse Box (Ref 310-09-0263)
324-09-0006: Relay  – Fuse Box Flash Apparatus
324-09-0007: Wiper Assy
324-09-0008: Wiper Arm
324-09-0009: Wiper Linkage
324-69-0002: Wiper Blade
325-00-0001: Clutch Booster – Shaanxi
326-00-0003: Clutch Servo Cylinder-Et
326-00-0003: Clutch Booster-Servo
326-00-0006: Servo Cylinder Casing
326-00-0026: Master Cylinder
326-00-0028: Hyd Body_Clutch Servo_326 00 0003
327-00-0008: Reflex Reflector Assy-White
327-00-0009: Reflex Reflector Assy-Amber
327-00-0014: Relex Reflector Assy White
328-00-0041: Front Spring Mtg Bracket
328-00-0043: Shackle Assy
328-19-0021: Suspension Rail Mnl
328-21-0038: Clamp-1-Bell Crank Spring
328-21-0039: Clamp-2-Bell Crank Spring
328-31-0036: Center Bolt-Bell Crank Spring
329-00-0047: Latch Assy With Cylinder
:
:
:
:
329-00-0062: Assy_Lock_Clamp_Bonnet
329-00-0063: Assy Budgetary Lock
329-01-0021: Hydraulic Lock With Cylinder
329-09-0003: Door Lock Barrel Lh
329-09-0012: Kit Lh Door Lock Assy.
329-09-0013: Kit Rh Door Lock Assy.
329-09-0015: Pull Spring
329-19-0001: Window Lifter Assy, Lh-Faw"
329-19-0002: Window Lifter Assy, Rh-Faw"
329-19-0011: Lockup Mechanism Assy  Side Window
329-19-0014: Main Lock Hook Assy,Cabin Seating-Faw"
329-19-0016: Lock Hook
329-19-0018: Door Left Lock
329-19-0019: Door Right Lock
330-09-0004: Right Hinge Assy
330-09-0005: Left Hinge Assy
330-09-0007: Hinge Chain
330-10-0025: Assy Cowl Front Flap Hinge
330-19-0003: Elastic Hinge Side Window -Faw
330-19-0006: Hinge Joint – Cabin
330-19-0009: Kit Position Limiter With Pin
330-19-0010: Lower Spinner Housing
331-00-0020: Sliding Glass – Door -Lh
331-00-0021: Sliding Glass – Door -Rh
331-00-0022: Movable Glass – Door Corner Window – Lh
331-00-0023: Movable Glass – Door Corner Window – Rh
331-00-0024: Fixed Glass- Door Corner Window – Lh
331-00-0025: Fixed Glass- Door Corner Window – Rh
331-00-0026: Movable Glass – Side Window – Lh
331-00-0027: Movable Glass – Side Window – Rh
331-00-0028: Back Window Glass
331-00-0029: Wind Shield Glass-Green Tint
331-09-0001: Wind Shield Glass-Faw(Ref.331-00-0029
331-09-0002: Back Window Glass[Use 331-00-0028]
331-09-0003: Movable Corner Glass(Ref.331-00-0023)
331-09-0033: Sunroof Glass & Lock Mechanical Assy
332-00-0004: Hose Reducer Degree
333-00-0013: Right Angle Terminal For Connector
333-00-0041: 3 Way Male Connector
333-00-0045: Connector For Interface Freq Converter
333-01-0011: Wire Connector For Frequency Converter
333-09-0021: Wire Connector
333-59-0022: Straight Connected Pipe Connector-Adapto
333-59-0023: Straight Connected Pipe Connector-Adapto
333-70-0002: 2 Way Female Socket With 6.3 Male Lucar
333-70-0006: 2 Way Male Socket With 6.3 Female Lucar
333-70-0007: 3 Way Female Socket With 6.3 Male Lucar
335-00-0030: Amw – Front Motif
335-00-0053: Letters 2528
335-70-0001: 4023 Logo
335-70-0005: Motif – 2523
335-70-0006: Motif – Tp
335-70-0008: Motif – Tr
335-70-0009: Motif – 4923
335-70-0010: Motif – 4023
335-70-0011: Motif – 2518
335-70-0012: Motif – Tm
335-70-0013: Motif – 4018
335-70-0014: Motif – Hl
335-70-0016: Motif – 4930
335-70-0022: Logo ( 305 X 180 )
335-70-0023: Tail Door Stickers-For Box Body
:
:
:
:
335-70-0024: Side Board Sticker-For All Tipper Body
335-70-0036: Motiff – 3118
335-70-0040: Motif-2516
335-70-0043: Motif 1618
335-70-0045: Motif- 3518
335-70-0046: Amw Logo
335-70-0047: Amw Emblem
335-70-0049: Motif-3116
336-00-0011: Primary Element – 320 Hp Engine
336-00-0012: Safety Element – 320 Hp Engine
336-00-0021: Element Air Cleaner (Primary) – 180 Hp
336-00-0058: Air Cleaner Assembly For 180 Hp – Bsiii
336-00-0059: Air Cleaner Assembly For 4018 Tr – Bsiii
336-00-0066: Air Cleaner Asy
336-01-0001: Air Cleaner Assy-235 Hp-Tractor & Tipper
336-01-0002: Air Cleaner Assy-180 Hp- 2518Hl
336-01-0003: Pre Cleaner
336-01-0005: Pre Cleaner -235 Hp
336-01-0009: Air Cleaner Assy- 180 Hp- 4018Tr
336-01-0019: Element Air Cleaner (Safety) -180 Hp
336-01-0022: Element Air Cleaner (Safety-235Hp).
336-01-0030: Dust Evaculator
336-01-0031: Sealing Gasket
336-01-0032: Housing Clamp
336-01-0033: Stud Wing Assy
336-01-0034: End Cover
336-01-0035: Sealing Washer
336-01-0036: Wing Nut
336-09-0027: Outside Air Filter-Faw
336-10-0044: Air Filter-Primary_Cab Mounted Ais-Bsiii
336-10-0045: Air Filter Safety_Cab Mounted Ais -Bsiii
336-70-0042: Precleaner-Plastic – Bsiii
337-00-0002: Hood Assembly
337-10-0001: Hood Assembly
337-70-0012: Rain Hood-Plastic – Bsiii
338-00-0018: Brake Assy. – Rear  Forward. Lh
338-00-0019: Brake Assy – Rear  Forward. Rh
338-00-0020: Brake Assy – Rear  Rear Lh
338-00-0021: Brake Assy – Rear  Rear Rh
338-00-0025: Rear Rear Brake Assembly Of Tractor Rh
338-00-0026: Rear Rear Brake Assembly Of Tractor Lh
338-00-0027: Rear Axle Brake Assy – Lh
338-00-0028: Rear Axle Brake Assy – Rh
338-00-0041: S/A Of Lh Brake Assy
338-00-0042: S/A Of Rh Brake Assy
338-00-0063: Brake Assembly Rh
338-00-0064: Brake Assembly Lh
338-01-0039: Hand Brake Assy
338-21-0044: S-Cam-Shaft—Lh
338-21-0045: S-Cam-Shaft—Rh
338-21-0046: Anchor Plate – Lh
338-21-0047: Anchor Plate – Rh
339-30-0003: Brake Drum
339-30-0006: Brake Drum_Hande Axle
342-00-0001: Fuel Sensor – Float Unit
342-00-0011: Speed Sensor Lg953C-000Zt
342-00-0013: Fuel Sensor -Float Unit-400 Lit
342-00-0016: Fuel Sensor Float
342-00-0032: Speedo Sensor-For Zf9S75
342-00-0036: Oil Pressure Sensor_Isbe270
342-00-0038: Coolant Temperature Sensor
342-00-0044: Oil Pressure Sensor_1/8Npt
:
:
:
:
342-00-0048: Temperature Sensor M/S Mvd Make
342-00-0062: Temperature Sensor
342-00-0063: Air Pr. Transducer
342-01-0006: Speedo Meter Sensor – Faw
342-01-0007: Frequency Converter _ Speedo Senser _Faw
342-01-0008: Oil Pressure Sensor-Faw
342-01-0009: Temperature Sensor-Faw
343-01-0012: Lock Knob Lh
343-01-0013: Lock Knob Rh
343-09-0004: Plastic Gasket -Lock Button-Faw
343-09-0005: Knob Lock Set
343-09-0006: Handle Knob
343-70-0019: Gsl Knob 6S
343-70-0020: Sl Knob 9S
343-79-0001: Gear Shift Knob With Zf 9S75  Motif
343-79-0007: Gear Shift Knob With Motiff_6S
344-00-0011: Sub Drivers Seat Assy, With Seat Bkt"
344-00-0045: Assy Driver Seat Harita
344-00-0046: Assy Co Driver Seat Harita
344-00-0050: Assy Head Rest Bush-Active
344-00-0051: Head Rest Bush-Passive
344-00-0052: Control Spring Recl Rh
344-00-0053: Special Bolt
344-00-0054: Toothed Block( Interlock)
344-00-0055: Spring Dowel 4X14
344-00-0056: Seat Base Cushion
344-00-0057: Special Bolt
344-00-0058: Special Bolt
344-00-0059: Pivot Pin
344-00-0060: Assy Slider-Active
344-00-0061: Assy Slider – Passive
344-00-0062: Roller
344-00-0063: Spiral Spring
344-00-0064: Shock Absorber
344-00-0065: .Pring Dowel Pin
344-00-0066: Split Pin 2X25
344-00-0067: Button Bellow
344-00-0068: Special Bolt
344-00-0069: S/B Upholstery Cover-Amw
344-00-0070: B/R Upholstery Cover-Amw
344-00-0071: H/R Upholstery Cover-Amw
344-00-0072: Split Pin 4X32-Web
344-00-0073: Pivot Pin
344-00-0075: Control Spring Lh Recl
344-00-0078: Assy Driver Seat Compl, , Seat Belt & Mt
344-00-0085: Rigid Driver Seat
344-00-0086: Rigid Co Driver Seat
344-09-0016: Headrest Of Driver Seat
345-00-0001: Belt Tensioner
345-00-0002: Tensioning Device-Body Se27
345-00-0003: Tensioning Device-Roller R27
345-00-0004: Tensioner Roller_Metallic
347-01-0006: Fuel Filter (Bsii 235Hp)(165-00-0024)
350-01-0007: Grease Nipple – Straight
353-01-0029: Upper Steel Mudguard
353-19-0021: Mudguard Left – Rear
353-70-0031: Mud Guard_Front_Lh
353-70-0032: Mud Guard_Front_Rh
353-80-0003: Mud Guard – Front Lh(353-70-0031)
353-80-0004: Mud Guard – Front Rh(353-70-0032)
353-80-0007: Side Fender-Lh_4930Tr
353-80-0008: Side Fender Rh_4930Tr
:
:
:
:
353-80-0009: Rear Mud Guard – Lh
353-80-0010: Rear Mud Guard – Rh
353-80-0014: Top Cover-Rear Mudguard
353-80-0015: Mudguard-Lh-Rf Axle – Front Panel
353-80-0016: Mudguard-Lh-Rf Axle – Rear Panel
353-80-0017: Mudguard-Lh-Rr Axle – Front Panel
353-80-0018: Mudguard-Lh-Rr Axle – Rear Panel
353-80-0019: Mudguard-Rh-Rr  Axle Rear Panel
353-80-0020: Mudguard-Rh-Rfaxle Front Panel
353-80-0050: Assy_Fender Lh
353-80-0051: Assy_Fender Rh
354-09-0002: Adhesive Tape Marker
357-09-0015: Wind Tube Cluster -Faw
357-10-0001: 5 Way Connector
357-10-0002: Four Way Connector
357-10-0003: 5 Way Connector
357-10-0004: 4 Way Connector
357-10-0005: 4 Way Connector
357-10-0006: 3 Way Connector M18Xm12(Int)Xm18
357-10-0007: Three Way Connector
357-10-0009: 3 Way Connector – M18 X M18(L) X M22 (L)
357-10-0013: 3 – Way Connector
357-10-0016: 3-Way Connector
357-10-0018: Way Connector – M18Xm14Xm18Xm18
359-02-0000: S/A Of Expansion Joint
362-00-0010: Wide Angle Mirror Assy_Sandhar
362-01-0002: Lh Rear View Mirror
362-01-0003: Rh Rear View Mirror_Faw(Ref 362-01-0011)
362-01-0004: Lhs Lower Mirror_For Faw Rvm(362-01-0010
362-01-0009: Rvm Mirror Assy Lh_Sandhar
362-01-0011: Rvm Mirror Assy Rh_Sandhar
362-01-0012: Rvm Close Proximity_Sandhar
362-09-0015: Inner Rear Mirror-Faw
363-00-0030: Compression Spring
363-00-0031: Modified Gs Selector Spring 1-Zf
363-00-0032: Modified Gs Selector Spring 2-Zf
363-00-0033: Modified G/S Reverse Detent-Zf
363-00-0034: Spring Clutch Pedal
363-00-0080: Spiral Spring
363-00-0083: Parabolic Spring -70Mm
363-00-0088: Accl Pedal Return Spring
363-00-0089: Clutch Pedal Return Spring
363-00-0090: Pressure Spring (Kit Of 15 Springs)
363-00-0113: Accelerator Control Spring
363-01-0076: Spring Seat
363-01-0077: Coil Spring
363-09-0009: Spiral Spring
363-09-0010: Pull Spring-Faw
363-09-0011: Retaining Spring
363-09-0012: Helical Spring
363-09-0013: Return Spring-Faw
363-09-0015: Spring
363-09-0035: Torsion Spring
363-10-0084: Bell Crank Spring
363-20-0079: Spring Clutch Pedal
363-20-0081: Tension Spring
363-20-0082: Clutch Pedal Spring
364-00-0019: Sticker-Clutch Oil Reservoir
364-00-0036: Prismatic Reflector Tape- White-3M India
364-00-0037: Prismatic Reflective Tape- Red_3M India
364-00-0038: Prismatic Reflective Tape-Yellow_3M Indi
364-00-0052: Motif- Rear Cross Member Logo
:
:
:
:
364-00-0056: Sticker-Engine Stop & Warning
364-01-0030: Seal Inner Sticker Lh (Ref 364-09-0012)
364-01-0031: Seal Inner Sticker Rh
364-09-0007: Open Guide Sticker-Cabin Seating Mech.
364-09-0012: Door Seal Inner
364-09-0017: Instu For Triangle Window
364-09-0018: Sticker, Cabin Tilt
364-61-0049: Inner Guard Sealer-Right Door
365-09-0001: Ac Cooler (Evaporator Assy)
366-09-0001: A/C Blower Unit
366-09-0004: Blower_Speed Control Module
367-00-0008: Reed Valve Assy
367-01-0003: Comp. Sv7H15 Yc Head(Ear Mnt)
367-01-0007: Compressor, Refrigerant (Sd7H15Yc) Head
367-09-0001: Ac Compressor -Faw
368-00-0007: Condnser Multiflow Fan Assy
368-01-0005: Receiver Drier Unit
368-09-0001: Ac Condenser
369-09-0001: Receiver Tank
370-00-0007: Refrigerant Hose – Evaporator To Comp.
370-00-0019: Modified Hose Assy Suction
370-00-0020: Rdu Outlet Hose Assy
370-00-0021: Hose Assy Discharge
370-00-0022: Hose Assy Suction
370-01-0001: Refrigerant Hose – Compressor To Condens
370-01-0002: Refrigerant Hose – Condenser To Receiver
370-01-0003: Refrigerant Hose – Receiver Tank To Evap
370-01-0011: D-Hose Assy.
370-01-0012: S-Hose Assy.(370-00-0019)
370-01-0013: R/D Inlet Hose Assy.
370-01-0014: R/D Outlet Hose Assy.(370-00-0020)
370-69-0017: Water Outlet Pipe,Condenser"
371-10-0001: Outrigger Rear – Lh
371-10-0002: Outrigger -Rh
371-10-0019: Outrigger-Front-Rh-Fpm
373-01-0000: Pstg Pipe Ii From Stg Gb_Supp_Rane6*4
373-02-0000: Pstg Pipe Iii From Stg Gb _Supp_Rane 6*4
374-00-0028: Tow Hook Assy
374-19-0006: Cabin Fr. Hood Latch -Faw
374-20-0031: Tow Hook
377-10-0001: Mounting Frame – Condenser
377-10-0003: Mtg Frame – Condenser
380-00-0003: Eaton Pto Kit  – For Eaton 9S
380-00-0004: Kit Pto Eaton – For Eaton 6S
380-00-0008: Gasket – Et 9S
380-00-0009: Driven Gear – Et 9S
380-00-0010: External Clip – Et 9S
380-00-0011: O Ring – Et 9S
380-00-0012: O Ring – Et 9S
380-00-0013: Piston – Et 9S
380-00-0014: Retainer – Et 9S
380-00-0015: Drive Gear – Et 9S
380-00-0016: Needle Roller Bearing – Et 9S
380-00-0017: Centering Ring – Et 9S
380-00-0018: O Ring – Et 9S
380-00-0019: Spring Washer  – Et 9S
380-00-0020: Hex Headed Bolt – Et 9S
380-00-0021: Pto Housing Assy  – Et 9S
380-00-0022: Stud Kit – Et 9S
380-09-0002: 86 Ei Pto-For Eaton  6S
381-00-0172: Hex Bolt-Cab Mtg Omega Clamp, A/F-19″
381-01-0074: Hyva-Hex Bolt M12X75[30870072]
:
:
:
:
381-01-0301: Combinated Flat Head Hex Bolt M8X1.25X25
381-01-0302: Hex Bolt M8X1.25X35
381-01-0303: Hex Bolt M10X1.5X78(28)L
381-01-0314: Combinated Bolt M8X1.25X20(16)L-P8.8
381-09-0110: Bolt-Faw
381-09-0111: Combinated Hex Bolt M8X1.25X20-P8.8
381-09-0113: Combinated Bolt M6X1.25X16
381-09-0114: Combinated Bolt-Faw
381-09-0115: Cross Recess Flat Round Head Screw
381-09-0116: Combinated Screw M5X0.8X10(8)L-P8.8
381-09-0117: Hex Bolt
381-09-0118: Screw-Faw
381-09-0119: Screw
381-10-0058: Special Bolt-M10 X 1.5 X 58.5
381-10-0059: Special Bolt-M10 X 1.5 X 66.0
381-10-0060: Special Bolt- M8 X 1.25 X 35
381-10-0062: Taper Bolt
381-10-0063: 7/16″"-14 Unc-2B 65Mm Length (Half Thre
381-10-0135: 3/8″-16 Unc For Mtg Fulcrum Bkt
381-10-0298: Flanged Bolt With Drilled Hole
381-19-0064: Combination Of Hex Bolt & Lock Washer
381-19-0065: Combination Of Hex Bolt & Lock Washer
381-19-0066: Sink Bolt
381-19-0067: Hex Bolt, Lockwasher & Flat Washer-Faw"
381-19-0070: Cross Sink Screw
381-19-0071: Cable – Bonnet Front  Lock -Cable
381-19-0073: Tapping Screw-Faw
381-19-0075: Eccentric Bolt-Faw
381-19-0090: Protruding Snap Fastners (Bolt)-Faw
381-19-0104: Combinated Screw
381-19-0105: Assembling Bolt
381-19-0106: Bolt
381-19-0108: Hex Screw Rod With Bolt
381-19-0125: Combinated Bolt-Faw
381-19-0126: Combinated Bolt
381-19-0127: Combinated Bolt
381-19-0128: Bolt
381-19-0129: Bolt
381-19-0130: Hex Flange Bolt
381-19-0131: Hex Bolt-Faw
381-19-0132: Combinated Hex Bolt – Is 1364 – M 10 X 1
381-19-0133: Bolt-Faw
381-19-0140: Cross Half Recess Screw
381-19-0141: Combinated Screw M6X1X23(20)L-P8.8
381-19-0142: Combinated Bolt,- Fix Heater"
381-19-0146: Combination Bolt
381-19-0147: Self Tapping Screw M6X24(L)-P8.8
381-19-0149: Csk Screw Self Tapping Screw M5X1X10(8)L
381-19-0151: Combinated Bolt Flat Head M8X1.25X30
381-19-0152: Combinated Bolt M10X1.5X30-P8.8
381-19-0153: Combinated Bolt M6 X 20L
381-19-0154: Combinated Hex Bolt M10X1.5X20-P8.8
381-19-0160: Combinated Screw M8X1.25X35(30)L
381-19-0162: Screw
381-20-0056: Wheel Bolt
381-20-0319: Step Bolt Hinge Mtg
383-00-0002: Straight Hose Suction-15Mm Id X 1100Mm
383-00-0003: Straight Hose Return-10Mmid X 1450Mm
383-60-0006: Straight Hose-9.5Id X100L
383-60-0009: Return Hose Fuel From Fip-9.5Id
383-60-0010: Suction Fuel Hose From Strainer To Fp-9.
383-60-0011: Return Hose -9.5Id From Engine To Fuel T
:
:
:
:
383-60-0018: Suction Hose
383-60-0032: Sunction Hose For Bsiii 180Hp
383-60-0033: Straight Hose For Bsiii 180Hp
384-11-0001: Fan Joint Flange
385-01-0000: S/A Of Front X Member
385-02-0000: Second Front Crossmember
385-03-0000: S/A Of Bogie Crossmember(385-05-0000)
385-04-0000: S/A Of Front Cross Member
385-05-0000: S/A Of Bogie Cross Member
387-01-0000: S/A Of Connecting Rod Rad Stay
387-02-0000: S/A Of Connecting Rod – Rad Stay
388-10-0052: Assy Noise Shield Bottom Lh Rear
388-10-0053: Assy Noise Shield Bottom Lh Front
388-10-0054: Assy Noise Shield Bottom Rh Front
388-70-0001: Noise Shield Bottom – Front
388-70-0002: Noise Shield Bottom – Rear
388-70-0003: Noise Shield Cover Lh
388-70-0004: Noise Shield Cover Rh
388-70-0014: Noise Shield Top Rear
388-70-0037: Rear Side Bottom Noise Shield
388-70-0040: Noise Shield-Bottom Lh-Rear
388-70-0042: Noise Shield-Bottom Rh-Rear
388-70-0048: Noise Shield Rh
388-70-0049: Noise Shield Lh
388-70-0050: Noise Shield Bottom Lh Front
388-70-0051: Noise Shield Bottom Rh Front
388-70-0055: Noise Shield Bottom Rear Lh
388-70-0056: Noise Shield Lh
388-70-0057: Noise Shield Rh_31T Cowl
388-70-0058: Noise Shield Rear
389-10-0003: Crown Wheel & Pinion 6.83
395-00-0001: Assembly Of Middle Berth For Cabins
395-00-0009: Lower Berth Assy
395-01-0031: Upper Berth Assy
395-09-0002: Lower Sleeper Berth Assy
395-09-0003: Upper Sleeper Berth Assy
396-00-0014: Cabin Shell (Mr) -Ced Fm – W/O Roof
396-00-0018-CW: Sr Bare Shell Cab W/O Door, Bumper & Fro
396-00-0018-OR: Sr Bare Shell Cab W/O Door, Bumper & Fr
396-00-0023: Cabin Biw Benchmarking
396-10-0001: Cabin Shell-Std Roof Cabin Fm W/O Trims
396-10-0002: Cabin Shell High Roof Cabin Fm W/O Trims
397-49-0007: Left First Board First Step
397-49-0008: First Footstep  – Rh
397-49-0009: 2Nd Footstep – Left Faw
397-49-0010: 2Nd Footstep – Rh-Faw
399-09-0002: Center Fixture Heat Insulation
399-10-0001: Sub – Driver Seat
3SBRH1100: Tail Door Hinge Assy
400-00-0004: Coupling Flange
400-01-0002: Flange Yoke-Propeller Shaft
403-00-0013: Oil Seperator
403-00-0014: Ir2 Valve(272-00-0032)
403-00-0016: Air Drier With Unloader Valve
403-00-0017: System Protection Valve
403-01-0001: Ecu-24V For Abs
403-01-0002: Modulator Valve For Abs
403-01-0008: Pole Wheel-Front Axle Abs
403-01-0009: Sensor Mounting Sleeve-Front Axle Abs
403-01-0012: Sensor Mounting Bracket – Rear Axle Abs
403-20-0024: Center Link Rod
404-00-0022: Right Sun Visor_8204020-50
:
:
:
:
404-00-0023: Left – Sun Visor_8204015-50
404-00-0036-CW: Door Assy With Trim Lh-Clear White
404-00-0036-GY: Door Assy With Trim Lh-Golden Yellow
404-00-0036-OR: Door Assy With Trim Lh-Post Office Red
404-00-0036-SG: Door Assy With Trim Lh-Silver Grey
404-00-0036-WM: Door Assy With Trim Lh-Wine Maroon
404-00-0037-CW: Door Assy With Trim Rh-Clear White
404-00-0037-GY: Door Assy With Trim Rh Golden Yellow
404-00-0037-OR: Door Assy With Trim Rh-Ofice Red
404-00-0037-SG: Door Assy With Trim Rh-Silver Grey
404-00-0037-WM: Door Assy With Trim Rh-Wine Maroon
404-00-0055: Engine Bonnet
404-01-0034: Upper Grill
404-01-0035: Lower Grill(Ref 215-19-0009 )
404-01-0042: Rear Liner Assy
404-01-0043: Roof Head Liner Assy Rear
404-01-0044: Roof Head Liner Assy Front
404-01-0046: Roof Head Trim
404-09-0001: Kit Central Panel (Panel + Lh/Rh Vent)
404-09-0011: Ash Tray Assy_Faw
404-70-0053: Bezel Lh
404-70-0054: Bezel Rh
404-70-0059: Firewall Rh
404-71-0047: A-Pillar Trim Lh
404-71-0048: A-Pillar Trim Rh
404-71-0049: Side Panel Liner Assy Lh
404-71-0051: Side Trim Front Lh
404-71-0052: Side Trim Front Rh
404-79-0002: Subsidiary Instrument Body-Faw
404-79-0003: Inst.Meter Cluster Cover-Faw
404-79-0004: Sideguard Panel Lh, Instrument Board"
404-79-0005: Limitstop Rail Of Central Curtain
404-79-0006: Left Griller Of Roof(5201043 – Q90)
404-79-0007: Center Griller Of Roof
404-79-0008: Right Griller Of Roof
404-79-0009: Seal Strip Lh Cabin Front Panel
404-79-0010: Seal Strip Rh Cabin Front Panel
405-00-0016: Heater Assy
405-01-0002: Window Outer Grill
405-09-0001: Wind Outlet Grill – Rh
405-09-0002: Wind Outlet Grill – Lh
405-09-0003: Ac Distribution Unit
405-09-0014: Duct, Sub-Drivers Foot"
405-09-0017: Asm Air Distribution Unit W/O Pipe
405-79-0004: Efrost Wind Tube – Lh
405-79-0005: Defrost Wind Tube – Rh
405-79-0006: Windoutlet Transition Tube Lh
405-79-0007: Windoutlet Transition Tube Rh
405-79-0008: Central Wind Duct
405-79-0009: Left Wind Duct
405-79-0010: Right Wind Duct
405-79-0011: Center Duct Foot-Faw
405-79-0012: Wind Outlet Transition Tube B Center
405-79-0013: Foot Blowing Tube -Faw
405-79-0014: Dust Drives Foot
407-00-0019: Fwd Output Companion Flange(8 Holes)
407-00-0026: Without Wheel End 1618 Tp Axle
407-00-0032: Without Wheel End 2516 Cowl R1 Axle
407-00-0033: S/A 3116 Cwl W/O  Wheel End R1 Axle 6.83
407-00-0053: S/A Without Wheel End 2518 Tp 14Mm R1 Ax
407-00-0054: S/A Withoutwheel End 2518Tp 14Mm R2 Axle
407-10-0004: S/A Without Wheel End 2516 Cab R1  Axle
:
:
:
:
407-10-0005: S/A Without Wheel End 2516/3116 Cowl & C
407-11-0007: Rear Rear Axle Casing (Stiffener Ring +
407-20-0002: Slotted Nut M24X1.5 [Alt To 278-20-0012]
407-20-0013: Rear Axle Without Abs
407-29-0020: Front Axle Assy-Non Abs(Faw) 80Mm Leaf
407-31-0008: Drive Housing
408-00-0349: Brace, Fuel Pump(Ns)
408-00-0350: Camshaft (235 Hp)
408-00-0351: Injector (235 Hp)
408-00-0352: Screw,  Hex  Flange(Ns)
408-00-0354: Seal, O Ring(Ns)
408-00-0356: Brace, Fuel Pump(Ns)
408-00-0357: Gasket  Gear  Cover(Ns)
408-00-0358: Cover,  Cear
408-00-0359: Coupling,  Plain  Hose
408-00-0360: Screw,  Hex  Flange(Ns)
408-00-0361: Clip
408-00-0362: Housing,Gear 235 Hp (Ns)
408-00-0363: Clamp,  Hose(Ns)
408-00-0364: Connector,  Male
408-00-0365: Head,  Cylinder(Ns)
408-00-0366: Gasket,  Exhaust  Manifold
408-00-0367: Gear, Fuel Pump(Ns)
408-00-0368: Brace,  Air  Compressor
408-00-0369: Clamp
408-00-0370: Screw(Ns)
408-00-0371: Bracket(Ns)
408-00-0372: Screw,  Hex  Flange(Ns)
408-00-0373: Bracket,  Head  Shield(Ns)
408-00-0374: Key,  Plain  Woodruf(Ns)
408-00-0375: Gasket,  Rectangular(Ns)
408-00-0376: Support,  Alternator
408-00-0377: Plate  Cover(Ns)
408-00-0428: Connection Turbo Oil Drain
408-00-0449: Recon Long Block 180 Hp (Core Return)
408-00-0450: Recon Long Block 235 Hp (Core Return)
408-00-0464: Drain Valve
408-00-0487: Brace, Air Compressor
408-00-0488: Gear, Accessory Drive
408-00-0489: Spacer, Mounting
408-00-0490: Cover, Intake Manifold
408-00-0491: Alternator
408-00-0496: Gasket, Valve Cover
408-00-0497: Tube, Air Fuel Control
408-00-0498: Tappet, Valve
408-00-0499: Cross Head, Valve
408-00-0500: Assembly, Rocker Lever
408-00-0501: Screw, Hex Flange Head Cap
408-00-0502: Cover, Valve
408-00-0503: Screw, Cpt Isolator Cap
408-00-0504: Cap Filler Assy
408-00-0505: Cap Filler
408-00-0506: Seal, O Ring
408-00-0507: Plug, Pipe
408-00-0508: Block, Cylinder
408-00-0509: Stud
408-00-0510: Spacer, Fan Pilot
408-00-0511: Spacer, Mounting
408-00-0514: Seal, Oil
408-00-0515: Exhaust Outlet Tube
408-00-0516: Cover, Rear
408-00-0517: Cover, Gear
:
:
:
:
408-00-0522: Tube, Fuel Supply
408-00-0523: Plug, Threaded
408-00-0524: Screw, Hex Flange Head Cap
408-00-0525: Head, Cylinder Head
408-00-0526: Bushing, Reducing Pipe
408-00-0527: Spacer, Threaded
408-00-0528: Tube, Fuel Drain
408-00-0529: Tube, Fuel Drain
408-00-0530: Pump, Fuel Injection
408-00-0531: Gasket, Cover Plate
408-00-0532: Tube, Fuel Supply
408-00-0533: Seal, O Ring
408-00-0534: Plug, Threaded
408-00-0536: Valve, Inlet
408-00-0537: Retainer, Valve Spring
408-00-0539: Spring Valve
408-00-0540: Plug, Expansion
408-00-0541: Plug, Expansion
408-00-0542: Insert, Valve
408-00-0543: Insert, Valve
408-00-0544: Plug, Expansion
408-00-0545: Plug, Expansion
408-00-0546: Cylinder Head
408-00-0547: Connection, Oil Suction
408-00-0548: Pan, Oil
408-00-0549: Washer, Sealing
408-00-0551: Injector
408-00-0555: Rod, Engine Connecting
408-00-0561: Injector
408-00-0563: Starter Motor
408-00-0564: Turbocharger
408-00-0566: Orifice
408-00-0567: Connection, Water Inlet
408-00-0568: Screw, Hex Flange Head Cap
408-00-0569: Connection, Water Outlet
408-00-0570: Water Pump
408-00-0571: Set Main Bearing
408-00-0572: Sleeve,Salvage
408-00-0573: Bearing,Ball
408-00-0574: Washer,Sealing
408-00-0575: Hose,Flexible
408-00-0576: Seal,Thermostat
408-00-0579: Screw, Hex Flange Head Cap
408-00-0580: Support,Alternator
408-00-0581: Brace,Alternator
408-00-0582: Support,Alternator
408-00-0583: Spacer,Mounting
408-00-0585: Head,Fuel Filter
408-00-0586: Bracket,Filter
408-00-0587: Seal,Rectangular Ring
408-00-0588: Head,Fuel Filter
408-00-0589: Separator,Fuel Water
408-00-0591: Gear Fuel Pump
408-00-0592: Stud
408-00-0593: Elbow,Male Adapter
408-00-0595: Pump,Fuel Injection
408-00-0603: Ring,Oil Piston
408-00-0604: Ring,Compression Piston
408-00-0605: Ring,Compression Piston
408-00-0606: Bushing
408-00-0608: Camshaft
408-00-0609: Screw, Hex Flange Head Cap
:
:
:
:
408-00-0610: Connector,Male
408-00-0611: Clamp,Injector
408-00-0612: Screw, Hex Flange Head Cap
408-00-0613: Injector
408-00-0617: Hose,Flexible
408-00-0618: Valve, Exhaust
408-00-0660: Pulley , Crankshaft – 215 Hp
408-00-0661: Damper , Tuned Vibration – 215Hp
408-00-0663: Venturi Combo Oil Filter – Bsiii
408-00-0664: Belt, V Ribbed – Isbe 230Hp
408-00-0667: Shield,Dust
408-00-0668: Shaft,Idler-Isbe 230Hp
408-00-0669: Pulley,Fan-Isbe 230Hp
408-00-0670: Support,Fan–Isbe 230Hp
408-00-0671: Screw,Hex Flange Head C-Isbe 230Hp
408-00-0672: Breather,Crankcase-Isbe 230Hp
408-00-0673: Seal,O Ring-Isbe 230Hp
408-00-0674: Clamp,Spring Hose-Isbe 230Hp
408-00-0676: Plate,Clamping-Isbe 230Hp
408-00-0677: Screw,Round Head Cap-Isbe 230Hp
408-00-0678: Tube,Breather-Isbe 230Hp
408-00-0681: Screw,Heax Flange Head C-Isbe 230Hp
408-00-0682: Screw,Heax Flange Head C-Isbe 230Hp
408-00-0685: Seal,Oil-Isbe 230Hp
408-00-0688: Tube,Fuel Supply-Isbe 230Hp
408-00-0690: Screw,Studded Flange Ca-Isbe 230Hp
408-00-0691: Adapter,Fuel Connector-Isbe 230Hp
408-00-0692: Screw,Hex Flange Head C-Isbe 230Hp
408-00-0695: Tube,Fuel Drain-Isbe 230Hp
408-00-0697: Valve,Check-Isbe 230Hp
408-00-0698: Washer,Sealing-Isbe 230Hp
408-00-0700: Asher,Sealing-Isbe 230Hp
408-00-0701: Connector,Qck Disconnec-Isbe 230Hp
408-00-0702: Washer,Sealing-Isbe 230Hp
408-00-0703: Clip-Isbe 230Hp
408-00-0705: Flywheel-Isbe 230Hp
408-00-0706: Manifold,Exhaust-Isbe 230Hp
408-00-0716: Set, Piston Ring-Bsiii 215Hp
408-00-0719: Recon Long Block180, 215 & 155 Hp Bs-Iii
408-00-0723: Ecm For Isb 270 Hp Engine
408-00-0726: Screw,Hex Flange Head Cap
408-00-0728: Seal,Oil
408-00-0730: Seal, Rectangular Ring
408-00-0731: Pump,Water
408-00-0732: Nut,Hexagon Flange
408-00-0735: Clamp,Tube
408-00-0736: Gasket,Oil Drain
408-00-0737: Union,Male
408-00-0739: Seal,O Ring
408-00-0740: Clamp, Hose
408-00-0741: Connection,Tur Oil Drain
408-00-0742: Connection,Tur Oil Drain
408-00-0746: Plug,Threaded
408-00-0748: Tappet,Valve
408-00-0749: Dowel,Pin
408-00-0750: Crankshaft,Engine
408-00-0751: Screw,Round Head Cap
408-00-0752: Screw,Hex Flange Head Cap
408-00-0755: Plug,Expansion
408-00-0756: Plug,Expansion
408-00-0757: Plug,Expansion
408-00-0758: Screw,Hex Flange Head
:
:
:
:
408-00-0759: Cap,Main Bearing
408-00-0760: Cap,Main Bearing
408-00-0761: Plug,Expansion
408-00-0762: Hose,Plain
408-00-0764: Seal, O Ring
408-00-0765: Seal,O Ring
408-00-0769: Plug Pipe
408-00-0770: Tube,Cpr Water  Outlet
408-00-0771: Tube,Cpr Water Outle
408-00-0772: Tube,Cpr Water Inlet
408-00-0773: Screw ,Hex Flange Head  Cap
408-00-0774: Screw, Hex Flange Head Cap
408-00-0776: Connector ,Qck Disconnect
408-00-0777: Connector Male
408-00-0779: Seal,O Ring
408-00-0784: Stud,Double End Plain
408-00-0785: Seal,Rectangular Ring
408-00-0786: Brace,Air Compressor
408-00-0788: Nut,Hexagon Flange
408-00-0789: Seal,O Ring
408-00-0790: Flange,Crankshaft
408-00-0791: Screw,Hex Flange Head Cap
408-00-0792: Damper,Vibration
408-00-0794: Thermostat
408-00-0797: Screw,Hex Flange Head Cap
408-00-0798: Screw,Hex Flange Head Cap
408-00-0799: Brace,Alternator
408-00-0800: Support,Fan
408-00-0801: Tube,Fuel Supply
408-00-0802: Tube,Fuel Supply
408-00-0803: Screw,Hex Flange Head Cap
408-00-0804: Filter,Fuel
408-00-0805: Head,Fuel Filter
408-00-0806: Screw,Hex Flange Head Cap
408-00-0808: Screw,Hex Flange Head Cap
408-00-0811: Plug,O Ring
408-00-0812: Seal,O Ring
408-00-0813: Housing,Flywheel
408-00-0816: Fan,Engine
408-00-0819: Gasket,Cover Plate
408-00-0820: Stud,Double End Plain
408-00-0821: Gear,Fuel Pump
408-00-0822: Pump,Fuel
408-00-0823: Plate,Cover
408-00-0825: Tube,Fuel Supply
408-00-0826: Clip
408-00-0828: Connector,Qck Disconnect
408-00-0833: Coupling,Plain Hose
408-00-0834: Plug,Pipe
408-00-0836: Plate,Cover
408-00-0837: Seal,O Ring
408-00-0838: Clamp,V Band
408-00-0839: Pipe,Air Transfer
408-00-0840: Screw,Hex Flange Head Cap
408-00-0841: Tensioner,Belt
408-00-0842: Screw,Hex Flange Head Cap
408-00-0843: Pulley,Idler
408-00-0844: Screw,Hex Flange Head Cap
408-00-0846: Screw,Hex Flange Head Cap
408-00-0848: Screw,Hex Flange Head Cap
408-00-0849: Screw,Round Head Cap
408-00-0850: Housing,Starting Aid
:
:
:
:
408-00-0851: Manifold,Air Intake
408-00-0852: Pipe,Air Transfer
408-00-0853: Screw,Hex Flange Head Cap
408-00-0855: Gasket,Oil Cooler Core
408-00-0856: Gasket,Filter Head
408-00-0857: Screw,Hex Flange Head Cap
408-00-0858: Cooler,Oil
408-00-0860: Valve,Pressure Relief
408-00-0862: Head,Lub Oil Filter
408-00-0863: Cartridge,Lub Oil Filter
408-00-0864: Dipstick
408-00-0865: Pump,Lubricating Oil
408-00-0867: Adapter,Oil Pan
408-00-0868: Tube,Lub Oil Suction
408-00-0869: Isolator,Vibration
408-00-0870: Isolator,Vibration
408-00-0871: Sensor,Pressure
408-00-0872: Switch,Pressure
408-00-0873: Sensor,Temperature
408-00-0874: Sensor,Prs Temperature
408-00-0876: Manifold,Fuel
408-00-0877: Tube,Injector Fuel Supply
408-00-0878: Tube,Injector Fuel Supply
408-00-0879: Support,Camshaft Thrust
408-00-0880: Pin,Piston
408-00-0881: Injector
408-00-0882: Nozzle,Piston Cooling
408-00-0883: Tube,Injector Fuel Supply
408-00-0884: Rod,Engine Connecting
408-00-0885: Piston,Engine
408-00-0886: Gear,Camshaft
408-00-0888: Ring,Speed Indicator
408-00-0889: Connector,Inj Fuel Supply
408-00-0890: Gasket,Cylinder Head
408-00-0893: Seal,Valve Stem
408-00-0899: Gasket,Turbocharger
408-00-0900: Turbocharger
408-00-0901: Rod,Push
408-00-0902: Crosshead,Valve
408-00-0903: Gasket,Rkr Lever Housing
408-00-0904: Housing,Rocker Lever
408-00-0906: Motor,Starting
408-00-0907: Cover,Valve
408-00-0908: Cap,Filler
408-00-0909: Gasket,Valve Cover
408-00-0910: Isolator,Noise
408-00-0911: Connection,Water Inlet
408-00-0912: Connection,Water Outlet
408-00-0913: Harness,Wiring
408-00-0914: Clip,Wire Retaining
408-00-0915: Harness,Wiring
408-00-0916: Connection,Exhaust Outlet
408-00-0917: Gasket,Exhaust Manifold
408-00-0927: Seal,O Ring
408-00-0928: Screw,Socket Head Cap
408-00-0929: Ring,Retaining
408-00-0930: Screw,Hex Flange Head
408-00-0932: Plug,Threaded
408-00-0933: Seal,O Ring
408-00-0934: Plug,Threaded
408-00-0935: Screw,Hex Flange Head Cap
408-00-0937: Washer,Sealing
:
:
:
:
408-00-0938: Nut,Regular Hexagon
408-00-0939: Ring,Retainin
408-00-0940: Seal,O Ring
408-00-0941: Seal,O Ring
408-00-0943: Plug,Threaded
408-00-0944: Seal,O Ring
408-00-0945: Screw,Hex Flange Head Cap
408-00-0946: Screw Hex Flange Head Cap
408-00-0947: Screw,Hex Flange Head
408-00-0948: Clamp,V Band
408-00-0949: Screw,Socket Head Cap
408-00-0950: Screw,Hexagon Head Cap
408-00-0951: Gear,Flywheel Ring
408-00-0952: Bearing,Ball
408-00-0953: Hub,Fan
408-00-0954: Screw,Hex Fla
408-00-0955: Screw, Captive Washer
408-00-0956: Nut,Lock
408-00-0957: Retainer,Fan Hub
408-00-0958: Clamp,V-Band
408-00-0959: Screw,Hex Flange Head Cap
408-00-0961: Screw,Hex Flange Head
408-00-0962: Retainer,Inj Ful Sup
408-00-0963: Dowel,Ring
408-00-0965: Dowel,Ring
408-00-0968: Screw,Socket Head Ca
408-00-0969: Screw,Rkr Lever Adjusting
408-00-0970: Spacer,Mounting
408-00-0971: Crew,Hexagon Head Cap
408-00-0972: Screw,Banjo Connector
408-00-0973: R Lever
408-00-0975: Bearing,Connecting Rod
408-00-0976: Ring,Compression Piston
408-00-0977: Tube,Breather
408-00-0978: Gear,Accessory Drive
408-00-0979: Belt, V Rubber
408-00-0980: Seal,O Ring
408-00-0981: Valve,Pressure Relief
408-00-0983: Tube,Oil Gauge
408-00-0984: Connector,Qck Discon
408-00-0985: Ring,Compression Piston
408-00-0986: Clamp,Injector
408-00-0987: Pstick
408-00-0990: Tube,Injector Fuel Supp
408-00-0993: Bearing,Main
408-00-0994: Bearing,Main
408-00-0996: Bearing,Thrust
408-00-0997: Camshaft
408-00-0998: Screw,Hex Flange Head Cap
408-00-0999: Nut,Regular Hexagon
408-00-1000: Crew,Connecting Rod
408-00-1001: Alternator
408-00-1003: Nut,Hexagon Flange
408-00-1004: Bracket,Lifting
408-00-1005: Gasket,Filler Cap
408-00-1006: Screw,Socket Head Cap
408-00-1007: Stud
408-00-1009: Seal,O Ring
408-00-1011: Seal,O Ring
408-00-1012: I Nsert,Threaded
408-00-1013: Thermostat
408-00-1019: Clip
:
:
:
:
408-00-1020: Ring,Oil Piston
408-00-1021: Bracket,Lifting
408-00-1022: Gasket,Oil Pan
408-00-1023: Gear,Crankshaft
408-00-1026: Compressor,Air
408-00-1027: Head,Cylinder
408-00-1028: Housing,Gear
408-00-1030: Sleeve
408-00-1033: Bushing
408-00-1035: Adapter,Fuel Connector
408-00-1036: Block,Cylinder
408-00-1037: Connection,Tur Oil
408-00-1038: Connector,Qck Disconnec
408-00-1039: .Racket,Etr Cnt Module
408-00-1042: Washer,Spring
408-00-1045: Clip
408-00-1046: Clip
408-00-1047: Spacer,Mounting
408-00-1049: Nut,Tube
408-00-1064: Alternator
408-00-1068: Cover Access Hole
408-00-1069: Gasket
408-00-1073: Injector
408-00-1074: Ring,Compression Piston
408-00-1075: Piston Engine
408-00-1079: Fuel Filter Stratopore (New Recipe)
408-00-1080: Piston, Ring, Inj. Kit – Eot
408-00-1081: Long Block – Eot
408-00-1117: 7M14 Starter Motor
408-01-0003: Gasket, Rear Cover"
408-01-0011: Seal, O-Ring
408-01-0012: Screw, Hex Flan"(Ns)
408-01-0013: Ring, Retaining"
408-01-0014: Screw, Banjo Connector
408-01-0015: Seal Rectangular
408-01-0016: Lever, Rocker"
408-01-0018: Gasket, Flange"
408-01-0019: Pan, Oil"
408-01-0020: Seal, Rectangular"(Ns)
408-01-0021: Gasket, Oil Coo"
408-01-0022: Connector, Male(Ns)
408-01-0023: Housing, Thermostat(Ns)
408-01-0024: Hose, Flexible"
408-01-0025: Gasket, Push Rod"
408-01-0026: Gear, Camshaft"
408-01-0027: Bearing, Ball"
408-01-0028: Head, Fuel Filt"
408-01-0029: Liquid, Gasket"(Ns)
408-01-0030: Pin Piston
408-01-0031: Rocker Assy
408-01-0032: Starter
408-01-0033: Pulley,Fan
408-01-0034: Seal, Oil"
408-01-0035: Pump, Fuel Tran"
408-01-0036: Valve, Bypass"
408-01-0037: Pump, Lubricati"
408-01-0038: Belt,V Ribbed-Engine"
408-01-0039: Bushing
408-01-0040: Compressor Air(Ns)
408-01-0041: Set- Con Rod Bearing
408-01-0042: Set, Main Bearing"(408-00-0571)
408-01-0043: Alternator
:
:
:
:
408-01-0044: Tube, Oil Gauge"
408-01-0045: Dipstick
408-01-0046: Hose, Flexible"
408-01-0047: Gasket, Oil Drai"
408-01-0048: Gasket, Cylinder"
408-01-0049: Rod, Push"
408-01-0050: Pump,Water"
408-01-0051: Set, Piston Ring"
408-01-0052: Head, Fuel Filt"
408-01-0053: Capscrew
408-01-0054: Ring, Retaining"
408-01-0055: Washer, Plain"
408-01-0056: Screw, Connecting Rod Cap"
408-01-0057: Gasket,Turbocha"
408-01-0058: Washer, Flange"(Ns)
408-01-0059: Nut, Hex Flange"
408-01-0060: Seal, O-Ring"
408-01-0061: Seal, Banjo Con"
408-01-0062: Screw, 12 Point"
408-01-0063: Gasket, Exhaust"
408-01-0064: Seal, O-Ring"
408-01-0065: Seal, Rectangul"
408-01-0066: Nut, Hex Flange"(Ns)
408-01-0067: Washer , Sealin"
408-01-0068: Ring Retaining
408-01-0069: Screw Hex Flange Head Cap
408-01-0070: Piston
408-01-0072: Tappet Valve
408-01-0073: Gasket Set Upper
408-01-0074: Gasket Set Lower
408-01-0075: Flywheel 180 Hp
408-01-0077: Engine Fan With Viscous 235Hp
408-01-0079: F/Water Separator
408-01-0081: Lube Filter–Lf3
408-01-0084: Turbocharger-180 Hp
408-01-0087: Clamp 'V' Band
408-01-0088: Tee, Street Pipe – 235Hp Eng"(Ns)
408-01-0089: Cap, Filler"
408-01-0091: Connecting Rod  235Hp
408-01-0092: Nipple Plain Hexagon
408-01-0095: Eal O Ring(Ns)
408-01-0096: Tube Fuel Supply
408-01-0097: Connector Female(Ns)
408-01-0098: Turbocharger – Hx-35W-235 Hp
408-01-0099: Gear Flywheel Ring
408-01-0100: Seal Rectangular Ring(Ns)
408-01-0101: Elbow Mail Adapter
408-01-0102: Gasket Connection
408-01-0103: Gasket Intk Manifold Cover
408-01-0104: Hose Plain
408-01-0105: Gasket Gear Housing
408-01-0106: Screw Banjo Connecter
408-01-0107: Screw Banjo Connecter
408-01-0108: Washer Sealing
408-01-0109: Washer Sealing(Ns)
408-01-0110: Washer Sealing
408-01-0111: Damper Vibration
408-01-0112: Hose Plain
408-01-0113: Hose Flexible
408-01-0115: Washer Sealing
408-01-0116: Screw Banjo Connecter
408-01-0117: Valve Check
:
:
:
:
408-01-0118: Connection Air Intake
408-01-0119: Tube Air Fuel Control(Ns)
408-01-0120: Gasket Valve Cover
408-01-0121: Seal Oil(Ns)(408-00-0685)
408-01-0122: Clamp V Band
408-01-0123: Tube Fuel Supply
408-01-0124: Clamp Hose(Ns)
408-01-0125: Clamp Hose
408-01-0126: Banjo Connector(Ns)
408-01-0127: Hose Straight
408-01-0129: Thermostat
408-01-0130: It Breather Crankcase
408-01-0131: Strainer Fuel
408-01-0132: Tube Breather
408-01-0133: Breather Crankcase
408-01-0134: Fuel Injection Pump – 180Hp
408-01-0135: Manifold, Fuel"
408-01-0138: Tube,Injector Fuel Supply"
408-01-0139: Tube, Injector Fuel Supply"
408-01-0140: Flywheel Housing
408-01-0141: Air Compressor Head
408-01-0144: Seal,Rectangular Ring"
408-01-0146: Clamp,  Tube
408-01-0147: Aplug,Pipe"(Ns)
408-01-0148: Screw, Twelve Point
408-01-0149: Bracket, Lifting"
408-01-0150: Bracket,Lifting"
408-01-0151: Plug,  Threaded"
408-01-0152: Stud M8X1.25X47.98
408-01-0153: Screw, Flat Head Cap(Ns)
408-01-0154: Tube , Injector Fuel Supply"(Ns)
408-01-0155: Tube , Injector Fuel Supply"(Ns)
408-01-0156: Brace, Fuel Pump
408-01-0157: Brace, Fuel Pump
408-01-0158: Bracket,  Belt  Tensioner"
408-01-0159: Support Fan(Ref-262-00-0152)
408-01-0160: Main Bearing  (020)
408-01-0161: Set. Main Bearing
408-01-0162: Screw Hex Flange Head Cap
408-01-0163: Set, Piston Ring
408-01-0165: Plug,Expansion"
408-01-0166: Stud(Ns)
408-01-0167: Nut, Hexagon Flange
408-01-0168: Seal, O Ring"(Ns)
408-01-0169: Dowel,Ring
408-01-0170: Washer, Plain"
408-01-0171: Dowel,Pin
408-01-0172: Nut,Hexagon Flange
408-01-0173: Screw, Hex Flange
408-01-0174: Screw, Hex Flange"
408-01-0175: Screw,  Hex  Flange(Ns)
408-01-0176: Screw,Hex Flange Head Cap"(Ns)
408-01-0177: Cyl.Block 180&235Hp
408-01-0178: Crankshaft Assy 180/235Hp
408-01-0179: Cyl Head 180/235Hp
408-01-0180: F I Pump 235Hp
408-01-0181: Cap Screw(Ns)
408-01-0182: Screw,Hexagon Head Cap"(Ns)
408-01-0183: Screw,Hex Flange Head Cap
408-01-0184: Plug,Expansion"
408-01-0185: Insert, Rocker Lever(Ns)
408-01-0186: Screw, Rkr Lvr Adjust(Ns)
:
:
:
:
408-01-0187: Plug,Expansion"
408-01-0188: Plug,Expansion"
408-01-0189: Plug,Expansion (Ns)
408-01-0190: Screw, Hex Head"
408-01-0191: Bushing
408-01-0192: Screw,  Hex  Flange"
408-01-0193: Screw,Hex Flange Head Cap"(Ns)
408-01-0194: Screw,  Hex  Flange(Ns)
408-01-0196: Key, Plain Woodruf
408-01-0197: Dowel,Ring
408-01-0198: Seal,  Rectangular"
408-01-0199: Screw,  Hex  Flange  Head  Cap"
408-01-0200: Screw,  Banjo  Connector"
408-01-0201: Bushing
408-01-0202: Nut
408-01-0203: Cap, Main Bearing
408-01-0204: Tube, Tur Oil Drain"
408-01-0205: Cover, Gear"(Ns)
408-01-0206: Seal,O Ring"
408-01-0207: Screw,  Hex  Flange"
408-01-0208: Pin,  Timing"
408-01-0209: Insert, Valve
408-01-0210: Sleeve, Salvage"(408-00-0572)
408-01-0211: Plug,Threaded"
408-01-0212: Clamp, Spring Hose"(Ns)
408-01-0213: Bushing
408-01-0214: Guide, Valve Stem
408-01-0215: Guide, Valve Stem
408-01-0216: Dowel,  Pin(Ns)
408-01-0217: Screw, Banjo Connector
408-01-0218: Brace, Fuel Pump
408-01-0219: Stud(Ns)
408-01-0220: Thrust Bearing, Crank Shaft
408-01-0221: Cover,Air Compressor"(Ns)
408-01-0222: Seal, O Ring"
408-01-0223: Plug, Pipe
408-01-0224: Brace, Fuel Pump
408-01-0225: Screw,  Hex  Flange
408-01-0226: Screw,Hex Flange Head Cap
408-01-0227: Screw,Round Head Cap(Ns)
408-01-0228: Screw,Hex Flange Head Cap"(Ns)
408-01-0229: Lever, Rocker"
408-01-0230: Support, Rocker Lever(Ns)
408-01-0231: Gasket, Connection"
408-01-0232: Screw,Hex Flange Head Cap"(Ns)
408-01-0233: Screw,  Hex  Flange(Ns)
408-01-0234: Seal,O Ring"(Ns)
408-01-0236: Plug, Expansion"
408-01-0237: Spacer,Mounting"
408-01-0238: Gasket, Gear Cover"
408-01-0239: Gasket, Fuel Pump
408-01-0240: Damper, Vibration
408-01-0241: Plug,Threaded"
408-01-0242: Spring, Compression"(Ns)
408-01-0243: Manifold, Exhaust"(Ns)
408-01-0244: Screw Hex Flange Head Cap(Ns)
408-01-0245: Gasket,Filter Head(Ns)
408-01-0247: Plunger,Prs Regulator(Ns)
408-01-0248: Connector Tur Oil Drain
408-01-0249: Hose, Plain"
408-01-0250: Pipe,Air Transfer"(Ns)
408-01-0251: Head,Lub Oil Filter"(Ns)
:
:
:
:
408-01-0252: Housing,Timing Pin"(Ns)
408-01-0253: Screw,Hex Flange Head Cap"(Ns)
408-01-0254: Connection, Water(Ns)
408-01-0255: Screw,Hex Flange Head Cap"(Ns)
408-01-0256: Housing, Gear 180Hp (Ns)
408-01-0257: Cover,Intake Manifold"(Ns)
408-01-0258: Washer,  Sealing
408-01-0259: Screw,  Hex  Flange
408-01-0260: Screw,  Hex  Flange
408-01-0261: Screw, Hex Flange"
408-01-0262: Valve, Intake"
408-01-0263: Valve, Exhaust"
408-01-0264: Cover, Rear(Ns)
408-01-0265: Brace, Fuel Pump
408-01-0266: Core,Cooler(Ns)
408-01-0267: Seal, Valve System"
408-01-0268: Switch, Thermo
408-01-0269: Shaft, Rocker Lever(Ns)
408-01-0270: Gasket,  Cover  Plate
408-01-0271: Harness,Wiring"(Ns)
408-01-0273: Plug,  Threaded"
408-01-0274: Gear, Accessory Drive
408-01-0275: Tee,Female Branch
408-01-0276: Screw, Banjo Connector
408-01-0277: Spring,Compression"
408-01-0278: Screw,Flat Head Cap"
408-01-0279: Plate,Cover"(Ns)
408-01-0280: Adapter,Filter Head"(Ns)
408-01-0281: Seal,O Ring"(Ns)
408-01-0282: Spring, Valve"(Ns)
408-01-0283: Support,Camshaft Thrust"
408-01-0284: Plate,Cyl Block Stiffener
408-01-0285: Nut, Heavy Hexagon"
408-01-0286: Cover,Push Rod"
408-01-0287: Valve,  Cover"
408-01-0288: Cover,  Valve"
408-01-0289: Solator,Noise"
408-01-0290: Seal,Grommet"
408-01-0293: 4Ear,  Crankshaft(Ns)
408-01-0294: Crankshaft(Ns)
408-01-0295: Seal,O Ring"
408-01-0296: Camshaft(Ns)
408-01-0298: Stud(Ns)
408-01-0299: Connection,Spacer"(Ns)
408-01-0300: Connector,  Engine"
408-01-0301: Screw Hex Flange Head Cap
408-01-0302: Clutch, Viscous Fan"
408-01-0303: Gear,Fuel Pump"(Ns)
408-01-0304: Retainer, Valve Spring"
408-01-0305: Cyl Block Assly(Ns)
408-01-0307: Crankshaft,Engine
408-01-0308: Crankshaft,Engine
408-01-0310: Hose, Plain"
408-01-0311: Plug  Pipe(Ns)
408-01-0312: Plug,  Pipe
408-01-0313: Tee,  Male  Union"
408-01-0314: Manifold, Fuel"(Ns)
408-01-0315: Tube, Air Fuel Control"
408-01-0316: Tube,Fuel Supply"(Ns)
408-01-0317: Tube ,Fuel Drain"(Ns)
408-01-0318: Tube,Fuel Drain"(Ns)
408-01-0319: Nozzle,Piston Cooling"(Ns)
:
:
:
:
408-01-0320: Bearing, Connecting Rod
408-01-0321: Gasket,Filter"(Ns)
408-01-0322: Tube,Fuel Supply"(Ns)
408-01-0324: Set, Connecting Rod Bearing"
408-01-0325: Conn. Bearing (020)
408-01-0326: Set, Connecting Rod Bearing
408-01-0327: Brace, Fuel Pump
408-01-0328: Set. Main Bearing
408-01-0329: Lube Oil Filter (Bsii 235Hp Cellulose)
408-01-0330: Fuel, Filter Bsii 180 Hp(165-00-0024)
408-01-0331: Hose, Elbow"(Ns)
408-01-0332: Tube,Lube Oil Suction"(Ns)
408-01-0333: Kit, Piston"(Ns)
408-01-0334: Separator Fuel Water (Bsii 180 & 235 Hp)
408-01-0335: Seal O Ring
408-01-0336: Pump, Fuel Transfer"(Ns)
408-01-0337: Brace, Fuel Pump
408-01-0338: Brace, Fuel Pump
408-01-0339: Injector (180 Hp)
408-01-0340: Screw,  Hexagon  Head  Cap(Ns)
408-01-0341: Flywheel
408-01-0342: Connection,Water Outlet"
408-01-0343: Washer,  Plain(Ns)
408-01-0345: Alternator Bracket – Engine
408-01-0346: Spacer Mounting – 180 Hp Engine
408-01-0347: Brace Alternator – 180 Hp Engine(Ns)
408-01-0398: Long Block-180Hp Engine
408-01-0408: Cover,Gear
408-01-0429: Housing,Gear
408-01-0433: Screw,Hex Flange Head Cap
408-01-0445: Connection,Water Outlet
408-01-0469: Gasket,Exhaust Manifold
408-01-0474: Thermostat
408-01-0476: Switch,Pressure
408-01-0478: Tube,Injector Fuel Supply
408-01-0479: Tube,Injector Fuel Supply
408-01-0480: Tube,Fuel Drain
408-01-0483: Gasket,Cylinder Head
408-01-0484: Collet,Valve
408-01-0485: Seal,Valve Stem
408-01-0486: Seal,Valve Stem
408-01-0600: Tube,Oil Gauge
408-01-0619: Alternator Assy.-75 Amp(Ns)
408-01-0620: Alternator Assy.-45 Amp(Ns)
408-01-1091: Set Lower Eng Gasket
408-01-1092: Set Upper Eng Gasket
408-01-1096: Switch Pressure
408-01-1097: Gasket ,Exhaust Manifold
408-01-1098: Cap Filler
408-01-1102: Pump Water
408-01-1103: Tube ,Fuel Drain
408-01-1106: Pump Lubricant Oil
408-01-1109: Piston Engine
408-01-1113: Thermostat
408-11-0080: Fuel Filter–Ff5 (Ref – 165-00-0024)
408-11-0466: Screw Hex Flange Head Cap
408-11-0467: Screw Hex Flange Head Cap
408-11-0473: Rod, Push
408-11-0481: Piston,Engine
408-11-0482: Camshaft
408-31-0472: Manifold_Exhaust
408-40-0462: Ac Condenser – Sanden Vikas
:
:
:
:
408-60-0417: Belt,V Ribbed
408-71-0475: Fan, Engine
409-00-0480: Gasket
409-00-0481: Cable Nat
409-00-0482: Retaining Ring
409-00-0483: Shim
409-00-0484: Shim
409-00-0485: Slot.Pin
409-00-0486: Shim
409-00-0487: Shim
409-00-0488: Washer
409-00-0489: Shim
409-00-0490: Washer
409-00-0491: Retaining Ring
409-00-0492: Conn.Plate
409-00-0493: Shim
409-00-0494: Retaining Ring
409-00-0495: Cable Nat
409-00-0496: Washer
409-00-0497: Retaining Ring
409-00-0498: Gear Shift Fork_Rg_9S 75
409-00-0499: Clutch Body
409-00-0500: Ball Cup
409-00-0501: Reverse Switch – Zf 9S 75
409-00-0502: Pulse Sensor
409-00-0503: Circlip
409-00-0504: Shaft Seal
409-00-0505: Shim
409-00-0506: Washer
409-00-0507: Bush
409-00-0508: Ta.Roll.Bearing
409-00-0509: Output Flange
409-00-0510: Gear Shift Rail
409-00-0511: Pipe
409-00-0512: Synchro.Body (Ref 409-00-0930)
409-00-0513: Needle Cage
409-00-0514: Gear Shift Fork_1+2 Gear_9S 75
409-00-0515: Cover
409-00-0516: Sliding Sleeve
409-00-0517: Ball Joint
409-00-0518: Synchro.Ring
409-00-0519: Gear Shift Fork
409-00-0520: Synchro.Ring
409-00-0521: Planet Gear Set
409-00-0522: Speedo Shaft
409-00-0523: Gear Shift Fork_3+4 Gear_ 9S 75
409-00-0524: Shim
409-00-0525: Ring Gear
409-00-0526: Oil Tube
409-00-0527: Sliding Sleeve
409-00-0528: Locking Sheet-Zf9S
409-00-0529: Needle Cage
409-00-0530: Needle Cage
409-00-0531: G.Shift Detent
409-00-0532: Synchro.Ring
409-00-0533: Gasket Kit _Zf_9S
409-00-0534: Gasket
409-00-0535: Washer
409-00-0536: Needle Cage
409-00-0537: Gasket
409-00-0538: Sun Gear
409-00-0539: Gear Shift Rail
:
:
:
:
409-00-0540: Washer
409-00-0541: Pin
409-00-0542: Clutch Body
409-00-0543: Locking Sheet
409-00-0544: Planet Shaft
409-00-0545: Gasket- Zf 9S75 [Imp]
409-00-0546: Output Flange
409-00-0547: Washer
409-00-0548: Pipe
409-00-0549: Sliding Sleeve
409-00-0550: Ta.Roll.Bearing
409-00-0551: Sliding Sleeve
409-00-0552: Ring Gear Carr.
409-00-0553: Bearing Bush
409-00-0554: Input Shaft_Zf 9S _Len 278 Mm
409-00-0555: Helical Gear
409-00-0556: Ta.Roll.Bearing
409-00-0557: Synchro.Body
409-00-0558: Cover
409-00-0559: Washer
409-00-0560: Planet Carrier
409-00-0561: Slot.Pin
409-00-0562: Washer
409-00-0563: Washer
409-00-0564: Gear Shift Rail
409-00-0565: Pipe
409-00-0566: Ball Joint
409-00-0567: Ball Bearing
409-00-0568: Release Fork
409-00-0569: Oil Dam
409-00-0570: Housing
409-00-0571: Ball Bearing
409-00-0572: Oil Coll.Plate
409-00-0573: Helical Gear
409-00-0574: Washer
409-00-0575: Clutch Body
409-00-0577: Detent Part
409-00-0578: Roller Cage
409-00-0579: Cut-Off Valve
409-00-0580: Oil  Coll Ring-Zf9S
409-00-0581: Housing
409-00-0582: Cylinder
409-00-0583: Cover
409-00-0584: Gear Shift Housing
409-00-0585: Gear Shift Rail
409-00-0586: Washer
409-00-0587: Double Gear
409-00-0588: Washer
409-00-0589: Driver
409-00-0590: Sleeve Carrier
409-00-0591: Speedo.Worm
409-00-0592: G.Shift Finger
409-00-0593: Ta.Roll.Bearing
409-00-0594: Washer
409-00-0595: Neutral Switch – Zf 9S 75
409-00-0596: Helical Gear
409-00-0597: Washer
409-00-0598: Washer
409-00-0599: Layshaft
409-00-0600: Main Shaft
409-00-0601: Input Shaft_Zf 9S _Len 286 Mm
409-00-0602: Helical Gear
:
:
:
:
409-00-0603: Washer
409-00-0604: Gasket
409-00-0605: Oil Dam
409-00-0606: O-Ring
409-00-0607: Gasket
409-00-0608: Washer
409-00-0609: Ball
409-00-0610: Slot.Pin
409-00-0611: Washer
409-00-0612: Helical Gear
409-00-0613: Rev.Idler Gear
409-00-0614: Helical Gear
409-00-0615: Retaining Ring
409-00-0616: O-Ring
409-00-0617: Washer
409-00-0618: Ta.Roll.Bearing
409-00-0619: Compression Spring
409-00-0620: Pressure Part
409-00-0621: Ball Din 5401
409-00-0622: Slot Pin Iso 8752 St
409-00-0623: Sealing Ring-Zf 9 S 75
409-00-0624: Retaining Ring-Zf 9 S 75
409-00-0625: Hexagon Screw Is
409-00-0626: Hexagon Screw-Din 933 Alt8.8 A 3C Ausg.
409-00-0627: Slot Pin-Zf 9 S 75
409-00-0629: Drew Bar
409-00-0630: Comp,Spring
409-00-0631: Compr.Spring
409-00-0632: Shaft Seal Zfn 1
409-00-0633: Hexagon Nut
409-00-0634: Sealing Ring
409-00-0635: Hexagoan Screw
409-00-0636: Screw Plug
409-00-0637: Hexagon Nut Din
409-00-0638: Interm Washer
409-00-0639: Rod Wiper F.A Cfw  88Nbr/Ioi
409-00-0640: Needle Sleeve 25
409-00-0641: Switch
409-00-0642: Hexagonal Nut
409-00-0643: O – Ring
409-00-0644: V-Ring Fa Orbis
409-00-0645: 'Ealing Ring
409-00-0646: Sealing Ring
409-00-0647: Breather
409-00-0648: Ball Joint
409-00-0649: Gasket – Gb
409-00-0650: Ball Pin-Zf9S
409-00-0651: Hexagone Screw
409-00-0652: Protecting Cap-Zf9S
409-00-0653: Blind Rivet
409-00-0654: Detent Plunger-Zf 9 S 75
409-00-0655: Union Screw-Zf
409-00-0657: Hexagon Screw
409-00-0658: Shaft Seal-Zf9S
409-00-0659: Sealing Cap
409-00-0660: Locking Nut
409-00-0661: Housing-Zf9S
409-00-0662: Compr. Spring
409-00-0663: Gear Shift Rail
409-00-0664: Cable Clip
409-00-0665: Ta Roll Bearing
409-00-0666: Sealing Ring
:
:
:
:
409-00-0667: Pipe-Zf9S
409-00-0668: Ball
409-00-0669: Locking Wire
409-00-0671: Pin
409-00-0672: Sealing Ring Din
409-00-0673: Retaining Ring A=2, 50
409-00-0674: Sliding Pad-Zf 9 S 75
409-00-0675: Washer
409-00-0676: Screw Plug
409-00-0677: Compr. Spring
409-00-0678: Retaining Ring
409-00-0679: Retaining Ring
409-00-0680: Screw Plug
409-00-0681: Detent Pin-Zf 9 S 75
409-00-0682: Hexagon Screw Is
409-00-0683: Synchro. Body
409-00-0684: Hexagon Screw
409-00-0685: Hexagon Screw
409-00-0686: Retaining Ring
409-00-0687: Retaining Ring
409-00-0688: O – Ring
409-00-0689: Retaining Ring
409-00-0690: Retaining Ring
409-00-0691: Hexagon Screw
409-00-0692: Retaining Ring
409-00-0693: Retaining Ring
409-00-0694: Retaining Ring
409-00-0695: Retaining Ring
409-00-0696: Retaining Ring
409-00-0697: Retaining Ring
409-00-0698: Hexagon Screw
409-00-0699: Retaining Ring
409-00-0700: Retaining Ring
409-00-0701: Washer
409-00-0702: Retaining Ring
409-00-0703: Washer
409-00-0704: Snap Ring-Zf 9 S 75 Gb
409-00-0705: Retaining Ring
409-00-0706: Retaining Ring
409-00-0707: Retaining Ring
409-00-0708: Retaining Ring
409-00-0709: Protection Cap
409-00-0710: Hex Bolt M8 X 1.5 X 85_Z9S 75
409-00-0711: Hexagon Screw
409-00-0713: Retaining Ring
409-00-0714: Washer
409-00-0715: Cover
409-00-0716: Retaining Ring(0630.531.138)
409-00-0717: Screw Plug Din 9
409-00-0718: Snap Ring
409-00-0719: Washer
409-00-0720: Spring Washer
409-00-0721: Shaft Seal Zfn 1
409-00-0722: Compr. Spring
409-00-0723: Retaining Ring
409-00-0724: Retaining Ring 2
409-00-0725: Retaining Ring-Zf9S
409-00-0726: Retaining Ring-Zf9S
409-00-0727: Ball Sleeve
409-00-0728: Washer
409-00-0729: Retaining 3.20
409-00-0730: Pressure Peice
:
:
:
:
409-00-0731: Flange Packing
409-00-0732: Cylinderrical Pin
409-00-0733: Sealing Ring
409-00-0734: Snap Ring 2.20
409-00-0735: Hexagone Screw
409-00-0736: Slot. Pin
409-00-0737: Washer
409-00-0738: Pipe
409-00-0739: Washer
409-00-0740: Cover-Zf 9 S 75
409-00-0741: Ball Housing
409-00-0742: Sealing Cap-Din 443
409-00-0743: Compr.Spring
409-00-0744: Hexagon Screw
409-00-0745: Retaining Ring 3
409-00-0746: Washer
409-00-0747: Washer
409-00-0748: Washer
409-00-0749: Spring Washer-Zf 9S
409-00-0750: Slot Pin-Zf 9 S 75
409-00-0751: Hexangon Screw
409-00-0752: Retaining Ring-Zf9S
409-00-0753: Sealing Ring
409-00-0755: Cover
409-00-0756: Retaining Ring
409-00-0757: Hexagon Nut-Zf 9 S 75
409-00-0758: Driver
409-00-0759: Screw Plug
409-00-0760: Needle  Roller
409-00-0761: Retaining Ring
409-00-0762: Retaining Ring-Zf9S
409-00-0763: Retaining Ring
409-00-0764: Retaining Ring
409-00-0765: Retaining Ring
409-00-0766: Sealing Ring
409-00-0767: Washer
409-00-0768: Spring Washer
409-00-0771: Gear Shift Lever
409-00-0844: Type Plate
409-00-0845: O – Ring
409-00-0846: Washer 2.05 Mm
409-00-0847: Washer 1.95 Mm
409-00-0848: Washer 1.85 Mm
409-00-0849: Washer 1.75 Mm
409-00-0850: Washer 1.65 Mm
409-00-0851: Washer 1.55 Mm
409-00-0852: Washer 1.45 Mm
409-00-0853: Washer 1.35 Mm
409-00-0854: Washer 1.25 Mm
409-00-0855: Washer 1.15 Mm
409-00-0856: Washer 1.05 Mm
409-00-0857: Washer 0.95 Mm
409-00-0858: Washer 0.75 Mm
409-00-0859: Washer 0.85 Mm
409-00-0860: Washer 0.65 Mm
409-00-0861: Washer 2.35
409-00-0862: Washer 2.25
409-00-0863: Washer 2.15
409-00-0864: Washer 2.05
409-00-0865: Washer 1.95
409-00-0866: Washer 1.85
409-00-0867: Washer 1.75
:
:
:
:
409-00-0869: Washer 1.55
409-00-0870: Washer 1.45
409-00-0871: Washer 1.35
409-00-0873: Retaining Ring 2.85
409-00-0874: Retaining Ring 2.75
409-00-0875: Retaining Ring 2.65
409-00-0876: Retaining Ring 2.55
409-00-0877: Retaining Ring 2.75
409-00-0878: Retaining Ring 2.65
409-00-0879: Retaining Ring 2.55
409-00-0880: Retaining Ring 2.45
409-00-0881: Gear Shift Rail
409-00-0882: Gear Shift Shaft
409-00-0883: Pin
409-00-0884: Gear Shift Shaft
409-00-0885: Gear Shift Lever
409-00-0886: Hexagon Screw Din 933 Alt1O.93Causg.89-0
409-00-0887: Hexagon Nut Din 934 Alt1O A3C Ausg, 87-1
409-00-0889: O-Ring Zfn 744 Acm – 70- 10
409-00-0891: Detent Plungear
409-00-0893: Ball Roller
409-00-0894: Gear Shift Cover
409-00-0897: Washer
409-00-0898: Washer 2.0
409-00-0899: Conn. Part
409-00-0900: Hexagon Nut Din 980 Alt8 A3C Ausg, 87-05
409-00-0901: Hexagon Nut Din 934 Alt8 A3C Ausg, 87-10
409-00-0902: Support Plate
409-00-0904: Housing
409-00-0905: Hexagon Screw
409-00-0906: Snap Ring 1.90 Mm
409-00-0907: Snap Ring 1.80 Mm
409-00-0908: Clutch Body
409-00-0909: Retaining Spacer 2.90 Mm
409-00-0910: Piston
409-00-0911: Sealing Ring
409-00-0912: Spring Washer
409-00-0913: Shaft Seal
409-00-0914: Ring Piece
409-00-0915: Ring Piece
409-00-0917: Hexagon Screw
409-00-0918: 3/16 G.I. Washer
409-00-0919: Cover
409-00-0920: Hexagon Screw
409-00-0921: Wire
409-00-0922: Spring Washer
409-00-0923: Name Plate
409-00-0924: Sealing Cap
409-00-0925: Grooved Stud
409-00-0926: Hexagon Screw
409-00-0927: Synchro.Body (Ref 409-00-0930)
409-00-0928: Helical Gear
409-00-0929: G. Shift Finger
409-00-0930: Synchro.Body
409-00-0931: Ball Joint – Right Hand Thread
409-00-0932: Hexagon Screw – Din 933 Alt8.8 A3C Ausg
409-00-0933: Bush
409-00-0934: Hexagon Bolt
409-00-0935: Detent Plunger
409-00-0936: G. Shift Finger
409-00-0937: Counting Disc
409-01-0026: Compr. Spring(Ref-409-00-0681)
:
:
:
:
409-01-0057: Sealing Ring(Ref.409-00-0654
409-01-0063: Hexagon Screw-Zf9S(Ref.409-00-0711
409-01-0071: Clutch Servo Cylinder
409-01-0073: End With Ball Joint – Drag Link
409-01-0077: O – Ring
409-01-0081: Gasket-Zf 9 S 75(Ref.409-00-0534
409-01-0086: O – Ring-Zf 9 S 75(Ref.409-00-0616
409-01-0093: Ball-Zf (Ref.409-00-0609
409-01-0094: Compr.Spring-Zf 9 S 75(Ref.409-00-0619
409-01-0099: Ta. Roll. Baering-(Ref.409-00-0556
409-01-0106: O – Ring
409-01-0110: Slot Pin-Zf 9 S 75(Ref.409-00-0622
409-01-0111: Slot Pin-Zf 9 S 75(Ref.409-00-0627
409-01-0120: Ball Cup-Zf 9 S 75(Ref.409-00-0500
409-01-0127: Washer-Zf(Ref.409-00-0594
409-01-0181: Shim(Ref.409-00-0489
409-01-0200: Spring Washer(Ref-409-00-0922)
409-01-0206: Hexagon Screw(Ref.409-00-0934
409-01-0210: Slot Pin-Zf9S(Ref.409-00-0610
409-01-0224: Gasket – Zf9S(Ref.409-00-0537
409-01-0232: Slot Pin(409-00-0485)
409-01-0235: Gear Shift Rail(Ref.409-00-0881
409-01-0237: Gear Shift Rail(Ref-409-00-0585)
409-01-0244: Gasket  -Zf9S(Ref.409-00-0604
409-01-0251: Pin
409-01-0256: Gasket – Gb(Ref.409-00-0649
409-01-0274: O-Ring(Ref.409-00-0845
409-01-0276: Oil  Coll Ring-Zf9S(Ref.409-00-0580
409-01-0315: Sleeve Carrier(Ref.409-00-0590
409-01-0317: Needle Cage(Ref.409-00-0536
409-01-0328: Pressure Part(Ref.409-00-0620
409-01-0333: Retaining Ring 3.10(Ref.409-00-0491
409-01-0344: Hexagon Screw
409-01-0347: Pin
409-01-0355: Washer(Ref-409-00-0898)
409-01-0356: V-Ring Fa Orbis(Ref.409-00-0644
409-01-0383: Spring Washer(Ref-409-00-0912)
409-01-0412: Gear Shift Lever
409-01-0424: Washer(Ref.409-00-0746
409-01-0427: Piston(Ref-409-00-0910)
409-01-0436: Rubber Seal -11.90X1.90 Matl
409-01-0437: Rubber Seal -15X2.15 Matl
409-01-0438: Rubber Seal -23.40X11 Matl Nbr Alum
409-01-0439: Rubber Seal -7.40 X 4.45
409-01-0440: Rubber Seal -19.05X25.4X4.3 Matl
409-01-0450: Synchro Body (Ref.409-00-0683)
409-01-0478: Housing
409-01-0479: Clutch  Housing-9S75
410-01-0002: Hose- Master Cyl
410-01-0005: Fr. Supporting Shaft-(Ref 241-19-0022)
410-01-0006: Bush
410-01-0007: Fr Speed Operati
410-01-0008: Fr Speed Option
410-01-0009: Teering Column
410-01-0010: Steering And But
410-01-0011: Steering Column
410-01-0012: Right Steering C
410-01-0021: Pulling Rope
410-01-0022: Lower Grill (Radiator Cover(215-19-0009)
410-01-0023: Trim Pillar,Fron"
410-01-0024: Trim Pillar,Fron"
410-01-0027: Sealer B Front O
:
:
:
:
410-01-0028: Sealer A Front O
410-01-0029: Cabin Hinge Bkt
410-01-0030: Diverter Bracket
410-01-0031: Left Torsion Bar
410-01-0033: Stopping Coil
410-01-0034: Torsion Bar Bush
410-01-0036: Gasket
410-01-0038: Soft Plastic Boa
410-01-0039: Rear Lower Soft
410-01-0040: Rear Lower Soft
410-01-0041: Upper Supporting
410-01-0046: Rear Upper Mudbo Rh
410-01-0047: Rear  Soft Board
410-01-0048: Rear Lower Mudgu Lh
410-01-0049: Engine Board Lh
410-01-0050: Engine Board Rh
410-01-0052: Middle Floor Car
410-01-0053: Right Floor Carpet Assy
410-01-0055: Electro Pump(Ref-303-09-0007)
410-01-0056: Sealing Bush
410-01-0057: Washer Water Box
410-01-0058: Door (Sheet Metal)
410-01-0060: Door Window Slid(Ref-258-69-0025)
410-01-0061: Left Hinge Chain
410-01-0063: Door Hinge
410-01-0065: Metalic High Pressure Pipe
410-01-0066: Rear Curtain Rail-Faw
410-01-0067: Bracket
410-01-0068: Reading Lamp Assy For Driver
410-01-0069: Bolt Shaft-Faw
410-01-0070: Sealer Left Movable Corner Window
410-01-0071: Air Pipe Assy, Air Outlet For Upper Cha
410-01-0072: Upper Sleeper Unit-Faw
410-01-0073: Combinated Bolt
410-01-0074: Gasket
410-01-0075: Insulative Mat Floor-Faw
410-01-0076: Steering Column Bkt
410-01-0077: Sub Drivers Seat Assy
410-01-0079: Rear Bogie  – W/O Leaf Spring
410-01-0080: Clutch Pad Kit
410-09-0081: Clutch Pedal Adj Nut
410-10-0089: Setco Clutch Conversion Kit – Eaton 6S
410-10-0090: Setco Clutch Conversion Kit – Zf 9S
410-20-0088: Setco Clutch Conversion Kit – Eaton 9S
411-00-0061: Gear Integral- Meritor Frwd Rr Axle
411-00-0269: Plug Magnetic- Hsg Drine Hole-4930 Tr
411-00-0270: Ring-Brg Adj-Fin.-4930 Tr
411-00-0271: Pinion-Diff,Fin.-4930 Tr
411-00-0272: Gear-Diff Side,Fin.-4930 Tr
411-00-0275: Fork-Shift,Fin.-4930 Tr
411-00-0276: Fork-Shift- Fin.-4930 Tr
411-00-0277: Bearing-Cup & Cone Lh -Diff-4930 Tr
411-00-0278: Sleev Oil Seal-4930 Tr
411-00-0279: Oil Seal Assy-4930 Tr & 2516 Hl (Common)
411-00-0284: Gear Set – (6.83R)(4930)Rr-4930 Tr
411-00-0290: Thru Shaft Hardware Kit-4930 Tr
411-00-0291: Dif Case Mntng Fastnrs Kit-Ia Shft4930Tr
411-00-0292: Shim Kit- Input Shaft-4930 Tr
411-00-0293: Adjstng Screw Intr Axle Dif.Kit-4930 Tr
411-00-0294: Cover And Hardware Kit-4930 Tr
411-00-0296: Sensor Switch Kit-4930 Tr
411-00-0299: Pinion Cage Mntng Fasteners Kit-4930 Tr
:
:
:
:
411-00-0300: Shift Assy Inter Axle Diff. Kit-4930 Tr
411-00-0301: O'Ring Kit- Input Shaft-4930 Tr
411-00-0303: Shim Kit- Pinion-4930 Tr
411-00-0304: Diff Case Mounting Fasteners Kit-4930 Tr
411-00-0305: Oil Seal And Thrushaft Nut Kit-4930 Tr
411-00-0306: Carrier Mntng Fstnrs  Kit(Fwd)-4930 Tr
411-00-0310: Skit-C1716Thru Shft Asy Mounting-4930Tr
411-00-0311: Skit-C1824 Input Shft Asy Mnting-4930Tr
411-00-0312: Skit-C1825 Carrier & Cap Mounting-4930Tr
411-00-0313: Skit-C1826Covr Drive Pinion Mntng-4930Tr
411-00-0314: Skit-C1829 Thrust Washer Kit-4930 Tr
411-00-0315: Skit-C1830 Diffcase Mntng Fastnrs-4930Tr
411-00-0317: Shift Fork
411-00-0318: Air Shift Chamber Assy
411-00-0322: Shift Housing
411-00-0323: Collar Clutch
411-00-0325: Cup & Cone Diff Bearing-2516 Hl
411-00-0326: Pilot Bearing-2516 Hl
411-00-0328: Plug Breather Hole-2516 Hl
411-00-0329: Adjusting Ring-2516 Hl
411-00-0330: Pinion -Diff-2516 Hl
411-00-0331: Axle Shaft-2516 Hl
411-00-0332: Snap Ring-2516 Hl
411-00-0333: Cone & Cone -Outer Bearing-2516 Hl
411-00-0334: Cone & Cone -Inner Bearing-2516 Hl
411-00-0335: Diff Case & Nest Assy-2516 Hl
411-00-0336: Carrier & Cap Assy-2516 Hl
411-00-0337: Diff Case Assy-2516 Hl
411-00-0338: Companion Flange & Dflctr Asy-2516 Hl
411-00-0339: Drive Gear & Pinion 5.57R Ns-2516 Hl
411-00-0340: Nion Cage Assy-2516 Hl
411-00-0341: Carrier Assy Differntial-2516 Hl
411-00-0342: Axle Housing Assy-2516 Hl
411-00-0343: Spacer Kit -Drive Pinion-2516 Hl
411-00-0344: Diff Spider Kit-2516 Hl
411-00-0345: Oil Seal & Pinion Nut Kit-2516 Hl
411-00-0346: Shim Kit Pinion-2516 Hl
411-00-0347: Thrust Washer Kit-2516 Hl
411-00-0348: Gear Hardware  Kit-2516 Hl
411-00-0349: Diff Cases Hardware Kit-2516 Hl
411-00-0350: Carrier Mounting Fastners  Kit-2516 Hl
411-00-0351: Pinion Cage Hardware Kit-2516 Hl
411-00-0352: Carrier & Cap Hardware Kit-2516 Hl
411-00-0353: Thrust Screw & Jam Nut Kit-2516 Hl
411-00-0354: Housing Assy
411-00-0355: Carrier Assy Differential
411-00-0364: Carrier Asy,Diff, 6.17 Rar, T-180 Rear F
411-00-0367: Axle Hsg Cover Forward Rear
411-00-0368: Axle Hsg Cover Rear Rear
411-01-0000: S/A Of Nylon Pipe-8Mm Od,1390Mm Length
411-01-0002: Nut-Drive Pinion Dr-Meritor Frwd Rr Axle
411-01-0003: Washer Flat- Meritor Frwd Rr Axle
411-01-0004: Oil Seal- Meritor Frwd Rr Axle
411-01-0005: Washer- Meritor Frwd Rr Axle Axle
411-01-0006: Cup & Cone Beari
411-01-0007: O Ring- Meritor Frwd Rr Axle
411-01-0008: Retainer- Input Shaft- Meritor Fwdrraxle
411-01-0009: Thrust Washer- Meritor Frwd Rr Axle
411-01-0010: Pinion Diff Inter Axle- Meritor Frwd Rr
411-01-0011: Thrust Washer- Meritor Frwd Rr Axle
411-01-0012: Cone Bearing- Meritor Frwd Rr Axle
411-01-0013: Silastic Gasket
:
:
:
:
411-01-0014: Plug Filler
411-01-0015: Cover-Pinion Dri
411-01-0017: Washer Flat
411-01-0018: Drive Gear & Pinion Assy – Rf Axle
411-01-0019: Ring Brg Adjk
411-01-0020: Cup & Cone Beari
411-01-0023: Adjusting Screw
411-01-0024: Shift Housing
411-01-0025: Washer Flat
411-01-0026: Washer-Chamber T
411-01-0027: Ball-Shift Fork
411-01-0028: Shift Fork &Yoke Assy
411-01-0029: Washer Flat
411-01-0030: Spring
411-01-0031: Bolt Shift Fork
411-01-0032: Washer
411-01-0033: Spring
411-01-0034: Bearing Cup & Cone
411-01-0035: Oil Seal
411-01-0036: Ring Snap
411-01-0037: Breather Assy
411-01-0038: Plug Drain
411-01-0040: Oil Seal Assy Inner (Ref-212-10-0010)
411-01-0041: Distance Piece
411-01-0042: Oil Seal Ring Ou(Refer P.No. 212-20-0008
411-01-0044: Bushing Anchor P
411-01-0045: Anchor Pin – Brake Shoe
411-01-0046: Retainer Roller (Ref-413-01-0205
411-01-0049: Plug Dust Shield(Ref-412-01-0064
411-01-0051: Cam Shaft Rh(Ref-413-01-0198
411-01-0053: Cam Shaft Lh
411-01-0056: Thrust Washer-Ki
411-01-0058: Gasket
411-01-0060: Cotter Pin Adjus
411-01-0062: Side Gear Inter Axle- Mrtr Frwd Rr Ax
411-01-0063: Diff Case&Nest Assy-Inter Axle Fwdrraxle
411-01-0064: Input Shaft- Meritor Frwd Rr Axle
411-01-0066: Carrier Assy Differential Fwd 6.17R
411-01-0067: Flange Assy (Input)- Meritor Frwd Rr Axl
411-01-0069: Bearing Cage Assy Input Shaft Fwdrraxle
411-01-0070: Bearing- Meritor Frwd Rr Axle
411-01-0074: Collar Clutch- Meritor Frwd Rr Axle
411-01-0075: Spider Diff Inter Axle- Meritor Frwd Rr
411-01-0081: Diff Carrier & Cap Assy – Fwd Rr Axle
411-01-0083: Washer Flat
411-01-0084: Washer Flat
411-01-0085: Cap Screw-Pinion Brg.Cover
411-01-0087: Spacer
411-01-0101: Gear Driven – Helical
411-01-0112: Diff. Case Assy (Fwd Rr & Rear Rr Axle)
411-01-0115: Side Gear Main Diff
411-01-0120: Nut Jam
411-01-0121: Cap Screw
411-01-0124: Chamber Assy Air Shift
411-01-0125: Nut-Shift Fork Bolt
411-01-0126: Washer
411-01-0127: Thru Shaft
411-01-0129: Cage & Cup & Cone Assy Thru Shaft
411-01-0140: Comp.Flange And Deflector Assy-8 Hole
411-01-0141: Washer Flat
411-01-0142: Nut
411-01-0143: Rear Forward (R1) Axle Housing Assy
:
:
:
:
411-01-0147: Axle Shaft Long
411-01-0148: Axle Shaft Short
411-01-0152: Bearing – Inner
411-01-0155: Wheel Hub
411-01-0156: Bearing Cup &Cone Outer
411-01-0158: Seal Assy -Outer (Ref – 212-10-0011)
411-01-0171: Brake Assy- Rear Lh
411-01-0172: Brake Assy- Rear Rh
411-01-0224: Washer-Cam Head-Ref.Kit P.No.285-01-0367
411-01-0229: Spider Assy(With Bush & Seal)
411-01-0230: Bracket Assy- Cam Shaft Lh
411-01-0231: Bracket Assy- Cam Shaft Rh
411-01-0238: Plug-Dust Shield
411-01-0239: Rivet L9 – Mrt
411-01-0247: Rear Brake Lining Kit (8 Pad) 14 Holes
411-01-0258: Bushing-Cam(Ref Kit Part No.285-01-0362)
411-01-0261: Bearing Assy – R1
411-01-0262: Bearing Assy – R1
411-01-0263: Bearing Outer – R1
411-01-0264: Bearing Assy Inner – R1
411-01-0265: Bearing Assy – R1 & R2
411-01-0266: Bearing Assy – R1
411-02-0000: S/A Of Nylon Pipe-8Mm Od,5880Mm Length
411-03-0000: S/A Of Nylon Pipe-8Mm Od,5880Mm Length
411-04-0000: S/A Of Nylon Pipe-8Mm Od,260Mm Length"
411-05-0000: S/A Of Nylon Pipe-8Mm Od,270Mm Length
411-06-0000: S/A Of Nylon Pipe-8Mm Od,1720Mm Length"
411-08-0000: S/A Of Nylon Pipe-8Mm Od,720Mm Length
411-09-0000: S/A Of Nylon Pipe-8Mm Od,100Mm Length
411-10-0000: S/A Of Nylon Pipe-8Mm Od,345Mm Length
411-11-0000: S/A Of Nylon Pipe-8Mm Od,800Mm Length
411-12-0000: S/A Of Nylon Pipe-12Mm Od,270Mm Length"
411-13-0000: S/A Of Nylon Pipe-12Mm Od,830Mm Length
411-14-0000: S/A Of Nylon Pipe-12Mm Od,700Mm Length"
411-15-0000: S/A Of Nylon Pipe-12Mm Od,1140Mm Length
411-16-0000: S/A Of Nylon Pipe-12Mm Od,2800Mm Length
411-17-0000: S/A Of Nylon Pipe-12Mm Od,340Mm Length
411-18-0000: S/A Of Nylon Pipe-12Mm Od,330Mm Length
411-19-0000: S/A Of Nylon Pipe-12Mm Od,1150Mm Length
411-20-0000: S/A Of Nylon Pipe-12Mm Od,1490Mm Length
411-20-0268: Ring Snap-4930 Tr
411-20-0273: Ring-Snap-4930 Tr
411-20-0274: Spider-Diff,Fin.-4930 Tr
411-20-0363: Housing Assy – For Rf Axle (14Mm)
411-21-0000: S/A Of Nylon Pipe-12Mm Od,4260Mm Length
411-22-0000: S/A Of Nylon Pipe-12Mm Od,1100Mm Length
411-23-0000: S/A Of Nylon Pipe-12Mm Od,760Mm Length
411-24-0000: S/A Of Nylon Pipe-12Mm Od,5250Mm Length
411-25-0000: S/A Of Nylon Pipe-12Mm Od,4590Mm Length
411-26-0000: S/A Of Nylon Pipe-12Mm Od,2510Mm Length
411-27-0000: S/A Of Nylon Pipe-12Mm Od,4140Mm Length
411-28-0000: S/A Of Nylon Pipe-12Mm Od,540Mm Length"
411-29-0000: S/A Of Nylon Pipe-12Mm Od,540Mm Length"
411-30-0000: S/A Of Nylon Pipe-12Mm Od,540Mm Length"
411-31-0000: S/A Of Nylon Pipe-12Mm Od,580Mm Length"
411-32-0000: S/A Of Nylon Pipe-12Mm Od
411-33-0000: S/A Of Nylon Pipe-12Mm Od,410Mm Length"
411-34-0000: S/A Of Nylon Pipe-12Mm Od,430Mm Length"
411-35-0000: S/A Of Nylon Pipe-12Mm Od,430Mm Length"
411-36-0000: S/A Of Nylon Pipe-12Mm Od,1100Mm Length
411-37-0000: S/A Of Nylon Pipe-15Mm Od,2980Mm Length
411-38-0000: S/A Of Nylon Pipe-15Mm Od,370Mm Length
:
:
:
:
411-39-0000: S/A Of Nylon Pipe-15Mm Od,1020Mm Length
411-40-0000: S/A Of Nylon Pipe-15Mm Od,2010Mm Length
411-41-0000: S/A Of Nylon Pipe-15Mm Od,940Mm Length
411-42-0000: S/A Of Nylon Pipe-15Mm Od,Mm 580Length
411-43-0000: S/A Of Nylon Pipe-15Mm Od,Mm 530Length
411-44-0000: Air Tube (Air Tank Aux(15L)To H Brk
411-45-0000: S/A Of Nylon Pipe-8 Mm Od
412-00-0170: Brake Assy Lh
412-00-0171: Brake Assy Rh
412-00-0172: Spider Assy(With Bushes & Seal) Abs- Lhs
412-00-0173: Spider Assy(With Bushes & Seal) Abs – Rh
412-00-0174: Brkt Assy -Camshaft
412-00-0175: Brkt Assy -Camshaft
412-00-0176: Knuckle Assy Strg
412-00-0177: Knuckle Assy Strg-Rhs
412-00-0178: Slinger Oil
412-01-0001: K.P.Cap Gasket
412-01-0002: Gasket–220027
412-01-0003: Shims–220031
412-01-0004: Shims–220036
412-01-0005: Shims–220037
412-01-0006: K.P. Oil Seal As Fa,Bfl"
412-01-0007: St Kncl Hub Oil
412-01-0008: Inner Wheel Bearing-Fr Axle Bfl
412-01-0009: Uter Wheel Bearing-Fr Axle Bfl
412-01-0010: Castle Nut Steer
412-01-0012: Jam Nut–220082
412-01-0013: Castle Nut- Tie Rod Arm
412-01-0014: Steering Stop Sc
412-01-0015: Wheel Bolt
412-01-0018: King Pin Cap
412-01-0019: Front Axle Bump Stopper
412-01-0020: Shock Absorber
412-01-0021: Front Brake Lining Kit (8 Pad)
412-01-0023: Bushing Anchor P(413-01-0196)
412-01-0025: Anchor Pin Brake(Ref-413-01-0197)
412-01-0028: Bushing Cam
412-01-0030: Roller Brake Sho
412-01-0033: Taper Thrust Brg
412-01-0034: Camshaft -Lh
412-01-0035: Bracket Assy Cam
412-01-0036: Dust Shield With
412-01-0037: Camshaft Rh
412-01-0038: Bracket Assy Cam
412-01-0039: Dust Shield With
412-01-0044: St Kn Lock Washer Lh
412-01-0046: Brake Drum Front
412-01-0052: Cone & Cup Bearing-Outer – Meritor – Fa
412-01-0053: Cone & Cup Bearing-Inner – Meritor – Fa
412-01-0055: Bushing- Fa,M &"
412-01-0056: Flanged Nut- Fa,M &Fa,B"
412-01-0057: Washer- Fa,M & Fa,B"
412-01-0064: Plug-Dust Shield- Fa,M &Fa,B"
412-01-0066: Key- Steering Arm- Fa,M &Fa,B"
412-01-0069: End Cap- Hub Front Axle- Fa,M &Fa,B"
412-01-0071: Center- Axle Finish- Fa,M &"
412-01-0072: Pin – Steering Knuckle- Fa,M &"
412-01-0074: Arm-Tie Rod Fin- Rh- Fa,M &Fa,B"
412-01-0075: Arm Steering- Fin- Fa,M &Fa,B"
412-01-0078: Hub- Fin- Fa,Meritor"
412-01-0081: Fitting Grease- Fa,M &Fa,B"
412-01-0082: Upper Draw Key- Fa,M & Fa,B"
:
:
:
:
412-01-0083: Lower Draw Key- Fa,M & Fa,B"
412-01-0084: Brake Shoe Lining Assy- Fa,M &Fa,B"
412-01-0086: Knuckle Assy Steering- Rh- Fa,M &"
412-01-0087: Spider Assy-Bushes & Seallh- Fa,M &Fa,B
412-01-0088: Spider Assy-Bushes & Seal Rh- Fa,M &Fa,
412-01-0095: Brake Assembly-Lh- Fa,M &Fa,B"
412-01-0096: Brake Assembly -Rh- Fa,M &Fa,B"
412-01-0097: Wheel Mounting Fastners Kit- Fa,M &Fa,B
412-01-0098: Brake Mounting Fasteners Kit-Fa,M &Fa,B
412-01-0099: Wheel Bearing Adjust Fst Kit-Fa,M&Fa,B"
412-01-0100: Shim Kit- Fa,M &Fa,B"
412-01-0101: Stopper Screw Kit- Fa,M &Fa,B"
412-01-0102: End Cap Fasteners Kit- Fa,M &Fa,B"
412-01-0103: Minor O/H Kit- Fa,M &Fa,B"
412-01-0104: Minor Service Kit- Fa,M &Fa,B"
412-01-0105: Brake Spring Kit- Fa,M &Fa,B"
412-01-0106: Camshaft Repair Kit- Fa,M &Fa,B"
412-01-0109: Bracker Monting Fastener Kit-Fa,M &Fa,B
412-01-0111: Cap Screw- Fa,M &Fa,B"
412-01-0121: Hub Cap Front Axle Faw (Ref 437-01-0027)
412-01-0122: Bearing Outer – Front Axle Faw
412-01-0123: Bearing Inner – Front Axle Faw
412-01-0124: Knuckle Assy Steering- Lh-(412-00-0176)
412-01-0125: Hub – Abs Front Axle
413-00-0235: Axle Housing Assy_2518Hl
413-00-0236: Case Assy-Diff-4930 Tr.
413-00-0237: Bracket Assy- Cam Shaft- Lh-4930 Tr
413-00-0238: Bracket Assy- Cam Shaft- Rh-4930 Tr
413-00-0241: Brake Assy-  Rear Lh-4930 Tr
413-00-0242: Brake Assy-  Rear Rh-4930 Tr
413-00-0246: Carier&Cap Mntng Fastnrs Kit (Rr-4930Tr
413-00-0247: Thrust Washer Kit-4930 Tr
413-00-0275: Carrier Asy, Diff,6.17 Rar, T-150 Rear R
413-01-0002: Cup &Cone- Outer(Ref-411-01-0006)
413-01-0003: Pinion Cage Assy
413-01-0005: Washer Flat
413-01-0006: Cwp Rear 6.17R-A-2-C012
413-01-0007: Pilot Bearing-12
413-01-0008: Retainer Brg
413-01-0009: Ring Lock
413-01-0011: Spacer Kit
413-01-0012: Rear Rear (R2) Axle Housing Assy
413-01-0013: Carrier Assy Differential Rear 6.17R
413-01-0014: Nut-Drive Pinion
413-01-0016: Oil Seal Assy
413-01-0020: Spacer-Kit
413-01-0026: Diff Carrier And Cap Case – Rear Rr Axle
413-01-0036: Diff. Case&Nest Assy-Fwd Rr&Rear Rr Axle
413-01-0040: Side Gear- Diff.(411-01-0115)
413-01-0041: Spider -Diff.
413-01-0042: Pinion – Diff.
413-01-0070: Pinion Diff Fin.
413-01-0194: Brake Shoe Lining Assy
413-01-0196: Bushing- Anchor Pin
413-01-0197: Anchor Pin- Brake Shoe
413-01-0198: Cam Shaft Rh
413-01-0205: Retainer- Roller
413-01-0207: Spider Assy (With Bushes & Seal)
413-01-0208: Gasket- Bracket & Spider
413-01-0213: Fitting Grease
413-01-0219: Dust Sheild- Lh
413-01-0220: Dust Sheild- Rh
:
:
:
:
413-01-0229: Bearing Assy Outer – R2(Ref-411-01-0129)
413-20-0274: Housing Assy – For Rr Axle (14Mm)
415-01-0001: Axle Shaft Lh Ms14-149.5 (24 Splines)
415-01-0002: Drive Head-4018 Tractor
416-00-0004: Fuel Water Separator Isbe 230 -270Hp
417-00-0076: Main Leaf Bogie(1595Mm)
417-00-0077: Second Leaf  Bogie(1571Mm)
417-00-0078: Third Leaf Bogie ( L-1543Mm)
417-00-0079: Fourth Leaf Bogie(1117Mm)
417-00-0080: Fifth Leaf  Bogie(1024Mm)P
417-00-0081: Sixth Leaf Bogie(877Mm)Op
417-00-0082: Seventh Leaf Bogie(753Mm)
417-00-0083: Eighth Leaf Bogie(671Mm)P
417-00-0084: Nineth Leaf Bogie(516Mm)Op
417-00-0085: Tenth Leaf Bogie ( L-392Mm)
417-01-0001: Suspension Shaft-Bogie Susp.
417-01-0002: Bearing Hub-Bogie Susp.
417-01-0003: A-Bracket-Bogie Susp.
417-01-0004: Thrust Board-Bogie Susp.
417-01-0006: Left Cover-Bogie Susp.
417-01-0007: Lock Nut-Bogie Susp. (Ref Ssu0000003)
417-01-0008: Bolt& Group
417-01-0009: Bushing-Bogie Susp.
417-01-0010: Washer Spring
417-01-0011: Hexagon Bolt
417-01-0012: Hexagon Bolt
417-01-0013: M16 Single Coil Washer-P 10.9
417-01-0014: Main & Subsidiary Oil Seal-Bogie Susp
417-01-0015: End Shim-Bogie Susp.
417-01-0016: Grease Fitting-Bogie Susp.
417-01-0017: M14X2X75 Hexagon Bolt
417-01-0018: Lock Washer-Faw
417-01-0019: Nut & Group-Bogie Susp.
417-01-0020: M20X2.5X28-M20X1.5X30 Both Bolt
417-01-0021: Shim
417-01-0022: D6X12Pin
417-01-0023: D16X25Pin
417-01-0024: Protecting Hood-Bogie Susp.
417-01-0025: M8X1.25X18 Hexagon Bolt
417-01-0026: Spring Washer
417-01-0027: Snap Ring-Bogie Susp.
417-01-0028: Welding Assy-Torque Rod
417-01-0029: Torque Rod Bare (W/O Bush And Snap Ring)
417-01-0030: Landscape Orientation Buffer Plate-Bogie
417-01-0031: Thick Hexagon Nut-Bogie
417-01-0032: U-Bolt-Bogie Susp.
417-01-0033: Bracket Seat, Upr. Torque Rod-Bogie Sus
417-01-0034: Plate, Leaf Spring-Bogie Susp."
417-01-0035: Buffer Plate Assy-Bogie Susp.
417-01-0036: Buffer Plate Assy-Bogie Susp.
417-01-0037: M12X1.75X28 Hexagon Bolt
417-01-0038: M12 X 1.5 X 30 Hexagon  Bolt-P 10.9
417-01-0039: Hexagon Bolt
417-01-0040: M14 X 1.5 X 70 Hexagon Bolt-P 10.9
417-01-0042: M18X1.5 X110 Hex Blt-P10.9(R.600-18-3220
417-01-0043: M18X1.5X250Hex.Boltp10.9(Ref-600-18-3500
417-01-0044: Hexagon Bolt
417-01-0045: M18 Single Coil Washer-P 10.9
417-01-0046: M12 X 1.5 Hexagon  Nut-P 10.0
417-01-0047: M14X2 Hexagon Nut
417-01-0048: M18X1.5 Hexagon  Nut-P 10.0
417-01-0049: Spring Assy – Bogie Suspension
:
:
:
:
417-01-0054: Polyurethane Joint-Bogie Susp.
417-01-0069: Bogie Centre Bolt
417-01-0071: Trunion Bracket
417-01-0075: Trunion Assy – Bogie-Dfm
417-01-0087: Tongue Washer
417-01-0088: Trun. Shaft (Int Fit + Mach Keyway)
417-01-0089: Split Nut (Ref Ssu0000003)
417-01-0090: M8X1.25X45 Hex Bolt
417-01-0091: Trunnion Bracket (With Collar – Int Fit)
417-01-0092: Trun. Shaft (W.Int Fit)(Ref 417-01-0088)
417-20-0086: Centre Link Rod_Bogie Suspension
418-01-0016: Rail & Stopper
418-01-0017: Rear Panel Guide Rail
418-41-0018: Center Guide Rail
419-01-0013: Front Curtain Lh
419-01-0014: Front Curtain Rh
419-09-0001: Curtain Assy Lh  Front Side
419-09-0002: Curtain Assy Rh Front Side
419-09-0003: Center Curtain Assy  – Lh
419-09-0004: Center Curtain Assy  – Rh
419-09-0005: Roof Head Liner Assy Rear
419-09-0006: Guiding Rail Lh Frontside Curtail
419-09-0007: Guiding Rail Rh Frontside Curtail
419-09-0008: Front Board- Roof
419-09-0009: Latter Window Blind Guide Rail
419-09-0010: Back Window Curtain Assembly
420-07-0000: S/A Of Suction Pipe – Banjo Type
420-08-0000: S/A Of Return Pipe Banjo Type
421-09-0001: Left Floor Carpet Assy
421-09-0002: Floor Mat,Center-Faw"
421-09-0003: Floor Mat-Rh-Faw
421-69-0017: Floor Mat Avoid Voice Lh
421-69-0018: Floor Mat Avoid Voice Rh
422-00-0004: Chain
422-09-0001: Chain Assy-Faw
422-09-0002: Chain Link
423-09-0003: Universal  Joint Sliding Yoke
423-19-0001: Propellor And Universal Joint Assy
423-19-0002: Spline Shaft
424-00-0069: Suction Hose Hyd.
424-00-0070: Discharge Hose Hyd.
424-00-0071: Pump/Latch Hose Hyd.
424-00-0099: Hyd Delivery/Return Line Hose Assy
424-00-0102: Hydraulic Hose 1B From Pstgb To Reservoi
424-00-0104: Hose(Clean Pipe Side)
424-00-0105: Hose(After To Air Cleaner)
424-01-0008: Hyva-Hose 3/4″Idx1900L,R2,1″Bsp[3330010]
424-01-0009: Hose 3/4″"Id × 1100,R2, 1*3/16″""
424-09-0003: A/C Hose Cooling To A/C Compressor
424-09-0004: Water Hose –  Washer-Faw
424-09-0011: Pipe Master Cylinder
424-09-0015: Hose
424-09-0021: Water Drain Pipe Assy
424-60-0068: Hump Hose
424-70-0078: Pvc Flexible Tube 20Mm Od [5732560002]
424-79-0006: Pressure Pipe  Connector Of Air Pr.
424-79-0007: Air Pressure Pipe To Right Connector Of
425-01-0004-CW: Wind Deflector Rh Clear White
425-01-0004-GY: Wind Deflector Rh Golden Yellow
425-01-0004-OR: Wind Deflector Rh Post Office Red
425-01-0004-P: Wind Deflector Rh Ced
425-01-0004-SG: Wind Deflector Rh Silver Grey
:
:
:
:
425-09-0001-CW: Wind Deflector Lh Clear White
425-09-0001-GY: Wind Deflector Lh Golden Yellow
425-09-0001-P: Wind Deflector Lh Ced
425-09-0001-SG: Wind Deflector Lh Silver Grey
425-09-0001-WM: Wind Deflector Lh Wine Maroon
426-00-0021: Ballata Rear Cowl And Damper Mtg Bkt
426-00-0022: Ballata Front Cowl Mtg Bkt
426-00-0030: Wear Pad Bottom (Forging)
426-01-0019: Side Limit Rubber Pad
426-09-0001: Sunvisor Assy Lh-Faw
426-09-0002: Sunvisor Assy Rh-Faw
426-10-0003: Plate Assy Spring Rear Suspension
426-10-0032: Plummer Block Support Pad For Tag Axle
426-20-0031: Side Wear Pad [Forging]
426-60-0010: Cab Mtg. Rear Pad
426-60-0023: Rubber Pad Hinge Mtg Big
426-60-0024: Rubber Pad Hinge Mtg Small
426-60-0025: Rest Pad Flap Frt
426-60-0033: Balata_Rear_Cowl_And_Damper_Mtg_Bkt – 1
426-60-0042: Balata For Bumper Mtg
426-69-0004: Rubber Pad-Subsidiary Insert Panel-Faw
427-01-0000: Fuel Tank – 400 Ltr.
427-79-0001: Plastic Embeded Nut-Faw
428-01-0000: Front Axle Assy- Abs (Faw)
428-01-0008: Water Proof Vellum
428-01-0010: Seal Film
428-09-0001: Waterproof Film, Smaller-Faw"
428-09-0002: Waterproof Film, Bigger-Faw"
428-09-0003: Waterproof Film-Faw
429-01-0000: Sub Assy -Coupler And Sub Frame Ial
429-02-0000: Subframe – Ial
429-79-0008: Wind Out Transition Tube A Center
429-79-0010: Wind Duct Rh
430-00-0032: First Leaf 90 X 14 X 1940Mm 251000007(31
430-00-0033: Second Leaf 90 X 14 X 2020Mm 251000007(3
430-00-0034: Third Leaf 90 X 14 X 1600Mm 251000007(31
430-00-0035: Fourth Leaf 90 X 14 X 1160Mm 251000007(3
430-00-0036: Fifth Leaf 90 X 13 X 970Mm 251000007(311
430-00-0037: Sixth Leaf 90 X 13 X 820Mm 251000007
430-00-0038: Seventh Leaf 90 X 13 X 690Mm 251000007(3
430-00-0039: Eighth Leaf 90 X 13 X 550Mm 251000007(31
430-00-0040: Ninth  Leaf 90 X 13 X 410Mm 251000007(31
430-00-0041: Tenth  Leaf 90 X 13 X 410Mm 251000007(31
430-00-0051: Front Suspension -9Th Leaf
430-00-0052: Front Suspension -10Th Leaf
430-00-0053: Front Suspension – 11Th Leaf
430-00-0054: Front Suspension – 12Th Leaf
430-00-0055: Front Suspension – 13Th Leaf
430-01-0001: Tenth Leaf90 X 13 X 460Mm–Fr.Spring Ass
430-01-0003: Second Leaf90 X 14 X 2080Mm-Fr.Spring As
430-01-0004: Third Leaf90 X 14 X 1650Mm-Fr.Spring Ass
430-01-0005: Fourth Leaf90 X 14 X 1480Mm-Fr.Spring As
430-01-0006: Fifth Leaf90 X 13 X 1310Mm-Fr.Spring Ass
430-01-0007: Sixth Leaf90 X 13 X 1150Mm-Fr.Spring Ass
430-01-0008: Seventh Leaf90 X 13 X 930Mm-Fr.Spring As
430-01-0009: Eighth Leaf90 X 13 X 710Mm-Fr.Spring Ass
430-01-0010: Nineth Leaf90 X 13 X 530Mm-Fr.Spring Ass
430-01-0011: 90 X 14 X 1650Mm C/C
430-01-0012: Eleventh Leaf90X13X680Mm-Fr Spring Tippe
430-01-0013: Twelth Leaf90X13X570Mm-Fr Spring Tipper
430-01-0014: Thirteenth Leaf90X13X460Mm-Fr Sp Tipper
430-01-0015: Fourteenth Leaf90X13X330Mm-Fr Sp Tipper
:
:
:
:
430-01-0016: Second  Leaf  (90X 14 X1650Mmc/C)
430-01-0017: Third Leaf90X14X1650Mm-Fr Spring Tipper
430-01-0018: Fourth Leaf90X14X1520Mm-Fr Spring Tipper
430-01-0019: Fifth Leaf90X14X1380Mm-Fr Spring Tipper
430-01-0020: Sixth Leaf90X14X1240Mm-Fr Spring Tipper
430-01-0021: Seventh Leaf90X14X1110Mm-Fr Spring Tippe
430-01-0022: Eighth Leaf90X13X1000Mm-Fr Spring Tipper
430-01-0023: Nineth Leaf90X13X890Mm-Fr Spring Tipper
430-01-0024: Main Leaf90X14X1650Mm-Fr Spring Tipper
430-01-0028: Centre Bolt M 12X330 Mm-Fr Spring
430-01-0029: Centre Bolt M 16X154 Mm (20X16)10.9
430-01-0030: Nut M12 X 1.5 Fr Spring
430-01-0031: Nutm 16 X 1.5-Rr Spring
430-01-0059: M16X210L Center Bolt (9+5 Leaf Spring)
430-01-0060: M16X154L Center Bolt (10 Leaf Spring)
431-01-0001: Eleventh Leaf 820Mm
431-01-0002: Twelth Leaf 690Mm
431-01-0003: Thirttenth Leaf 560Mm
431-01-0004: Fourteenth Leaf 430Mm
431-01-0005: Fifteenth Leaf 360Mm
431-01-0006: Second  Leaf  (80X 13 X1600Mmc/C)
431-01-0007: Fourt Leaf 1600Mm
431-01-0008: Fifth Leaf 1470Mm
431-01-0009: Sixth Leaf 1470Mm
431-01-0010: Seventh Leaf 1340Mm
431-01-0011: Eighth Leaf 1210Mm
431-01-0012: Nineth Leaf 1080Mm
431-01-0013: Tenth Leaf 950Mm
431-01-0014: Helper Main Leaf1230Mm
431-01-0015: Helper Second Leaf1230Mm
431-01-0016: Helper Third Leaf 970Mm
431-01-0017: Helper Fourth Leaf 970Mm
431-01-0018: Helper Fifth Leaf 845Mm
431-01-0019: Helper Sixth Leaf 720Mm
431-01-0020: Helper Seventh Leaf 590Mm
431-01-0021: Helper Eigth Leaf 460Mm
431-01-0022: Main Leaf 1600Mm C/C
432-01-0001: Body Assembly ( Machined)
432-01-0002: Rubber Bush
432-01-0003: Polyimide Bush
432-01-0004: Leg Assembly (Machined)
432-01-0005: Assembly Handle
432-01-0006: Mounting Pin
432-01-0007: Wedge
432-01-0008: Jaw
432-01-0009: Spring For Lever (Outer)
432-01-0010: Spring For Lever (Inner)
432-01-0011: Bush
432-01-0012: Lever Assembly
432-01-0013: Adjusting Screw
432-01-0014: Spring For Jaw
432-01-0015: Grip Bush
432-01-0016: Socket Head Bolt (M12 X 2)
432-01-0017: Jaw Pivot Pin
432-01-0018: Handel Pin
432-01-0019: Hexagonal Bolt (M16 X 1.5)
432-01-0020: Castle Nut (M16 X 1.5)
432-01-0022: Washer (For M16 Bolt)
432-01-0023: Split Pin.(Size,Ø5 )"
432-01-0024: Washer (For Handle Pin)
432-01-0025: Castle Nut (For Mounting Pins)
432-01-0026: Washer (For Mounting Pins)
:
:
:
:
432-01-0027: Split Pin.
432-01-0028: Screw (M10)
432-01-0029: Torsional Spring
432-01-0030: Latch (L-Plate)
432-01-0058: Grip Bush_Ial_3 Holes
432-01-0059: 5Th Wheel Sub Assy Kit
433-01-0004: Nut-Ppv
433-01-0012: Ram Assy-Sba
433-01-0013: Cylinder Assembly-Sba
433-01-0014: Non Pressure Plate Assy-Sba
433-01-0015: Seal (Ram)-Sba
433-01-0019: Flange-Sba
433-01-0020: Wind Off Road-Sba
433-01-0021: Slotted Nut-Sba
433-01-0023: Heavy Coil Spring-Sba
433-01-0031: Unloader Valve-Ddu-Ad(Ref-M 311730)
433-01-0033: Silencer Assembly-Ad
433-01-0035: Valve Stop And Spring Retainer-Nrv
433-01-0037: Govenor Plunger-Ad
433-01-0045: Spring Guide-Ppv
433-01-0046: Adjustment Screw -Ppv
433-01-0048: Adjustment Screw-Ad
433-01-0065: O-Ring Retainer-Rl
433-01-0075: Body – Qspv -Ad
433-01-0077: Top Cover  -Ad
433-01-0078: Screw Holder-Ad
433-01-0079: Top Cover-Rv
433-01-0080: Piston-Rv
433-01-0082: Valve Body-Ad
433-01-0085: Cover-Ad
433-01-0090: Top Cover – -Ad
433-01-0095: Body-Rl
433-01-0099: Cartrige Retainer-Ad
433-01-0135: Valve-Dcv(Rfr Higher Agg.)
433-01-0149: Worm-Msl
433-01-0150: Worm Gear-Msl
433-01-0153: Seal Spring-Sba
433-01-0154: Spring-Sba
433-01-0155: Clamp Ring Bolt-Bc
433-01-0156: Clamp Ring Nut-Bc
433-01-0157: Clamp Ring-Bc
433-01-0158: Push Rod Assy-Sba
433-01-0159: Push Rod Assembly-Bc
433-01-0162: Pin-Sba
433-01-0163: Clamp Ring-Sba
433-01-0164: Clamp Ring Bolt-Sba
433-01-0165: Clamp Ring Nut-Sba
433-01-0172: Hexagon Nut-Sba
433-01-0173: Spring Washer-Sba
433-01-0174: Lock Nut-Sba
433-01-0179: Internal Circlip-Rl
433-01-0181: Steel Washer-Alsv
433-01-0197: Kit Exhaust Brake -Eb.
433-01-0198: Kit Slack Adjuster Major-Msl
434-00-0033: Spring
434-00-0034: Flange Pipe
434-00-0035: Tipping Valve 3-Dhmp 3/4″" [34031002]
434-01-0001: Cylinder Fe141-3-3640-001.Hc [01762278K]
434-01-0003: Air Control Valve (Old)
434-01-0006: Hex Head Screw M6*20 – 8.8 [5730840045]
434-01-0014: Air Breather Assy
434-01-0016: Hose  3/4 "" Id X 2050 R2. 1 3/16″
:
:
:
:
434-01-0026: Breather Filter Element
434-01-0027: Return Line Filter Seal Kit
434-01-0028: Return Line Filter Element
435-00-0014: Steering Column Assembly- Rane For 3/4″
435-00-0015: Assy Steering Wheel
435-09-0001: Steering Wheel & Sub Assy
436-00-0328: Control Housing
436-00-0329: Shaft & Lever Assembly – Et 9S
436-00-0330: Wire
436-00-0331: Gasket
436-00-0332: Retainer Ball
436-00-0333: Retainer Ball
436-00-0334: Front Bearing Cover
436-00-0335: Case Assembly – Et 6S
436-00-0336: Cup, Brg
436-00-0337: Cone, Brg"
436-00-0341: Screw Eaton 6S
436-00-0342: Name & Number Plate Eaton 6S
436-00-0345: Speedo Sensor-For Et6S
436-00-0346: Pin Interlock – Et 9S
436-00-0347: Quill Shaft Assy – Et 9S
436-00-0351: Clutch Bell Housing For Eaton 6S Speed
436-01-0002: Front Case – Et 9S
436-01-0003: Lifting Eye – Et 9S
436-01-0004: Spring Washer M10 X2.2Mm – Et 9S
436-01-0005: Screw M10 X 35 – Et 9S
436-01-0006: Dowel 8.0 Dia X 16 – Et 9S
436-01-0007: Bush – Et 9S
436-01-0008: Plunger – Neutral – Et 9S
436-01-0009: Spring Compression – Et 9S
436-01-0010: Gasket – Et 9S
436-01-0011: Cover – Detent – Et 9S
436-01-0012: Spring Washer M8 – Et 9S
436-01-0013: Screw M8 X 14 – Et 9S
436-01-0014: Nut M10 – Et 9S
436-01-0015: Bolt M10 X 55 – Et 9S
436-01-0016: Bolt M10 X 40 – Et 9S
436-01-0017: Pto Cover – Et 9S
436-01-0018: Screw M10 X 20 – Et 9S
436-01-0019: Plug – Et 9S
436-01-0020: Stud M12 X 65 – Et 9S
436-01-0022: Nut M12 Hex S/Lock – Et 9S
436-01-0023: Intermediate Case Assy – Et 9S
436-01-0024: Reverse Switch – Et 9S
436-01-0025: Detent Ball – Et 9S
436-01-0026: Neutral Switch – Et 9S
436-01-0027: Lifting Eye – Et 9S
436-01-0028: Intermediate Housing – Et 9S
436-01-0029: Oil Pump Assy – Et 9S
436-01-0030: Washer M10 X 2Mm – Et 9S
436-01-0031: Bolt M10 X 30 – Et 9S
436-01-0032: Washer – Et 9S
436-01-0033: Oil Strainer Assy – Et 9S
436-01-0034: Dowel 16.0 Dia X 30.5 – Et 9S
436-01-0035: Bush – Et 9S
436-01-0036: O Ring 109.50X3.0 – Et 9S
436-01-0038: Input Shaft – Et 9S
436-01-0039: Bearing – Et 9S
436-01-0040: Graded Spacer Pack – Et 9S
436-01-0041: Circlip – Et 9S
436-01-0043: 2Front Cover – Et 9S
436-01-0044: Oil Seal – Et 9S
:
:
:
:
436-01-0045: Screw M10 X 25 – Et 9S
436-01-0046: Mainshaft Sub Assy – Et 9S
436-01-0047: 1St Gear – Et 9S
436-01-0048: Spacer – Et 9S
436-01-0049: Needle Bearing – Et 9S
436-01-0050: Fixed Hub – Et 9S
436-01-0051: Sliding Sleeve – Et 9S
436-01-0052: Roller – Et 9S
436-01-0053: Spring – Et 9S
436-01-0054: Plunger – Et 9S
436-01-0055: Synchro   Ring – Et 9S
436-01-0056: Synchro Flange – Et 9S
436-01-0057: 2Nd Gear – Et 9S
436-01-0058: Bearing Sleeve – Et 9S
436-01-0059: Circlip Pack – Et 9S
436-01-0060: Rd Gear – Et 9S
436-01-0061: Needle Bearing – Et 9S
436-01-0062: Spacer 4Mm – Et 9S
436-01-0063: Fixed Hub – Et 9S
436-01-0064: Circlip Pack – Et 9S
436-01-0065: Needle Bearing – Et 9S
436-01-0066: Gear – Et 9S
436-01-0067: Fixed Hub – Et 9S
436-01-0068: Sliding Sleeve – Et 9S
436-01-0069: Circlip – Et 9S
436-01-0070: Synchro Flange – Et 9S
436-01-0071: Synchro Flange (Rev) – Et 9S
436-01-0072: Circlip Pack – Et 9S
436-01-0073: Reverse Gear – Et 9S
436-01-0074: Needle Bearing – Et 9S
436-01-0075: Rear Brg. 110X50X32, 13 Rollers1 – Et 9S
436-01-0076: Sealing Ring – Et 9S
436-01-0077: Oil Muff – Et 9S
436-01-0078: Sun Gear – Et 9S
436-01-0079: Retainer – Et 9S
436-01-0080: Screw – Et 9S
436-01-0081: Layshaft Assy – Et 9S
436-01-0082: Bearing Assy – Et 9S
436-01-0083: Circlip Pack – Et 9S
436-01-0084: Spacer 2Mm – Et 9S
436-01-0085: Shim Kit – Et 9S
436-01-0086: Reverse Idler Shaft – Et 9S
436-01-0087: Reverse Idler Gear – Et 9S
436-01-0088: Thrust Washer – Et 9S
436-01-0089: Needle Roller – Et 9S
436-01-0090: Spacer 4Mm – Et 9S
436-01-0092: Selector Block
436-01-0093: Dowel Dia 10.0 X 34.6 – Et 9S
436-01-0094: Shift Fork – Et 9S
436-01-0095: Shift Fork – Et 9S
436-01-0096: Shift Fork – Et 9S
436-01-0097: Selector Key – Et 9S
436-01-0098: Interlock Key – Et 9S
436-01-0099: Selector Shaft – Et 9S
436-01-0100: Location Screw M10 X 23 – Et 9S
436-01-0101: Lrc Assy – Et 9S
436-01-0102: Bolt M10 X 50 – Et 9S
436-01-0103: Lever – Et 9S
436-01-0104: Boot Accordian – Et 9S
436-01-0105: Oil Seal 24X35X7 – Et 9S
436-01-0106: Plug-Expansion – Et 9S
436-01-0107: Detent Plunger – Et 9S
:
:
:
:
436-01-0108: Spring Compression – Et 9S
436-01-0109: Plug – Et 9S
436-01-0110: Circlip – Et 9S
436-01-0111: Spring Retainer – Et 9S
436-01-0112: Spring Compression – Et 9S
436-01-0113: Spring Compression – Et 9S
436-01-0114: Screw – Et 9S
436-01-0115: End Cover – Et 9S
436-01-0117: Washer 1.5Mm – Et 9S
436-01-0118: Socket Head Screw – Et 9S
436-01-0119: Cross Shaft – Et 9S
436-01-0120: Dowel – Et 9S
436-01-0121: Inner Striking Lever – Et 9S
436-01-0122: Breather – Et 6S
436-01-0123: Spring Compression – Et 9S
436-01-0124: Seal – Lrc – Et 9S
436-01-0126: Output Shaft Assy – Et 9S
436-01-0127: Planet Gear – Et 9S
436-01-0128: Planet Spindle – Et 9S
436-01-0129: Bearing Assy – Et 9S
436-01-0130: Screw M6 X 10 – Et 9S
436-01-0131: Thrust Washer 1.5Mm – Et 9S
436-01-0134: O Ring Dia 34.5 – Et 9S
436-01-0135: O Ring Dia 24.5 – Et 9S
436-01-0136: Piston Range Cylinder – Et 9S
436-01-0137: O Ring – Et 9S
436-01-0138: O Ring – Et 9S
436-01-0139: Nut M16 X 2 – Et 9S
436-01-0140: O Ring – Et 9S
436-01-0141: Cylinder – Range – Et 9S
436-01-0142: Bolt M10 X  55  – Et 9S
436-01-0143: Speedo Sensor – Et 9S
436-01-0144: Bearing – Et 9S
436-01-0145: Rear Cover Oil Seal – Et 9S
436-01-0146: Oil Seal – Et 9S/6S Sd
436-01-0147: Bolt M10 X 100 – Et 9S
436-01-0148: Screw M10 X 100Mm – Et 9S
436-01-0149: Coupling Flange – Et 9S
436-01-0150: Nut M19 – Et 9S/6S Sd
436-01-0151: Rear Cover – Elec. Spe – Et 9S
436-01-0152: Speedo Drive Gear – Et 9S
436-01-0153: Nut M10 – Et 9S
436-01-0154: Rear Case – Et 9S
436-01-0156: Spacer 5.5 Thick – Et 9S
436-01-0157: Circlip – 2.5 Thick – Et 9S
436-01-0158: Synchro   Flange – Et 9S
436-01-0159: Reaction Plate – Et 9S
436-01-0160: Screw M8 X 20Mm – Et 9S
436-01-0161: Reaction Plate – Et 9S
436-01-0162: Synchro   Ring – Et 9S
436-01-0163: Circlip – Et 9S
436-01-0164: Circlip – Int/L Plain – Et 9S
436-01-0165: Ball Bearing 75X95X10 – Et 9S
436-01-0166: Fixed Hub – Et 9S
436-01-0167: Roller – Et 9S
436-01-0168: Sliding Sleeve – Et 9S
436-01-0169: Circlip – Et 9S
436-01-0170: Annulus – Et 9S
436-01-0171: Circlip – Et 9S
436-01-0172: Synchro Flange – Et 9S
436-01-0173: Hi-Lo Shift Fork – Et 9S
436-01-0174: Hi-Lo Shift Rod – Et 9S
:
:
:
:
436-01-0175: Dowel 8,0 Dia X 40Mm – Et 9S
436-01-0176: Air Filter Regulator – Et 9S
436-01-0177: Straight Adaptor – Et 9S
436-01-0178: Pipe Plug – Et 9S
436-01-0179: Tubing – Et 9S
436-01-0180: Mounting Bracket – Et 9S
436-01-0181: Torx Screw – Et 9S
436-01-0182: Range Valve – Et 9S
436-01-0183: Swivel Elbow Adaptor – Et 9S
436-01-0185: Clutch Housing – Et 9S
436-01-0186: Bushing – Et 9S/6S
436-01-0193: Nipple – Et 9S
436-01-0194: Cover Plate – Et 9S
436-01-0195: Yoke Clutch
436-01-0198: Pin (Et Gb 6S)
436-01-0199: Pto Cover – Et 6S
436-01-0200: Pipe Plug – Et 6S
436-01-0201: Bushing – Et 6S
436-01-0202: Key – Et 6S
436-01-0203: Screw (Et Gb 6S)
436-01-0204: Bracket (Et Gb 6S)
436-01-0205: Stud (Et Gb 6S)
436-01-0206: Washer – Et 6S
436-01-0207: Screw (Et Gb 6S)
436-01-0208: Screw (Et Gb 6S)
436-01-0209: Bearing Cone / Rear Cs – Et 6S
436-01-0210: Bearing Cup / Rear Cs – Et 6S
436-01-0211: Bearing Cup / Input Shaft – Et 6S
436-01-0212: Bearing Cone – Et 6S6S)
436-01-0213: Bearing Cup / Mainshaft – Et 6S
436-01-0214: Bearing Cone / Input Shaft – Et 6S
436-01-0215: Bearing Cone / Front Cs – Et 6S
436-01-0216: Bearing Cup / Front Cs – Et 6S
436-01-0218: Shift Bar Housing – Et 6S
436-01-0219: Oil Seal – Et 6S
436-01-0220: Bushing – Et 6S
436-01-0221: Capscrew – Et 6S
436-01-0222: Gasket – Et 6S
436-01-0223: Shim (0.102) – Et 6S
436-01-0224: Shim   (0.178) – Et 6S
436-01-0225: Shim   (0.254) – Et 6S
436-01-0226: Shim   (0.508) – Et 6S
436-01-0227: Reverse Idler Shaft – Et 6S
436-01-0228: Bearing / Reverse Idler Gear – Et 6S
436-01-0229: Spacer – Et 6S
436-01-0230: Plug – Et 6S
436-01-0231: Shim (0.102) – Et 6S
436-01-0232: Shim (0.178) – Et 6S
436-01-0233: Shim (0.254) – Et 6S
436-01-0234: Shim (0.508) – Et 6S
436-01-0235: Snap Ring – Et 6S
436-01-0236: Washer – Et 6S
436-01-0237: Bearing / 2Nd Gear – Et 6S
436-01-0238: Snap Ring – Et 6S
436-01-0239: Washer (Et Gb 6S)
436-01-0240: Bearing / 3Rd Gear – Et 6S
436-01-0241: Snap Ring – Et 6S
436-01-0242: Washer – Et 6S
436-01-0243: Snap Ring – Et 6S
436-01-0244: Bearing / 5Th Gear – Et 6S
436-01-0245: Drive Gear – Countershaft – Et 6S
436-01-0246: Snap Ring – Et 6S
:
:
:
:
436-01-0247: Shift Bar Retainer (Et Gb 6S)
436-01-0248: Spring – Et 6S
436-01-0249: Yoke Assy 1St / 2Nd – Et 6S
436-01-0250: Shift Block1St / 2Nd – Et 6S
436-01-0251: Yoke Reverse – Et 6S
436-01-0252: Shift Finger – Et 6S
436-01-0253: Washer – Et 6S
436-01-0254: Plunger – Et 6S
436-01-0255: Washer – Et 6S
436-01-0256: Shift Block Reverse – Et 6S
436-01-0257: Control Housing Assy – Et 6S
436-01-0258: Boot – Et 6S
436-01-0259: Oil Seal – Et 6S
436-01-0260: Bearing / Reverse Gear – Et 6S
436-01-0261: Oil Seal – Et 6S
436-01-0262: Gasket – Et 6S
436-01-0263: Shim (1.016) – Et 6S
436-01-0264: Shim (1.016) – Et 6S
436-01-0265: Hift Bar Retainer (Et Gb 6S)
436-01-0266: Input Shaft – Et 6S
436-01-0267: Synchronizer Cup 1St / 2Nd – Et 6S
436-01-0268: Synchronizer Cup 3Rd / 4Th – Et 6S
436-01-0269: Synchronizer Cup 5Th / 6Th – Et 6S
436-01-0270: Mainshaft – Et 6S
436-01-0271: Yoke Bar 3Rd / 4Th – Et 6S
436-01-0272: Yoke Bar 5Th / 6Th – Et 6S
436-01-0273: Sliding Clutch Reverse – Et 6S
436-01-0274: Clutch Hub Reverse – Et 6S
436-01-0275: Clutch Hub 3Rd / 4Th – Et 6S
436-01-0276: Clutch Hub 5Th / 6Th – Et 6S
436-01-0277: 5Th Gear – Mainshaft – Et 6S
436-01-0278: 5Th Gear – Countershaft – Et 6S
436-01-0279: Reverse Gear – Mainshaft
436-01-0280: Washer – Et 6S
436-01-0281: C/S Rear Brg Cover – Et 6S
436-01-0282: Gasket – Et 6S
436-01-0283: Yoke Bar Reverse – Et 6S
436-01-0284: 1St Gear – Mainshaft – Et 6S
436-01-0285: 2Nd Gear – Mainshaft – Et 6S
436-01-0286: Countershaft – Et 6S
436-01-0287: 3Rd Gear – Countershaft – Et 6S
436-01-0288: 3Rd Gear – Mainshaft – Et 6S
436-01-0289: 4Th Gear – Countershaft – Et 6S
436-01-0290: 4Th Gear – Mainshaft – Et 6S
436-01-0291: Reverse Idler Gear
436-01-0292: Yoke Bar 1St / 2Nd – Et 6S
436-01-0293: Nut – Et 6S
436-01-0294: Rear Brg Cover – Et 6S
436-01-0295: Spring – Et 6S
436-01-0296: Case Assy – Et 6S
436-01-0297: Speedo Drive Gear (Et Gb 6S)
436-01-0298: Bearing Cone / Mainshaft – Et 6S
436-01-0299: Gasket
436-01-0300: Spring – Et 6S
436-01-0301: Spring – Et 6S
436-01-0302: Snap Ring – Et 6S
436-01-0303: Reverse Switch – Et 6S
436-01-0304: Neutral Switch – Et 6S
436-01-0305: Cover – Et 6S
436-01-0306: Steel Ball – Et 6S
436-01-0307: Steel Ball – Et 6S
436-01-0309: Plug – Et 6S
:
:
:
:
436-01-0310: Pin – Et 6S
436-01-0311: Pin – Et 6S
436-01-0312: Nut – Et 6S
436-01-0313: Synchronizer Assy 1St / 2Nd – Et 6S
436-01-0314: Synchronizer Assy 3Rd / 4Th – Et 6S
436-01-0315: Synchronizer Assy 5Th / 6Th – Et 6S
436-01-0316: Yoke Assy 5Th / 6Th – Et 6S
436-01-0317: Yoke Assy 3Nd / 4Th – Et 6S
436-01-0319: Shaft & Lever Assy – Et 6S
436-01-0320: Yoke – Et 6S
436-01-0321: Pipe Plug – Et 6S
436-01-0322: Washer (Et Gb 6S)
436-01-0323: Screw – Et 6S
436-01-0324: Screw (Et Gb 6S)
436-01-0325: Screw (Et Gb 6S)
436-01-0326: Screw – Et 6S
436-01-0327: Capscrew – Et 6S
436-01-0338: Neutral Switch_4304809
436-01-0339: Reverse Switch_4304808
437-00-0112: Front Axle Beam-Fw-80Mm
437-01-0002: Beam-Faw Front Axle – 90 Mm Spring
437-01-0003: Stub Axle Rh-Faw
437-01-0004: Stub Axle Lh-Faw
437-01-0005: Grease Nipple Unit
437-01-0006: King Pin-Knuckle
437-01-0007: Wedge-Shaped Locking Pin-Swivel Pin
437-01-0008: Nut-Wedge-Shaped Locking Pin
437-01-0009: Spring Washer
437-01-0010: Gasket-Front Axle Knuckle – 2.55 Mm
437-01-0011: Gasket-Front Axle Knuckle – 2.30 Mm
437-01-0012: Gasket-Front Axle Knuckle – 2.05 Mm
437-01-0013: Gasket-Front Axle Knuckle – 1.80 Mm
437-01-0014: Thrust Bearing-Faw Fr Axle
437-01-0015: King Pin Cap-Faw
437-01-0016: Gasket-Swivel Pin Hole Cap Board
437-01-0017: Bolt-Swivel Pin Hole Cap Board
437-01-0018: Lock Washar
437-01-0019: First Right Wheel Ratchet Unit
437-01-0020: T-Tomy Extension
437-01-0021: Bolt-Before The Fastening Applies The Br
437-01-0022: Hub-Faw Fr Axle (Ref 437-01-0052)
437-01-0023: Adjusting Nut (Check Nut)
437-01-0024: Washer-Knuckle Journal Nut
437-01-0025: Locking Washer-Knuckle Journal Locking N
437-01-0026: Locks The Nail
437-01-0027: Hub Cap-Faw Fr Axle
437-01-0028: Gasket-Front Wheel Wheel Hub Cover
437-01-0029: Bolt – Front Wheel Wheel Hub Cover
437-01-0030: Tie Rod Assy With Ends – China Fa
437-01-0031: Nut – Tie Rod End – Imp. Frt Axle
437-01-0032: Cotter Pin
437-01-0033: Brake Drum-Faw Fr Axle
437-01-0034: Sensor Bushing
437-01-0035: Sensor
437-01-0036: Right Knuckle And Bushing Unit
437-01-0037: Steering Arm-Faw Fr Axle
437-01-0038: Left Steering Rod Arm
437-01-0039: Key
437-01-0040: Nut Steering Arm-Imp. Fr Axle
437-01-0041: Cotter Pin-Fr Axle Imp.
437-01-0042: The Knuckle Stops The Column And The Nut
437-01-0043: Stops The Column – Knuckle
:
:
:
:
437-01-0044: Nut – Knuckle Column
437-01-0045: Left Knuckle And Bushing Unit
437-01-0046: Left Knuckle And Bushing Unit
437-01-0047: Right Knuckle And Bushing Unit
437-01-0048: Left Knuckle
437-01-0049: Right Knuckle
437-01-0050: Bushing Knuckle – Steel_Faw Axle
437-01-0051: Bushing -Abs
437-01-0052: Front Wheel Wheel Hub Unit
437-01-0056: Hub Oil Seal-F.Axle(Alt.P.No.212-61-0053
437-01-0057: Wheel Bolt (Front)
437-01-0058: Tooth Ring
437-01-0059: Brake Shoe Anchor Pin Back Plate
437-01-0060: Charm Worn Around A Childs Neck-Brake Sh
437-01-0061: Bolt-The Tight Brake Shoe Anchor Pin Bac
437-01-0062: Thrust Washer-Brake Cam
437-01-0063: Spring Washer
437-01-0064: Cam Shaft-Lh-Faw Fr Axle
437-01-0065: Stub Axle Rh-Faw Fr Axle
437-01-0068: Dust Proof Stops Up
437-01-0069: Right Shoe With Lining Assy
437-01-0070: Left Shoe With Lining Assy
437-01-0071: Split Pin
437-01-0072: Return Spring-Brake Shoe
437-01-0073: Dust Cover Top Lh
437-01-0074: Dust Cover Bottom Lh
437-01-0075: Cotter Pin
437-01-0076: Washer – Cam Shaft-Faw Fr Axle
437-01-0077: Bolt
437-01-0078: Brake Shoe Anchor Pin
437-01-0079: Bolt
437-01-0080: Flat Head Sells
437-01-0081: Filling Piece
437-01-0082: Gasket
437-01-0083: Support
437-01-0084: First Left Brake Support And Cam Support
437-01-0085: First Right Brake Support And Cam Suppor
437-01-0086: Spring Washer
437-01-0087: First Left Brake Support Unit
437-01-0088: First Right Brake Support Unit
437-01-0089: First Left Brake Cam Support-Faw Fr Axle
437-01-0090: Cam Shaft Bkt-Rh Faw Fr Axle
437-01-0091: Bushing
437-01-0092: Bolt
437-01-0093: Oil Seal
437-01-0094: First Brake Shoe With Lining Assy
437-01-0095: Hangs Sells
437-01-0096: Clamp
437-01-0097: Hoop Pneumatic Brake Shoe
437-01-0098: Roller Shaft Pneumatic Brake Shoe
437-01-0099: First Brake Shoe-Faw Fr Axle
437-01-0100: Bushing – Brake Shoe
437-01-0101: Friction Disk – 10 Holes
437-01-0102: Rivet Dia 10*18 – Faw
437-01-0103: Left Joint Assembly-Track Rod Lever
437-01-0105: Right Joint Assembly-Track Rod Lever
437-01-0106: Front Wheel Hub
437-01-0107: Right Steering Rod Arm
437-01-0108: Friction Wafer – 6 Holes
437-01-0111: Bush-Knuckle -Copper
438-00-0068: Carrier Assy Differential – 17.35 Cwp
438-00-0069: Companion Flange Assy For 17.35 Cwp
:
:
:
:
438-00-0070: Pinion Cage Assy. – For 17.35 Cwp
438-00-0071: Carrier And Cap Assy.
438-00-0072: Diff. Case & Nest Assy – For 17.35 Cwp
438-00-0073: Diff. Case Assy. – For 17.35 Cwp
438-00-0074: Drive Gear  & Pinion  6.17 R
438-00-0075: Axle Housing Assy – For 17.35 Cwp
438-01-0005: Brake Assy-   Rear Lh
438-01-0006: Brake Assy-Rear Rh
438-01-0007: Spider Assy (With Bushes & Seal)
438-01-0010: Dive Gear & Pinion 6.17 Ms160
438-01-0011: Carrier & Cap Assy Ms160
438-01-0012: Pinion Pilot Bearing Ms160
438-01-0013: Ring Lock
438-01-0014: Carrier Assy – Differential Ms160
438-01-0015: Axle Shaft (46 Splines)
438-01-0016: Sensor Grommet
438-01-0019: Cone-Inner Bearing
438-01-0021: Cone-Outer Bearing
438-01-0026: Adjuster Ring
438-01-0028: Side Gear- Diff.
438-01-0030: Sensor Bush (Abs)
438-01-0031: Sensor Abs
438-01-0048: Nut Lock
438-01-0054: Plug Drain Magnetic
438-01-0057: Cone Diff Brg
438-01-0058: Plug Breather Assy
438-01-0059: Diff. Case Assy.
438-01-0060: Comp. Flange & Deflector Assy-12 Hole
438-01-0061: Pinion Cage Assy.
438-01-0062: Axle Housing Assy
438-01-0065: Pole Wheel
438-01-0066: Oil Seal Assy
438-01-0067: Diff. Case & Nest Assy Ms14 160
439-00-0298: Rf Hub Reduction Axle Without Brake Assy
439-00-0300: Bush – Scam Shaft_Hande
439-00-0301: O Type Ring – Scam Shaft_Hande
439-00-0302: Hex Bolt M10*20 [Full Thread]_Hande
439-00-0303: Cross Rec. Csk Head Screw- Hande
439-00-0304: Rease Nipple Backplate _Hande
439-00-0305: Bowl Plug_Case Cover_Hande
439-00-0306: Gangway Case Cover_Hande
439-00-0307: Rear Wheel Hub Assembly
439-00-0308: Adjusting Washer
439-00-0309: Heel Nut
439-00-0310: Stop Plate_T Type
439-00-0311: Flange Assy Involute Spline -I/P R1 & R2
439-00-0312: Rr Cwp Gear Set 29/15 -Involute Spline
439-00-0313: Modified Planet Gear Assy
439-00-0314: Combined Oil Seal – Flange
439-00-0315: In For 13T  X  37 L
439-00-0316: Pin For 13T  X  48 L
439-00-0317: Pin For 13T  X  50 L
439-00-0318: In For 13T  X  53 L
439-00-0319: Plug Assy.
439-00-0320: Magnetic Plug Assembly
439-00-0321: Wheel Bolt
439-00-0322: Combined Hub Oil Seal – Lhs
439-00-0323: Combined Hub Oil Seal – Rhs
439-00-0324: Hexagonal Socket Head Plug
439-00-0325: Bearing_Four-Point Contact Ball Bearing
439-00-0326: Differential Lock Ring
439-00-0327: Diff. Side Gear, Front [C]
:
:
:
:
439-00-0328: Transfixion Shaft _Involute Spline
439-00-0329: Driven Cylinder Gear  – Involute Spline
439-00-0330: Transfixion Shaft
439-00-0331: Rf O/P – Involute Spline Flange
439-00-0332: Int. Axle Diff. Case Assy – Paralel Spli
439-00-0333: Int. Axle Diff. Case Assy-Involute Splin
439-00-0334: Combined Oil Seal – Trans. Shaft
439-00-0335: Flat Washer
439-00-0336: Adjusting Washer – 5.4T
439-00-0337: Modified Diff. Side Gear
439-00-0338: Middle Axle Housing Assembly
439-00-0340: Seal Ring For Shaft
439-00-0341: Seal Ring For Shaft
439-00-0342: Centre Part Rf H. Red Axle-W/O Diff.Lock
439-01-0014: Circle Nut
439-01-0037: Return Spring(440-01-0125)
439-01-0050: Pace Collar
439-01-0051: Space Bush
439-01-0052: Pin (For 13T)
439-01-0053: Flange Nut
439-01-0054: Stop Plate – I Type
439-01-0055: Diff Lock Operation Cylinder
439-01-0056: Pressure Switch
439-01-0057: Rivet Dia 10*20 – Hde
439-01-0058: Oil Seal For Hub Reductor
439-01-0059: Seal Ring
439-01-0060: Steel Ball
439-01-0061: Stud – M12-M12*1.5*30 Din939-8.8Zn
439-01-0062: Hex Nut
439-01-0063: Self-Locking Nut
439-01-0065: Circlip For Axle
439-01-0066: Circlip For Shaft Q43195
439-01-0067: Hex Bolt
439-01-0068: Y-Type Honge
439-01-0069: Bowling Choke Plut
439-01-0070: Ear Plug
439-01-0071: Roller Wheel
439-01-0072: Gap Adjustg Arm Assembly Lh(439-01-0166)
439-01-0073: Gap Adjusting Arm Assy Rh(439-01-0165)
439-01-0076: Pin Axle
439-01-0078: Passive Spur Gear
439-01-0079: Piercing Axle
439-01-0080: Circle Nut
439-01-0082: Differential Case ( Right )
439-01-0083: Diff. Side Gear [P]
439-01-0084: Planet Gear
439-01-0085: Declutch Shift
439-01-0086: Bend Plate
439-01-0088: Planet Gear Washer
439-01-0089: Planet Gear Axle
439-01-0090: Central Gear Wsher
439-01-0091: Pin – Hub Cover
439-01-0092: Axle Shaft (Left)
439-01-0093: Axle Shaft (Right)
439-01-0094: O Ring For Hub Reductor
439-01-0095: Axle Packing Ring
439-01-0096: Hub Reduction Case
439-01-0097: Planet Gear Washer
439-01-0098: Sun Gear Washer_Hnd
439-01-0099: Washer
439-01-0100: Planet Gear
439-01-0103: Eclutch Shift
:
:
:
:
439-01-0104: Axle Shaft Gear (Rear)
439-01-0105: Differential Lock Washer Between Axle
439-01-0106: Axle Shaft Gear Washer (Front) (4.9 T)"
439-01-0107: Axle Shaft Gear Wsher ( Front) (5.0 T)"
439-01-0108: Axle Shaft Gear Washer ( Front) (5.2 T)"
439-01-0109: Axle Shaft Gear Washer ( Front) (5.3 T)"
439-01-0110: Axle Shaft Gear Washer ( Rear) 4.9″
439-01-0111: Axle Shaft Gear Washer ( Rear) (5.0 T)"
439-01-0112: Axle Shaft Gear Washer Rear – 5.2 T
439-01-0113: Rocker Arm
439-01-0114: Spider
439-01-0117: Differential Case ( Left )
439-01-0118: Bearing External Ring
439-01-0119: Bearing Seat
439-01-0120: Rear Differential Case
439-01-0121: Adjusting Washer
439-01-0122: Adjusting Washer
439-01-0123: Adjusting Washer
439-01-0124: Adjusting Washer
439-01-0125: Hollowness Axle
439-01-0126: Active Spur Gear
439-01-0128: Caulking Ring
439-01-0129: Bearing Seat
439-01-0130: Pass – Axle Box Cap
439-01-0132: Flange Assembly 180
439-01-0133: Bearer Assembly
439-01-0134: Cover
439-01-0136: Active Spure Gear
439-01-0137: Axle Shaft Gear Washer Rear – 5.1 T
439-01-0138: Axle Shaft Gear Washer Front –  5.1 T
439-01-0139: Steel Wire Collar
439-01-0140: Roller Bear
439-01-0141: Pass Axle Box
439-01-0142: Flange Assy 180
439-01-0143: Operation Handle Assembly
439-01-0144: Bow Hold-Open Catch Assembly ( Down)
439-01-0145: Bow Hold-Open Catch Assembly ( Upon)
439-01-0146: Middle Axle Housing
439-01-0147: Camshaft Bearer
439-01-0149: Pin For 13T  X  43 L
439-01-0150: Hub Cover [P]
439-01-0161: Deep Chase Ring Bearing
439-01-0165: Automatic Ga Adjusting (Right)
439-01-0166: Automatic Ga Adjusting (Left)
439-01-0170: Bush
439-01-0176: Axle Shaft (Right)
439-01-0177: Hex Bolt
439-01-0179: Rf O/P – Parallel Spline Flange
439-01-0187: D
439-01-0216: Adjusting Washer 5.0 T
439-01-0217: Slide Block Of Shifting Yoke
439-01-0218: Adjusting Washer 5.2 T
439-01-0219: Packing Washer (5.3)
439-01-0220: Bush
439-01-0221: Diff Lock Ring
439-01-0222: Diff Lock Pin
439-01-0223: O Ring
439-01-0224: Qixed Joggle Sleeve
439-01-0225: Slidable Joggle Sleeve
439-01-0226: Round Nut
439-01-0227: Lock Washer
439-01-0228: Adjusting Nut
:
:
:
:
439-01-0229: Adjusting Washer 4.9 T
439-01-0230: Magnetic Screw Plug Assy
439-01-0231: Bearing: Plate
439-01-0232: Flat Head Lock
439-01-0233: Seal Ring For R1 Input(Ref-439-00-0314)
439-01-0234: Oil Seal For Case Cover(Ref-439-00-0314)
439-01-0235: Seal Washer
439-01-0236: Deep Groove Ball Bearing With Dust Cover
439-01-0237: Deep Groove Ball Bearing 6212
439-01-0238: Annular Ball Bearing With Stop Slot
439-01-0239: Tapered Roller Bearing
439-01-0240: Hex Bolt
439-01-0241: Hex Bolt- Q150B0818
439-01-0242: Hex Bolt Q150B1025
439-01-0243: Hex Bolt
439-01-0244: Hex Bolt
439-01-0245: Studs
439-01-0247: Studs
439-01-0248: Stud
439-01-0249: Studs
439-01-0250: Cross Slot Countersunk Head Screw
439-01-0251: I Type Hex Nut
439-01-0252: Type I Hex. Nut Q340B10
439-01-0253: Type I Hex Nut Q340B12
439-01-0254: Type Ii Hex Nut Q33208 (Full Thread)
439-01-0255: Type Ii Hex Lock Nut (Full Metal)
439-01-0256: Cylinder Pin
439-01-0257: Cylindrical Pin Q5211016
439-01-0258: Slot Bolt Gb75 M8*20Zn
439-01-0259: Slot Taper End Screw
439-01-0260: Split Pin
439-01-0261: Spring Washer
439-01-0262: Spring Washer
439-01-0263: Pgspring Washer Q40312
439-01-0264: Elastic Collar For Shaft
439-01-0265: Flat Washer Q40108
439-01-0266: Staved Steel Cable Baffle Ring For Shaft
439-01-0267: Steel Wire Collar For Shaft Q43705
439-01-0268: Hex Plug Screw
439-01-0269: Axle Shaft Gear Washer Rear – 5.3 T
439-01-0270: Cylindrical Gear – Parallel Spline
439-01-0272: Oil Catcher
439-01-0274: Transfixion Shaft _Parallel Spline
439-01-0275: Diff. Side Gear, Front [P]
439-01-0278: O Type Seal Ring
439-01-0279: Seal Gasket
439-01-0280: Oil Baffle Plate Assembly
439-01-0282: Flange Assy Parallel Spline 180
439-01-0283: Lock Nut
439-01-0284: Axle Shaft (Left)
439-01-0287: Strength Middle Axle Housing
439-01-0288: Hex Flange Bolt
439-01-0289: Diff Case
439-01-0290: Rf- Modified Final Drive Case Assy
439-01-0291: Diff Case
439-01-0292: Brake Shoes
439-01-0293: Rf Cwp Gear Set 29/15 -Parallel Spline
439-01-0296: Wheel Bolt-Rough – 12.9 Gr
439-01-0297: Wheel Nut-Rough
439-10-0298: Hande R1 With Wheel End Axle
439-21-0294: Centre Part Rf H.Red Axle-With Diff Lock
440-00-0187: Rr Hub Reduction Axle Without Brake Assy
:
:
:
:
440-00-0188: Rf Cwp Gear Set 29/15 -Involute Spline
440-00-0189: R2 Hub Red. Axle Housing – W/O Diff Lock
440-00-0190: Rr Final Drive Assy With T Stop Plate
440-00-0191: Centre Part Rr H.Red Axle-W/O Diff.Lock
440-01-0030: Plug Screw
440-01-0031: Row-Steep Roller Bearing
440-01-0032: Row-Steep Roller Bearing
440-01-0033: Row-Steep Roller Bearing
440-01-0034: Row-Step Roller Bearing
440-01-0035: Row-Steep Roller Bearing
440-01-0037: Circlip For Shaft
440-01-0043: Bearing Seat
440-01-0044: Ring
440-01-0045: Adjusting Washer (5.1)
440-01-0046: Packing Ring
440-01-0047: Axle Packing Ring
440-01-0050: Rear Axle Housing Assembly
440-01-0051: Spacing Collor
440-01-0052: Oil Baffle Disc
440-01-0053: Gasket For Hub
440-01-0054: Oil Baffle Cap
440-01-0055: O-Ring For Spacer
440-01-0057: Rear Wheel Hub Assembly
440-01-0058: Axle Packing Ring
440-01-0060: Oil Seal Hub (Right)
440-01-0061: Oil Seal Hub (Left)
440-01-0062: Inside Gear Ring
440-01-0063: Wheel Bolt-10.9 Gr( 440-01-0130)
440-01-0065: Oil Seal For Gear Shaft
440-01-0073: Gear & Pinion 6.72
440-01-0085: Hex Bolt
440-01-0090: Adjusting Washer
440-01-0099: Adjusting Washer (2.50)
440-01-0100: Adjusting Washer (2.55)
440-01-0101: Adjusting Washer (2.60)
440-01-0102: Adjusting Washer (2.65)
440-01-0103: Adjusting Washer (2.70)
440-01-0104: Adjusting Washer (2.75)
440-01-0105: Adjusting Washer (2.80)
440-01-0106: Adjusting Washer (2.85)
440-01-0107: Usting Washer (2.90)
440-01-0108: Adjusting Washer (2.95)
440-01-0113: Washer
440-01-0115: Adjusting Washer (0.15)
440-01-0117: Adjusting Washer (1.00)
440-01-0118: Seal Plug
440-01-0119: Washer
440-01-0120: Elastic Collar
440-01-0121: Planet Cage Oil Shield
440-01-0122: Ring Gear Saddle
440-01-0123: Stop Washer
440-01-0124: Additional Washer
440-01-0125: Returning Spring
440-01-0126: Returning Spring Pin
440-01-0128: Hex Bolt
440-01-0129: Hex Bolt
440-01-0130: Hex Bolt
440-01-0131: Hex Bolt
440-01-0132: Hex Bolt- Q151B1445Tf2
440-01-0133: Hex Bolt
440-01-0135: Cross Slot Pan Head Screw
440-01-0136: Cylinder Pin
:
:
:
:
440-01-0137: Elastic Cylinder Pin
440-01-0139: Elastic Collar For Shaft
440-01-0145: Adjusting Washer (0.10)
440-01-0146: Adjusting Washer (0.15)
440-01-0147: Adjusting Washer (0.50)
440-01-0148: Adjusting Washer (1.00)
440-01-0151: Needle Bearing
440-01-0155: Lock Nut- Q33408
440-01-0156: Asa Rear Bracket (L)
440-01-0157: Asa Rear Bracket (R)
440-01-0161: R2 Hub Red. Axle Housing – With Diff Loc
440-01-0162: Lock Nut
440-01-0163: S-Camshaft (L)
440-01-0164: S-Camshaft (R)
440-01-0165: Chamber Bracket
440-01-0166: Brake Drum(Ref- 339-30-0006 )
440-01-0167: Dust Cover Of Brake
440-01-0168: Returning Spring
440-01-0169: Brake Back Plate
440-01-0170: Brake Lining-16 Holes
440-01-0171: Brake Shoes Assy
440-01-0172: Rr Final Drive Assy With I Stop Plate
440-01-0173: Ring Gear Bracket Assy
440-01-0174: Planetary Gear Bracket Assy
440-01-0175: Rr Cwp Gear Set 29/15 -Parallel Spline
440-01-0176: Operation Bar Assy
440-01-0177: Diff Case
440-01-0181: Ball Washer
440-01-0182: Centre Part Rr H.Red Axle-With Diff.Lock
440-01-0183: Modified Hub Cover [C]
441-00-0004: Drive Gear & Pinion 6.17 R
441-01-0000: Front Axle Meritor -Non Abs
441-01-0001: Comp Flange-Dflctr Asy-1800(158-01-0003)
441-01-0180: Diff Lock Switch Assy _Hnde
441-02-0000: Front Axle With Sae 10 Splines- Non Abs
444-00-0115: Screw Hex Flange Head Cap
444-00-0119: Screw, Hex Flange Head
444-00-0135: Philips Pan Head Screw M6X1X16
444-01-0077: Csk Screw M6X1X20-P8.8
444-01-0078: Csk Screw M6X1X20(16)L-P8.8
444-01-0079: Self Tapping Screw M4X13(10)L-P8.8
444-01-0082: Combinated Screw M8X1.25X24(20)L-P8.8
444-01-0088: Csk Screw M6X1X63(42)L-P8.8
444-01-0091: Csk Screw M8X1.25X28(25)L
444-01-0093: Csk Screw M6X0.8X10(8)L
444-01-0097: Self Tapping Screw
444-01-0098: Csk Self Tapping Screw
444-01-0099: Screw M5X1X34(30)L-P8.8
444-01-0101: Self Tapping Screw M5X28(L)-P8.8
444-01-0106: Self Tapping Screw M6X28(25)L-P8.8
444-01-0107: Screw /Star Washerm4X0.7X30(25)L-P8.8
444-01-0108: Combinated Screw M4X0.7X14(10)L-P8.8
444-01-0109: Self Tapping Round Head Screw M4X20(16)L
444-01-0111: Screw M5X0.8X25(20)L-P8.8
444-01-0124: Screw M8X1.25X50(45)L-P8.8
444-01-0128: Screw
444-01-0129: Screw
444-01-0130: Screw
444-01-0131: Screw
444-01-0132: Screw
444-01-0133: Left Screw
444-01-0137: Self Tapping Screw M3X20(16)L-P8.8
:
:
:
:
444-09-0117: Screw
444-09-0145: Screw
444-09-0146: Screw
445-60-0008: Bonnet Beading
446-08-0000: 400 Lt Fuel Tank Suction Pipe With Exist
446-09-0000: 400 Lt Fuel Tank Suction Pipe From Tank
446-10-0000: 400 Lt Fuel Tank Suction Pipe To Engine
446-11-0000: Fuel Return Pipe To Fip-400 Lt Fuel Tank
449-00-0040: Frt Housing – Z 9S1
449-00-0041: Rr Housing – Z 9S1
449-00-0042: Screw Plug
449-00-0043: Sealing Ring – Z 9S1
449-00-0044: Gasket – Z 9S1
449-00-0045: Pipe – Z 9S1
449-00-0046: Pipe – Z 9S1
449-00-0047: Hexagon Bolt – Z 9S1
449-00-0048: Washer – Z 9S1
449-00-0050: Cylindrical Pin – Z 9S1
449-00-0052: Screw Plug
449-00-0053: Sealing Ring – Z 9S1
449-00-0054: Screen Insert – Z 9S1
449-00-0057: Screw Plug – Z 9S1
449-00-0058: Sealing Ring – Z 9S1
449-00-0061: Hexagon Bolt – Z 9S1
449-00-0063: Protection Cap – Z 9S1
449-00-0064: Input Shaft – Z 9S1
449-00-0065: Cover – Z 9S1
449-00-0066: Retaining Ring – Z 9S1
449-00-0068: Connplate
449-00-0069: Connplate – Z 9S1
449-00-0070: O-Ring – Z 9S1
449-00-0072: Pipe – Z 9S1
449-00-0073: Shaft Seal – Z 9S1
449-00-0074: Gasket – Z 9S1
449-00-0075: Hexagon Bolt
449-00-0076: Oil Dam – Z 9S1
449-00-0077: Oil Dam – Z 9S1
449-00-0110: Gear Set – Z 9S1
449-00-0111: Countersscrew – Z 9S1
449-00-0112: Pump Cover – Z 9S1
449-00-0113: Shim
449-00-0134: Layshaft – Z 9S1
449-00-0135: Tarollbearing – Z 9S1
449-00-0136: Double Gear – Z 9S1
449-00-0137: Lay Shft. Helical Gear I – Z 9S1
449-00-0138: Lay Shft. Helical Gear Ii – Z 9S1
449-00-0139: Retaining Ring 2.5 Mm – Z 9S1
449-00-0140: Retaining Ring 2.4 Mm – Z 9S1
449-00-0141: Retaining Ring 2.3 Mm – Z 9S1
449-00-0142: Retaining Ring 2.2 Mm – Z 9S1
449-00-0143: Retaining Ring 2.1 Mm – Z 9S1
449-00-0144: Retaining Ring 2.0 Mm – Z 9S1
449-00-0146: Main Shaft – Z 9S1
449-00-0147: Needle Cage (Ref – 449-00-0367)
449-00-0148: Main Sft. Helical Gear I – Z 9S1
449-00-0149: Sleeve Carrier – Z 9S1
449-00-0150: Sliding Sleeve – Z 9S1
449-00-0151: Retaining Ring 2.8 Mm – Z 9S1
449-00-0152: Retaining Ring 2.7 Mm – Z 9S1
449-00-0153: Retaining Ring 2.6 Mm – Z 9S1
449-00-0154: Retaining Ring 2.5 Mm – Z 9S1
449-00-0155: Retaining Ring 2.4 Mm – Z 9S1
:
:
:
:
449-00-0156: Needle Cage – Z 9S1
449-00-0159: Sun Gear – Z 9S1
449-00-0160: Retaining Ring – 3.20 Mm – Z 9S1
449-00-0161: Retaining Ring – 3.15 Mm – Z 9S1
449-00-0162: Retaining Ring – 3.10 Mm – Z 9S1
449-00-0163: Retaining Ring – 3.05 Mm – Z 9S1
449-00-0164: Retaining Ring – 3.00 Mm – Z 9S1
449-00-0165: Retaining Ring – 2.95 Mm – Z 9S1
449-00-0166: Retaining Ring – 2.90 Mm – Z 9S1
449-00-0167: Retaining Ring – 2.85 Mm – Z 9S1
449-00-0168: Retaining Ring – 2.80 Mm – Z 9S1
449-00-0169: Retaining Ring – 2.75 Mm – Z 9S1
449-00-0170: Retaining Ring – 2.70 Mm – Z 9S1
449-00-0171: Retaining Ring – 2.65 Mm – Z 9S1
449-00-0172: Retaining Ring – 2.60 Mm – Z 9S1
449-00-0173: Retaining Ring – 2.55 Mm – Z 9S1
449-00-0174: Retaining Ring – 2.50 Mm – Z 9S1
449-00-0175: Retaining Ring – 2.45 Mm – Z 9S1
449-00-0176: Retaining Ring – 2.40 Mm – Z 9S1
449-00-0177: Retaining Ring – 2.35 Mm – Z 9S1
449-00-0178: Retaining Ring – 2.30 Mm – Z 9S1
449-00-0179: Retaining Ring – 2.25 Mm – Z 9S1
449-00-0180: Retaining Ring – 2.20 Mm – Z 9S1
449-00-0181: Retaining Ring – 2.15 Mm – Z 9S1
449-00-0182: Retaining Ring – 2.10 Mm – Z 9S1
449-00-0183: Pipe – Z 9S1
449-00-0186: Clutch Body – Z 9S1
449-00-0187: Synchronizer
449-00-0188: Synchrobody I & Ii Gr.- Z 9S1
449-00-0189: Sliding Sleeve I & Ii Gr.- Z 9S1
449-00-0190: Pressure Piece – Z 9S1
449-00-0191: Bush – Z 9S1
449-00-0192: Retaining Ring 2.3 Mm – Z 9S1
449-00-0193: Retaining Ring 2.2 Mm – Z 9S1
449-00-0194: Retaining Ring 2.1 Mm – Z 9S1
449-00-0195: Retaining Ring 2.0 Mm – Z 9S1
449-00-0196: Retaining Ring 1.9 Mm – Z 9S1
449-00-0197: Needle Cage – Z 9S1
449-00-0198: Helical Gear 2Nd Gr.- Z 9S1
449-00-0199: Needle Cage – Z 9S1
449-00-0200: Helical Gear 3Rd Gr. – Z 9S1
449-00-0201: Clutch Body – Z 9S1
449-00-0203: Synchrobody  3 & 4Th Gr. – Z 9S1
449-00-0204: Sliding Sleeve 3 & 4Th Gr. – Z 9S1
449-00-0205: Synchroring 3 & 4Th Gr. – Z 9S1
449-00-0206: Clutch Body – Z 9S1
449-00-0207: Oil Dam – Z 9S1
449-00-0208: Tarollbearing – Z 9S1
449-00-0209: Retaining Ring 2.5 Mm – Z 9S1
449-00-0210: Retaining Ring 2.4 Mm – Z 9S1
449-00-0211: Retaining Ring 2.3 Mm – Z 9S1
449-00-0212: Retaining Ring 2.2 Mm – Z 9S1
449-00-0213: Retaining Ring 2.1 Mm – Z 9S1
449-00-0214: Retaining Ring 2.0 Mm – Z 9S1
449-00-0215: Bearing Plate – Z 9S1
449-00-0216: Gear Shift Rail 3Rd & 4Th Gear – Z 9S1
449-00-0217: Gear Shift Fork 3Rd & 4Th Gear – Z 9S1
449-00-0218: Sliding Pad – Z 9S1
449-00-0219: Articulation Bolt – Z 9S1
449-00-0220: Spring Washer – Z 9S1
449-00-0221: Gear Shift Rail 1St & 2Nd Gear – Z 9S1
449-00-0222: Gear Shift Fork 1St & 2Nd Gear – Z 9S1
:
:
:
:
449-00-0223: Gear Shift Rail R/C – Z 9S1
449-00-0224: Gear Shift Fork R/C – Z 9S1
449-00-0225: Sliding Pad – Z 9S1
449-00-0226: Bearing Plate – Z 9S1
449-00-0228: Comprspring – Z 9S1
449-00-0229: Screw Plug – Z 9S1
449-00-0231: Pin – Z 9S1
449-00-0232: Gasket – Z 9S1
449-00-0233: Plate – Z 9S1
449-00-0234: Hexagon Bolt – Z 9S1
449-00-0236: Hexagon Bolt – Z 9S1
449-00-0238: Hexagon Bolt – Z 9S1
449-00-0239: Bolt – Z 9S1
449-00-0240: Gear Shift Shaft – Z 9S1
449-00-0241: Plug – Z 9S1
449-00-0243: Driver – Z 9S1
449-00-0244: Driver – Z 9S1
449-00-0245: Ring – Z 9S1
449-00-0246: Driver – Z 9S1
449-00-0247: Detent Part – Z 9S1
449-00-0248: Pin – Z 9S1
449-00-0249: Snap Ring – Z 9S1
449-00-0250: Cylindrical Pin – Z 9S1
449-00-0251: Cut-Off Valve – Z 9S1
449-00-0252: O-Ring
449-00-0254: Stop Pin – Z 9S1
449-00-0255: Cover – Z 9S1
449-00-0256: Detent Plunger – Z 9S1
449-00-0258: Bearing Bush – Z 9S1
449-00-0259: Shaft Seal – Z 9S1
449-00-0260: Scraper – Z 9S1
449-00-0261: Sealing Cap – Z 9S1
449-00-0262: Hexagon Bolt – Z 9S1
449-00-0263: Cover – Z 9S1
449-00-0264: Gasket – Z 9S1
449-00-0265: Hexagon Bolt – Z 9S1
449-00-0266: Hexagon Bolt – Z 9S1
449-00-0267: Shifting Interlock – Z 9S1
449-00-0268: Compr Spring
449-00-0269: Comprspring – Z 9S1
449-00-0270: Pipe – Z 9S1
449-00-0271: Housing Iii – Z 9S1
449-00-0272: Gasket – Z 9S1
449-00-0273: Hexagon Bolt – Z 9S1
449-00-0274: Hexagon Bolt – Z 9S1
449-00-0275: Hexagon Bolt – Z 9S1
449-00-0276: Ball Bearing – Z 9S1
449-00-0279: Planet Carrier – Z 9S1
449-00-0280: Planet Gear Set – Z 9S1
449-00-0282: Needle Roller – Z 9S1
449-00-0283: Planet Shaft – Z 9S1
449-00-0284: Ring Gear Carrier – Z 9S1
449-00-0285: Ball Bearing – Z 9S1
449-00-0286: Snap Ring – Z 9S1
449-00-0287: Snap Ring – Z 9S1
449-00-0288: Snap Ring – Z 9S1
449-00-0289: Snap Ring – Z 9S1
449-00-0290: Snap Ring – Z 9S1
449-00-0291: Snap Ring – Z 9S1
449-00-0292: Ring Gear – Z 9S1
449-00-0293: Locking Wire – Z 9S1
449-00-0294: Output Flange – Z 9S1
:
:
:
:
449-00-0295: O-Ring – Z 9S1
449-00-0296: Washer – Z 9S1
449-00-0298: Cable Nat – Z 9S1
449-00-0299: Clutch Body – Z 9S1
449-00-0300: Synchrobody – Z 9S1
449-00-0301: Retaining Ring – Z 9S1
449-00-0302: Retaining Ring – Z 9S1
449-00-0303: Retaining Ring – Z 9S1
449-00-0304: Retaining Ring – Z 9S1
449-00-0305: Synchroring – Z 9S1
449-00-0306: Sliding Sleeve – Z 9S1
449-00-0307: Pressure Piece – Z 9S1
449-00-0308: Comprspring – Z 9S1
449-00-0309: Comprspring – Z 9S1
449-00-0310: Clutch Body – Z 9S1
449-00-0311: Gear Shift Rail Gp – Z 9S1
449-00-0312: Flange Packing – Z 9S1110
449-00-0313: Piston – Z 9S1
449-00-0314: Sealing Ring – Z 9S1
449-00-0315: Guide Ring – Z 9S1
449-00-0317: Cylinder – Z 9S1
449-00-0318: O-Ring – Z 9S1
449-00-0319: Gear Shift Fork Gp – Z 9S1
449-00-0320: Articulation
449-00-0321: Spring Washer
449-00-0322: Sliding Pad – Z 9S1
449-00-0323: Detent Plunger – Z 9S1
449-00-0324: Speedometer Cover – Z 9S1
449-00-0325: O-Ring – Z 9S1
449-00-0326: O-Ring – Z 9S1
449-00-0327: Shaft Seal – Z 9S1
449-00-0328: Pipe – Z 9S1
449-00-0329: Ring Piece – Z 9S1
449-00-0330: Pipe – Z 9S1
449-00-0331: Union Screw – Z 9S1
449-00-0334: Reverse Idler Gear – Z 9S1Ear
449-00-0343: Helical Gear
449-00-0345: Helical Gear – Z 9S1
449-00-0347: Helical Gear – Z 9S1
449-00-0349: Locking Lever – Z 9S1
449-00-0350: Locking Lever
449-00-0351: Sealing Ring
449-00-0352: Gear Shift Housing – Z 9S1
449-00-0353: Gasket – Z 9S1
449-00-0354: Hexagon Bolt – Z 9S1
449-00-0361: Release Fork – Z 9S1
449-00-0362: Ta.Roll.Bearing
449-00-0363: Ta. Roll Bearing
449-00-0364: T.A Roll Bearing
449-00-0365: Gear Shift Cover
449-00-0366: Roller Cage
449-00-0367: F Eedle Cage
449-00-0368: Ball Pin
449-00-0369: Needle Cage
449-00-0370: Plug
449-00-0371: Plug
449-00-0373: Ball Cup
449-00-0374: Compression Spring
449-00-0375: Cylindrical Pin
449-00-0376: Outer Ring
449-00-0377: Screw Plug
449-00-0378: Ball Cup
:
:
:
:
449-00-0379: Gasket
449-00-0380: Sealing Cap
449-00-0382: Spring Washer
449-00-0383: Washer
449-00-0384: Hexagon Bolt
449-00-0386: Hexagon Bolt
449-00-0387: Hexagon Bolt
449-00-0388: Hexagon Bolt
449-00-0389: Hexagon Bolt
449-00-0390: Hexagon Bolt
449-00-0391: Hexagon Bolt
449-00-0392: Hexagon Bolt
449-00-0393: Hexagon Bolt
449-00-0395: Hexagon Bolt
449-00-0398: Hexagon Bolt
449-00-0399: Hexagon Nut
449-00-0404: Shim
449-00-0405: Shim
449-00-0406: Shim
449-00-0407: Shim
449-00-0408: Shim
449-00-0409: Shim
449-00-0410: Shim
449-00-0411: Shim
449-00-0412: Shim
449-00-0413: Shim
449-00-0414: Shim
449-00-0415: Shim
449-00-0416: Shim
449-00-0417: Shim
449-00-0418: Shim
449-00-0419: Shim
449-00-0420: Spring Washer
449-00-0421: Shaft Seal
449-00-0422: Hexagon Bolt
449-00-0423: Hexagon Bolt
449-00-0425: Locking Nut
449-00-0426: Taroll Bearing
449-00-0427: Detent Plunger
449-00-0428: Housing 1St
449-00-0430: Cover
449-00-0432: Cover
449-00-0434: Bell Housing
449-00-0436: Gear Shift Cover
449-00-0437: Gear Shift Cover
449-00-0438: Sliding Sleeve
449-00-0439: Synchrobody
449-00-0440: Connplate
449-00-0441: Input Shaft
449-00-0442: Housing
449-00-0443: Pipe
449-00-0445: Shim
449-00-0447: Retaining Ring
449-00-0448: Oil Pump
449-00-0449: Gasket
449-00-0450: Gasket
449-00-0451: Washer
449-00-0453: Bell Housing
452-00-0005: Detent Lever (Z 109 Gb)
452-00-0006: Pin  (Z 109 Gb)
452-00-0007: Gear Shift Shaft  (Z 109 Gb)
452-00-0008: Driver (Z 109 Gb)
:
:
:
:
452-00-0009: Driver (Z 109 Gb)
452-00-0010: Driver (Z 109 Gb)
452-00-0011: Roller (Z 109 Gb)
452-00-0012: Detent Part (Z 109 Gb)
452-00-0013: Detent Bush (Z 109 Gb)
452-00-0014: Gasket (Z 109 Gb)
452-00-0016: Cyl.Pin (Z 109 Gb)
452-00-0017: G Shift Detent (Z 109 Gb)
452-00-0018: Comp Spring (Z 109 Gb)
452-00-0022: Detent Plunger (Z 109 Gb)
452-00-0028: Comp Spring (Z 109 Gb)
452-00-0029: Comp Spring (Z 109 Gb)
452-00-0030: Comp Spring (Z 109 Gb)
453-00-0001: Layshaft Rear Cover  – Et 9S
453-00-0002: Disc Magnet  – Et 9S
453-00-0004: O-Ring  – Et 9S
453-00-0005: Circlip  – Et 9S
453-00-0006: Strainer-Oil  – Et 9S
453-00-0007: Plug Oil Strainer  – Et 9S
453-00-0008: Washer-Fill/Drain Fl  – Et 9S
453-00-0009: Oil Filler Plug  – Et 9S
453-00-0011: Dowel (5/16 Di X 1.50)  – Et 9S
453-00-0012: Iner-Bias  – Et 9S
453-00-0013: O-Ring  – Et 9S
453-00-0014: Lrc Sub Asy  – Et 9S
453-00-0015: Clutch Housing Assy – Et 9S
453-00-0016: Housing Clutch – Et 9S
453-00-0017: Needle Bearing – Et 9S
453-00-0018: Layshaft Assy Y08311
453-00-0019: Mainshaft Sub Assy – Et 9S Hd
453-00-0020: Synchro Ring 1St/2Nd – Et 9S Hd
453-00-0021: Synchro Flange 1St/2Nd – Et 9S Hd
453-00-0022: Gear -Mainshaft 2Nd – Et 9S Hd
453-00-0023: Gear Mainshaft Crawler – Et 9S Hd
453-00-0024: Gear Mainshaft Revers – Et 9S Hd
453-00-0025: Input Shaft – Et 9S Hd
453-00-0026: Brg.Assy-Layshaft – Et 9S Hd
453-00-0027: Muff Oil 8209 – Et 9S Hd
453-00-0028: Gear Sun 8209 – Et 9S Hd
453-00-0029: Shaft O/P Assy 11109/12109 – Et 9S Hd
453-00-0030: Gear Planet For 11109 – Et 9S Hd
453-00-0031: Spindle Planet Gear – Et 9S Hd
453-00-0032: Needle Roll Brg.Asy Pck 61293 – Et9Shd
453-00-0033: R Idler Rev – Et 9S Hd
453-00-0039: Eat9S Synchro Kit
453-00-0040: Eat 9S Range Sel Service Kit
454-10-0021: Bumper Assy
455-10-0001: Assy Cowl  Ciw
455-10-0001-GY: Assy Cowl  Ciw-Golden Yellow
456-00-0005: Synchronizer Assy 1St & 2Nd –  Et 6S Sd
456-00-0006: Cup, Brg – Et 6S Sd
456-00-0007: Rear Cover, Bearing – Et 6S Sd
456-00-0008: Gear, Rev Idler – Et 6S Sd
456-00-0009: Main Case – Et 6S Sd
456-00-0010: Main Shaft – Et 6S Sd
456-00-0011: Clutch, Slg (Rev) – Et 6S Sd
456-00-0012: Hub, Clutch (Rev) – Et 6S Sd
456-00-0013: Mainshaft Gear(Rev)-Unq Dom -Et 6S Sd
456-00-0014: Mainshaft Washer – Et 6S Sd
456-00-0015: Gear, M/S 1St – Et 6S Sd
456-00-0016: Gear, M/S 2Nd – Et 6S Sd
456-00-0017: Cone, Brg – Et 6S Sd
:
:
:
:
456-00-0018: Needle Bearing – Et 6S Sd
456-00-0019: Rotor, Speedometer – Et 6S Sd
456-00-0020: Coupling Flange [Din 150] – Et 6S Sd
456-00-0022: Cap Screw 3/8 16 Et 6S Sd
456-00-0024: Shim Kit Et 6S Sd
456-00-0025: Screw Et 6S
456-00-0026: Screw Et 6S
456-00-0027: Screw 3/8-16*1-1/4 Et 6S
456-00-0028: Cap Screw 3/8-16*1 Et 6S
456-00-0029: Cap Screw Et 6S
456-10-0037: Shaft Input
478-02-0000: S/A Of Cabin Fulcrum – Cabin End
478-03-0000: S/A Gate Lever Cabin End
478-04-0000: S/A Of Gear Shift Handle-Cabin End
478-07-0000: S/A Of Gear Shfit Link Rod-Cabin To Gb –
478-08-0000: S/A Of Gear Shfit Link Rod-Cabin To Gb –
478-09-0000: S/A Of Z-Lever Gear Box End
478-10-0000: S/A Of Gear Shifting Plate
478-11-0000: S/A Of Fulcrum Lever(Ref-478-02-0000)
481-01-0000: Eaton 9 Speed Gearbox Without Pto
481-02-0000: S/A Of Clutch Cross Shaft(481-04-0000)
481-03-0000: S/A,Shaft,Rocker" (Ref 481-04-0000)
481-04-0000: S/A ,Shaft Rocker ,Eaton Fs 6209-1.6
482-01-0000: Gear Box Assy-9S Eaton
482-04-0000: Gear Box Assy W/O Pto – Et 9S
482-07-0000: Eaton 9S Sd(6209X) Gb
485-01-0000: S/A Of Rear Rear Axle  With Abs
488-02-0000: S/A Of Fulcrum Bkt
488-03-0000: S/A_Lever-Gate_Selection_Brkt_On_Gb_End
488-04-0000: S/A Of Lever-Gear Engagement-Relay On Fs
488-05-0000: S/A Of Relay Bkkt On Frame
509-01-0000: S/A Of Rear Forward Hub Reduction Axle
510-01-0000: S/A Ofrear Rear Hub Reduction Axle
530-57-0000: S/A Of Metal Pipe – 15 Mm Od
530-58-0000: S/A Of Metal Pipe – 15 Mm Od
530-59-0000: Comp Pipe Inlet-Outlet-3
537-43-0000: S/A Of Metal Pipe-15 Mm Od
537-44-0000: S/A Of Metal Pipe-15 Mm Od
537-45-0000: S/A Of Metal Pipe-15 Mm Od
542-01-0000: S/A Rr Rr Axle 2518Tp(Ref.542-02-0000
542-02-0000: S/A Of Rear Rear Axle (M)
542-03-0000: S/A Of Rear Rear Axle (Inhouse Assembled
542-04-0000: 2518Tm – R2 With Wheel End Axle
546-06-0000: Without Wheel End 4018 Tr Axle
567-00-0000: Eaton 6S Gb_Without Pto
576-01-0000: S/A Of Fulcrum Bkt-For Eaton 6S
577-01-0000: S/A Of Clutch Cross Shaft
577-02-0000: S/A Shaft Rocker
595-01-0000: S/A Of Exhaust Pipe – 3.5″" Dia"
595-02-0000: Exhaust Connectimg Pipe Assembly
598-00-0000: Assy Of Frame 3118Hl
600-06-2060: Small Hex Bolt-Faw
600-06-3030: Hex Bolt-Faw
600-06-3050: Small Hex Bolt-Faw
600-06-3098: Small Hex Bolt-Faw
600-08-2040: M8 X 1.25 X 20 Hex Bolt – P10.9
600-08-2050: M8 X 1.25 X 25 Hex Bolt P 10.9
600-08-2088: Combined Bolt-Faw
600-08-2180: M8 X 1.25 X 90 Hexogon Bolt – P10.9
600-08-3038: Combination Of Hex Bolt & Lockwasher-Faw
600-08-3040: Hex Bolt-Is 1364-M8 X 1.5 X 20-10.9
600-08-3050: Bolt-Faw
:
:
:
:
600-08-3068: Bolt-Faw
600-08-3070: Bolt-Faw
600-10-3040: M10 X 1.5 X 20 Hex Bolt – P8.8
600-10-3060: Hex Bolt (M10X1.5X30)
600-10-3070: M10 X 1.50 X 35 – Hex Bolt – P 10.9
600-10-3080: Assembling Bolt-Faw
600-10-3100: Bolt- Festening Applies Brake Valve -Faw
600-10-3108: Bolt
600-10-3120: M10 X 1.50 X 60 – Hex Bolt – P 10.9
600-10-3130: Hex Bolt-Is 1364-M10 X 1.5 X 65-10.9-Is
600-10-3250: M10 X 1.50 X 125 – Hex Bolt – P 10.9
600-12-3040: Hex Bolt-Is 1364-M12 X 1.5 X 20-10.9
600-12-3050: Small Hex Bolt-Faw
600-12-3060: Hex Bolt-Is 1364-M12 X 1.5 X 30-10.9
600-12-3070: Hex Bolt-Is 1364-M12 X 1.5 X 35-10.9
600-12-3080: X 1.5 X 40 Hexagonal  Bolt-P 10.9
600-12-3090: M12 X 1.5 X 45 Hex Bolt – P10.9
600-12-3100: Hex Bolt- Is 1364 – M 12 X 1.5 X 50- 10.
600-12-3130: Bolt-Faw
600-12-3180: M12 X 1.5 X 90 Hexogon Bolt – P10.9
600-12-4090: M12 X 1.75 X 45 Hex Bolt – P10.9
600-12-4100: M12 X 1.75 X 50 Hex Bolt – P10.9
600-14-3060: M14 X 1.5 X 30 Hex Bolt-P 10.9
600-14-3100: M14 X 1.5 X 50  Hex Bolt – P10.9
600-14-3110: M14 X 1.5 X 55 Hex Bolt
600-14-3120: M14 X 1.50 X 60 -Standard Bolt – P 10.9
600-14-3140: M14 X 1.5 X 70 Hex Bolt
600-14-3170: M14X1.5X85 Mm Hex Bolt P10.9Gr
600-16-3070: M16 X 1.5 X 35-Hexagon Bolt
600-16-3090: M16 X 1.5 X 45 Hexagonal Bolt-P 10.9
600-16-3100: M16X1.5X50 Hex Bolt P10.9 Gr
600-16-3110: M16 X 1.50 X 55 – Hex Bolt – P 10.9
600-16-3230: M16 X 1.5 X 115 Hexagonal Bolt – P10.0
600-16-3300: M16X1.5X150L Hex Bolt 10.9 Grade
600-18-3140: M18 X 1.5 X 70 – Hexagonal Bolt-P 10.9
600-18-3160: M18 X 1.5 X 80 – Hexagonal Bolt-P 10.9
600-18-3220: M18X1.5 X110 Hexagon Bolt-P 10.9
600-18-3480: M18 X 1.5 X 240 Hex Bolt – P10.9
600-18-3490: M18 X 1.5 X 245  Hex Bolt – P10.9
600-18-3500: M18X1.5X250 Hex Bolt P10.9
600-18-3540: M18X1.5X270 Hex Bolt
600-20-3070: M20 X 1.5 X 35 Hex Bolt – P10.9
600-20-3140: M20 X 1.5 X 70 Hex Bolt – P10.9
601-06-1040: M6 X 1X 20 Flanged Bolt P 10.9
601-06-2048: Hex Flange Bolt-Faw
601-08-2040: M8 X 1.25 X 20 – Flanged Bolt – P 10.9
601-08-2048: Flanged Bolt-Is 1364-M8 X 1.25 X 20-8.8-
601-08-2050: M8 X 1.25 X 25 – Flanged Bolt – P 10.9
601-08-2060: M8 X 1.25 X 30 – Flanged Bolt – P 10.9
601-08-2070: M8X1.25X35 Mm Flange Bolt P10.9
601-08-2080: M8X1.25X40 Mm Flange Bolt P10.9
601-08-2100: M8 X 1.25 X 50 Flanged Bolt-P 10.9
601-08-2160: M8 X 1.25 X 80-Flanged Bolt-P 10.9
601-08-2180: M8 X 1.25 X 90-Flanged Bolt-P 10.9
601-08-2200: M8X1.25X100-Flanged Bolt-P10.9
601-08-3040: Hex Flange Bolt-Faw
601-08-3060: Bolt
601-08-4040: Bolt-Faw
601-10-2070: Combination Of Bolt And Lock Washer-Faw
601-10-2080: M10X1.25X40 Flanged Bolt P 10.9
601-10-3040: M10 X 1.50 X 20 – Flanged Bolt – P 10.9
601-10-3050: M10 X 1.5 X 25 Flanged Bolt-P 10.9
:
:
:
:
601-10-3060: M10 X 1.5 X 30 Flanged Bolt – P 10.9
601-10-3070: M10 X 1.5 X 35 Flanged Bolt – P10.9
601-10-3080: M10 X 1.5 X 40-Flanged Bolt-P 10.9
601-10-3090: Flanged Bolt–M10 X 1.50 X 45-10.9
601-10-3100: M10 X 1.5 X 50 Flanged Bolt – P10.9
601-10-3110: M10 X 1.5 X 55 Flange Bolt-P10.9
601-10-3140: M10 X 1.5 X 70 Flanged Bolt-P 10.9
601-10-3150: M10 X 1.50 X 75 – Flanged Bolt – P 10.9
601-10-3170: M10 X 1.50 X 85 – Flanged Bolt – P 10.9
601-10-3200: M10 X 1.5 X 100  Flanged Bolt – P10.9
601-12-3060: M12-X-1.5-X-30-Flanged-Bolt-P-10.9
601-12-3070: M12 X 1.5 X 35 Flanged Bolt-P 10.9
601-12-3080: M12-X-1.5-X-40-Flanged-Bolt-P-10.9
601-12-3090: M12 X 1.5 X 45 Flanged Bolt -P 10.9
601-12-3100: M12-X-1.5-X-50-Flanged-Bolt-P-10.9
601-12-3110: M12 X 1.5 X 55 Flanged Bolt – P10.9
601-12-3120: M12 X 1.5 X 60 Flanged Bolt-P 10.9
601-12-3140: M12 X 1.5 X 70 Flanged Bolt-P 10.9
601-12-3150: M12 X 1.5 X 75 Flanged Bolt-P 10.9
601-12-3180: M12 X 1.5 X 90 Flanged Bolt-P 10.9
601-12-3190: M12 X 1.5 X 95 Flanged Bolt-P 10.9
601-12-3240: M12 X 1.50 X 120 – Flanged Bolt – P 10.9
601-12-3250: M12 X 1.5 X 125 Flanged Bolt – P10.9
601-12-4050: M12 X 1.75 X 25 Flanged Bolt-P 10.9
601-12-4080: M12 X 1.75 X 40 Flanged Bolt-P 10.9
601-12-4110: M12 X 1.75 X 55 Flanged Bolt – P10.9
601-12-4140: M12 X 1.75 X 70 Flanged Bolt-P 10.9
601-12-4180: M12 X 1.75 X 90 – Flanged Bolt – P 10.9
601-12-4240: M12 X 1.75 X 120 Hex Flange Bolt
601-14-3070: M14 X 1.5 X 35 Flanged Bolt -P 10.9
601-14-3080: M14-X-1.5-X-40-Flanged-Bolt-P-10.9
601-14-3090: M14-X-1.5-X-45-Flanged-Bolt-P-10.9
601-14-3100: M14 X 1.5 X 50 Flanged Bolt-P 10.9
601-14-3110: M14 X 1.50 X 55 – Flanged Bolt – P 10.9
601-14-3130: M14 X 1.5 X 65 Flanged Bolt-P 10.9
601-14-3140: M14X1.5X70 Flange Bolt 10.9 Gr
601-16-3090: M16 X 1.5 X 45 Flanged Bolt – P10.9
601-16-3100: M16 X 1.5 X 50 Flanged Bolt – P 10.9
601-16-3110: M16 X 1.5 X 55 Flanged Bolt – P10.9
601-16-3120: M16 X 1.5 X 60 Flanged Bolt-P 10.9
601-16-3130: M16X1.5X65-Flanged Bolt-P10.9
601-16-3140: M16 X 1.5 X 70 Flanged Bolt – P 10.9
601-16-3180: Flange Bolt M16 X 1.5 X 90 -10.9
601-16-3230: M16 X 1.5 X 115 Bolt- P 10.9
601-16-5110: M16 X 2 X 55 Flanged Bolt-P 10.9
601-20-3140: M20 X 1.5 X 70 Flanged Bolt – P10.9
602-01-0000: 3/A Of Fulcrum Brkt-Gb End
602-06-0000: S/A_Lever-Gate_Selection_Brkt_On_Gb_End
602-07-0000: S/A Of Relay Brkt On Frame Rh
602-08-0000: S/A Of Relay Lever-Gear Engagement
602-08-2168: Hyva-Skt.Head Cap Screw-M8X80[30850323]
602-09-0000: C1-Fulcrum Bracket Zf 9S 1110 Gb
606-01-0000: Zf 9S 1110 Gb- Split Cbh
606-02-0000: Zf 9S 1110 Gb With 174 Mm Cbh
620-07-0102: 7/16″" X 1.25″" Hex Setscrew – P R
624-00-0000: Zf 9S 1110 Gb 8'O Clock Position
635-01-0000: S/A Of Exhaust Pipe – 4' Dia
657-01-0000: Sub Assembly Of Exhaust Pipe
684-01-0000: S/A Without Wheel End 6X2 Hl R1 Axle
6TB1000: Tail Board Assy Box Body 16Cum
700-04-1008: Hex Nut-Faw
700-05-2008: Nut
:
:
:
:
700-06-1000: M6 X 1 Hex. Nut
700-06-2008: Nut
700-06-3008: Nut
700-08-2000: M8 X 1.25 Hex. Nut
700-08-2058: Hex Slot Thin Nut-Faw
700-08-3000: M8 X 1.25 Flanged Nut – P10.0
700-10-3000: M10 X 1.5 – Plain Nut – P 10.0
700-12-3000: M12 X 1.5 Hex Nut
700-12-3008: Hex Nut-Is 1364-M12 X 1.5-8.0-Is 1367/12
700-12-4000: M12 X 1.75 Hex Nut
700-14-3000: Hex Nut-Is 1364-M14 X 1.5-10.0-Is 1367/1
700-16-3000: M16 X 1.50 – Plain Nut – P 10.0
700-16-3050: Thin Hexagon Nut-Faw
700-16-5000: M16 X 2.0 – Plain Nut – P 10.0
700-18-3000: M18X1.5 Hexagon  Nut-P 10.0(417-01-0048)
700-18-6000: M18 X 2.5 Hexagonal Nut-P 10.0
700-20-3050: M20 X 1.5 Lock Nut-Thin-P 8.0
701-06-1000: M6 X 1-Flanged Nut -P10.0
701-06-1008: M06 X 1.0 – Flanged Nut – P 8.0
701-06-2000: M8X1.5- Flanged Nut – P 8.0
701-06-2008: Flanged Nut-Is 1364-M6 X 1.25-8.0-Is 136
701-08-2000: M8 X 1.25 Flanged Nut-P 10.0
701-08-2008: Hex Flange Nut-Faw
701-08-3000: M8 X 1.5 Flanged Nut-P 10.0
701-10-3000: M10 X 1.5 Flanged Nut – P10 Engine Tech
701-12-2000: M12 X 1.25 Flanged Nut
701-12-3000: M12 X 1.5 Flanged Nut-P 10.0
701-14-3000: M14-X-1.5-Flanged-Nut-P-10.0
701-16-3000: M16 X 1.5 Flanged Nut-P 10.0
703-06-1000: M6 X 1.0 Nyloc Nut – P10.0
703-08-2000: Nyloc Nut M8 X 1.25
703-10-1000: M10 X 1.0 Nyloc Nut – P10.0
703-10-3000: M10 X 1.5 Nyloc Nut – P10.9
703-12-3000: M12 X 1.5 Nyloc Nut – P10.0
703-14-3000: M14 X 1.50 – Nylock Nut – P 10.0
703-16-3000: M16 X 1.5 Nylock Nut – P10.0
703-18-3000: M18 X 1.5 Nyloc Nut – P10.0
703-20-3000: M20 X 1.5 Nyloc Nut- P 10.0
703-22-3000: M22 X 1.5-Nylock Nut – P10.0
703-22-4000: M22 X 1.75 – Nylock Nut – P 10.0
703-22-6000: M22 X 2.5 Nyloc Nut – P 10.0
754-06-0000: S/A Of Exhaust Pipe
754-08-0000: Sa Of Tc Outlet Pipe After(1109-04-0000)
754-09-0000: Sa Of Tc Outlet
754-10-0000: Sa Of Exhaust Pipe
754-13-0000: S/A Of Exhaust Pipe
755-01-0000: Sub  Assy Baffle Plate – 180Hp (For Ttr
761-03-0000: S/A Of Relay Brkt On Frame
761-04-0000: S/A Of Relay Lever Bkt On Frame
763-01-0000: Frame_2518 Tp Bsiii (Ref 1118-01-0000)
767-01-0000: S/A Of Compressor Inlet Pipe-18 Mm Od
778-08-0000: S/A Exhaust Pipe Before Silencer Isbe
779-01-0000: 2518 Hl 6X2 R1 Axle With Wheel End
780-03-0000: 2518 Hl 6X2 R2 Axlewith Wheel End
7LM1000: Tail Door Mechanism Assy
7LM1002-H: Cam-Hyva
7LM1010: Cross Rod
7LM1010-H: Cross Rod-Hyva
7LM1303: Bush Assy-Bearing Assy For Locking Mech
7LM1400: Tie Rod Assy
7LM1401-H: Fork Lh Threading-Hyva
7LM1402-H: Fork Rh Threading-Hyva
:
:
:
:
800-05-1030: M5 X 0.8 X 15 Set Screw-P 10.9
800-05-2060: Screw
800-06-1040: M6 X 1.0 X 20 Hex Set Screw – P10.9
800-06-2040: Screw
800-06-3040: Cross Recess Flat Round Head Screw
800-08-2030: M8 X 1.25 X 15 Hex Set Screw – P10.9
800-08-2040: M8 X 1.25 X 20 Hex Set Screw – P10.9
800-08-2050: M8X1.25X25 Hex Sets Screw P10.9 Gr
800-08-2060: M.8 X 1.5 Lock Nut
800-10-3070: M10 X 1.5 X 35 – Hex Set Screw – P10.9
800-12-3100: M12X1.5X50 Hex Set Screw
800-16-3060: M16 X 1.5 X 30 Hexagonal Set Screw-P 10.
800-16-3070: M16 X 1.5 X 35-Hexagon Set Screw
800-16-3120: M16X1.5X60 Std Hex Set Screw-P 10.9
800-20-3090: M20 X 1.5 X 45 Hex Set Screw P 10.9
801-06-1030: M6 X 1 X 15 Flanged Set Screw-P 10.9
801-06-1040: M6 X 1.0 X 20 Flanged Set Screw – P10.9
801-06-1050: 6 X 1.0 X 25 Flanged Setscrew-P 10.9
801-06-1060: M6 X 1.0 X 30 Flanged Setscrew-P 10.9
801-06-1068: M06 X 1.0 X 30 – Flanged Set Screw -P8.8
801-06-2048: Tapping Screw
801-06-4060: Flange Locking Nut-Faw
801-08-2030: M8 X 1.25 X15 Flanged  Set Screw-P10.9
801-08-2038: M08 X 1.25 X 15 – Flanged Set Screw-P8.8
801-08-2040: M8 X 1.25 X 20 Flanged Set Screw
801-08-2048: M08 X 1.25 X 20 – Flanged Set Screw-P8.8
801-08-2050: M8 X 1.25 X 25 Flanged Setscrew-P 10.9
801-08-2058: M08 X 1.25 X 25 – Flanged Set Screw-P8.8
801-08-2060: M8 X 1.25 X 30 Flanged Set Screw-10.9
801-08-2068: Cross Half Recess Tapping Screw
801-08-2070: M8X1.25X35-Flanged Set Screw-P10.9
801-08-2080: M8 X 1.25 X 40 Flanged Set Screw-P 10.9
801-08-2120: M8 X 1.25 X 60 Flanged Set Screw – P10.9
801-08-3040: M8 X 1.5 X 20 Flanged Setscrew – P 10.9
801-10-3040: M10 X 1.5 X 20 Flanged Setscrew – P 10.9
801-10-3050: M10 X 1.5 X 25 Flanged Setscrew – P 10.9
801-10-3060: 10 X 1.5 X 30 Flanged Setscrew
801-10-3080: M10 X 1.5 X 40 Flanged Setscrew- P -10.9
801-10-3160: M10X1.5X80 Flange Set Screw P10.9
801-10-3220: M10 X 1.5 X 110 Flanged Setscrew – P10.9
801-12-2109: M12 X 1.25 X 50-Flanged Set Screw-P12.9
801-12-3050: M12 X 1.5 X 25 Flanged Set Screw – P10.9
801-12-3060: M12 X 1.5 X 30 Flanged Set Screw – P10.9
801-12-3070: M12X1.5X35 Flange Sets Screw P10.9 Gr
801-12-3090: M12 X1.5 X45 Flange Set Screw Full Threa
801-12-4050: M12 X 1.75 X 25 Flanged Set Screw-P 10.9
801-12-4060: M12 X 1.75 X 30 Flanged Set Screw
801-14-3060: M14 X 1.5 X 30 Flangedset Screw-P10.9
801-14-3070: M14-X-1.5-X-35-Flanged-Set-Screw–P-10.9
801-16-3050: M16 X 1.5 X 25 – Flanged Setscrew -P10.9
802-01-0000: Sa Stay Mtg Brkt On Fsm
802-02-0000: Sa Stay Mtg Brkt On Rad – Isbe
802-03-0000: Sa Connecting Rod Stay-Isbe
802-04-0000: Sa Of Baffle Plate Isbe 230Hp
802-08-2040: M08 X 1.25 X 20 – Socket Screw – P 10.9
804-04-4030: Screw
804-04-5038: Cross Thr Even Round Head Tapping Screw
804-05-2030: Screw
804-05-2040: Cross Recess Flat Round Head Screw
804-05-2048: Cross Recess Flat Round Head Screw
804-05-2058: Self-Tapping Screw
804-05-3048: Screw
:
:
:
:
804-05-3060: Self Tapping Serew
804-05-5038: Cross Recess Screw
804-05-5040: Cross Recess Flat Round Head Tapping Scr
804-06-1040: Cross Recess Round Head Screw
804-06-2038: Cross Half Recess Screw
804-06-2048: Cross Recess Flat Round Head Screw
804-06-3040: Cross Recess Flat Round Head Screw
804-06-3048: Screw-Cross Recess Flat Round Head Combi
804-06-4058: Cross Thr Even Round Head Tapping Screw
804-06-5060: C/S Recess Flat Head Screw,Front Handle
804-06-6058: Cross Thr Even Round Head Tapping Screw
804-08-2040: C/S Recess Flat Round Head Tapping Screw
804-08-2048: Cross Recess Round Head Screw
804-08-3030: Screw
804-08-3040: Cross Recess Flat Round Head Combinated
804-08-3060: Cross Round Head Screw-Faw(381-09-0111)
804-10-3050: Round Head Square-Neck Bolt-Faw
804-12-3080: Tapping Screw
805-05-2028: Screw
805-08-4058: Cross Through Even Round Head Ass. Bolt
806-05-1038: Comb Of C/S  Pan Head Screw&Flat Washer
806-05-1058: Comb Of Cross Rec Pan Head Screw&Washer
806-08-2058: Hex Socket Hed Cap Screw -Faw
806-08-3068: Self-Tapping Screw
806-12-3060: Tapping Screw
808-03-5038: Self-Tapping Screw
808-05-2058: Self-Tapping Screw
808-06-2038: Cross Recess Screw(Ref-444-01-0078)
808-06-3040: Cross Recess Screw
808-08-3050: Cross Recess Screw
809-05-2040: Combinated Bolt
809-05-2048: Comb Bolt Fix Lowar Brkt Cabin Front
809-05-2068: Screw-Cross Recess Flat Round Head Comb
809-06-2038: Cross Recess Round Head Combinated Screw
809-06-2048: Screw
809-06-5038: Combinated Bolt
809-08-2058: Comb Bolt-Fix With Of Right Head Lamp
809-08-3038: Combinated Bolt
809-08-3048: Combinated Bolt
809-10-3040: Combinated Bolt
809-10-3090: Bolt
810-01-0000: S/A Painted Sr Bare Shell Cab
812-03-0000: S/A Mr Bare Shell Cab
817-01-0000: S/A Of Rear Most Cross Member
817-03-0000: Front Cross Member 2516
817-04-0000: Assy. Of Frame-2516Hl
820-01-0000: S/A Of Shackle For Parabolic Spring
828-01-0000: Sa Of Outlet Pipe_After Tc
830-02-0000: Assy Tie Rod
830-03-0000: Assy. Shackle
830-04-0000: Assy Of Bellcrank With Stopper Plate
860-01-0000: 2518Tm – R1 With Wheel End Axle
861-01-0000: S/A 2518 Tm R1 W/O Wheel End Axle
877-43-0000: S/A Of Metal Pipe-15 Mm Od
877-44-0000: S/A Of Metal Pipe-15 Mm Od
894-02-0000: Bottom Front Noise Shield
894-03-0000: S/A Of Noise Shield Bottom Lh-Front
894-04-0000: S/A Of Noise Shield Bottom Rh-Front
8FF1000-01: Attachment Plate – 1[200X190][Bop]
8FF1001-01: Attachment Plate – 2[140X190][Bop]
8FF1002-01: Attachment Plate – 3[350X190][Bop]
8FF1013: Pivot Braket Assy – Lh 1
:
:
:
:
8FF10131-01: Top Pivot Braket-Lh1[Bop]
8FF10132-01: Bottom Pivot Braket-[Bop]
8FF1015: Pivot Braket Assy – Rh 1
8FF1016: Pivot Braket Assy – Rh 2
9-BOM1001-01: Fe129 Hyd. Kit W/O Pto,Layshaft,Mtg Kit
9-TMP-0009: Twist Lock For Trailer
9-TMP-0017: Lp Hose Sae100R4 1 X 3/4″ Id{5733300127}
900-05-2000: Plain Washer 5Mm Dia
900-05-2008: Washer-Faw
900-06-0000: M6 Washer
900-06-3008: Washer
900-08-0000: Plain Washer (8 Mm)
900-08-2000: M8 X 2D – Plain Washer
900-08-3000: M8X3D-Plain Washer
900-10-0000: M10 X Standard -Plain Washer P10.9
900-10-2000: Plain Washer 10 Dia
900-10-3000: M10 X 3D Plain Washer
900-12-0000: M12 Plain Washer
900-12-2000: M12X2D Washer
900-14-0000: M14 X 2D – Plain Washer – P 10.9
900-16-0000: M16 Washer
900-18-0000: Washer
900-20-2000: M20X2D-Plain Washer
900-22-0000: 22 Plain Washer
900-30-0000: Washer
900-40-0008: Washer
901-06-0000: M6 Sc Spring Washer
901-06-0008: Spring Washer
901-08-0000: M8X Std Single Coil Washer-P10.9
901-08-2000: M8 X 2D Washer
901-10-0000: M10 X Standard -Single Coil Washer P10.9
901-10-2000: Spring Washer
901-12-0000: M 12 Spring Washer
901-12-2000: M12 Sc Spring Washer
901-14-0000: M 14 Spring Washer
901-16-0000: M16 Single Coil Washer-P 10.9
901-18-0000: M18 Single Coil Washer-P 10.9
901-20-0000: Spring Washer
901-30-0000: .Lock Washer
901-30-2000: Lock Washer
904-20-0000: M20- External Star Washer
908-01-0000: Assy Of Frame 2518 Tm Bsiii
911-01-0000: Assy Of Frame 2518Hl-Bsiii_6X2
917-01-0000: Assy Of Frame_4018Tr-Bsiii
920-01-0000: S/A Of Suction Pipe-Banjo Type
920-02-0000: S/A Of Return Pipe-Banjo Type
921-07-2000: 7/16″" Single Coil Washer"
928-01-0000: Pstg Hose Assy – Suction – M30X1.5 Ln X
932-01-0000: S/A Of Exhaust Extension Pipe (3118Hl)
BR0001966: Air Tank Mtg Seat Assy
CB0000364: Asm Riser Grammer Seat & Hbv Mtg Bkt Rh
CB0001082: Kit Decal
CB0001254: Ac Compressor Sd7H15Yc Head With Dust Co
CH0000879: Lh-Assy Of Side & Top Channel For Fc Mou
CH0000880: Rh-Assy Of Side & Top Channel For Fc Mtg
CM0001067: Duct Driver Foot
CM0004225: Riser Grammer Air Susp Seat
CM0004227: Seat Air Suspended Driver- Grammer
CM0004291: Cover Bearing Rear
CM0004328: Wiper Motor
CM0005576: Present As Legacy 445-60-0008
CM0006720: Direction Indicator Lamp(Side) Lh
:
:
:
:
CM0007644: Panel Clip For Dia 8 Mm Hole
CM0007708: Centrebolt
CM0008208: U Bolt For Rear
CM0008513: Floor Insulation A Lh
CM0008523: Floor Insulation B
CM0008589: Floor Insulation A Rh
CM0008618: Insulation – Tunnel Lh
CM0008619: Insulation – Tunnel Rh
CM0008635: Bkt Mtg Panel Air Cleaner House
CM0008701: Direction Indicator Lamp(Side) Rh
CM0008768: Two Way Connector For Return Line
CM0008786: Tunnel Insulation Lh
CM0008787: Tunnel Insulation Rh
CM0008788: Insulation- Tunnel Top
CM0008929: Cac Outlet Pipe Brkt
CM0008931: Multy Hump Silicon Hose Red Colour-76Id
CM0008932: Straight Hose Red Colour-76Id X 140
CM0008933: Multy Hump Silicon Hose Blue Colour-76Id
CM0008979: Interconnector Harness
CM0009051: Two Way Connector For Suction Line
CM0011521: Accelerator Spring Mtg Bkt
CM0011929: Air Pressure Transducer
CM0012123: Insulation-Long Membr Outer Lh
CM0012124: Insulation-Long Membr Bottom Front Lh
CM0012125: Insulation-Long Membr Bottom Rear Lh
CM0012126: Insulation-Long Membr Inner Front Lh
CM0012127: Insulation-Long Membr Inner Rear Lh
CM0012128: Insulation-Long Membr Outer Rh
CM0012129: Insulation-Long Membr Bottom Front Rh
CM0012130: Insulation-Long Membr Bottom Rear Rh
CM0012131: Insulation-Long Membr Inner Front Rh
CM0012132: Insulation-Long Membr Inner Rear Rh
CM0012133: Insulation-Podest Front Lh
CM0012134: Insulation-Bonnet Cross Mmbr Inner Rh
CM0012135: Insulation-Podest Front Rh
CM0012136: Insulation-Podest Middle
CM0012137: Insulation-Podest Rear
CM0012138: Insulation-Bonnet Cross Mmbr Inner Lh
CM0012140: I Nsulation-Bonnet Cross Membr Rear Inne
CM0012145: Insulation- Bonnet Cross Membr Outer
CM0012210: Crown Wheel Pinion – 6.5 R -Ms13-1497
CM0012272: Adhesive – Fevicol  Sr998
CM0012273: Aluminium Foil Tape
CM0012378: Instrument Cluster For Rar 6.5
CM0012451: Asm Wiper Arm Head Top Mount
CM0013800: Sliding Joint Piece After Exhaust Break
CM0013844: Circlip
CW0000466: Kit Cowl Heat Insulation
CW0000592: Asm. Headlamp Dome Lh
CW0000593: Asm. Headlamp Dome Rh
CW0000607: Kit Panel Air Cleaner House
CW0000609: Kit Noise Shield
CW0000610: Kit Headlamp Dome
DL0000863: Drive Shaft-Compact Series_1618Tp_Cab
DL0000982: Zf 9S 1110_Ci Cbh
EN0001514: O-Clamp With Reinforcement For Silencer
EN0001545: 'Assy Of Exhaust Pipe After Exhaust Brak
EN0001664: Kit Accelerator Spring & Mtg Bkt For Ret
F010269: Hex Bolt-Is 1364-M14 X 1.5 X 85-10.9
F020105: Hex Nut Is 1364 M14 X 1.5 10 Is 1367/12
SCB0000002: Kit Auxillary Spd-1618Tp-Eaton-Fs6306-6S
SCM0000008: Spider Assy
:
:
:
:
SCM0000009: Planet Gear
SCM0000010: Planet Gear Washer
SCM0000219: Gear Layshaft Drive-6209A
SCM0000220: Layshaft, Direct-6209A
SCM0000221: Gear Layshaft 3Rd-6209A
SCM0000222: Gear Layshaft Drive-6209X
SCM0000223: Layshaft, Direct-6209X
SCM0000237: Filter For Steering Oil Reservoir – Zf
SCM0000253: Adaptor Pto
SCM0000257: Tie Rod Ball Joint Assembly – Faw (Lh)
SCM0000258: Tie Rod Ball Joint Assembly – Faw (Rh)
SCM0000266: Adapter,Filter Head
SCM0000341: Kit Piston
SDL0000051: Middle Axle Housing Assembly -Hande
SDL0000054: Iad Kit For Mt26-1495
SDL0000055: Synchro Assy Solid Pins & Cups
SDL0000057: Carrier Assy. Differential_6.5 R
SDL0000058: Carrier Assy. Differential_6.83 R
SEN0000012: Isbe – Long Block
SEN0000013: Ring Set(Std) – New Recipe
SEN0000019: Kit Fuel Tank-Conv 240 Ltrs To 400 Ltrs
SEN0000020: Dat Cap
SEN0000021: Kit – Eng. Filters –  Bsii 180 Hp
SEN0000025: Kit – Eng. Filters – Bsii 235 Hp
SEN0000026: Kit – Eng. Filters – Bsiii Old Type
SEN0000027: Kit Eng. Filters – Bsiii New Recipe
SEN0000037: Kit Expansion Joint For Eaton Gb
SEN0000040: Kit Expansion Joint For 180Hp Zf Gb
SEN0000041: Kit Expansion Joint For 230 Hp Zf Gb
SFA0000004: King Pin – Faw
SFA0000012: King Pin  – Meritor
SFA0000013: Kit Front Hub Oil Seal & Gasket – F Axle
SFA0000014: Kit – Fr Axle Wheel End Assy Lh (M Axle)
SFA0000015: Kit – Fr Axle Wheel End Assy Rh (M Axle)
SFA0000019: I-Beam Front Axle Meritor (820St, 80Sw)
SSU0000003: Split Nut
SU0000673: Front Suspension Retro  Fitment Kit-2516
285-00-0583: Kit Std Cabin Hyd (C/W) W Narrow Bumper
285-00-0608: Kit Std Cabin Mnl (C/W) W Narrow Bumper
285-00-0691: Kit C/W Sr Cab Nb Ml Spd
285-00-0692: Kit C/W Sr Cab Nb Hyd Tilt Spd
285-00-0694: Kit C/W Mr Nb Ml Cab Spd
285-00-1199: Kit C/W Mr Cab Nb Hyd Tilt Solid Spd
396-00-0014: Cabin Shell (Mr) – Ced Fm – W/O Roof
812-03-0000: S/A Mr Bare Shell Cab
396-00-0018-CW: Sr Bare Shell Cab W/O Door, Bumper & Fro
396-00-0018-OR: Sr Bare Shell Cab W/O Door, Bumper & Fr
396-10-0001: Cabin Shell-Std Roof Cabin Fm W/O Trims
396-10-0002: Cabin Shell High Roof Cabin Fm W/O Trims
810-01-0000: S/A Painted Sr Bare Shell Cab
408-00-0449: Recon Long Block 180 Hp (Core Return)
408-00-0450: Recon Long Block 235 Hp (Core Return)