KDST Fuwa Kingpin and kingpin assemblies are made using the most advanced materials. Our Fuwa Kingpin replacement kits are perfect fits since every single piece that goes out of our production assembly is checked many times before we send them to our customers. The after market Fuwa Kingpin and Kingpin assembly for KKTC by KDST can substantially increase the durability and reduce your Fuwa axle maintenance intervals.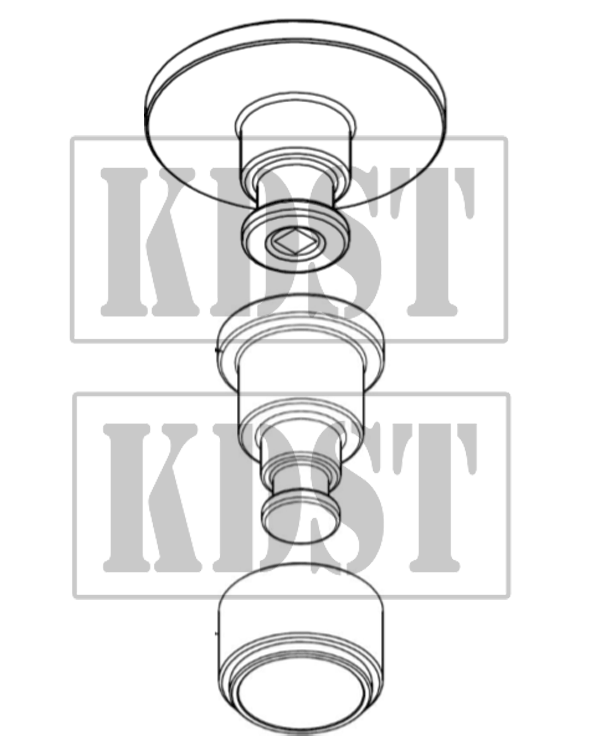 All parts are brand new and never used. Fuwa kingpin suspensions have an advantage of carrying much heavier weights.
Just send an email to kdstindia@gmail.com or WhatsApp us at 0091-8851789396 and we will get right back to you.
KPB50 King Pin only 1 KPB50K King Pin c/w 8 Bolts 2 KPB90 King Pin only 2 KPB90K King Pin c/w 8 Bolts 3 KP90H/D King Pin Heavy Duty only 4 KPF08 Retention Plate 8mm Skid Plate 4 KPF10 10mm Skid Plate 4 KPF12 12mm Skid Plate 4 KPF16 16mm Skid Plate 4 KPF20 20mm Skid Plate 5 KPF16H/D Heavy Duty 16mm Skid Plate 6 KPB14/1 Bolt – M14 – 10.9 8 6 KPB14F/1 Flanged Head Bolt – M14 – 10.9 8 NS KPB14 Bolt Kit – M14 – 10.9 NS KPB14F Bolt Kit – M14 – 10.9 Flange Head 7 KPB20 Bolt – M20 – 10.9 8 HD only 8 KPBA50/08 King Pin Assembly 8mm Skid Plate 8 KPBA50/10 10mm Skid Plate 8 KPBA50/12 12mm Skid Plate 8 KPBA50/16 16mm Skid Plate 8 KPBA50/20 20mm Skid Plate 8 KPBA90/08 8mm Skid Plate 8 KPBA90/10 10mm Skid Plate 8 KPBA90/12 12mm Skid Plate 8 KPBA90/16 16mm Skid Plate 8 KPBA90/20 20mm Skid Plate KPW5010 King Pin – 10mm Skid Plate 9 KPW5012 King Pin – 12mm Skid Plate 9 KPW9010 King Pin – 10mm Skid Plate 9 KPW9012 King Pin – 12mm Skid Plate KPLL50/12 King Pin – 12mm Skid Plate 10 KPLL90/12 King Pin – 12mm Skid Plate 11 KPBLL King Pin Boss